Workshops and Studios
Are you looking for a workshop or studio to rent in London near Hatton Garden? Over 100 craftspeople call the Goldsmiths' Centre home. By joining us, you will be able to access self-contained workshop space and benefit our community by sharing your skills, knowledge and business services.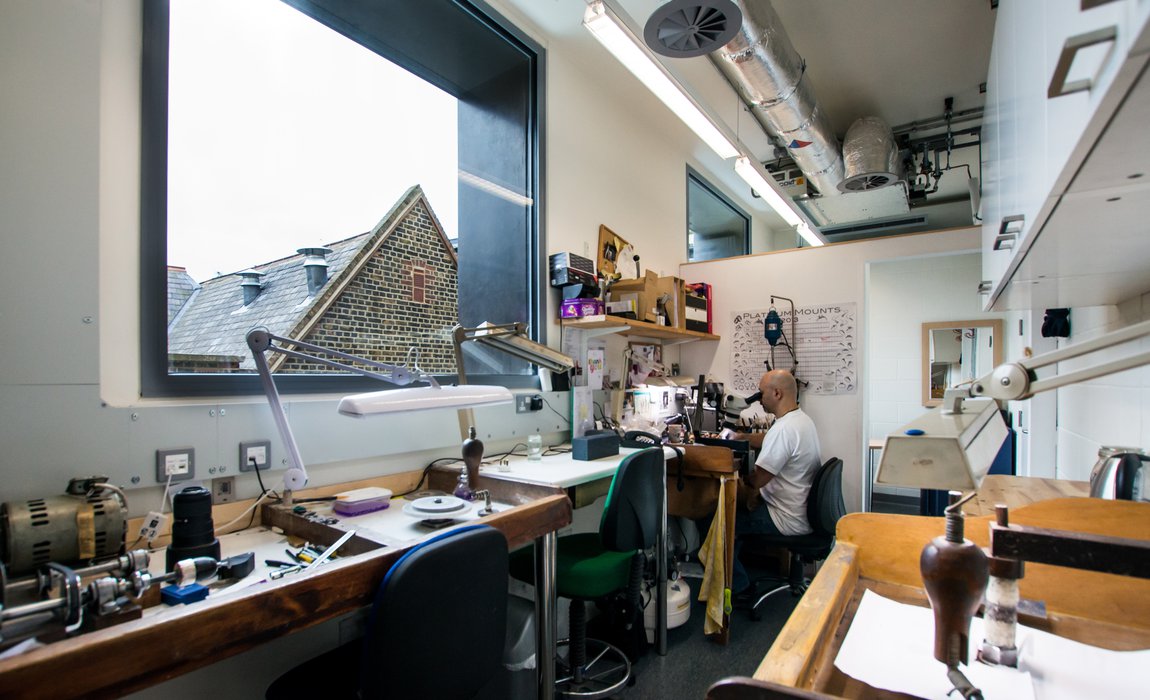 What are the benefits?
If you are a jeweller, silversmith or working in the allied industries, you may be looking for a bigger space to grow your business. Only a 3 minute walk from Farringdon station, we offer a full range of facilities to make sure your work space suits your needs. 
Our state-of-the-art workshops extend over three floors and are located in our purpose-built extension. Workshops start from as little as 7m² with the largest at 63m².
As part of our creative community of over 80 resident craftspeople, you will receive the following benefits: 
Blank canvas workshop to set up your own furniture and fittings. 
Electricity – including three-phase gas, water, included in the service charge.  
Phone and data lines supplied ready for connection with service provider. 
24-hour security so that you can work the hours that suit you, including weekends.
Your own mailbox and postal address registered at the Goldsmiths' Centre. 
The opportunity to seek inspiration, a sounding board, a friendly chat or in-house services from resident craftspeople based just outside your door.   
Discount in our on-site café, Bench – a great place to meet clients or get your lunch.
Invites to network with the Goldsmiths' Centre community and wider industry, which include special previews, private parties, short courses to talks.
The chance to give back to our community and learners through sharing your skills, expertise and business services, promoting and sustaining the goldsmiths' craft.   
Do I need to meet particular criteria to apply?
Like any business transaction, resident craftspeople contract to the Goldsmiths' Centre for a specified period. Workshop contracts are typically a five-year lease, subject to terms and conditions. We encourage applications from ambitious jewellers, silversmiths and those working in the allied industries who need a bench or workshop to practice their craft full-time throughout the year.  
Anyone renting space at the Goldsmiths' Centre is contributing financially to our charitable activities. For many resident craftspeople, the fact that their rent is helping the next generation of goldsmiths to get started in their careers is a real incentive to work here.    
As part of our community, we expect resident craftspeople to adhere to our "charitable contract", sharing their specific skills and expertise by: 
teaching on our courses or speaking at events 
providing work placements or work experience for current and potential trainees
making workshops available for tours and visits by VIPs or press 
providing curatorial support or loaning pieces for our exhibitions or showcases
sourcing resources, contributing specialist knowledge or writing content
sharing free services or giving practical assistance 
The Goldsmiths' Centre is the only work space where you get the added benefits of networking, access to industry experts, brand exposure and the guarantee that you will not be hidden in a basement; there is also the chance to give something back to the industry you work in.
How do I apply for a workshop?
All our workshops are currently occupied. However, if you are looking to rent a bench space or hot-desk or require access to a secure meeting room on a flexible basis at the Goldsmiths' Centre, contact us today about Gold Membership by emailing goldmembers@goldsmiths-centre.org or filling in the form below.  
Register Interest in our Workshops and Studios
If you would like more information about our workshops and studios, please call 020 7566 7650, email info@goldsmiths-centre.org or complete this online form. You will then be added to our waiting list and you will be notified and sent an application form via email as soon as a suitable space becomes available.