Jessica Jue on making the Sunrise Tulip Beaker
Vienna-born silversmith Jessica Jue took time out from her final year studies at Bishopsland Educational Trust to speak with us this week. The emerging talent has applied her ever growing set of skills to the Made for the Table Selling Showcase, contributing a unique silver beaker for display, use and sale.
What inspired you to become a silversmith?
I was always interested in sculptural forms and became intrigued by Silversmithing while I was at Bishopsland Educational Trust. My original plan was just to gain a bit more technical skills there, by being exposed to the world of silversmithing, but I really just got thrown into it. I started enjoying introducing function into my work and adding more of a design element, rather than just creating purely sculptural forms.
Which do your prioritize more in your work - function or appearance?
Up until recently, my work has been primarily ornamental and decorative, it's very organic and curvaceous, inspired by floral and natural things like shells. But I'm beginning to introduce function more and more as I enter my final year at Bishopsland; and because of spending a year working outside of education.
Does the beaker you're creating for Made for the Table differ from your usual style?
The techniques I've used to create it are quite different, as I usually raise an object from a flat sheet into a standing form. Working from a spun beaker required a lot of techniques that I'd not used before, which was a great opportunity to learn about a new way to manipulate a form. 
It's also a lot more functional than my usual work, and though my collection does feature mixed combinations of colours, the beaker is a combination of silver and gold, which I've never managed to blend together before. I'm quite interested to see what impact this has at the exhibition, as gold is typically used on the interior of a vessel and I've used it on the exterior, blending it into silver.
 
What's your favourite thing about being a maker?
My favourite thing is the making! But also the excitement and the experimentation, as well as accidental surprises that happen in the making process. Working with a metal involves having an understanding of the behavior and characteristics of that material, and sometimes it can take you by surprise and send you in an entirely unexpected direction; that's totally different from working in 2D.
Are there any makers whose work you admire?
Too many! Angela Cork, who happens to be my mentor, has taught me a huge amount over the past year, and Kevin Grey has a totally different approach to making than me but I really admire his skill.
Do you agree with the statement 'gin tastes better in silver'?
Yes! I think that the joy of tasting the gin is enhanced by the beautiful form that you're drinking it from, and the skill that has gone into making that form. It amplifies a simple experience.
What in your mind sets silver apart from other tableware?
Silver has such a beautiful colour, you can achieve beautiful finishes with it, and there's just something very tactile and comfortable about it. It's very natural to handle, malleable and a pleasure to work with.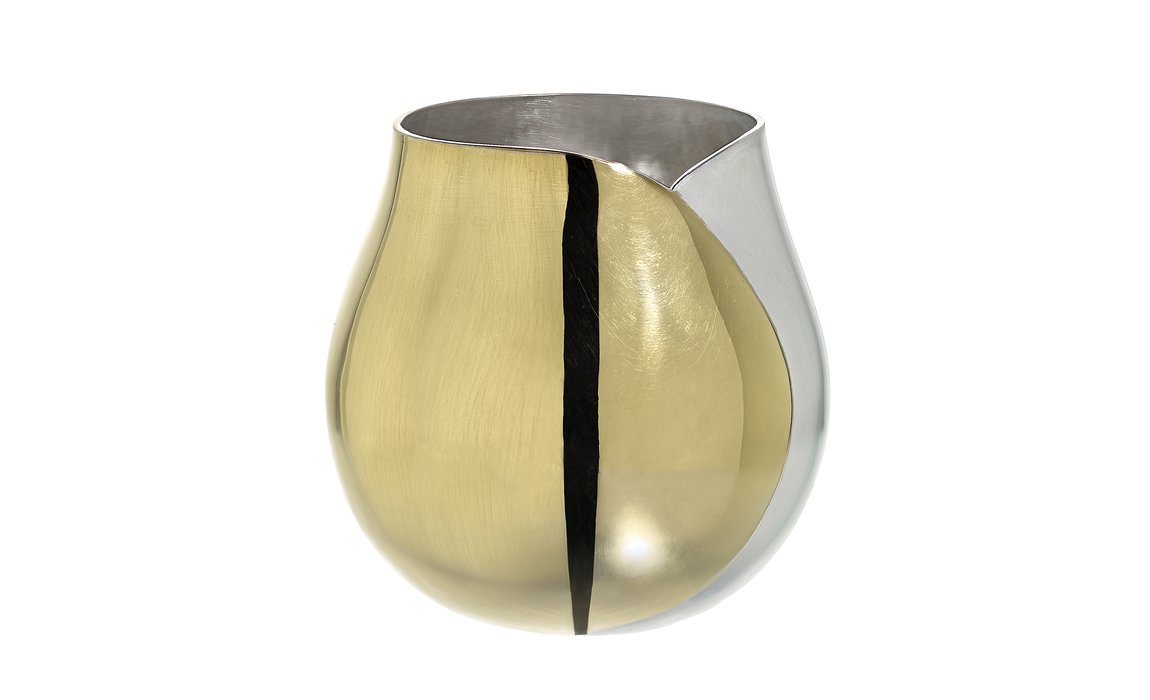 How have your experiences with the Goldsmiths' Centre impacted your career?
I did the amazing Getting Started course at the Goldsmiths' Centre, which was a great summary of all the basic skills needed to start your own business. I also did the Centre's Master Craftsman Internship for one week with Clive Burr, and he taught me some incredible skills that I've just begun to apply to my new collection. He was an amazingly thorough and encouraging teacher. Throughout all my contact with the Centre over the years, they've always been helpful and supportive, either offering advice or pointing me in the right direction to find it.
Do you have any advice for other aspiring makers?
Persist. Keep practicing, keep making, and it will definitely pay off. Becoming a silversmith can involve a steep, slow learning curve, but confidence comes with time and you're not necessarily limited in regards to techniques or design, eventually all these skills can be accumulated with time.