Call for applications for Foundation Programme in jewellery, silversmithing and allied trades
The Goldsmiths' Centre in Clerkenwell is now accepting applications for its Foundation Programme 2017/18, which begins on 11 September 2017. Open to young people aged 16 to 19, the course is a great way to receive the expert training required to begin a rewarding career in the jewellery, silversmithing and allied trades.
They get all the best in the business to come and teach us
Ben Kerridge, Apprentice Diamond Mounter at Dominic Walmsley
Each year the full-time Foundation Programme equips 10 young people with the core skills to lead flourishing careers in the trade with 82% of students going on to work in the industry and with 62% securing roles as Goldsmiths' Company Apprentices. Taught by experienced Master craftspeople in state-of-the-art workshops and design spaces at the Goldsmiths' Centre, students are taught in traditional skills alongside modern technology with subjects ranging from fine jewellery and engraving to Computer Aided Design (CAD).
Those who are accepted onto the course are given opportunities to challenge their personal growth throughout the year. They take part in prestigious competitions such as the Goldsmiths' Craft & Design Council Awards and are considered for a range of awards at a private showcase of their work at the Goldsmiths' Centre.    
Foundation Programme alumni Sian Hughes explains: "I feel incredibly privileged to have been able to study at the Goldsmiths' Centre. Going straight into an apprenticeship would not have allowed me to learn such a broad range of skills while also being able to sample less well-known areas of the industry."  
 Chris Oliver, Head of Professional Training at the Goldsmiths' Centre comments: "Our Foundation Programme students go through an intensive year of hands-on skills training with some of the leading names in the goldsmithing industry. Being part of a small intake, close friendships form over the year, which last well beyond the course and upon completion we, at the Goldsmiths' Centre, continue to offer support and training throughout their apprenticeships."
 All applications received by 7 May 2017 are considered by a committee and short-listed applicants are invited to an interview at the Goldsmiths' Centre on 1 and 2 June 2017. The Foundation Programme is free to attend.
To apply or for more information email professionaltraining@goldsmiths-centre.org or visit www.goldsmiths-centre.org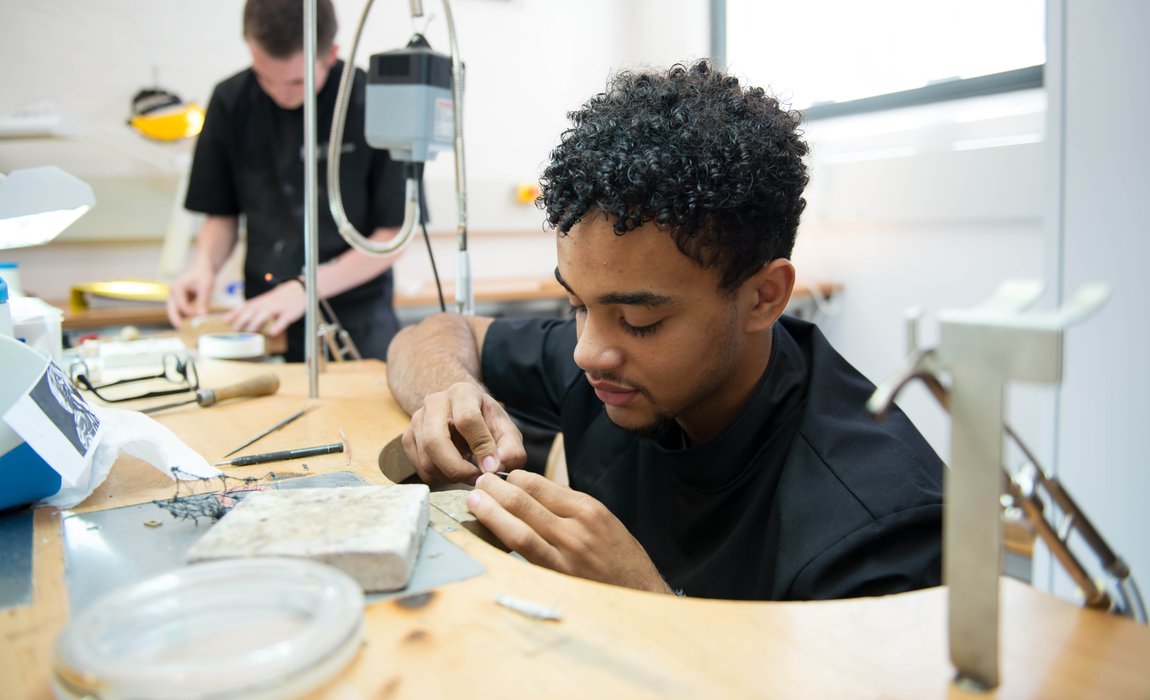 Notes to editors
About The Goldsmiths' Centre
The Goldsmiths' Centre is the leading charity for the professional training of goldsmiths. Founded by The Goldsmiths' Company in 2007, it is a charitable enterprise with a specific purpose: "To advance, maintain and develop art, craft, design and artisan skills, including in particular but without limitation, those pertaining to goldsmithing." It does this by
Providing managed workspace, education and training for public benefit
Fostering promoting and extending public interest in art, craft, design and artisan skills
Providing a knowledge base and community for those engaged or interested in these skills
For further information on The Goldsmiths' Centre, visit www.goldsmiths-centre.org