Joan Mac Karell on her career as an Enameller
After obtaining a degree in textiles and embarking on a teaching career, Joan Mac Karell started on her current artistic vocation inspired by an enamelling short course.
Fascinated by the enamelling process, Joan subsequently became a jeweller and an enamelling specialist. Throughout her career she has shared her skills with innumerable students teaching part time at Sir John Cass School of Jewellery and Silversmithing, West Dean College, Morley College, and at the Goldsmiths' Centre. Here she is a Foundation Programme tutor and oversees our recurring short course, Introduction to Enamelling Techniques.
In a recent interview with the Goldsmiths' Centre, Joan describes a long career spent adding vibrant colour to metal, and what students can expect from her classes.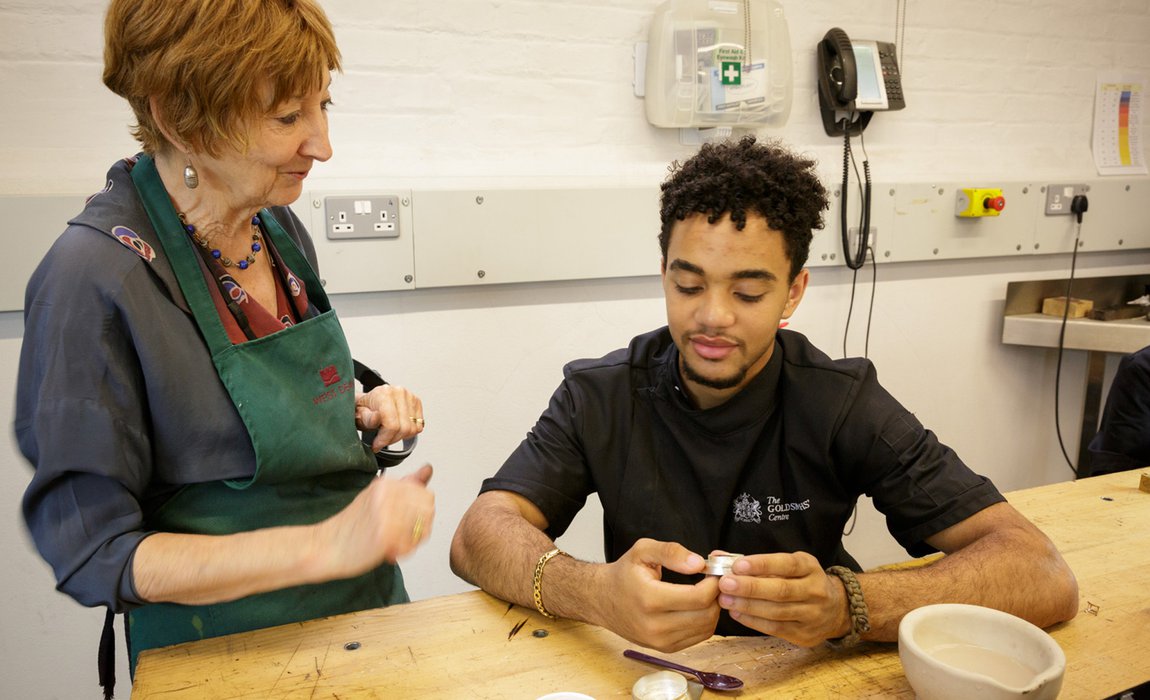 Dating back to the 13th century BC during the Mycenaean period, enamelling is an ancient craft which peaked in popularity in the 19th century. So, what is enamelling exactly and why do you feel it's important to keep ancient crafts like enamelling alive?
Enamel is glass which is fused to a metal surface through the magic of fire. It's important to keep any craft that has been around for such a long time going. 
Enamelling is also a very specialist craft and with enamelling, you can be different. It's a challenging technique, there are a lot of rules to obey and much knowledge is needed, but enamelling is absolutely wonderful as it enables you to bring out your personality through colour, texture, shape and line. 
There are many ways to use enamel so you can concentrate on one and build your knowledge of it, or you can use several techniques in one piece. My passion is to combine lots of the techniques together as it allows me to fully express my vision. 
You initially sought a degree in textiles before training in metalwork and jewellery. How has your background in textiles influenced your approach to jewellery making?
My early training in textiles gave me the ability to create images, textures, patterns and narratives. Even today I look at fabrics from around the world for inspiration, the colours and surfaces are translated into mark making in the surfaces of both the metal and enamel.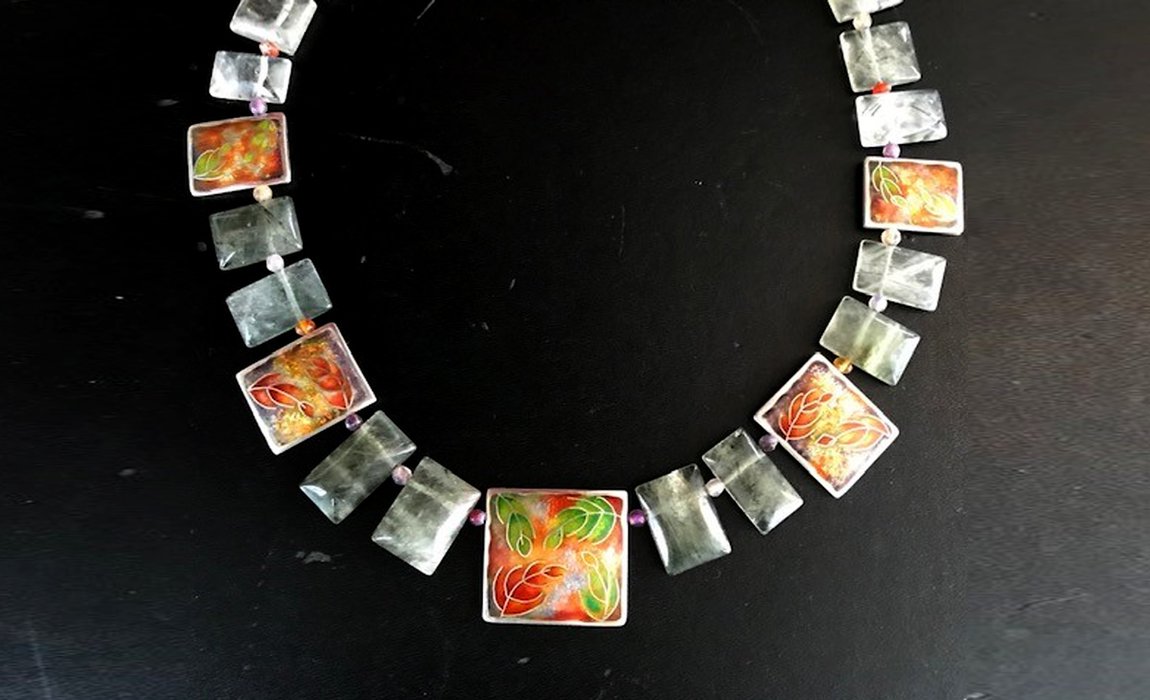 How did you make the transition from textiles to enamelling?
At the Belfast School of Art we had a very comprehensive training covering painting, sculpture, and ceramics and I finally specialised in printed and woven textiles. After I left, I travelled to Liverpool to complete my teacher training, and then moved to South London to start teaching art in an all-girls school. 
Throughout this period I continued to work with the loom at home until I discovered enamel. I was instantly hooked. I loved that through enamelling, you could create images and bring your own personality to your artwork. In comparison to woven textiles, enamel is an immediate way of expressing ideas through colour and texture. My work has always been about telling stories. 
From childhood exotic trunks would appear from India full of wonderful things, all sorts of jewels and stones, ivory and amber, engraved pots and inlaid boxes. The intricate detail and scale always delighted me and these early influences inspired me to retrain in jewellery and silversmithing. 
For my City and Guilds courses at the Sir John Cass I studied jewellery, silversmithing and enamel. I was lucky enough to learn the wonder of enamel from the amazing late Phil Barnes. He was so inspiring and generous with his knowledge and support that I will forever be in his debt. 
You have been actively engaged in the world of enamelling and jewellery through both your roles as a founding member of the British Society of Enamellers (BSOE) and Director of the Studio Fusion Gallery at the Oxo Tower. What role have these organisations played in raising interest in this skill and do you think that exhibitions play in important part in this?
A group of us would take part in exhibitions in Limoges, the centre for enamelling in France. It was such an exhilarating experience to meet other enamellers from all over the world and share techniques and ideas at these conferences. So much so when we came home we felt inspired to create a professional society in the UK which was formed in 1985. This became the British Society of Enamellers and our remit was to promote enamel in wall art, sculpture, jewellery and silversmithing. We achieved this through exhibitions, conferences, courses and an online presence and we were able to raise the profile of enamel considerably over the years. 
As enamel in the UK was rarely seen used in a contemporary way, a group of us decided to open a gallery to showcase our craft. At that time vitreous enamel was rather out of fashion and even collectors would ask what material it was. We worked very hard to educate and inform our audience about the skills and uniqueness of the work and therefore the associated value. We held regular international exhibitions showcasing artists with extraordinary approaches to enamel, as well as promoting young graduates just making their way out into the world. Traditional enamel has been on show for centuries but more contemporary enamel is now being valued and used by many more artists.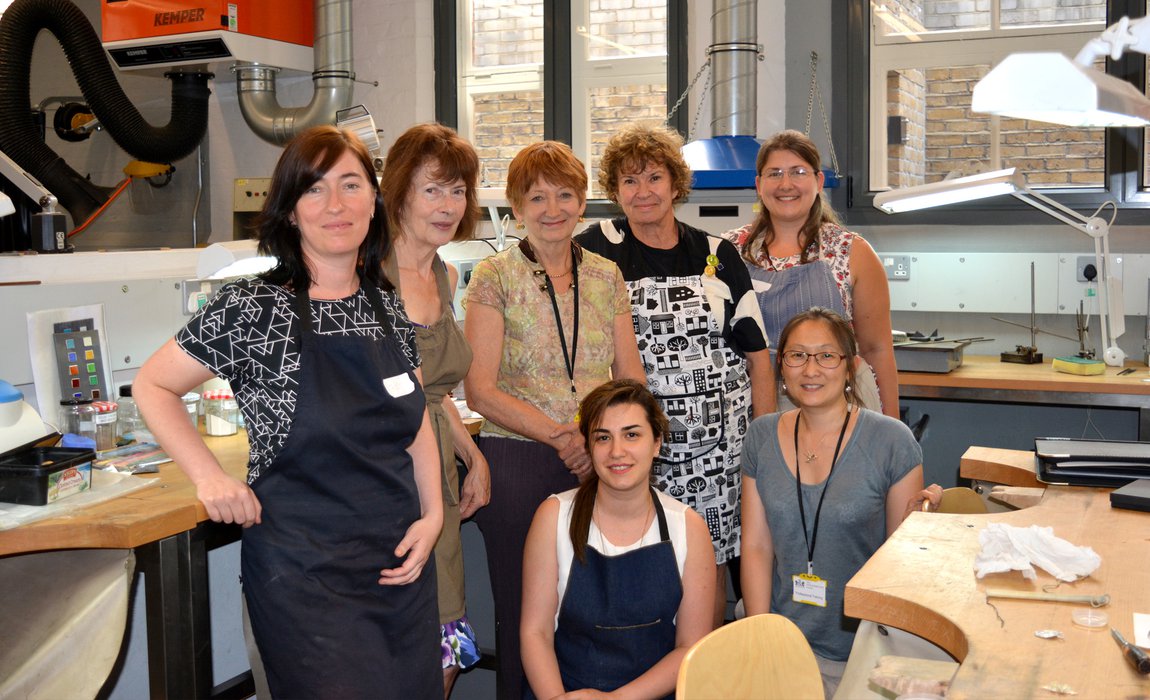 Your work draws inspiration from the natural world. Can you tell us more about your designs using enamel and how your technique has evolved over time?
Growing up by the sea and in the countryside of Donegal where my family were all farmers was hugely influential. I continue to be drawn to it and I return to it as a theme all the time, and the desire to tell stories of the landscape. Even now living on a tidal creek in North Kent I am inspired by the plants of the marshes blowing in the wind and the birds sitting on roof tops. I regularly record images that then are translated into engraved lines on metal or representations in enamel. 
In the early days I had a traditional approach to enamelling with shiny surfaces and perfect clarity in the colour, but in order to reflect the natural world I wanted to find ways to make the enamel more soft and subtle. I developed painterly techniques, mixing colours and textures and matting the surface to make, for example, boxes that looked like pebbles.
You regularly teach enamelling techniques to aspiring jewellers and silversmiths at the Goldsmiths' Centre. What motivated you to start teaching, and what do you most enjoy about it?
I have always been a teacher, I love seeing how people respond and grow with the knowledge that you give them. Having such a diverse repertoire of techniques allows me to teach students of all levels of creativity. So regardless of their training or background, enamel can offer them a way to express themselves and be original.
Which technique of enamelling is the easiest to master and what is the difference between cloisonné, champlevé and painted enamel?
All enamel techniques require practice to master because you need to understand the relationship between the glass and the metal; and this takes time to learn.  
Cloisonné, from the French word meaning 'enclosure' is where the lines are created by bending wires to create cells for the enamel. Champlevé, meaning 'raised fields' requires the metal to be etched, engraved or carved to create cells for the glass to sit in. There's one more technique you haven't mentioned, which is called Plique-à-jour, meaning light of the day, and it's a stain glass window effect. Painted enamel, is as it sounds, is where ground up oxides are mixed with oil and is used for miniature painting or adding details. 
Then you've got other less traditional ways of working - you can use ceramic transfers, scrafitto, liquid enamels, oxides, lustres and foils. Many ceramic techniques can be applied to metal.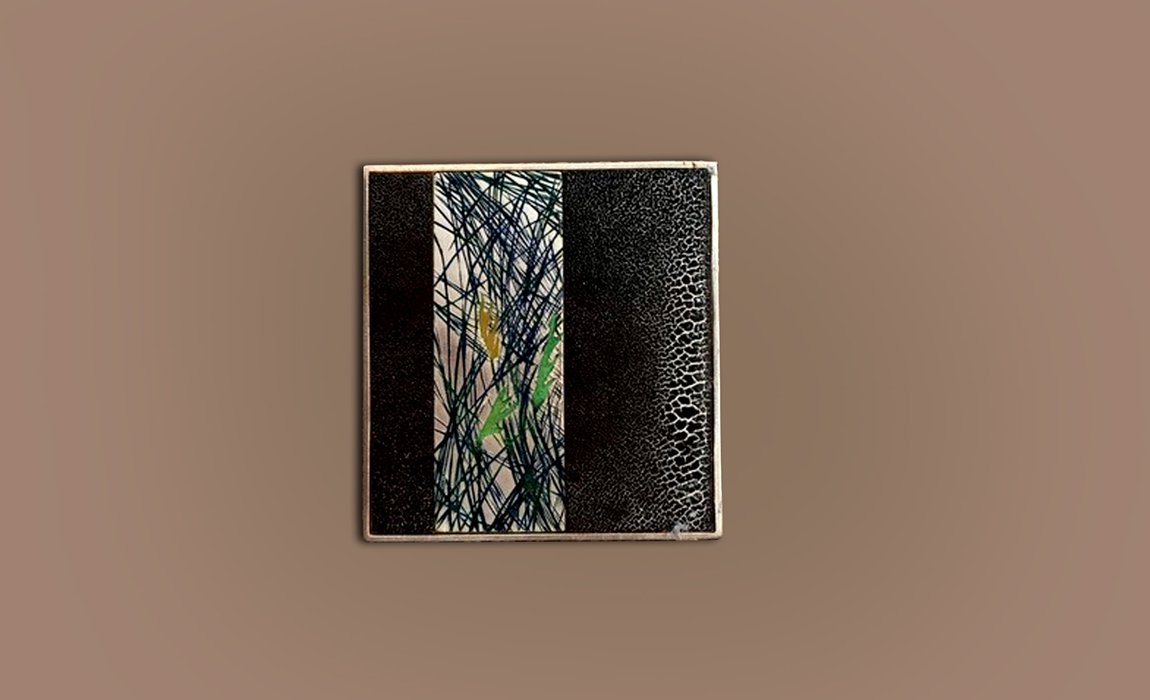 Do you have any advice for aspiring makers interested in enamelling - how do they get started in learning the technique?
Start with a love of colour and image and then go on a course. There is so much to learn about the process of enamelling and preparing the metal and glass and it's so much easier to talk to someone when things don't go quite as expected.
After that, read all about it. Don't just look at the internet, there are some fabulous books out there;  great books at the Goldsmiths' Hall, in the Goldsmiths' Company Library, and we usually get a talk and a tour there during the Foundation Programme, and its wonderful showing the students, giving them a glimpse into the past. 
If you're wanting to apply enamel to jewellery or silversmithing then having basic skills in metalwork are vital. 
What are the benefits to makers who add the skill of enamelling to their creative tool belt?
The most important thing is that you can be an individual. There are so many talented designer/ jewellers and metalsmiths in the trade now. How are you going to stand out?
So in addition to being able to make your own practice more unique, you can also offer enamelling to the trade which can be quite lucrative because there are so few trained enamellers who have the correct skills to do that nowadays.