Setting Out participant and jewellery designer Vicky Lew in the spotlight
Vicky Lew is currently part of the Setting Out programme at the Goldsmiths' Centre. Having graduated from Central Saint Martins with a First Class Honours in jewellery design, she was selected for Getting Started 2016 (delivered by the Goldsmiths' Centre and funded by the Goldsmiths' Company) prior to joining Setting Out for one year's intensive business support. In this blog post, we talk to Vicky about her recent successes and her future plans.
Hi Vicky, could you please tell us a little about yourself and your professional background?
I am a Malaysian-born and bred girl who grew up surrounded by shoes! My dad is a shoe designer and the ladies in the family are very lucky to have beautiful shoes as a result. I learned very early on from my father to appreciate craftsmanship, luxury and design, applying these qualities in my own work.
I initially planned to pursue a shoe design course (naturally), but after completing a jewellery project during my foundation course at Central Saint Martins (CMS) decided on jewellery design. I fell in love with the subject and went on to study it as a degree. I also scored a scholarship from Cartier, graduated from CSM with a first class honours degree, and established my own company soon after.
You have had a very successful year winning multiple awards! Could you give us a summary of your awards to date, what they were for and when you won them?
Thank you very much for the compliments. This year started fruitfully with 6 of us chosen to be part of the Setting Out programme at the Goldsmiths' Centre. Soon after, I was awarded Silver at the Goldsmiths' Craft and Design competition for my Thalurania Colombica Brooch (pictured below).
May arrived and I was very happy to have been chosen as part of the "Erin O'Connor Selects" special showcase at this year Goldsmiths' Fair with my Yellow Chrysolampis Mosquitus Ring.
I was also thrilled to be invited to debut my collection in the US in June, winning the Editor's Choice Award at JCK Las Vegas. At the same time I was given the same award back home here in London for Overall Originality at International Jewellery London.
Last but not least I was chosen as a NexGem at this year Professional Jeweller Hot 100. I am very honoured and humbled to be presented with all these accolades.
You have also been selected for Goldsmiths' Fair again this year. How have you prepared for the show? Will you have any new pieces or collections that will be launched?
Goldsmiths' Fair is always the most important in the calendar of British-based jewellery designers, and it is an honour to be selected to participate again this year. During this years' Fair, I will be unveiling and presenting one very special piece in 18kt gold and diamonds as part of my on going collection FLIGHT.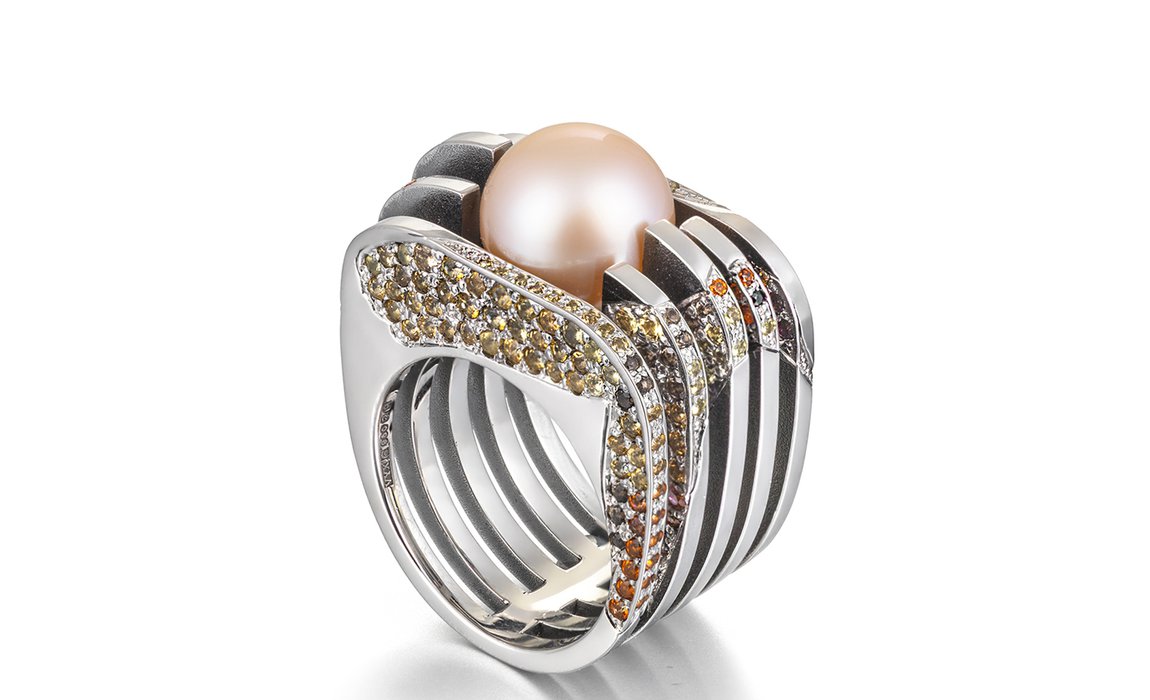 What are you planning to do once you have completed the Setting Out programme?
I hope to have a clear business direction and have my business plan completed whilst on the Setting Out programme. With that in mind I hope to secure an investment that will lead to an expansion of my company.
Where do you see yourself in 5 years' time?
I hope to grow my company into a profitable and sustainable business with my collections and to make a living doing what I love. I would love to be part of the collective at London Fashion Week Rock Vault with my signature collections, and to become a trailblazer in jewellery design using innovative and unexpected methods to inspire and create one-of-a-kind pieces. I hope to create a signature style reflecting a design aesthetic that remains true to the philosophies of my company.
What advice would you give to anyone who is thinking of applying for the Setting Out programme at the Goldsmiths' Centre?
Be true to your design aesthetic and vision, be passionate and be prepared for the hard work ahead!
Find out more about the Setting Out programme at the Goldsmiths' Centre here.