Shine 2017: Silversmith Victoria Radcliffe
Emerging silversmith Victoria Radcliffe will be exhibiting in our annual selling showcase Shine 2017 at the Goldsmiths' Centre. We chatted to Victoria to find out more about the meaning behind her collection, her techniques and the Kickstarter campaign she has launched to get her into a new kitted out studio.
Thank you for joining us today, Victoria. Can you tell us a little bit about yourself?
Hi, I go by Vicky but my business name is Victoria Radcliffe. I've never really liked the routine of an office job, so I've always wanted to get a creative job and that's how I've found myself being a silversmith.
In 2016 you took part in our business taster programme, Getting Started. What was the most important advice you received? How has this helped you shape your business?
Well, I didn't have much of a clue on how to set up a business. We weren't really taught that at college or university, so I went in completely blind. I felt that this programme was massively beneficial because it explained to me how to set up a business, how to register and how to promote myself, how to write press releases and do branding – in general how to make a living out the trade. There was so much to learn and I still have all the notes in a big folder.  Whenever I need help I just go back to all these notes and look at them, so it was brilliant.
I think the most important advice I received was that photography is key! That was massively emphasised during the programme because if you don't have good photography no one is going to take you seriously.
Can you describe your creative process and motivations?
My projects all seem to inspire one another, People always ask me: How did you get that idea? My current pieces all in one way or another evolved from my graduate work. So I take a good part of one piece and then develop it into another piece and then develop the good part of that piece into another one. You can see a progression and a development through all of my work.
For your "A Subliminal Mind" collection you used a mixture of rock and precious and base metals. Why did you choose to put these together and what techniques did you use to create the pieces?
When I was creating the collection, I was looking at subliminal actions which is where the name came from. Colours are widely used in the design process of affordances, which is the possibility of an action on an object, and subliminally guides the user. I wanted this all to reflect in my work and to give people a visual clue on how an object should be used.
In relation to the materials, highly polished silver can be quite intimidating and I wanted to create something which the user would instinctively want to touch. I was looking at indoor rock climbing as well at the time and the colours that guide climbers along different paths up a wall. That lead me to use real rocks and I found my work then had rocks made of handles because, like I say, people can be intimidated by highly polished silver so they would rather touch the rougher surface of a rock.
I love people being able to handle my work as I think things should be touched and handled. I've always been that type of person. My Nan used to tell me off for this as a child, she would tell me to look with my eyes not my hands. I would always have to touch something to fully get a feel for it, which is why much of my work is tactile and interactive.
I used a variety of techniques for the collection – such as hand raising, spinning and scoring and folding. I then created my own rock hammers which added unique texture to the metal. I used a tap and die set to thread rod that was then soldered to the vessels, I then drilled a hole in the rocks and they were attached with a bolt. I made six vessels in total, they were all made this way apart from one where I riveted the rock on. Two vessels were made in silver, one Britannia and one sterling, I was able to make these in silver as I was given a bursary from the Goldsmiths Company. The rest were made from gilding metal with two silver plated.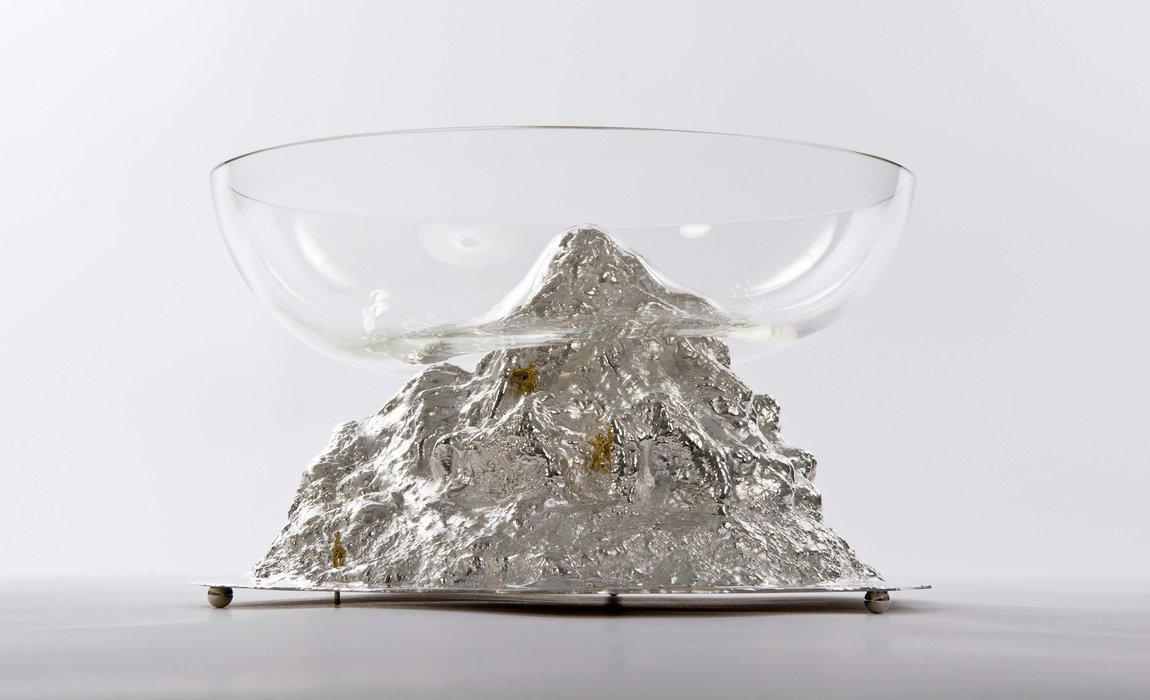 You have won various awards for your work including the 'Assay Masters' Award for Excellence' in 2015. What does winning awards mean to you and have they helped you progress in your career?
It's really meant a lot because it gives you a massive boost when you win an award and it gives you the confidence to carry on with your work. Ultimately, it gave me encouragement to continue what I was doing and that I was heading in the right direction. 
You will be exhibiting your work at the Shine 2017 selling showcase here at the Goldsmiths' Centre in November. What kind of person do you think your work will attract?
Well, I think my work is quite different so that's a good question. I suppose it would attract someone who appreciates contemporary silverware as it's slightly unusual and makes you smile. All my pieces are functional, but they're also mini sculptures in their own right. I like the idea that the owner could have it on display on the mantelpiece or on the table when it's not being used so they can still appreciate it.
For example, the fruit bowl is multifunctional. It could be used as a fruit bowl, it could hold water with floating tealights or again it could just be a sculpture. The glass, which is handblown is removable, so you could just have the mountain on its own depending on your preference.
You are about to launch a Kickstarter campaign to kit out your new studio at the Yorkshire Artspace in Sheffield. Can you tell us about your experience at the Yorkshire Artspace and your Kickstarter campaign?
It's been amazing. For the past two years, I've been based at a silversmithing starter studio in a large shared workshop where we get our own workbench and shared equipment.
It felt like too much of a jump to go from university straight into my own workshop, so it was a great opportunity. I didn't have the money or the equipment and I didn't feel quite confident enough in myself to go and start a business alone. At the Yorkshire Artspace (www.artspace.org.uk), you get mentoring help; technical help; business help and you get free hallmarking for two years at Sheffield Assay Office. You also get the opportunity to network with other creatives and people within the industry. I've learnt a lot being at YAS, there are a lot of other silversmiths there who are very open and kind, so you can always go and ask them questions if you need to, and you're always in the loop of what's going on.
I'm sad to be leaving the starter studio, but I'm really excited because I'm moving upstairs one floor to studio 25. In aid of this I've launched my Kickstarter to help me kit out my new workshop. I have already started collecting my own tools during my time at University and at YAS but I don't have larger equipment such as a polishing motor or brazing hearth and torch etc. So I'm trying to raise £5,000 to set up my workshop properly.
The Kickstarter its quite scary because it's all or nothing, so if I don't reach the target that means I get no funding. There are lots of lovely rewards that the public can back for. Bespoke jewellery, one off silverware and ring making workshops are available in exchange for pledges. So any help during this time would be greatly appreciated.
Finally, you have already achieved a lot in your young career, but what is your ultimate goal for your business?
The goal is to have a lovely kitted-out workshop and to be self-employed full time. I am currently working at a pub part-time to help myself get by, which is fun because I like chatting to everyone and its flexible so works well with my shows, but eventually I want to be working full time as a silversmith and a jeweller. I'd also like to show my work around the world.
Most importantly though, I'd like to feel comfortable financially. I think that this is quite important. I really love what I am doing and I love the fact that I can wake up every day and be excited about going to work and not dread Mondays. I love not having routine and not knowing what the day is going to bring –that to me is exciting! It's difficult, but I'll get there!
For more information on the Shine 2017 exhibitors and to start commissioning your pieces, visit www.goldsmiths-centre.org/whats-on/exhibitions/shine-2017
More from Victoria
You can donate to Victoria's Kickstarter campaign here: https://www.kickstarter.com/projects/1447313516/sheffield-silversmithing-studio-25-a-new-beginning?ref=nav_search