Meet the 10 emerging Jewellers and Silversmiths who are set to shine at New Designers One Year In
We are proud to present some of our Getting Started alumni at New Designers' One Year In, a curated showcase of the most promising and intriguing designers who have recently launched their businesses. Having all taken part of the prestigious week-long business taster course Getting Started at the Goldsmiths' Centre, the group have gone on to be selected by curator Rheanna Lingham to show their latest collections as part of 100 top new UK design businesses. Find out about each of the makers and their work below.
Aillie Anderson
Aillie Anderson is a Silversmith and Jeweller who graduated from the Glasgow School of Art Silversmithing and Jewellery BA (Hons), with distinction in 2017. Aillie's work draws inspiration from the built environment around Glasgow, particularly the modern architecture and industrial structures of the city aiming to explore her appreciation of these overlooked details within the urban setting. Through her work she intends to explore the relationship between the physical scale of these existing structures, by reinterpreting them into visually stimulation, silverware adornment. 

Ailie uses a combination of distinctively textured, precisely scored silver forms alongside hand cast jesmonite to generate a divergence between material, surface and weight. 
 
Alex O'Connor
Alex O'Connor came to silversmithing from a background in Fine Art and Sculpture. Accordingly, her silverware merges an inherent understanding of aesthetic balance, form and composition with the specific disciplines of contemporary craft. 

Functional considerations inform, but do not define, her pieces: vessels are a constant theme in her work as a means to explore ideas of ritual, containment, reflection and metaphor, and the balance between utility and expression. Using the traditional techniques of scoring, folding and raising precious metal sheets, she creates single and grouped collections of pure shapes with subtly tactile surfaces, designed to celebrate the material, whilst attempting to evoke ephemeral sensations through the unique qualities of silver. 

Her recent collections respond to the powerful topography of West Cornwall, where she lives and works. Created through a process that begins with walking and observing, fragments of sensation becoming working drawings for contemporary silverware that brings together ideas of both our internal and external landscape. 
 
Catherine Rua
Catherine Rua designs and makes contemporary jewellery from her London studio. Drawing inspiration from repetitive elements in the built environment and the unusual cubic structures found in Pyrite, Catherine works with precious metals and gemstones to create pieces which are characterised by a bold use of line and form.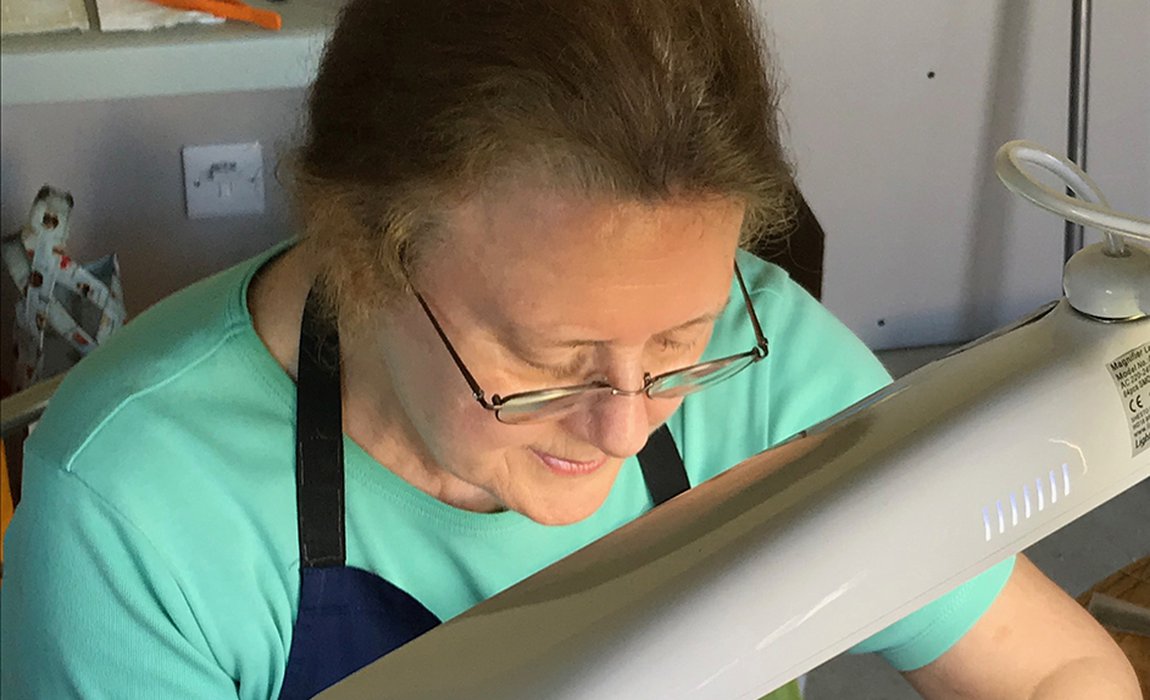 Christine Johnson
Christine Johnson completed an MA (Jewellery) at UCA, Farnham in 2016 specialising in designing and hand-making jewellery in metal. Her designs are based on the lined and spines seen in feathers, she then rearranges these forms and textures translating them into three-dimensional jewellery pieces sometimes incorporating interference patterns to create optical effects. 

Christine loves pattern and repetition and the interplay of light line and shadow. She is interested in optical illusion and in creating visual effects with her work; many of her pieces are kinetic. 
 
Dominika Kupcova
Dominika Kupcova is a jewellery designer and maker based in Glasgow, Scotland, who aims to create complex, eye-catching structures, carefully constructed using repeated layers of linear pattern. The work is informed by the aesthetic properties of the DNA double helix, inspiration generated through an interest in science and genetics since childhood. 

Dominika's work is created using a combination of hand and manufacturing processes – time-consuming and repetitive skills of metal work alongside quicker and innovative modern techniques such as laser cutting. The resultant body of work pursues to seamlessly combine precious metals, with non-precious materials of paper and card, which are manipulated and transformed through a variety of processes into a material which is sturdy, durable and waterproof. 
 
Elena Lara Bonanomi
Elena Lara Bonanomi was born in Italy, where she developed a strong passion for jewellery that now she considers a significant part of her life.

Her curiosity and incessant will to learn has driven her to move to London where she graduated from Central Saint Martins University with a First Class Honours degree in Jewellery Design, an experience embellished with multiple prizes and awards from Cartier, Swarovski Foundation, Leatherseller's Company and Brian Wood.

The progressive acquirement of new knowledge and skills through different work experiences for jewellery brands in Milan, London and Paris led her to create her own brand, ElenaLara Jewellery.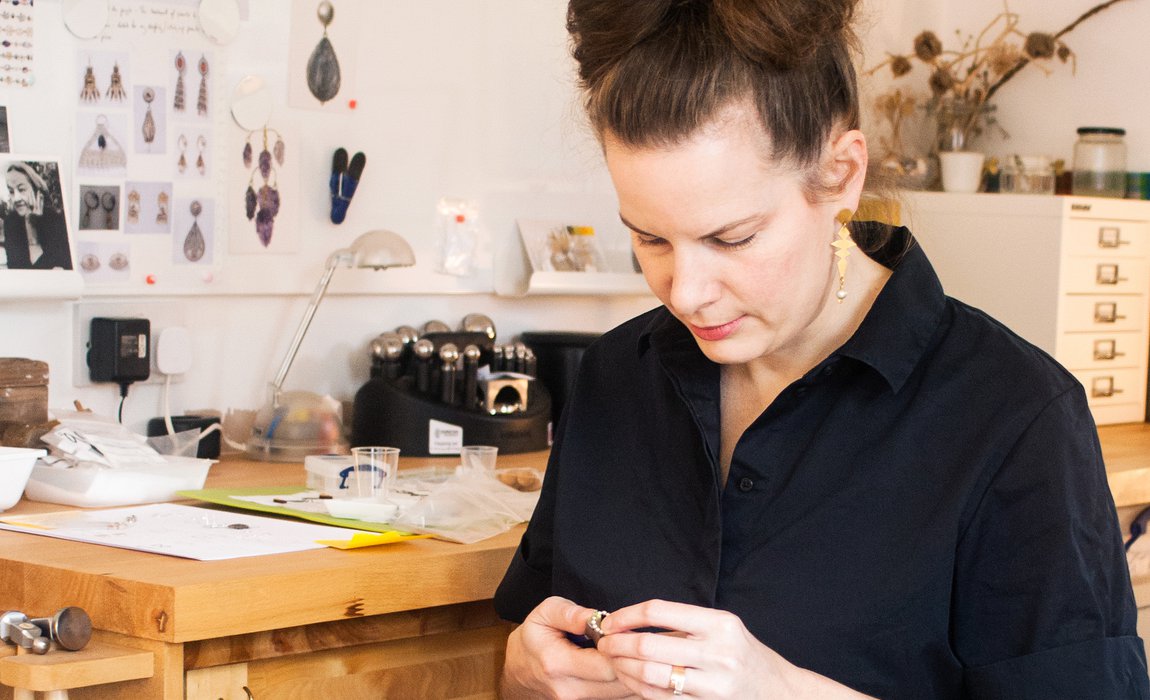 Ella Fearon-Low
Artist Jeweller Ella Fearon-Low mixes materials to create playful sophisticated contemporary jewellery that references historical forms.  These forms are themselves a layering up of different visual and cultural references. 

"Materials are key to my work, often having been collected over time, awaiting the right project to bring their qualities to the fore. …I enjoy the conversation between precious and non-precious components and often position them side-by-side." 

Having studied at Morley College Ella now works from her London studio to develop and hand produce small collections and one-off pieces. 
 
Leszek Sikon
Originally from Poland, Leszek Sikon earned a living as a middle manager in retail, a career that left him feeling 'wholly unfulfilled'. Aware that he wanted to create something that would last, Leszek quit his job to start a Blacksmithing course at Hereford College of Arts. 

Since then Leszek has gone on to produce a series of superb artisan tools and knives, using age-old skills to produce modern objects of desire. Drawing inspiration from the history and traditional methods used in blacksmithing, Leszek creates quality pieces that are made to last.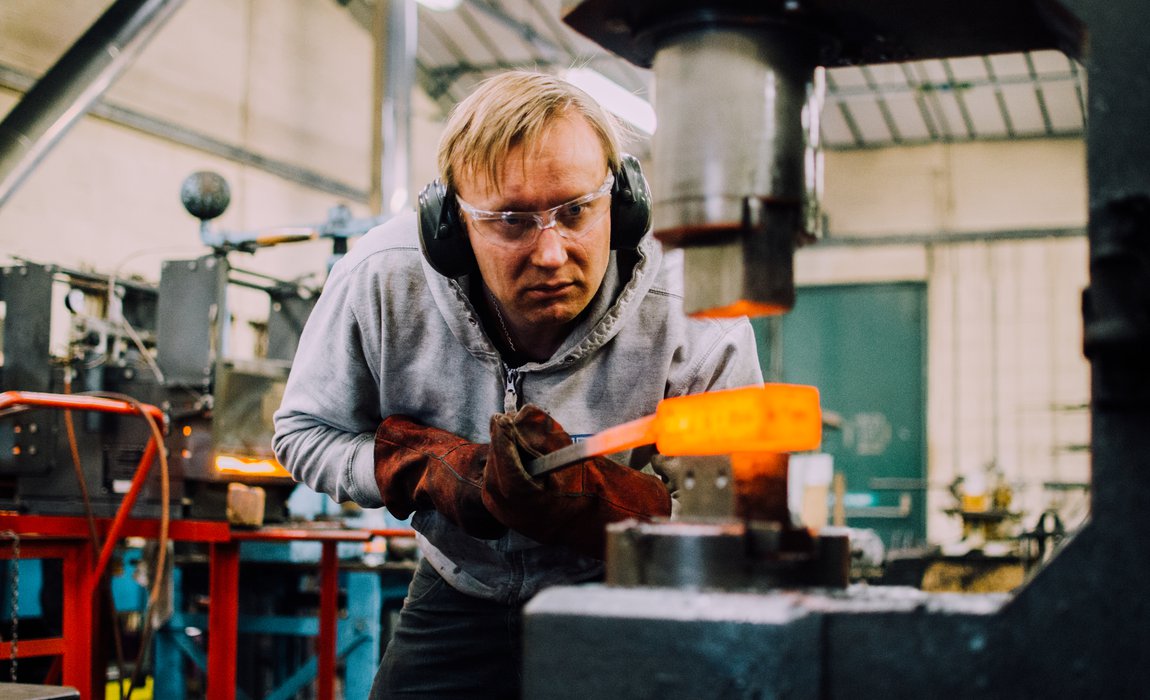 Rebecca Burt
Rebecca Burt is a jewellery designer-maker from Cardiff who creates fine designer jewellery. She works predominantly in sterling silver, with little highlights of 9 and 18ct gold, precious and semi-precious stones.
Rebecca's jewellery is decorative and feminine; inspired by the curiosity with the world around her and creates little abstractions of the bounty of life that grows around us. Each piece is individually hand-formed, allowing them to have their own individual features and characteristics, mirroring nature's organic creation.
Right now, Rebecca is working to find a language of shapes, exploring different forms and repeating them, to build a new organic configuration.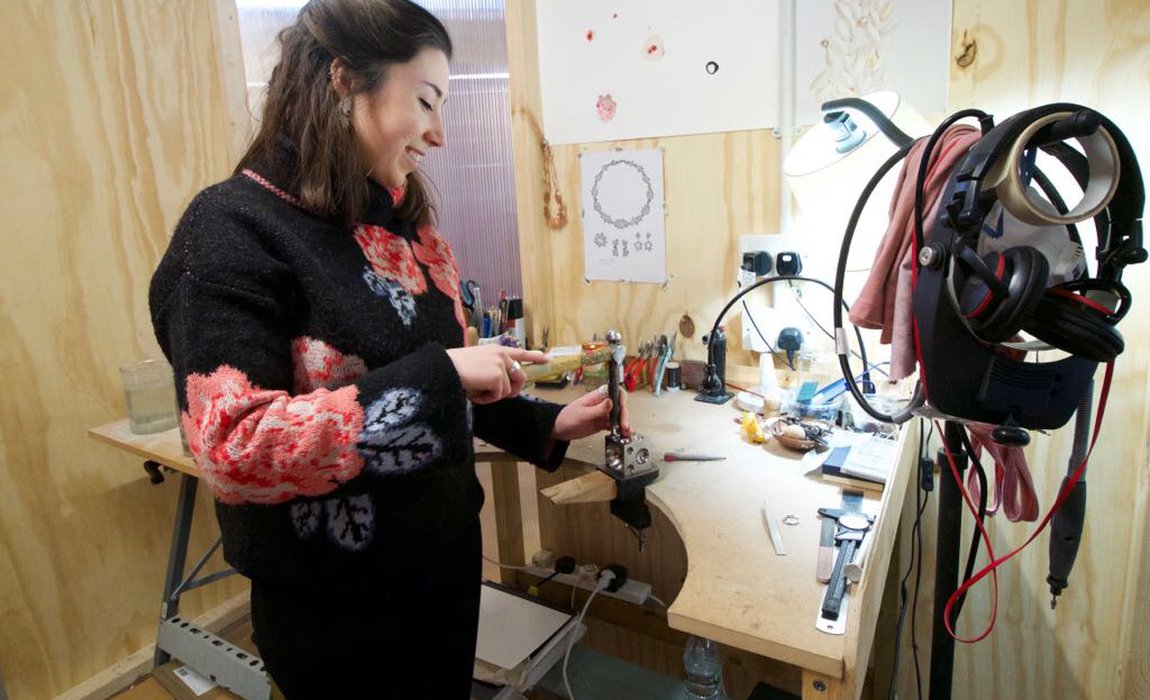 Rosie Wesley
Rosie Wesley is a metalwork designer and jeweller who creates individual and bespoke works that are site-responsive pieces to locations within the New Forest, where she grew up. 

Rosie works with burn-out casting techniques to produce replica textures of tree bark which are combined with components based on the landscape's negative spaces. This creates dynamic, textural sculptures and jewellery which reflect on her personal drawings, interactions and experiences with natural spaces.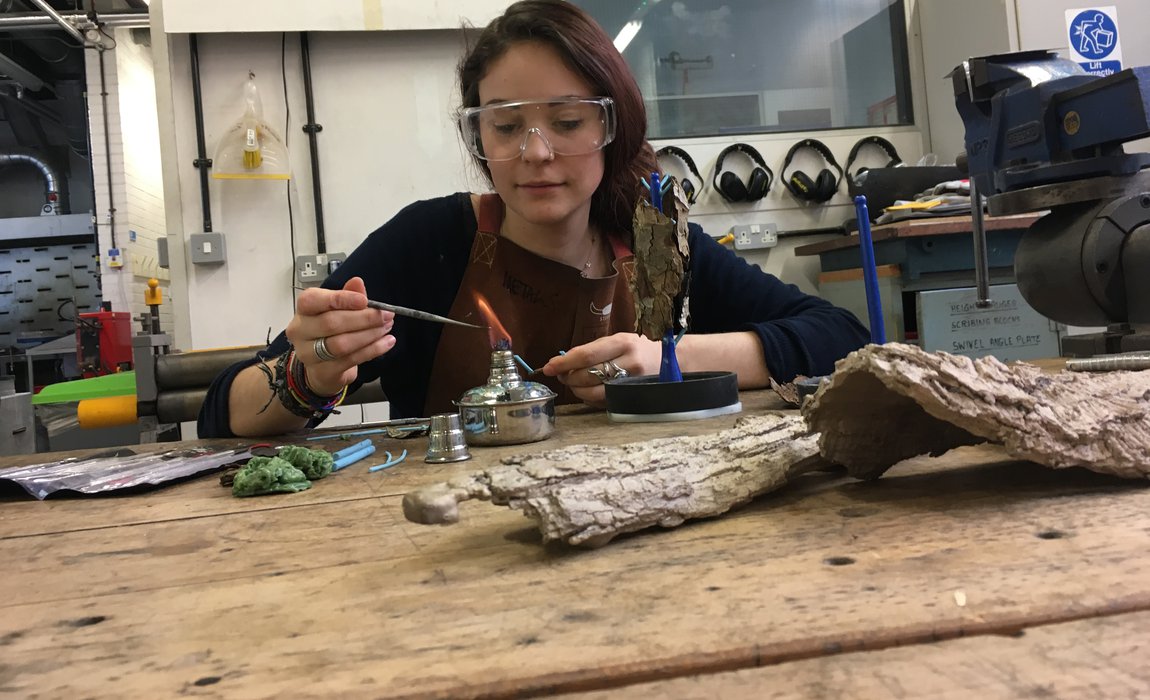 Working directly from the environment and transforming organic materials into metal allows her to preserve a part of the landscape and give it a new life beyond its original environment. The space becomes embodied by the object. 

To find out more about New Designers One Year In or be a part of Getting Started follow this link.