Community: A Sense of Jewellery
This is the last in our series of three blogs exploring A Sense of Jewellery from the perspectives of creativity, craftsmanship and community - the Goldsmiths' Centre's values. It feels appropriate to be considering community this week, as the London Design Festival (LDF) kicks-off, and a large creative community is brought together to share ideas, innovation, and products. Annually it is a unique opportunity to see a snap-shot of contemporary design in hundreds of London venues.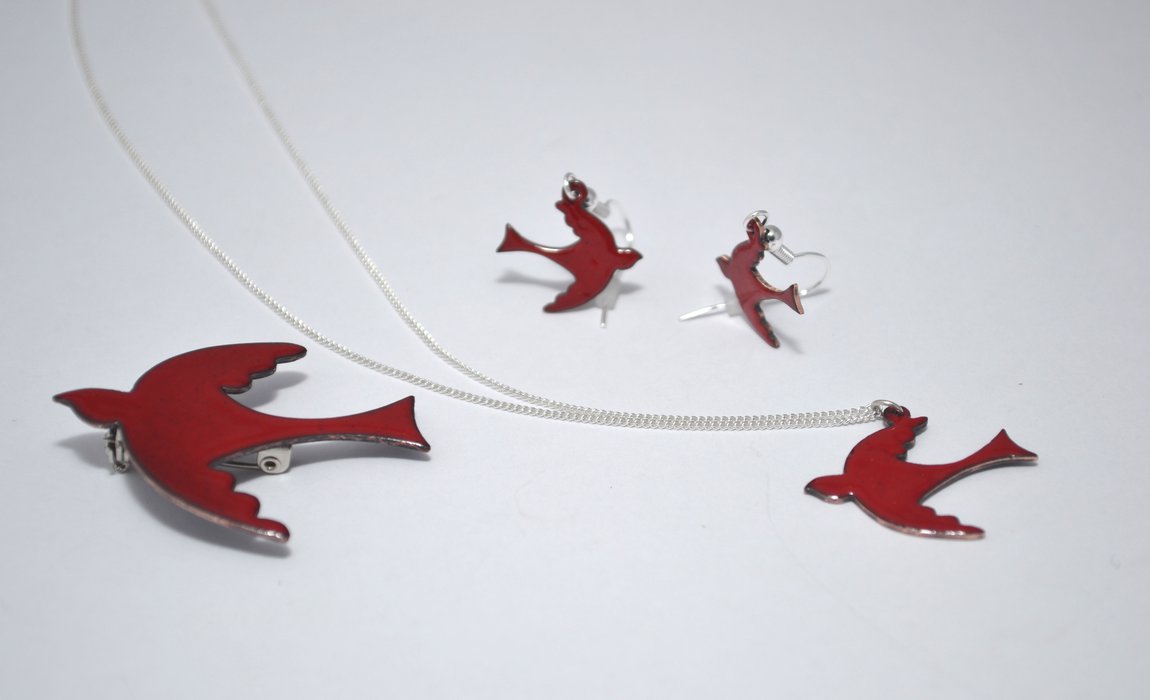 For the period of the LDF, the installation Hands Together will be an exciting addition to A Sense of Jewellery. This complimentary presentation explores ideas of community in the context of jewellery design and making, through four projects that touch on ideas of globalisation, identity, process and nanotechnology.
We all belong to a range of communities in our work and social lives. They can support us and provide opportunities for dialogue as well as help us to define ourselves. Communities can be vast world-wide phenomenon, particularly aided by the internet, or they can be small and local. The communities represented in Hands Together range from the macro to the micro. Here I will provide a taster of one of the projects - Migrating Birds - to tempt you to put the Goldsmiths' Centre on your list of must-see venues during the LDF. Elizabeth Turrell's Badge Project, Maria Hanson's What's in my Stuff?, and the Crafts Council's film-reel Process on Film: Jewellery, will also be on display.
Migrating Birds is a jewellery collection designed by Birmingham women's craft collective Shelanu. It was launched at Rugby Museum and Art Gallery in 2012, and is one of the craft ranges the group has created, supported by the craft development organisation Craftspace. The group is currently developing a range of souvenirs to represent the contemporary city of Birmingham. Deirdre Figueiredo, Craftspace Director describes the Shelanu programme:
"Shelanu is an initiative which aims to develop a craft social enterprise with newly arrived and refugee women promoting excellence in making. The social enterprise will contribute towards the role of crafts as an ongoing contribution to the cultural, economic, social regeneration and tourism infrastructure of the country."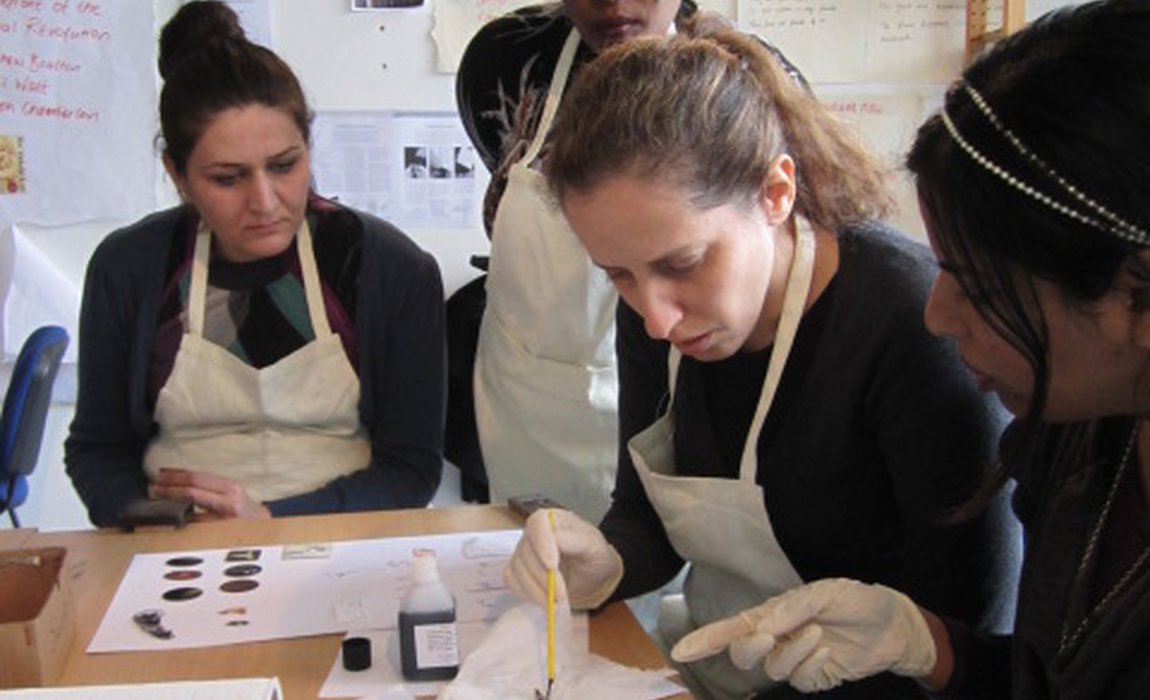 The Migrating Birds are inspired by the personal experiences of the group, each of whom has moved from another country and made Birmingham their home. To realise the project the women worked with Birmingham's jewellery making community, who enable them to produce a range comprising brooches, necklaces and earrings, finished using different techniques.
Makers Rita Patel and Jessica Turrell helped them to develop their ideas and the necessary skills. They first created designs individually,  re-working their favorites collectively. Turrell and Patel then taught them how to enamel or oxidise each piece, which was cut from copper to their design in Birmingham's Jewellery Quarter. The importance of belonging to a community is emphasised by one Shelanu member:
"It's a place to learn and try new skills, a place that I can feel connected and free to try new ideas and express my artistic side... It's a positive way to contribute and find your place in a new place."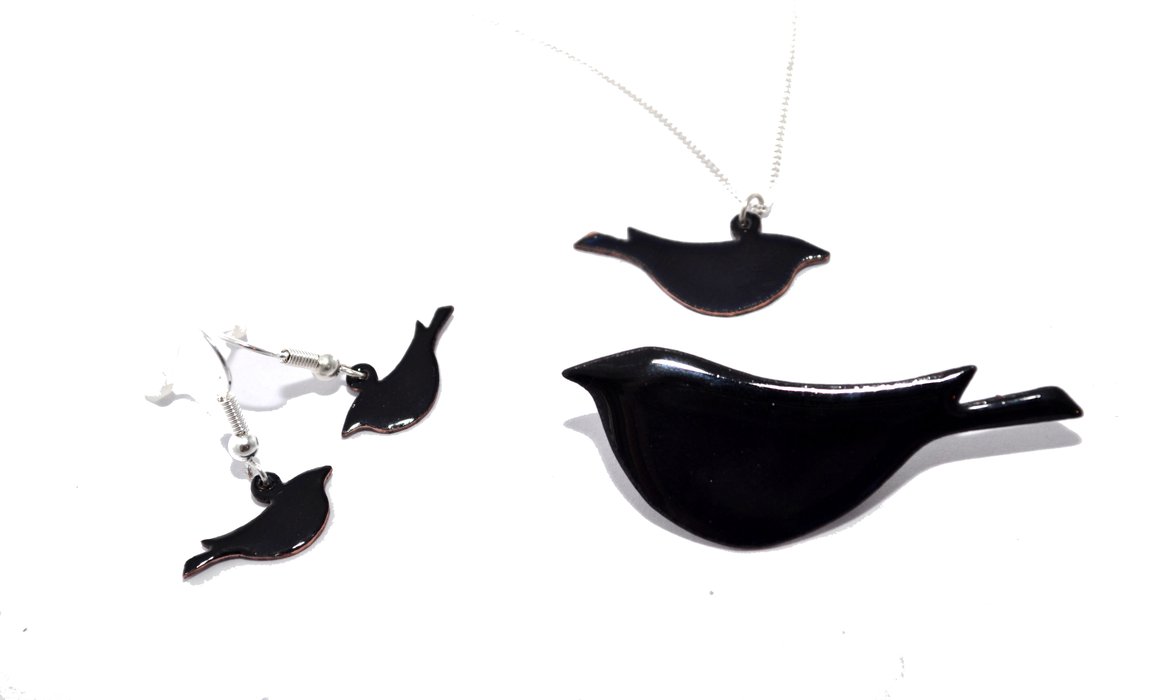 The process Shelanu followed to create the Migrating Birdscollection mirrors that of jewellery and other makers worldwide. Communities of makers need formal and informal networks that enable them to access training and advice when they need it, or the skill of colleagues. Their colleagues  may for example engrave or enamel a work that they have created, just as an artist might work with a foundry to cast a bronze. Accessing expertise was key to the success of the project, as well as the chance to work together and collaborate.
Creating any item of jewellery requires the use of a network of skills. The Goldsmiths' Centre facilities are designed to support makers at all stages of their career, when they need them, as part of a creative community.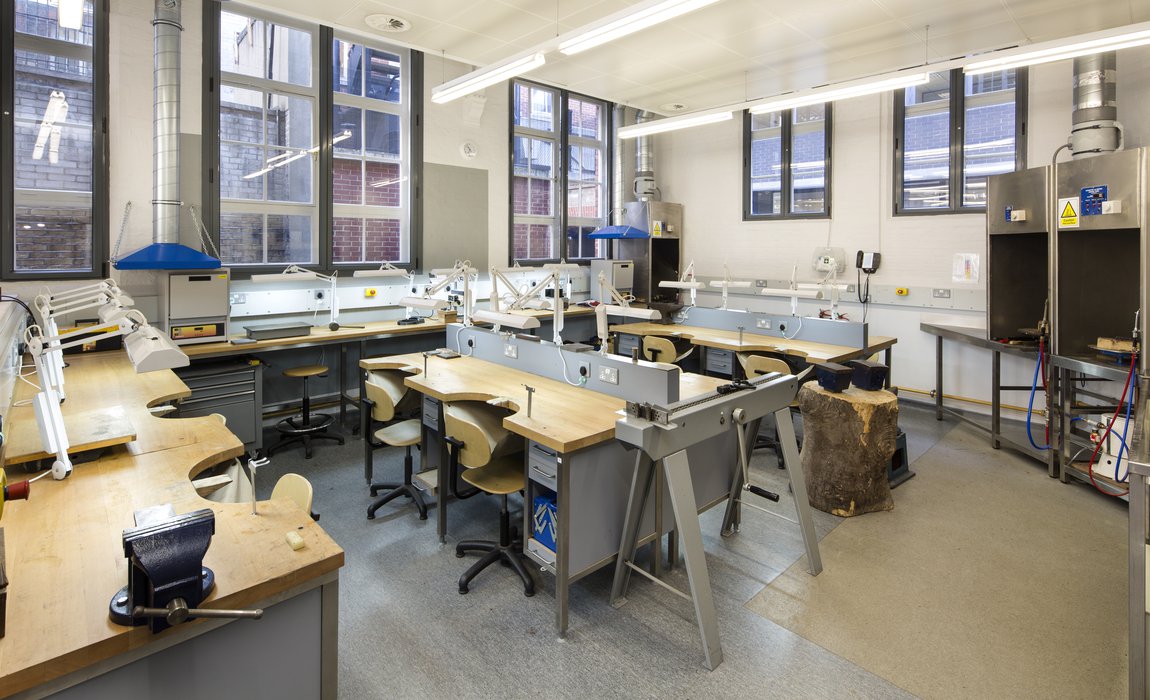 Looking to the future, there is a collective understanding within the craft community of the importance of creative opportunities in schools, to nurture the makers of the future. This is led by organisations such as the Goldsmiths' Centre and the Crafts Council's advocacy work, summarised in the manifesto Talent is Everywhere.
As part of the programme accompanying A Sense of Jewellery maker and exhibition curator Professor Dorothy Hogg MBE will provide young people from local schools with the opportunity to participate in a number of jewellery workshops, which aim to spark the imaginations of the next generation. On 7th October, she will be visiting Year 5 class at Argyle Primary School with staff and resident jeweller Samantha Salmons from the Goldsmiths' Centre. During the day, the 50 children will be creating bespoke contemporary jewellery using tools of the trade.