Shine 2017: Jeweller Ely Yili Cao
Recent graduate Ely Yili Cao will be exhibiting in our annual selling showcase Shine 2017 at the Goldsmiths' Centre. We met with Ely to discuss how her interest in animal rights, Chinese culture and metal work have shaped her latest collection.
Thank you for joining us here today, Ely. Can you tell us a little bit about yourself?
Hi, it's Ely here. I've just graduated from Central Saint Martins' BA Jewellery Design this June and am now an MA first year student at the Royal College of Art.
What inspired you to become a jeweller?
I did not think I would become a jeweller and at the very beginning I was training to be an architect. My dad used to be an architect and I thought it was just going to be that cliché story of the younger generation following in the older generation's footsteps. But one day, I realised I just wasn't really into the big scale 3D pieces and that I liked small scale 3D pieces because everything fits in your hands. You can develop a personal and physical attachment to these small pieces, so I decided to pursue jewellery instead.
In 2016, you were selected for The Leatherseller's Company's highly recommended prize and ENJOIA'T Awards' Prime Finalist. What does winning awards mean to you?
I won these prizes for an eyewear piece called 'See through Skin". It's a goggle piece made purely out of untended cattle skin. The lenses are translucent rawhide and the thread was soaked in fat so it's easy to sew. It was the first leather piece I made and I enjoyed creating it because I learnt quite a lot of leather skills during the project.
It is based on animal protection and the fact that some of the luxury car companies skin certain animals alive to make vehicle interiors. I am against unnecessary cruelty to animals and made this piece to demonstrate this belief, by putting the human in the position of the animal so they can see the world from the animal's perspective. The Leatherseller's Company prize was amongst my peers and I really appreciated that my piece was recognised by certain people. The ENJOIAT took place in Barcelona, but was a worldwide competition, so it was the first international prize I won. It did mean a lot to me because as a maker or designer, it's nice to know that your piece and your design is appreciated. I met lots of designers and some experienced people who have been working for a very long time. I felt very inspired and overall it was a very positive experience.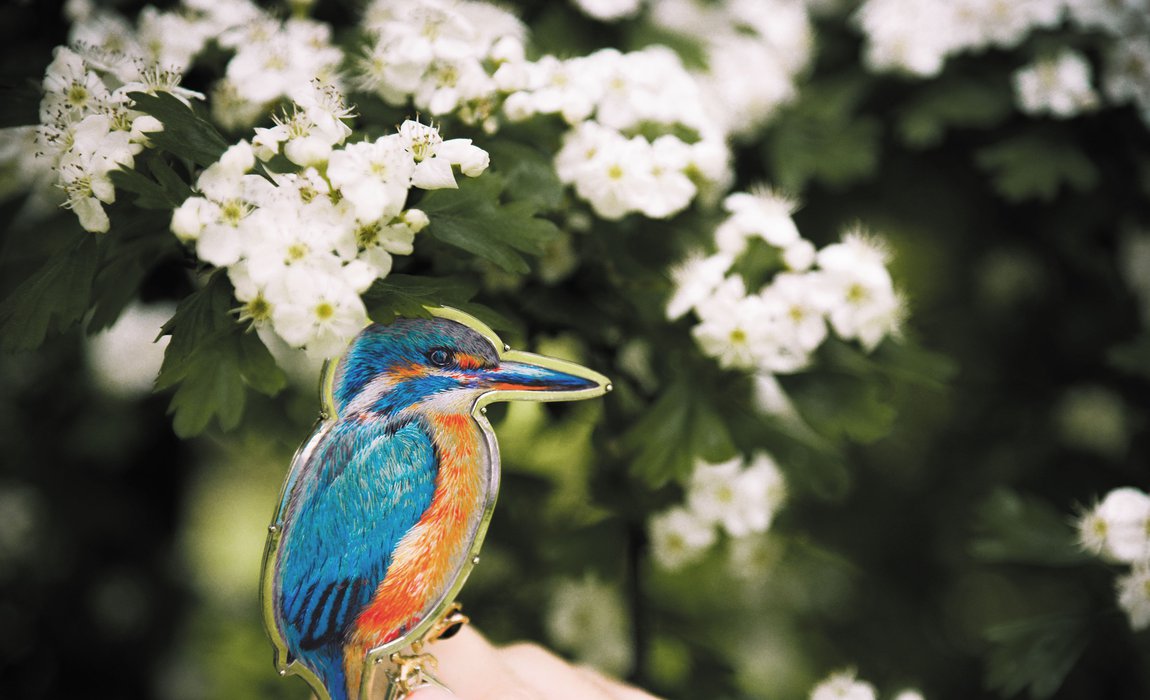 Your collection is called Silk Menagerie. Can you tell us a bit about your inspiration for this collection? And what techniques and materials did you use to create the pieces?
This collection is my BA final collection. I decided that I wanted to do something that spoke for myself as a designer and as a person.
The metal part speaks for me as a jeweller, I studied for three years as a jeweller. The embroidery part is something I had never tried to apply to my jewellery before, but as it is a traditional Chinese technique taught to me by my grandmother, I wanted to incorporate it to represent my cultural background. Finally, the animals featured in the collection are all either endangered or extinct species, so it is me bringing attention to that issue. I want people to appreciate these creatures before it is too late.
Silk Menagerie used to mean rich people having their own animal collection – really exotic animals like peacocks and lizards. And the name is inspired by the American theatre play 'The Glass Menagerie' by Tennessee Williams. I'm very much a theatre person and in that play, there is a character called Laura who owns small glass animal pieces. She has a very personal attachment to them. In the same way, I attached my personal feelings to all the animal pieces that I created, but made from silk, so it's called Silk Menagerie.
One of the standout pieces is the Laughing Owl eyewear piece. What was the creative process behind them?
I have always loved eyewear, so that piece is just me. The laughing owl is an animal that is on the verge of extinction so I wanted to bring attention to this fact. Beforehand I observed quite a lot of different owls and as their most stand out body part is their eyes I took that part as the element.
I also researched different jewellery pieces that featured eyes and the "Lovers Eye Brooch" came to my attention. They date back to eighteenth and nineteenth century in European society when men and women would commission a brooch with their lover's eye enamelled on the top as a way of showing affection for that person. Jewellers would decorate the outside with gems and pearls to make the eye stand out. For my piece, I adorned the frame with pearls, but instead of going all the way around the pearls gradually fade away. It speaks for the fate of the animal. It will be gone soon.
The metal part is made from silver, so it's actually not really a friendly material to work with when you're making eyewear because you need to band it a lot and the silver is quite soft.
For the embroidery, I tried all the silk thread I could get from the UK, but I couldn't get the desired effect, so I've got silk thread from China because it gives you more flexibility with your thread. The embroidery is just like a detailed drawing, so it needs to vary in thickness so that the image is more vivid.
I used this technique because I feel the value of embroidery is under attack by  modern technology. I wanted to bring this to people's attention or so that they can see that even though modern technology can achieve it faster that craftmanship cannot be replaced.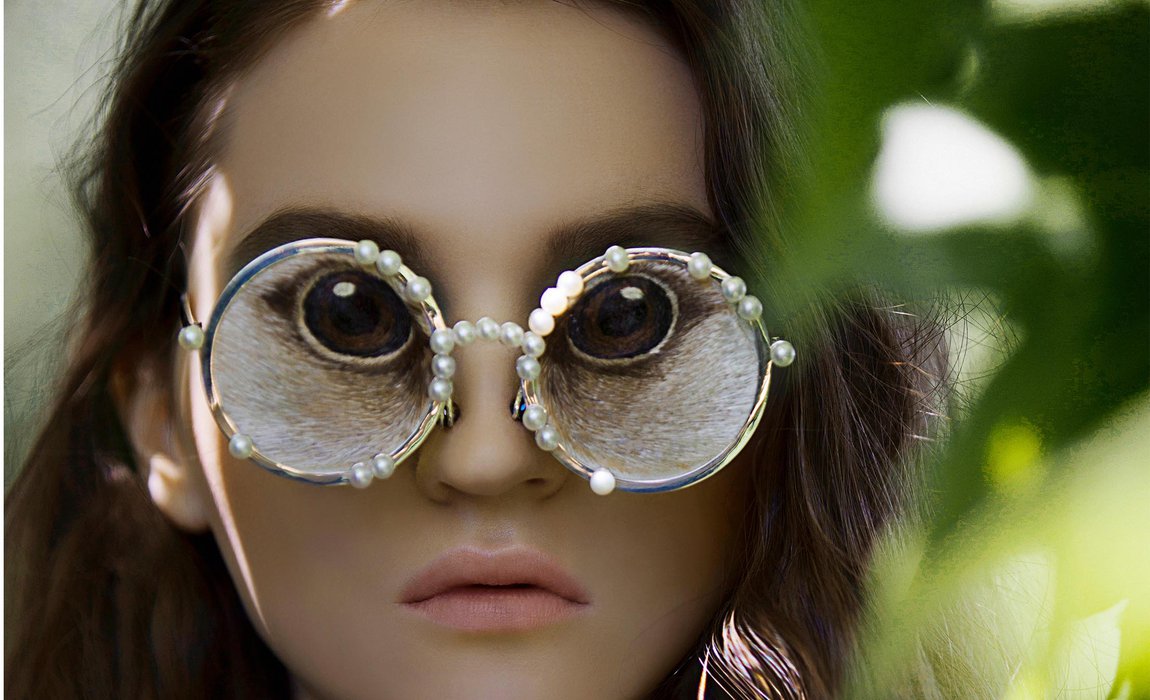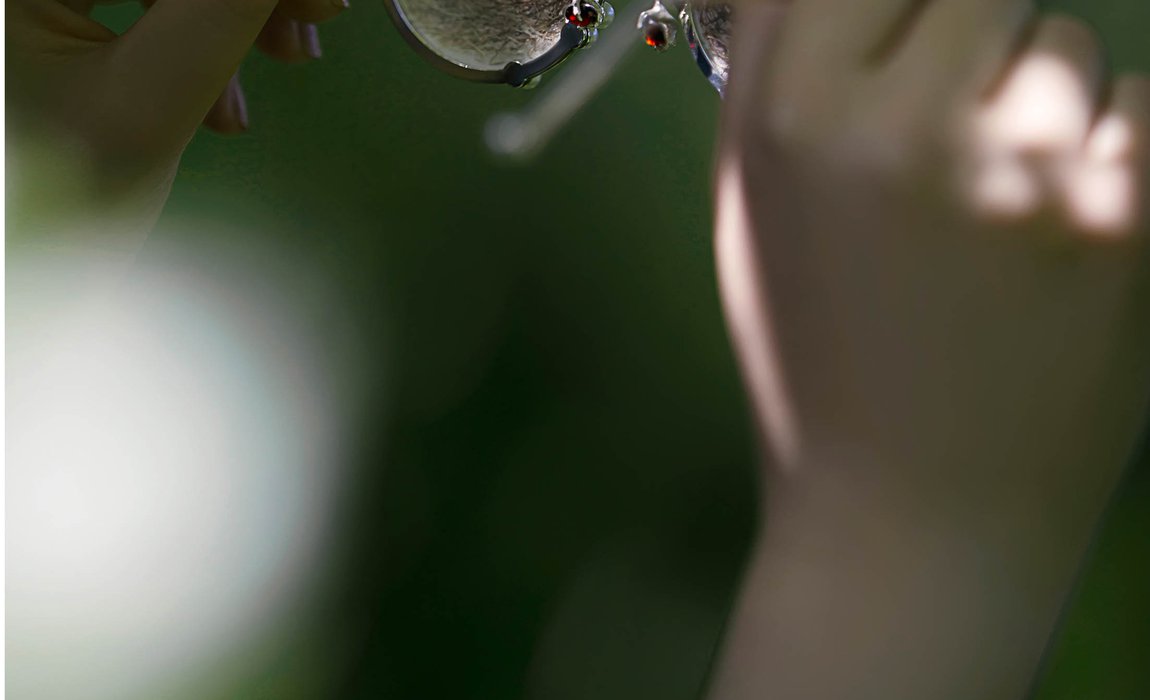 Do you wear jewellery? What pieces of jewellery do you think everyone should have in their personal collection?
I'm short-sighted so apart from my daily glasses I don't really wear any jewellery. I'm still trying different things so maybe if one day I find a perfect piece that suits me I will wear it. As I am working in this field, I want to be open to the creative possibilities so I don't want to show any preference to certain kinds of jewellery. With regards to personal collection, I shouldn't be biased but I think eyewear, you can't go wrong with that! Even if you're not short or long sighted a pair of sunglasses is a nice one for your daily outfit. But a nice wrist watch is fine too.
What kind of person do you think would be interested in buying your pieces?
Someone who has balls! The kind of person that really wants to make a statement, perhaps a stylist who wants to buy it for photo shooting purpose. It's not really for daily use, but if someone wants to wear it daily, that's great.
What are your plans for 2018?
I am going to be an MA freshman but not for jewellery. I got two offers, one for jewellery and one for fashion millinery, and I accepted the latter. It's not like I thought I have learnt enough about jewellery or being a jeweller. I'm still in my early 20s and want to expand myself as a designer and since I'm still studying I thought I would try something new.
Then maybe I can come up with something that combines my metal technique, my embroidery technique and millinery to create something new. I want to open the possibilities, and who knows, maybe I'll come up with something rather unique.
For more information on the Shine 2017 exhibitors and to start commissioning your pieces, visit www.goldsmiths-centre.org/whats-on/exhibitions/shine-2017