An Interview with Goldsmiths' Company Apprentice, Carys Hindry
Goldsmiths' Company Apprentice Carys Hindry is striving to perfect the art of polishing, an essential component in the manufacturing and supply chain. Bound to Mayfair-based fine jeweller Gina Ashley, she shared her experiences as an upcoming tradesperson in this recent interview with the Centre.
Can you tell us a bit about how you got into the industry?
My dad has been working in the trade for 35 years, so I've always had an interest in jewellery that stems from him. He has worked for several companies and is currently employed at Cartier, where he works alongside my master's Dad. During my early childhood years, I'd often visit my dad on annual London visits, and that's where I met my master, Gina Ashley.
At 15, Gina offered me six weeks of work experience over the summer period, in hopes of building up my confidence and offering me insight into the trade. When the placement came to an end, I was sad, but it told me that this was an area was worth pursuing as a vocation. Gina then offered me a job, and I carried on working until I secured a place on the Goldsmiths' Company Apprenticeship Scheme.
What does an average day look like for you as a polisher?
My day begins with prepping my workstation, and then choosing what to focus on in the morning by prioritising the most urgent jobs. I then liaise with customers so that I can organise my work-in-progress based on their deadlines, which helps me formulate a schedule for the day.
I usually do my polishing first, and then move on to plating; however, there are often pieces that require masking out for multiple plating colours or techniques, or where only a fraction of the piece requires plating. When I have jobs of this kind, I will polish them first, mask them out, and whilst I wait for them to dry, I'll finish the rest of the polishing. I also deal with customers throughout the day.
What's unique about your place of work?
I work in the Mayfair area, in a workshop consisting of six self-employed individuals – therefore we all receive work from different companies, which is great as it means we can share the workload between us whilst still seeing private customers. The building has three floors, and each floor is a jewellery or watch workshop.
What's the most important part of your day?
The most important part of my day is the initial planning and organising period. As a polisher, I represent the last stage in the manufacturing chain, which means people are heavily relying on me to get their jobs out perfect and on time - if I don't organise properly, this may not be possible. It's massively important for us to keep to tight deadlines and to maintain a high standard of work, keeping the client happy and hopefully securing more work from them in future.
Why did you choose a career in polishing?
I decided that I wanted to pursue polishing as I have always had an interest in it, and think it is a good long-term life career. I enjoy watching something go from a rough state to having a high-standard polished finish. I like the fact that I'm the last on the job, finishing the piece and seeing it when it is complete. I also enjoy the fact that you're not limited to focusing on one piece for a long time, and that you have the flexibility to pick projects up and then put them down again. I really enjoy the variation in my work.
Why do you think it's important to keep the craft of polishing alive?
Polishing is very underrated in the jewellery industry; you can be given a piece that is dull and lifeless and through polishing it correctly, keeping the shape and edges perfect, bring it to life. A lot of people think that polishing is just brushing something and making it shiny, but there are a huge number of factors to consider and tricks to learn to perfect the art. Polishing will always be relevant as things that are not polished are not going to sell.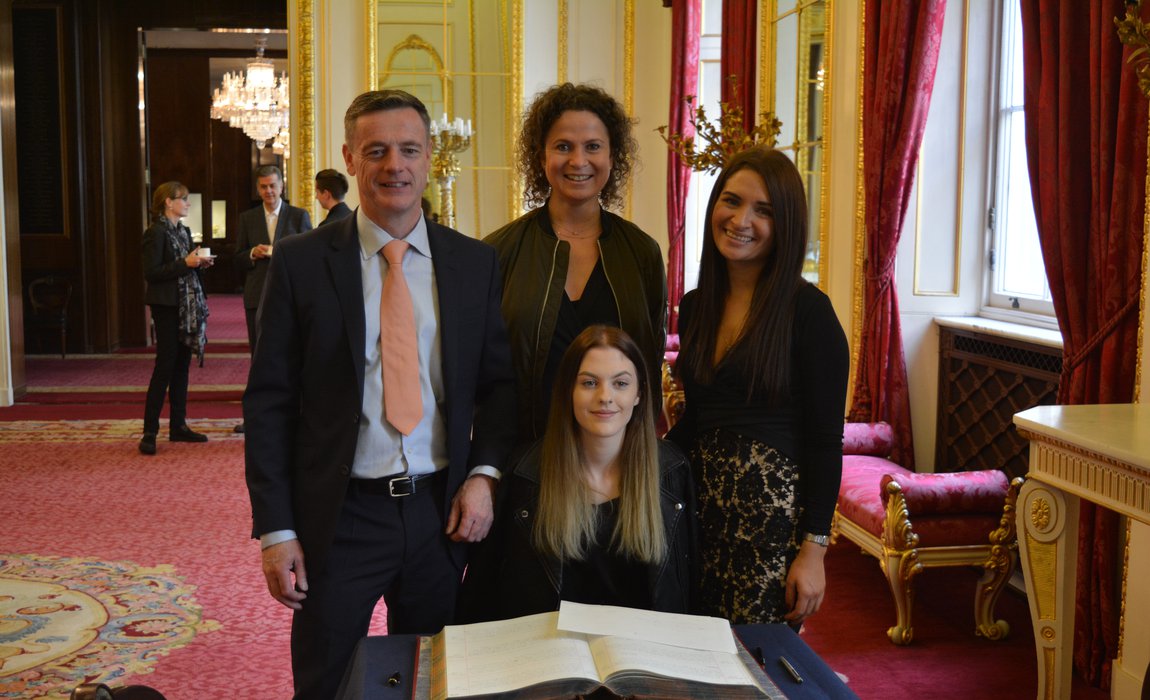 How has the Goldsmiths' Centre impacted your life and career?
The Goldsmiths Centre has impacted my personal life massively, let alone my professional life. Initially, it was very difficult for me to enter a working environment, and manage all the day-to-day things that entailed, as when I started I had been out of work and school for 18 months. I have to thank my master, Gina, for helping me through this period, constantly pushing me to be the best that I can be and encouraging me not to give up. Since then, the progress I have made through the Centre has been amazing to me, I never thought I would get this far in life and still be enjoying every moment. The Day Release programme, where all the young people come together to learn new skills once a week, has also impacted my social life greatly. It has allowed me to mix with people my own age and make friends whilst learning. The teachers are great and so are all my peers; I couldn't wish to be anywhere better.
What's next for you?
In future, I hope to continuously grow and learn new skills as a polisher and hopefully at some point work alongside my dad. I would like to have my own business in future, so will strive to learn all that I need to in order to make this possible.