Shine 2019: An Interview with Ella Fearon-Low
Following a whirlwind first few years in the industry, Ella Fearon-Low has no plans of slowing down. A Getting Started 2018 alumni, she has been chosen as one of the ten makers for Shine 2019, our annual showcase of new talent. We sat down with Ella to discuss her life before jewellery making, what influences her work, and her excitement to be a part of Shine.
Can you tell us a bit about your journey into the industry?
This is a second career for me but has felt a bit like coming home. I made tiny things to scale prolifically as a child - furniture, hats, Celtic huts, anything really.  As I was from a family of artists and designers, I wanted to prove myself in other spheres when I left school and this led to a career in international development.
After retraining at the wonderful Morley College over several years, I launched myself as a jeweller at the end of 2016. I have felt very supported on my journey into jewellery by the sector, notably by The Scottish Gallery, who picked up on my work up in my first year of trading, then the Goldsmiths' Centre when I was a part of Getting Started 2018.
Getting Started took me over an imperceptible line and plopped me down right in the middle of it all – it gave me networks and insights that would have taken years to accrue otherwise. Since then, I have not really stopped. Last year was a whirlwind where I won a Goldsmiths' Craft and Design Council Award, exhibited twice at The Scottish Gallery and showed at New Designers One Year In, Rising Stars at the New Ashgate and Dazzle at Oxo Tower, amongst others.
What does being chosen for Shine 2019 mean to you?
It means so much to me to be part of this fantastic group of exciting makers at this stepping off point in our careers.  It's such an honour to be selected and to have my work highlighted in this way.  It also seems that Shine is growing and evolving as an event every year and I am looking forward to seeing this years' show set up.
How would you describe your design style?
Playful, decorative, and graphic. I am a visual magpie collecting and noting design motifs, building shapes and historical objects everywhere I go. I draw on this library of images and shapes in my design process, and often seek to give contemporary energy to historical and familiar forms. I think my graphic approach to design helps to keep my work fresh and unfussy.
What can you tell us about the collection you'll be debuting?
I will be showing work from two of my collections - Modern Rococo and Cumulus Revolution.
The latter is inspired by clouds and raindrops in all their glorious forms with a hint of Deco styling; the former is a collection of quirky graphic shapes that derive from medieval architecture, royal chess pieces, beautiful wooden finials and Renaissance jewellery.  
I am also showing some new work that sits somewhere between and draws upon both collections. I love the richness of this new work as it steels the sultry tones of oxidised silver the rich colour from the Cumulus Revolution and the stronger graphic lines and gold detailing from Modern Rococo. These include the Buckle Brooch and Trifolium Brooch.
What's your favourite piece in the collection and why?
I think it would have to be Buckle Brooch which is inspired by beautiful Georgian shoe buckles. My mum collected them when I was growing up and they are such gorgeous decorative objects. I find the symmetry and detailing of this piece very pleasing, the gold rivets between vintage pearls and the way the light catches the hand carved Lucite. 
I also rather love the Statement Finial Jewel which is made up of two small brooches with a series of chains that connect them. It's so versatile and can be worn on the front or the back of a simple outfit to create a really striking look; but for quieter days the brooches can be worn singly or together with no chains which is much more paired back and classic - I am looking forward to showing this piece to people at Shine!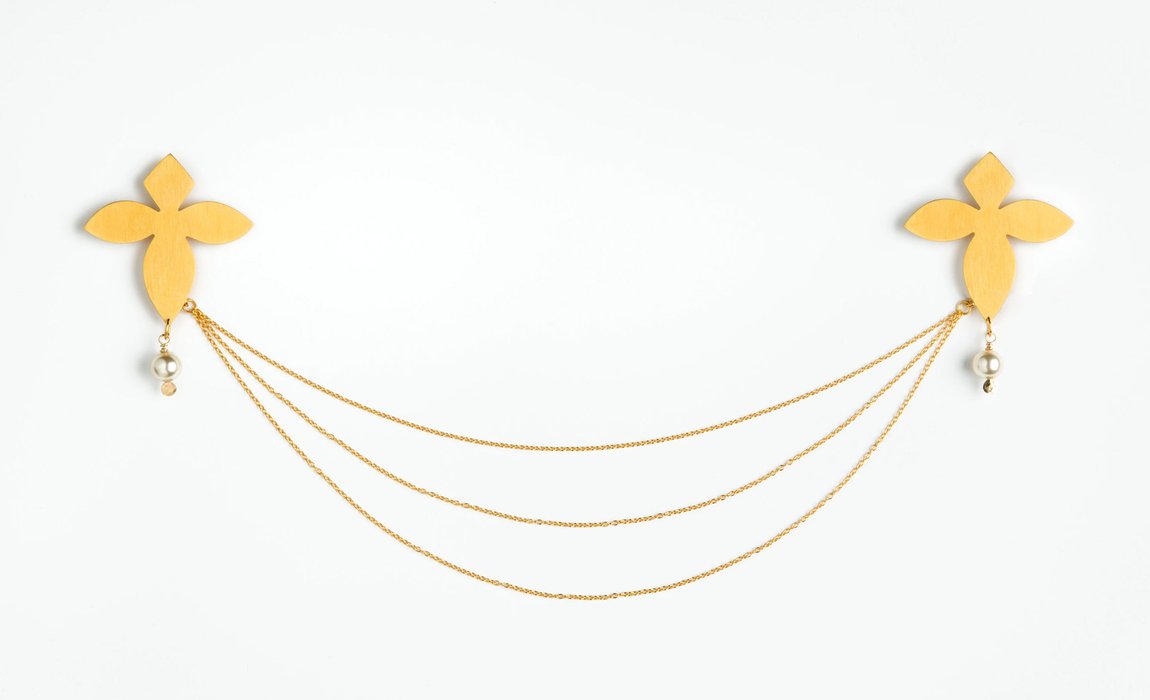 What kind of customer do you expect to be most drawn to the pieces?
I have found that some people have a strong emotional connection to my work, it just seems to resonate with them at some level. I love to see the energy of a piece change when someone tries something on the first time because my jewellery really comes to life when it's worn. It's such a pleasure meeting and finding out about the people that buy my work. Many of them have been creative or interested in the arts - designers, artists, architects, gallerists, and collectors amongst others.
What are you most looking forward to about participating in Shine?
I am really excited about the opportunities to show my work in person at the opening and the 'Meet the Maker' events around the Goldsmiths' Fair. It is great to show work directly, to meet new audiences and to gauge their response to my jewellery. 
I am also excited to be showing alongside this crew of talented jewellers and silversmiths. It is a really interesting group and some that I have never met before can now be counted as colleagues. It is such a supportive industry and the Goldsmiths' Centre has quickly made itself an invaluable facilitator for those of us early in our careers.
Ella's Cumulus Revolution and Modern Rococo collections are now available for purchase via our eShop - perfect for a bespoke Christmas present!