Shine 2018: Catherine Rua
Catherine Rua is currently exhibiting as part of Shine 2018, our annual exhibition that celebrates up-and-coming talent in the UK. Find out how Catherine took her first steps into the industry, how time has defined her collection and how she plans to develop her business.
Why did you decide to become a jeweller?
I've always loved making and working with my hands. My dad was an engraver with a market stall at Covent Garden market where he would engrave jewellery, glass, watches and all sorts. I grew up fascinated watching him work and being around his tools, picking things up and asking him what they did. I remember the first thing I made with him when I was about 10 years old - a lion engraved onto a glass - I remember that feeling of just being amazed that I had made that and got a real buzz from it! 
  
I didn't take the usual university route into jewellery. I started working as a Trainee Jeweller for a jewellery manufacturer in Melbourne, Australia and loved it. Since moving back to my hometown London, I worked for various Hatton Garden jewellers and was then incredibly lucky to receive a scholarship from The British Allied Trades Federation which allowed me to continue my formal technical training at The British Academy of Jewellery. 
 
Now I can't imagine doing anything else and love that I get to wake up and make jewellery each day! I still have so much more to learn and eventually would like to complete a BA and Masters.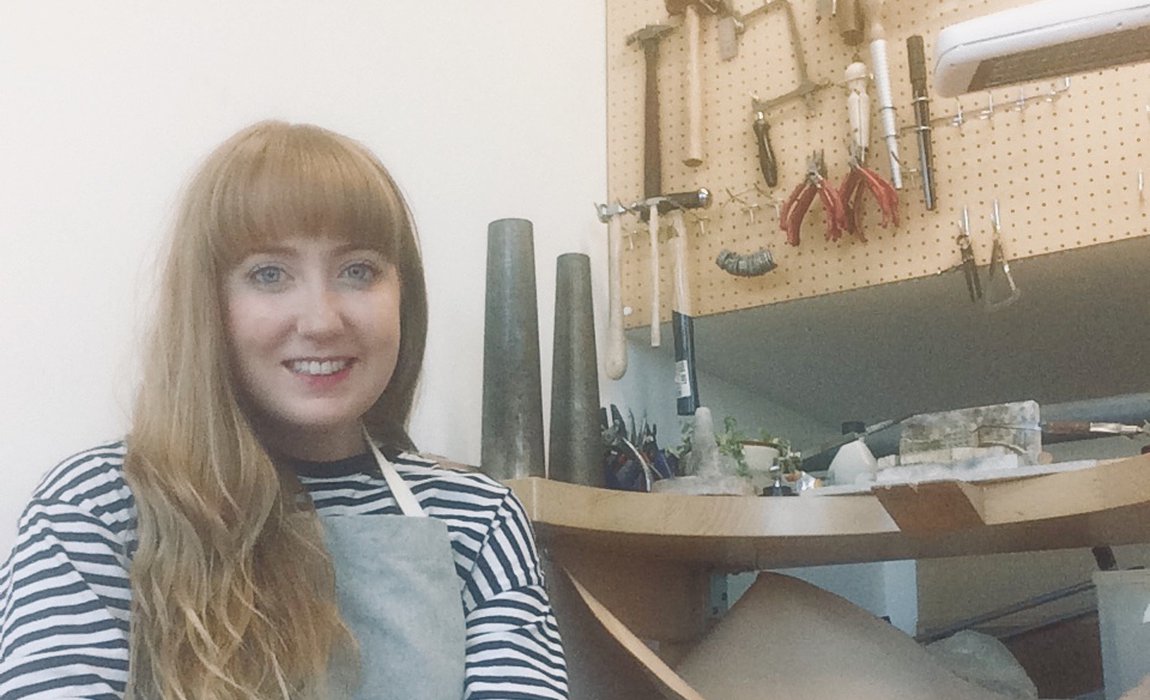 Time is a big source of inspiration for your collection. What is it about this that inspires you so much?
When I was growing up, my parents had a cabinet of ornaments and objects they had collected, along with a large clock collection - some worked and some didn't, some told the time correctly but most did not. I was in awe of these old clocks and could watch them for hours. 
 
In a world full of hectic schedules, deadlines and demands, I think it's important to just stop sometimes and enjoy the moment. For me, this absolutely happens throughout the making process where I get completely absorbed in making. It's a meditative process for me where I lose track of time. With my Time Series collection, I seek to capture a moment in time, with most of my pieces being grounded in ideas that invite people to reflect on the nature and passing of time.
 
I also now happen to work part-time at a watchmaker's, working on the delicate and skilful assembly of putting a watch together - from putting dials and discs onto movements, to glasses on cases. I'm surrounded by it!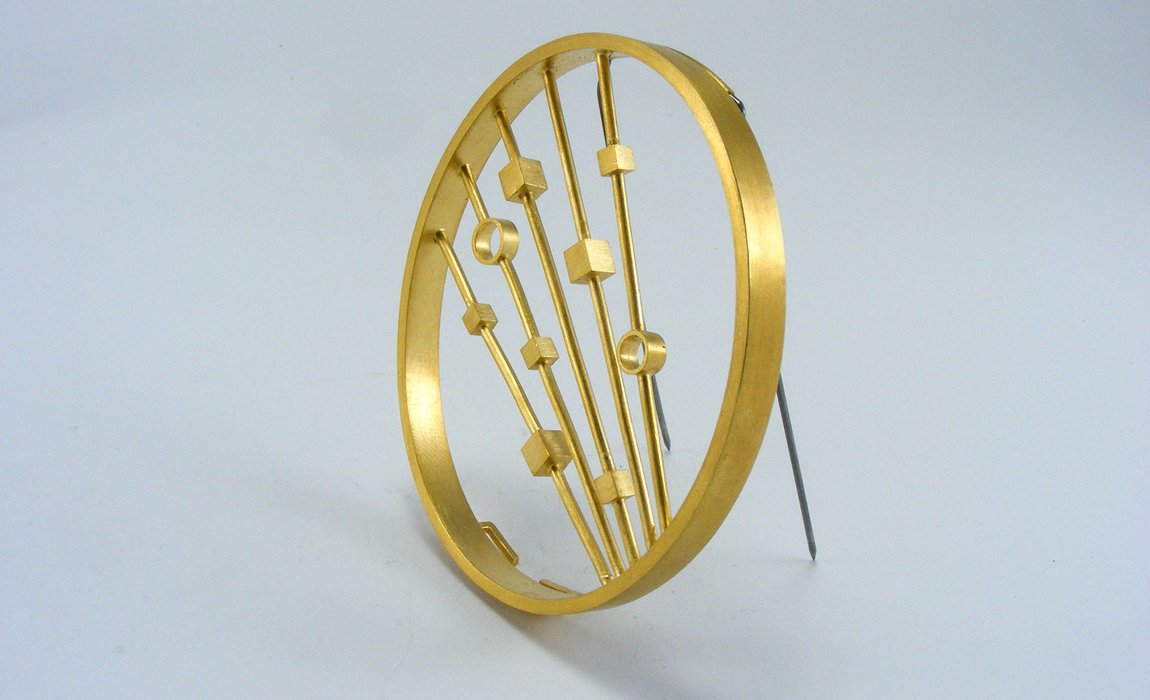 What is your favourite piece in the collection and why?
I think it would have to be the brooch 'A moment in Time' which has informed the rest of my 'Time Series' collection. Generally, for me, each piece I design and make evolves onto the next, after a process of experimentation and refinement. I made it last year for The Goldsmiths' Company Assay Office Make Your Mark awards and loved the design brief they gave me. So much has happened for me in the last year since making that piece so in a way it really has marked a moment in time for me so to speak.
 
 
You took part in the week-long intensive business course Getting Started. How has this helped you develop your business?
For me, my studies and training had been solely focused on the technical, making side of things. I knew I wanted to design and make my own jewellery and had ambitions of where I wanted to go with my business but didn't quite know how to go about it. Along with this came with so many questions; How to cost and price my work correctly? How to reach out to galleries? How to develop successful PR? What even is SEO?! Initially it's quite overwhelming going it alone, so for me the Getting Started course really filled a gap and helped answer those questions. There was an amazing programme of speakers, I think we had around 20 speakers in all – all offering years of experience and provided some great advice that will stick with me for life. 
 
I still have a long way to go but I have found that my confidence has grown, and I will quite often look back on my notes if I'm stuck with anything or need a refresher.
 
 
What is the most exciting thing about exhibiting at Shine 2018?
Exhibiting at Shine is incredibly exciting for me! Preparing for this show has challenged me as a maker and has pushed me forward to work on new ideas and designs. Exhibiting in the Goldsmiths' Centre Atrium where so many people walk in and out of each day will really help to expose my work to a larger audience. I'm really looking forward to receiving feedback on my work and seeing people's response. 
I had the chance to see the exhibition last week and to see my work in a cabinet displayed so beautifully was such a great moment for me. As an emerging designer-maker I have felt so supported by the Goldsmiths' Centre, it's such a great community and you just never know what will come from this kind of opportunity.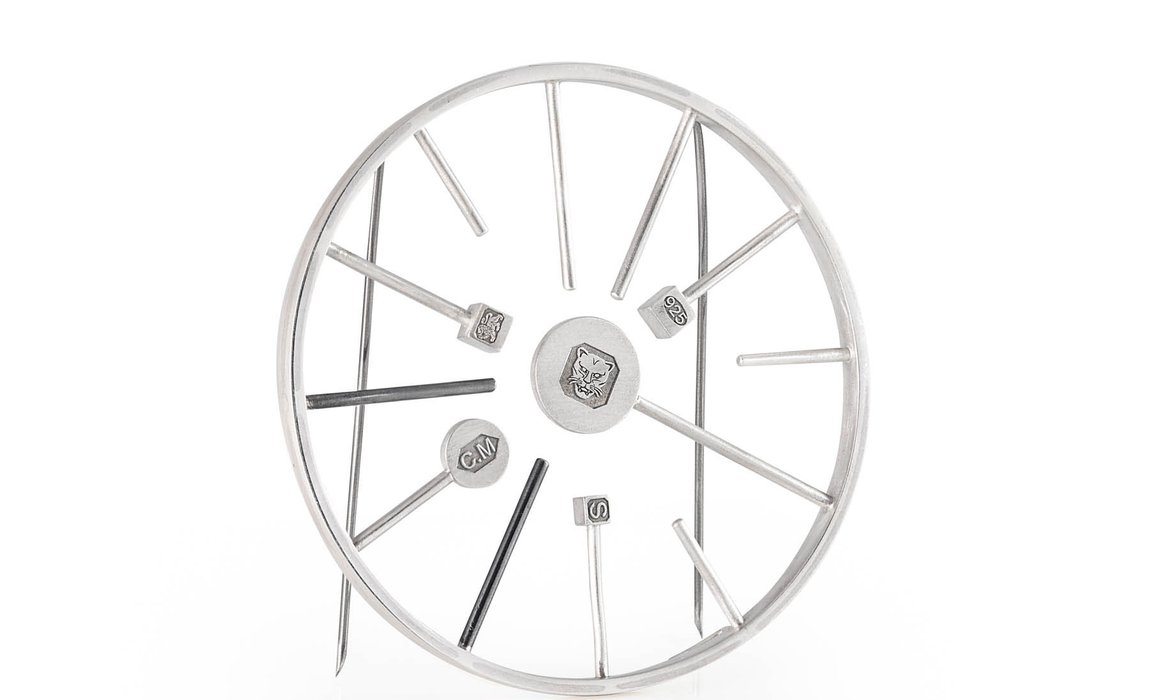 What techniques do you use to create your pieces?
I hand fabricate all my pieces using traditional goldsmithing techniques such as piercing, scoring, forming, soldering etc. I mostly work in small series and one-off pieces, so it makes sense for me to work in this way and the making part is all the fun for me. I'm conscious about the materials I use, working in recycled eco-silver where possible and I'm working toward a fully sustainable approach and working practice.
 
For some of my more recent work I have been developing a mixed metal technique, where I draw silver and gold metal through the draw plates to create a concentric pattern of silver layered with gold when cut at a cross section. I'm still working on this at present and look forward to showing more of this work next year.