Pamela Rawnsley 1952 – 2014
The Goldsmiths' Centre is delighted to present Pamela Rawnsley 1952 – 2014, a retrospective of the extraordinary career of leading artist, silversmith and jeweller Pamela Rawnsley (b. Devon, UK, 1952, d. Wales, UK 2014). Originally held at the Ruthin Craft Centre in Wales in 2015, this solo exhibition visits London for the first time and reflects the full scope of Pamela's creativity and technical skill. Running from 15 March – 4 May 2016, the show includes breath-taking silver vessels, distinctive jewellery, and Pamela's signature prints and drawings.
Landscape was central to Pamela's life and oeuvre. In 1996 she moved to the beautiful Brecon Beacons in Mid Wales where mountain walks in all weathers inspired the meanings, forms and delicate surfaces of her exceptional pieces. Exploration was also key to her three-decade-long practice. Through material manipulation, print and drawing she pushed boundaries.
Following her death caused by an inoperable brain tumour, the Arts Council of Wales noted:"It stole up on her in a matter of months and robbed Wales of one of its finest makers of recent times."  
The exhibition is curated by her husband, Matthew Tomalin, an artist-metalworker, originally a jeweller; noted ceramic artist Catrin Howell; and independent curator Gregory Parsons. 
Gregory explains: "Pamela's work and her legacy certainly deserve a showcase in the capital and I am so grateful to the Goldsmiths' Centre for agreeing to being the host. The exhibition and venue are a fitting tribute to the skill, hard work and dedication that Pamela brought to the world of jewellery and silversmithing."
Pamela's work is internationally acclaimed and can be found in many public and private collections including National Museum Wales, The Goldsmiths' Company, V&A Museum, Aberdeen Art Gallery and National Museum Ulster.
On 7 April from 1pm - 2pm, Matthew and Gregory will be giving a short talk about Pamela, her expansive practice and the curatorial process of putting together a landmark retrospective exhibition. Tickets to the talk are available online at goldsmiths-centre.org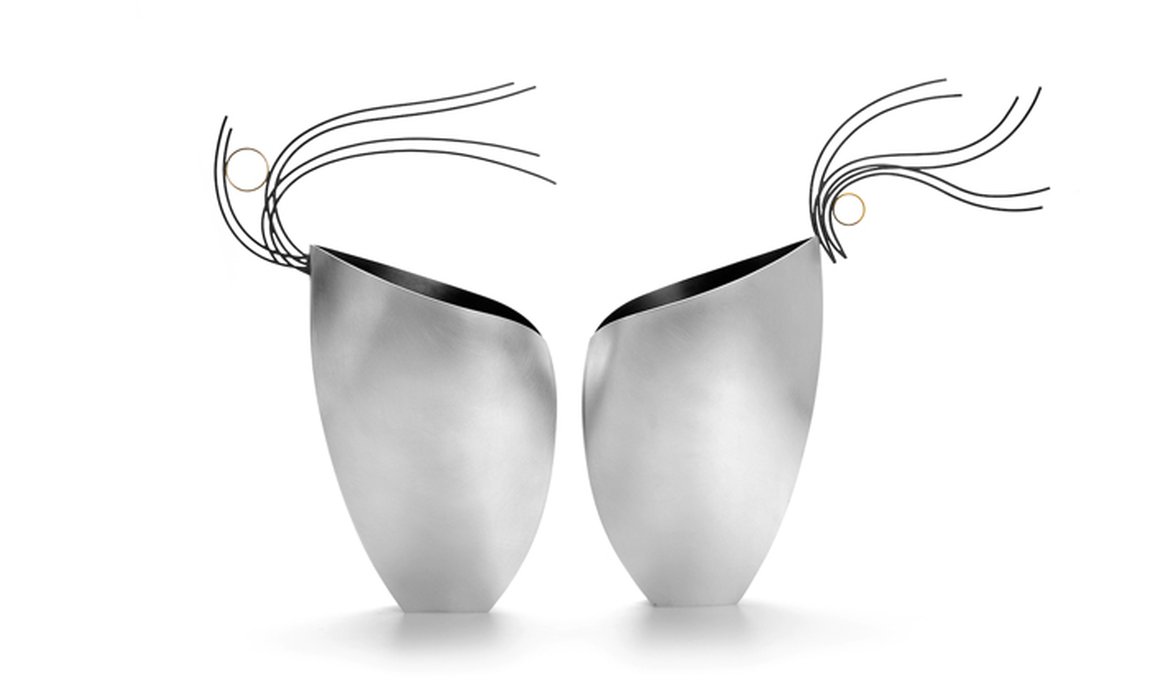 Notes to editors
Pamela Rawnsley
Pamela Rawnsley (1952 – 2014) was a leading silversmith and artist. Following her training at the former Sir John Cass College, London, Pamela studied ceramics and glass at Leicester Polytechnic; and later completed a course in jewellery at Herefordshire College of Art and Design during 1979-80. She set up her first workshop in 1981, and her first jewellery collection was taken by the Electrum Gallery, London.
Her work was regularly shown in major UK galleries as well as in Europe and the USA, and she was a frequent exhibitor with Ruthin Craft Centre, including annually with RCC at the Craft Council's Collect. The late 1990s saw the radical addition of larger-scale silversmithing to Pamela's jewellery expertise, and the development of the vessels for which she is best known. She received Arts Council Wales awards in 1998, 2004 and 2007 to further this work.
She was the Welsh Artist of the Year Applied Arts Winner in 2011 and in 2012 she was one of two recipients of the prestigious Arts Council Wales Creative Wales Ambassador awards, and spent six weeks as artist in residence at JamFactory Craft and Design Centre, Adelaide. For further information visit caeraumetals.com/pamelarawnsley
The Goldsmiths' Centre
The Goldsmiths' Centre is the leading charity for the professional training of goldsmiths. Founded by The Goldsmiths' Company in 2007, it is a charitable enterprise with a specific purpose: "To advance, maintain and develop art, craft, design and artisan skills, including in particular but without limitation, those pertaining to goldsmithing". It does this by providing training, education and managed workspace for public benefit; fostering and extending public interest in art, craft, design and artisan skills; and offering a knowledge base and community for those engaged or interested in these skill. For further information, visit www.goldsmiths-centre.org