In conversation with New Designers Winner Miki Asai
In July 2017, Miki Asai was awarded the New Designers Goldsmiths' Company Award for Jewellery. In this interview, we caught up with her after she spent a week here at the Goldsmiths' Centre completing work experience with resident craftsperson, Paul York.
You've just won the Goldsmiths' Company Award for Jewellery at New Designers. What does this award mean to you?
It was surprising but it made me a bit more confident about what I have done. It has encouraged me to keep producing pieces.
Why did you decide to become a designer-maker?
I had an interest in making. I completed university in Japan where I studied metal work and found wearable art interesting. Contemporary jewellery was something new for me. I only knew about jewellery in a commercial sense, so the concept behind contemporary jewellery surprised me. I liked the range of possibilities it offered to a maker. For me, it is like sculpture on the body, wearable architecture that people can interact with.
Although I am interested in it, I don't wear too much jewellery myself. I don't really wear it in daily life, I see it as an expression, a statement, it shows your personality.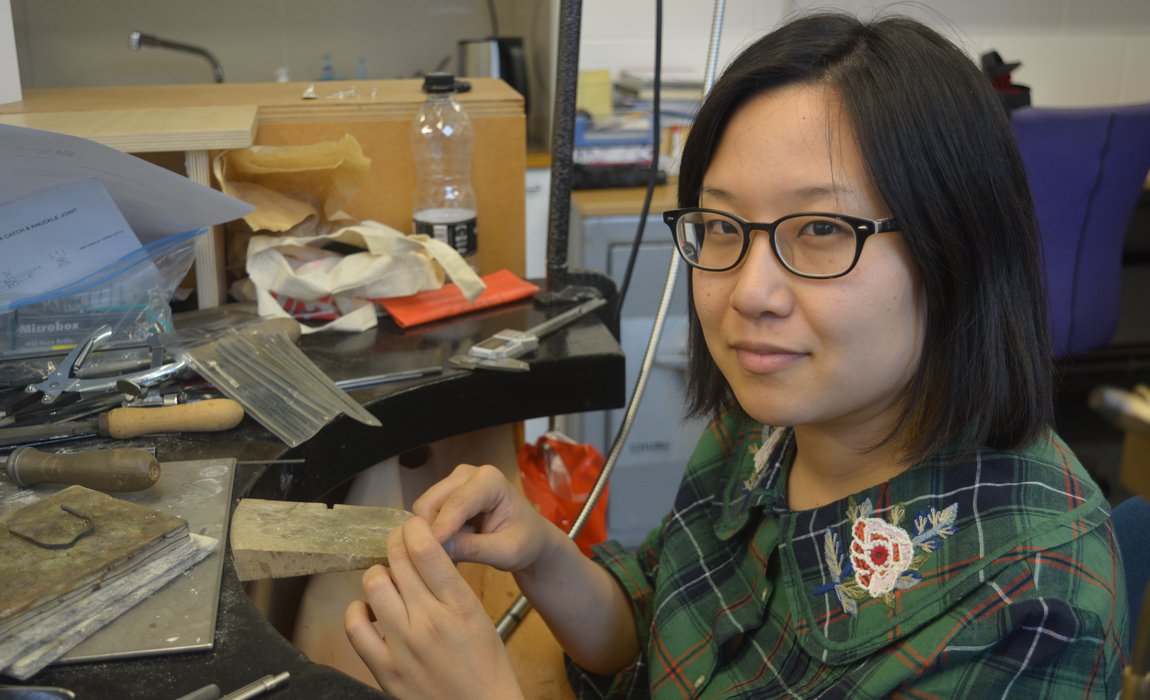 You are heavily influenced by the Japanese aesthetic; how does this show up in your work? And what techniques do you use to make your pieces?
My work is based on the Japanese philosophical concept called Wabi-sabi, which means finding beauty in imperfection and transience. I read a book on the subject that said, 'things are beautiful because they are fleeting.' This can apply to various aspects of life, whether it be emotions or something as simple as a bunch of leaves in the street. The fact that everything will one day be nothing is beautiful; flowers grow up and then they die, that is the nature of life.
I found this idea unconsciously influenced my aesthetic. I looked back through the year and I found that my concept was always about the sunset or a memory, something that isn't tangible. I tried to capture these phenomena, to portray the nature of the world.
The collection was made of various materials like paper, eggshell, and mother of pearl. In terms of techniques, I used the Japanese lacquer technique but not in a traditional or conventional way. The lacquer technique is not traditionally used in jewellery in Japan, 100 years ago it was just combs; no rings, no bangles, no necklaces.
The typical way of using lacquer is on wood or a box or container something like that on wood. I used colourful lacquers which differed from the usual black or white. I played with materials to find a way of using these traditional materials to fit me and my concept. I like experimenting with techniques, not just applying it as it is.
I noticed that as part of the design process you create mood boards, what is the process of turning these into the final pieces?
It was intuitive. The theme I was looking at did not have a shape or colour so I was trying to figure out how to materialise my idea through drawings. My inspiration is very abstract and doesn't have a shape, so the challenge is to make it into a shape, I struggled to find what form and colour I would want. I would sketch to investigate my feelings, a more intuitive way of drawing. I chose to use oil pastels and through that I found that I tend to draw curvy shapes and soft forms with pale colours often with two components reflecting one another.
So, in my collection, there are some pieces that have a ball shape and others with cubic shapes. Sometimes I have ideas about reflection on water, or puddles, sometimes you can see the sky in puddles, reflections in rain, but other times I don't have any specific things in mind. It's challenging to make something out of my feelings, but it makes my pieces more personal.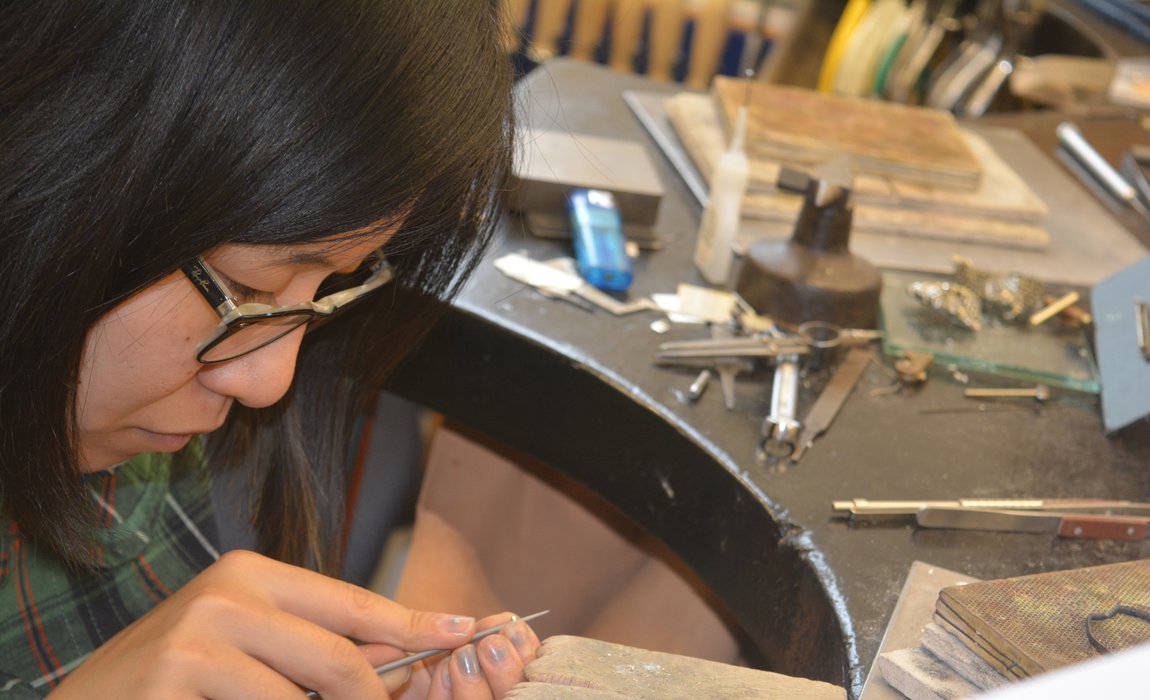 In the past, you have won many awards and a bursary including; the Prize for Graduation Work at Musashino Art University in 2011, Japan Craft Design Association (JCDA) Student Class 2014, Japan Jewellery Design Associations (JJDA) General Category 2017 and most recently you were awarded a Goldsmiths' Company Precious Metal Bursary by the Goldsmiths' Company to create the gold piece, "Preserved Moments". How have these helped you progress in your career, network or gain experience?
Most of those gave me the opportunity to show my pieces in a big exhibition with the other people. Pieces must be shown to people, otherwise it's the same as not existing. I could do my own exhibition but you get more exposure from these kinds of exhibitions. I'm happy to get some feedback from people and meet with other people who were chosen.
I was also chosen for the BKV-PRIZE 2015 for Young Applied Arts Finalist which is great because they have a big contemporary jewellery scene in Munich and this was a huge event. It was great to be shown in this environment in front of jewellers who had come from all around the world.
What was the story behind "Preserved Moments"?
It's about something transient and fleeting. I took photos that were purposefully out of focus to make the subject feel a bit more ambiguous, less obvious with the moving outlines. I thought about how I could translate this into materials, this idea of the blurred. It occurred to me that when the springs and the discs on the top are moved it creates a blurred effect, they vibrate, creating something that looks like my out of focus photographs. When seen in this way the object becomes ambiguous, that was the thinking behind it. It is different from the other pieces but the idea is still the same.
The springs are 18ct gold and were made from a wire of 0.3mm thickness that was binded around some wire. All attachments are laser welded, using a laser to melt a very tiny spot of metal to attach the springs. It took me almost a month to make. I was not used to the laser welder in the beginning and the 0.3mm wire is so thin that if I lasered slightly off from the mark the spring would break, it was such delicate work!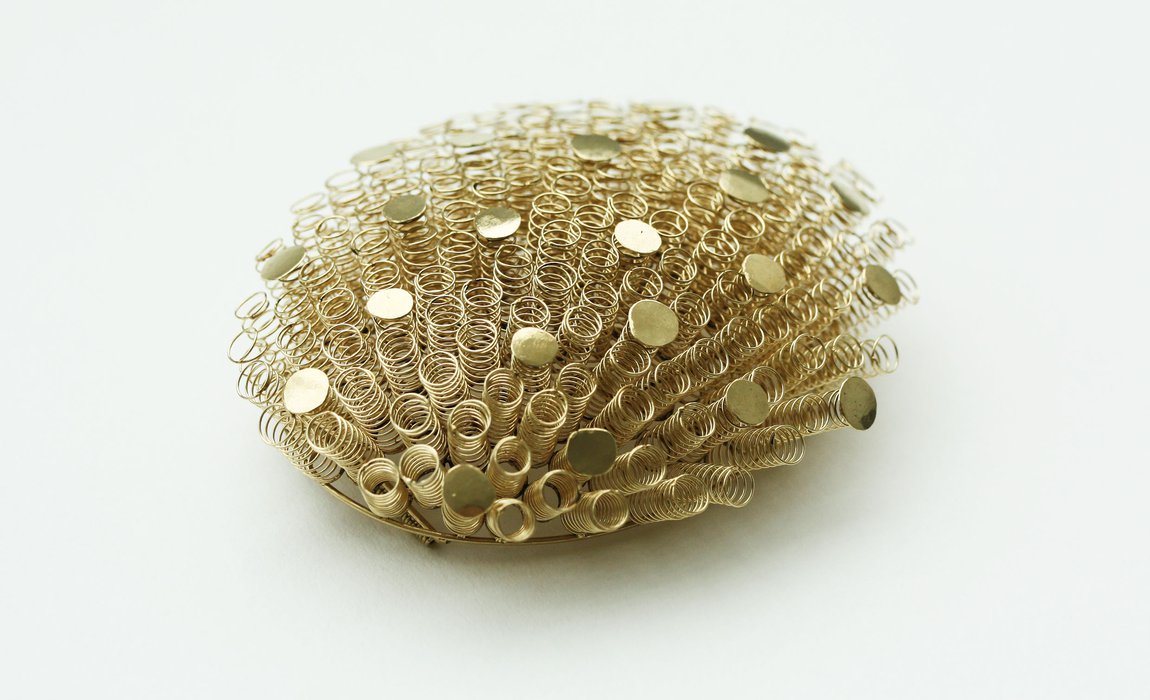 You are here completing a week of work experience with Paul York as part of your New Designers Goldsmiths' Company prize. What have you been doing while you have been in the workshop?
I have been interested in the back of the brooches, how the pins work and I have practiced a straightforward way of working. I came here wanting to explore what the options are for the future and Paul showed me some samples of revolving systems. The system itself is simple but it is super small so I was filing my fingers, cutting my nails all week. It was good to look at tools that he uses, in the beginning of the education we just got the same boxes of tools, so it was good to see what a professional has, what they have and what they think is useful.
What are your plans for the future?
I hope to study more and I have a couple of exhibitions I need to make pieces for. I need to make some more pieces for some galleries, for that I need to set up my studio. Japan does not have a big contemporary jewellery community so I am a bit sad to leave Europe. It's nice to be at home, but it's easier to keep in touch with this field being where it is.
How will the support of The Goldsmiths' Company Award for Jewellery impact your career or has it already impacted your career?
 I think this is very good. The culture and history of jewellery, I know this organisation is very old and that history is something I don't have in Japan. There are organisations for jewellery but they don't have this history, which is something very special.