Hazel Thorn on making Birch Beaker
This week we met with silversmith Hazel Thorn, whose rural home and upbringing inspire her striking sculptural work. A beneficiary of the Goldsmiths' Centre's Studio Internship Graduate Award, Hazel will also be applying her distinctive style to a silver gin beaker for Made for the Table, our summer exhibition exploring the evolution of silverware.
What inspired you to become a silversmith?
I grew up in the Scottish Highlands in a very remote area, and spent my childhood exploring the woods and making things. In my late primary school years, I took a summer class on weaving natural fibers, and began to apply that to found materials and eventually to some old fence wire, which was how I first discovered the joy of metal. Throughout school I continued working with metal and jewellery in a very simple way, and then decided to study jewellery at ECA. There I was introduced to silversmithing, which was as much fun as jewellery making, but even bigger and wilder, and I loved it.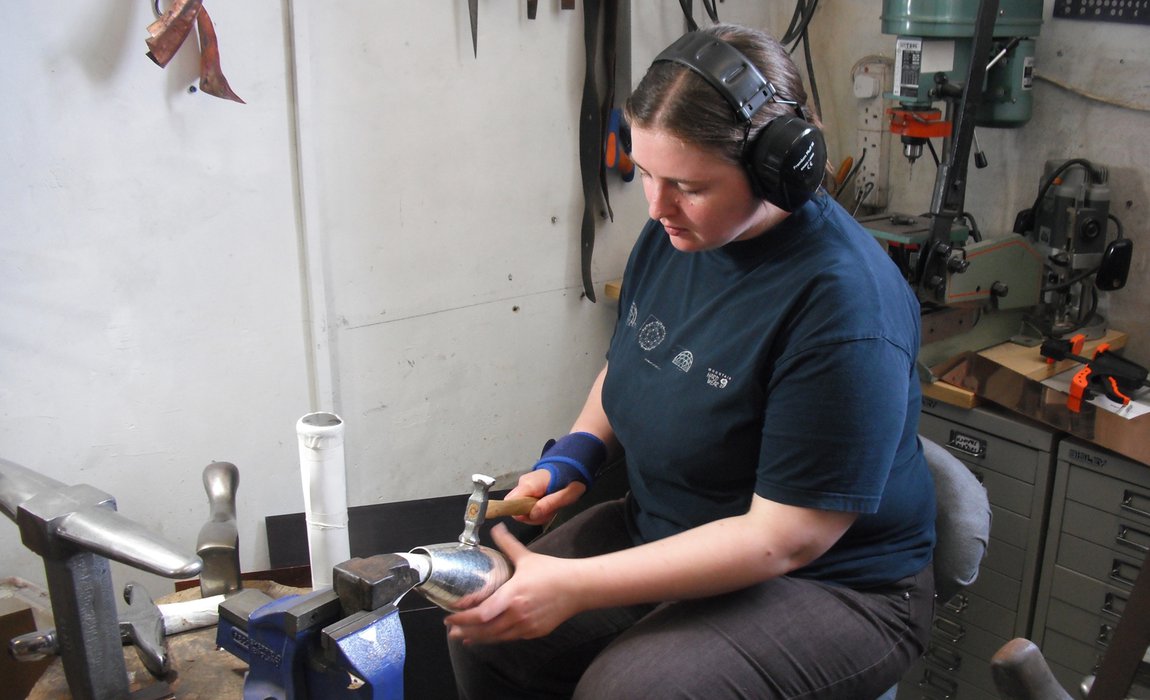 How would you describe your design style?
I base my work on patterns from wild landscapes, but in an abstracted way. My style is exuberant and colourful, especially my mixed metal work.
What are the main sources of inspiration behind your work?
I'm inspired by a love of natural forms and patterns, and also by my love of metal itself. It's such an amazing material, strong and yet incredibly malleable - you can use it to create pieces that look extremely fragile, like they're barely hanging together, and yet in reality they're strong enough to last for centuries. 

I find inspiration in other art forms too, such as bold, colourful paintings. I want that to come across in my work - to create energetic, dynamic explosions of colour, or a more gentle and peaceful contemplative feeling.
Does the beaker for Made for the Table differ from your usual work?
In my usual work, I use silver in conjunction with base metals, fusing them together to make patterns. For my Made for the Table Beaker, as it's a functional piece I've used plain silver, but created pattern using chasing instead. So, I've used different techniques but created familiar patterns, and the general feel of my beaker is similar to my usual style - it's a wild but peaceful object.
Does creating a vessel have any special significance to you?
I've always been drawn to vessels, and even my less functional work often references the vessel form. Visually, I find vessels exciting; the sense of containing space, of having an inside and an outside, and the variation in appearance from different angles.
Do you agree that gin tastes better in silver?
It's definitely more exciting in silver! When a functional object is also beautiful and hand-crafted, it makes the experience of using it much more special.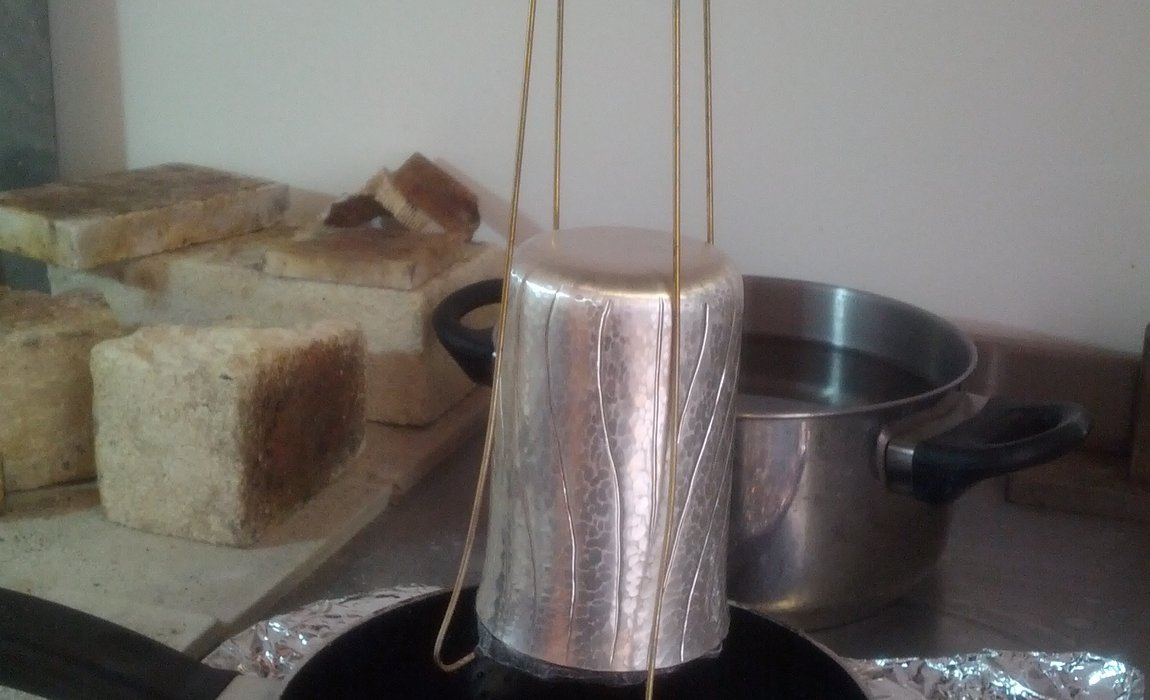 Are there any other makers who work you admire?
Yes, there are very many indeed! Alistair McCallum is one of the makers I most admire, a wonderful silversmith who worked with Mokume Gane and developed his own take on this ancient technique. After studying with him at West Dean, I used this as a catalyst to create my own version of mixed metal, going off on a creative tangent with what I'd learned. 

Another example is Rauni Higson, who I've just completed a ten-week placement with as part of the Goldsmiths' Centre's "Studio Internship Graduate Awards". I'm working with two other fantastic silversmiths during this programme as well, Adrian Hope and Mary Ann Simmons. 
 
What do you think sets silver apart from other tableware?
Anything that is beautifully hand crafted stands out, but silver is particularly exciting because it's both resilient and wonderfully malleable. You can make any form with it if you have the expertise, and it's strong and doesn't easily get broken.
How have your experiences with the Goldsmiths' Centre impacted your career?
Made for the Table is a fantastic opportunity, especially as it encouraged me to expand my functional work. 

The Studio Internship Graduate Award is a life changing event for me. It's sixteen weeks of training, which is amazing - such a big block of time means that you can get into some quite complicated techniques. 

I also took the one week Getting Started course at the Centre, which was full of sound business advice. In 2016 I had a Graduate place at the Goldsmiths' Fair, and am taking part in again this year - I'm very excited!
 
Do you have any advice for other aspiring makers?
Be persistent about applying for things. When you first start out and you're applying for exhibitions and competitions and particularly for funding, you'll get turned down a lot, and that's completely normal for any maker. It's gruelling but it's like any other creative field in that sense, and you have to persist, keep your chin up and keep going - don't stop applying!