Shine 2017: Silversmith Alex O'Connor
Contemporary Silversmith Alex O'Connor will be exhibiting in our annual selling showcase Shine 2017 at the Goldsmiths' Centre. We spoke to Alex about her interest in vessels, and how the elements and landscapes of her hometown influenced the 'Veer Series'.
Thank you for coming to talk to us today Alex. Could you tell us a little bit about yourself?
I'm Alex O'Connor and I live in west Cornwall with my partner and my fourteen-year-old daughter. And when I'm not making silver vessels, I work part-time in conservation for the National Trust.
Why did you decide to become a silversmith?
I didn't really decide. My background is in fine art, but I had spent a lot of years as a sculpture technician. My job was to solve other people's creative technical problems and I thought I better start solving some of my own.  I went to college to do a degree in jewellery, thinking I was going to make sculptural, stripped down, elegant pieces of jewellery but I struggled to stick to small scale. Every piece of jewellery grew bigger and bigger so when we started work on silversmithing projects that was the light bulb moment! I discovered that this was what I wanted to do.
The wonderful thing about silversmithing is not only that it's a very broad church but it's also part of the ongoing evaluation of contemporary craft. Having that context has been crucial to developing my own work so far.
Why have you chosen to make vessels the focal point of your work? Where do you get your inspiration from?
This is such a good question; it's something that I've really tried to get to the heart of for a long time. I think in many ways vessels are archetypal objects, they're some of the oldest objects that humans have ever made. They've contained food and water, they've been used for quite mundane, domestic purposes, but also in symbolic or ritual activities too.
For me, vessels are extremely potent objects. In a visual sense they are very simple; an interior space surrounded by a surface and as such we can understand vessels because we interact with them all the time. As a maker, they enable me to explore function and its meaning. Function can mean utility, but it can also serve as something much more reflective or meditative.
There's a silversmith called Stuart Cairns, and he said that vessels are 'essential' objects; he didn't quite know what to do with them, he just knew he liked them. And that made a lot of sense to me, I know I love them and I find them powerful but they remain enigmatic. They are certainly an amazing vehicle to explore sculptural ideas, balance, weight, composition, surface and for that reason alone they are fantastic. They are full of potential.
What techniques do you use to create your pieces?
I'm a real constructor; I tend to fabricate vessels from sheet metal. Initially, I work with paper and make a lot of models because it's a quick way to generate forms and consider compositions. Working with metal sheet is not dissimilar to using a sheet of paper or card in that I score, fold, form and join it. I treat the metal surface almost like a drawing, layering lines and marks as I would on a piece of paper. That said, I really love raising. I think I'm probably going to be doing a bit of raising soon, just because I miss it; I miss that physical interaction with the metal in that very sort of percussive way.
I put a lot of time into finishing the surfaces. It could be with various grades of paper, building up a surface so that if you have a curved surface you can bend the light around it. I try to use light so that if you've got a group of pieces, they will cast reflections on each other and interact with each other. It's a way of playing around with light on surfaces. I'm very keen to integrate a sense of light into the pieces. Where I live, light bounces around off the sea and often, because it rains so much here, when you look out of the window you have constant lines of rain. Or you have varying degrees of mist and the horizon, the sea, and the sky blend into one another. Cornwall is a physical place to live, it's very elemental, and I know that feeds into my vessel forms.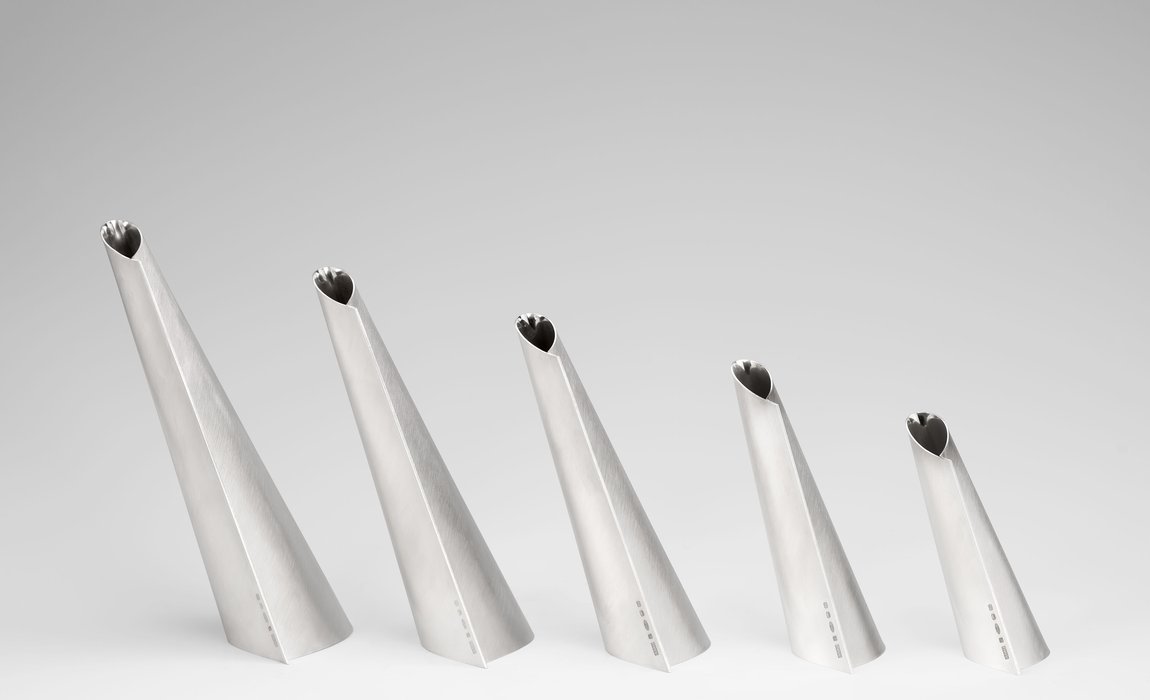 In 2017, you were selected for Contemporary British Silversmiths (CBS) Design in Silver Award at New Designers, the Goldsmiths' Company Silver Bullion Grant, and the South Square Trust Bursary in 2015. How has winning these awards benefitted your career?
I can't imagine doing what I have done without them. The bullion grant was amazing because I got £1000, which meant that I could make quite ambitious pieces of work that I just couldn't otherwise have made. It enabled me to gain a familiarity with silver on a relatively large scale. So, just in terms of getting to know what you can do with silver, it was brilliant.
I was delighted to win the Contemporary British Silversmiths award because there were a lot of fantastic makers at New Designers this year. Contemporary British Silversmiths, like the Goldsmiths' Company, are incredibly supportive of new makers. To receive that award was an amazing validation and confirmed to me that I'm on the right track. Self-doubt often goes along with creativity, and it gave me a real boost.
The South Square Trust was also very supportive, it meant I was able to make work in silver whilst I was in college. It was just incredibly helpful and as I said I can't imagine getting to this point without those awards and those bursaries.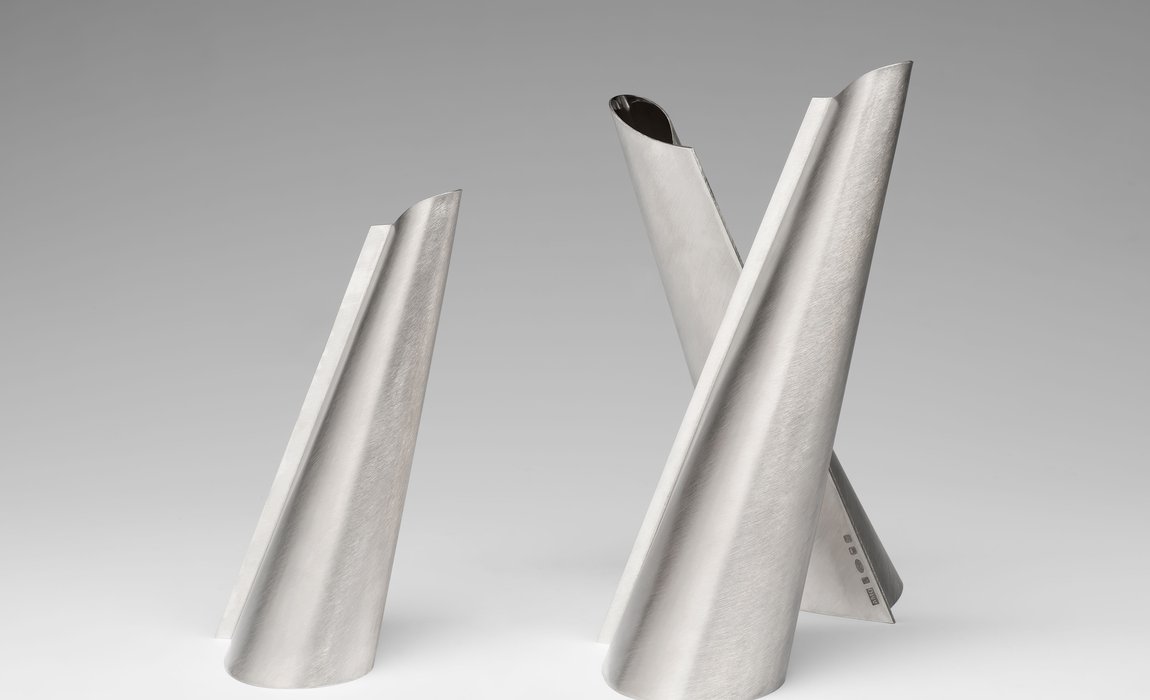 You will be exhibiting your work at the Shine 2017 selling showcase here in November. Who do you think your pieces will appeal to?
It appeals to people who are aware of sculptural silver objects, as well as functional pieces, and wish to have their environments and lives enriched by them. My silver vessels have a quiet presence. I don't make shouty pieces, part of me wishes I made work that had bells and whistles, but my work is quite quiet. I think that individuals find that very enjoyable. They see them very much as art works.
Ultimately, my pieces are about capturing something very calm, whilst all this weather and life is going on around you, they are very still. I think they are quite contemplative in a lot of ways.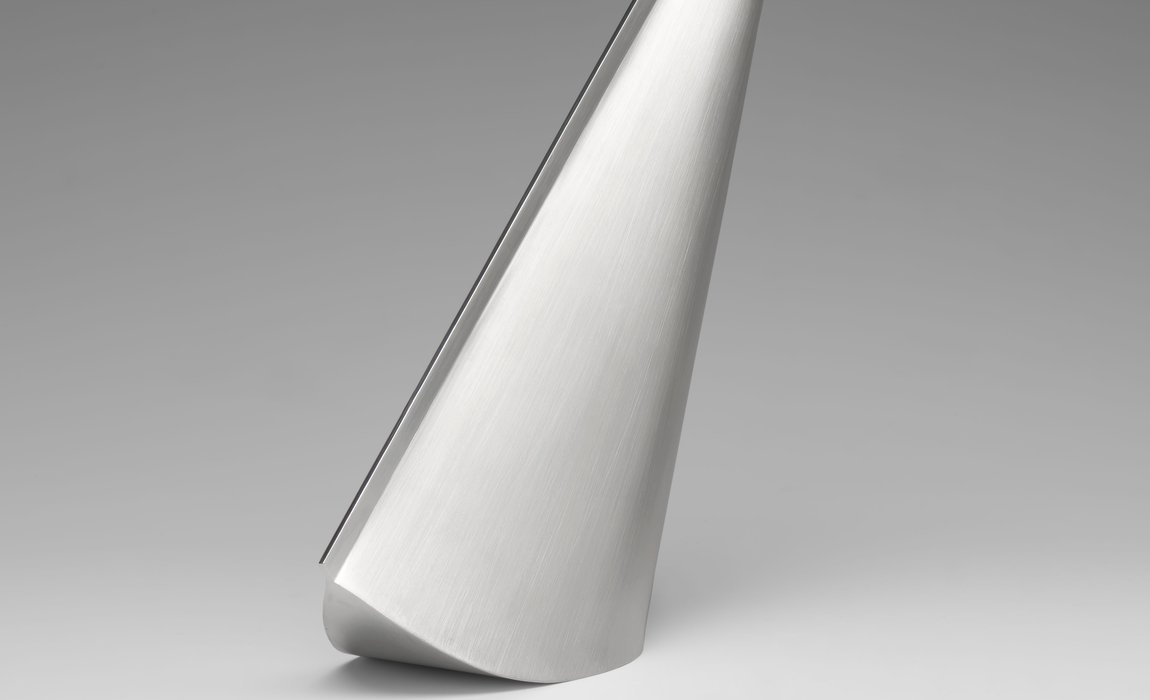 What are your future career plans?
Well, the business side of my work is very important now. My pieces are fairly niche and I'm looking to access markets that are suitable for what I do. So right now, I'm talking to a couple of galleries and I'm also looking at some international trade fairs in 2018. The Department for International Trade have been very helpful. 
This is going to sound cliched, but I'm just going to keep learning and making because there's still so much to learn. I really feel as if I have only just started to understand a little bit about silversmithing. 
I'm hoping to spend a week training with Rebecca De Quin early next year as part of my award from Contemporary British Silversmiths. I love her work because it's beautiful and technically so accomplished. I've just found out that I'm going to be part of Getting Started in January at the Goldsmiths' Centre which I'm really delighted about.