Shine 2019: An Interview with William Sharp
Chosen for his unique design style that incorporates multiple creative disciplines, jeweller William Sharp is one of ten makers participating in our annual talent showcase, Shine. We interviewed him about his plans for the exhibition.
Can you tell us a bit about your journey into the industry?
Whilst I was studying 3D Design at Leeds College of Art, I found that the course was more tailored towards becoming an Architect or Product Designer, and I struggled to see myself working within those heavily practical disciplines. My tutor at the time was a Fine Artist with an interest in Object, he mentioned a course at the Glasgow School of Art that had a focus on Object, Jewellery and Silversmithing and straight away I knew that I wanted to apply. For me, discovering contemporary jewellery helped me to understand my relationship with art and design. I found it to be the middle ground in which I could explore a range of disciplines and select the most suited techniques and aesthetics which could be applied to wearable objects. I have always wanted my work to be practical, whilst its aesthetic is more abstract.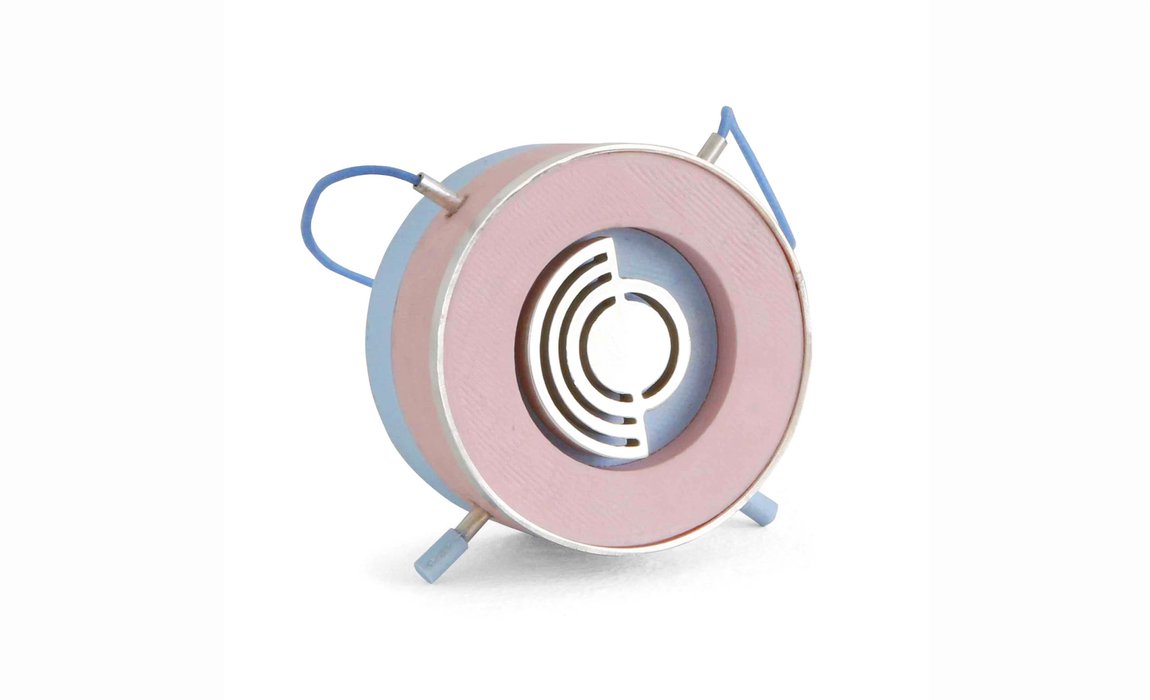 What does being chosen for Shine 2019 mean to you?
Being chosen for Shine 2019 is the most incredible opportunity for a maker whose work does not focus solely on the use of precious metals. It's helped me to gain some confidence in knowing that my undergraduate collection has a place within the industry, and it has helped me realise that contemporary art jewellery primarily using alternative materials is valued.
How would you describe your design style?
My design style is minimalist but playful, I aim to marry together geometric forms with softer colour pallets. My process is controlled every step of the way. I design all my pieces using CAD, and rapid prototype each of my designs. Selecting how the piece will be worn and the colour palette comes towards the end of the process. Each piece of jewellery is hand-fabricated giving me the chance to adapt and control the overall finish.
What can you tell us about the collection you'll be debuting?
The collection I am debuting forms part of the Montieren Collection which translates from German to the Assemble Collection. The collection draws from research that involves the Bauhaus and German product design over the past 100 years, focusing particularly on modular furniture and audio equipment. The pieces selected for Shine include experimental art jewellery that have helped to inspire some of the more practical everyday wear that will also be on display. I have chosen to work as sustainably as possible by using small quantities of precious metal with PLA plastic which is a more sustainable material. The collection aims to change people's perception of plastic as a disposable material and for society to start to give plastic the same respect and value as a precious metal.
What's your favourite piece in the collection, and why?
My favourite piece in the collection is the Screw Necklace, I feel it really references the aesthetic of German design that my research is focused on. Whilst the screws have no practical purpose, they are the key feature in the piece and allow the wearer to adapt the finish of the neck piece. The screws also give me the opportunity to design new attachments that can be collected and screwed onto the front of this piece or other pieces in the future.
What kind of person do you expect to be most drawn to the pieces?
The kind of person I expect to be most drawn to my pieces is someone who's interested in Contemporary Art Jewellery. Somebody whose interests are in multi-disciplinary art and design that is both practical and aesthetic.
What are you most looking forward to about participating in Shine?
I'm really looking forward to taking part in events at the Centre that will give me the chance to meet other makers and collectors. I'm also looking forward to gaining knowledge on navigating the industry.
William's Montieren collection is now available for purchase via our eShop - perfect for a bespoke Christmas present!