In conversation with New Designers Goldsmiths' Company Award winner Egle Banyte
Egle Banyte was awarded the Precious Metal Grant and the New Designers Goldmsiths' Company Jewellery Award in 2018. We caught up with the Lithuanion-born jewellery maker, to find out how her heritage influences her work, her time working with goldsmith Paul York and her future career plans.
Hi Egle, thank you for joining us here at the Goldsmiths' Centre. Could you tell us a little bit about how your journey into the industry?
I originally studied Marketing and Business and worked in a few companies back home in Lithuania, then I moved to London where I worked for almost 5 years. I always knew I would like to work in a creative field, but I was not satisfied in this industry because I was managing people rather than doing the creative work myself. I started looking at what I could do, began with doing weekend and evening classes, mostly textiles-based. Then I moved to Belfast, where I didn't know many people, so I carried on doing evening classes there, mainly jewellery and ceramics and textiles. Eventually, I fell in love with jewellery and that's how my journey started. I quit my job and started again.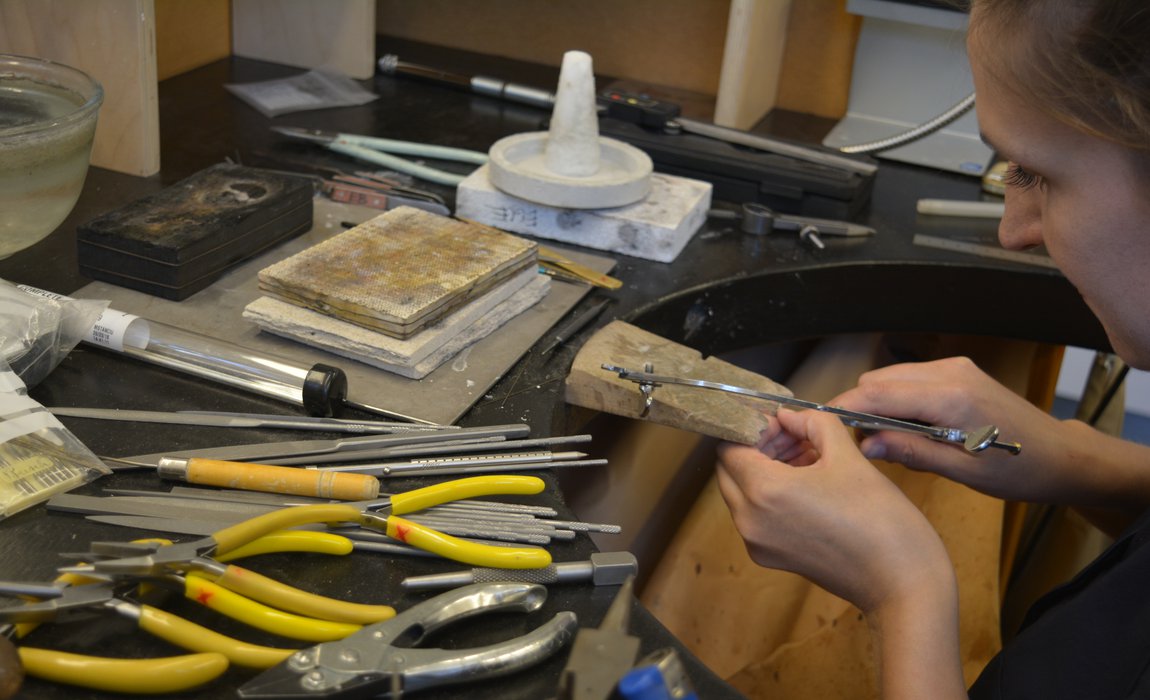 In 2017, you attended the Goldsmiths' Centre Undergraduate Summer School. What did you learn during this week and how did it impact your academic career?
My week here helped me make up my mind to just use metal. Being taught by a master craftsperson, the stuff you learn can't be read in a book and every craftsperson has diverse ways of working and that's why it is great to be taught by such people.  
I had switched from textiles to jewellery in my first year because I wanted to make everything myself, from designing to producing. It was a big eye opener.  When I came to the Goldsmiths' Centre, I thought, wow, this is what I want to do. The course made me realise how much you have to learn to be a jeweller - as much as I like working with metal, it is difficult, it doesn't listen to you. It just makes you feel more motivated to go on and practice, practice, practice and spend more time at the bench.
 
This year you were talent spotted at New Designers and awarded the New Designers Goldsmiths' Company Award. How did it feel to be recognised in this way?
I didn't really expect it! My main goal was to get feedback from people so to win an award just proved that hard work pays off and my work is going in the right direction. I had changed my career, which was a bit of a risk, so to be recognised in this way showed me that I had made the right choice.
You were also awarded the Goldsmiths' Precious Metal Grant in 2018 and as part of this received support from Apprentice Ben Kerridge. How did you feel about this process?
When I applied for the grant, I submitted the design proposal, I thought I'll just try and then you get it and you think, I will have to make it now, how do I do that? As part of winning the competition, The Goldsmiths' Centre offered me an opportunity to be trained for a few days - I found it an amazing experience.
My piece has a lot of hinges and when I was making it I thought, if I can make one then I could make the rest of the 32 hinges without a problem. Little did I know that it is not that easy. Ben kindly sent me some tips on how he would approach hinges and I think it was good because again, you can read in books and online, but to get information directly from a person, especially when a person knows what you are making, it was very helpful.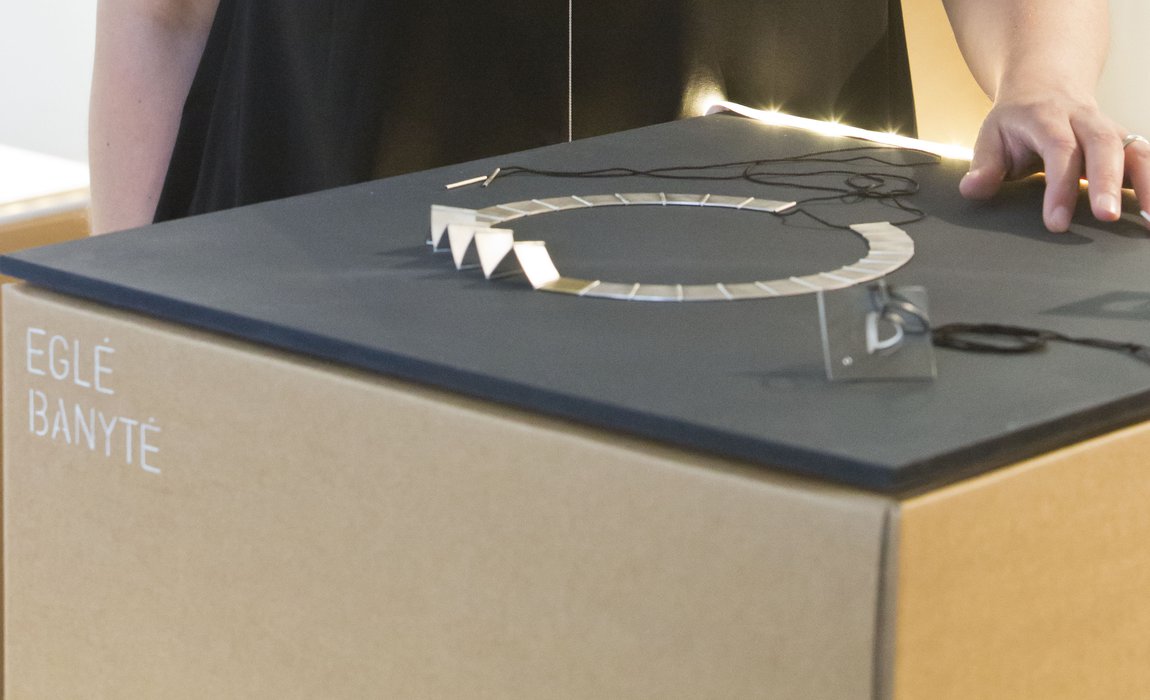 Who or what do you have in mind when your creating your pieces? And what are your favourite materials to work with?
I was working mainly with silver and to be honest, the more I worked with it the more I hated it. At university we usually worked with copper, and I felt that copper was very dirty and soft. So, I thought silver is going to be great but there were problems with silver as well, like fire stains and I wish in the future I could work more with gold but it is too expensive.
My main inspiration comes from shapes. The 'Curious Constructions' necklace that I made with the Goldsmiths' Precious Metal Grant came about by looking at a circle and cutting it into smaller pieces. I thought, why can't I break the circle with just hinges? The simplicity of it is what I like. I wanted it to look like a static geometrical shape and once you lift it you realise it is very playful and kinetic. I like the versatility, it depends upon how you, the wearer, want to arrange it.
You are here completing a week of work experience with resident goldsmith Paul York. What have you been working on?
I believe that as part of a career in jewellery it will be important to know how to make a wedding ring or an engagement ring, so I asked Paul to teach me different stone settings with different types of stones.  The week was great, very challenging because whenever you work in a university you might not have a stone, you are making a dummy stone setting without actually fitting the stone, so working with real stones on a small scale is really challenging. Paul is very good at what he does, very precise and challenges you to be precise which is what I needed. I will continue practicing not to lose the skills that I have.
The first setting I made was a gold emerald shaped stone, with 8 corners, it seems very easy. But I realise that stone was cut by a person, so it doesn't have equal angles. It took me quite a long time to get it. Now I am making a crown setting which starts with a flat sheet of metal which you bend into a cone shape and then measure from the top and divide the corner into 6 equal parts and then figure out how to cut it out. It is going to be like a little crown. I think I will do better in a year, two years' time but to start it is good to know what you don't know, it's good to know what skills I will get.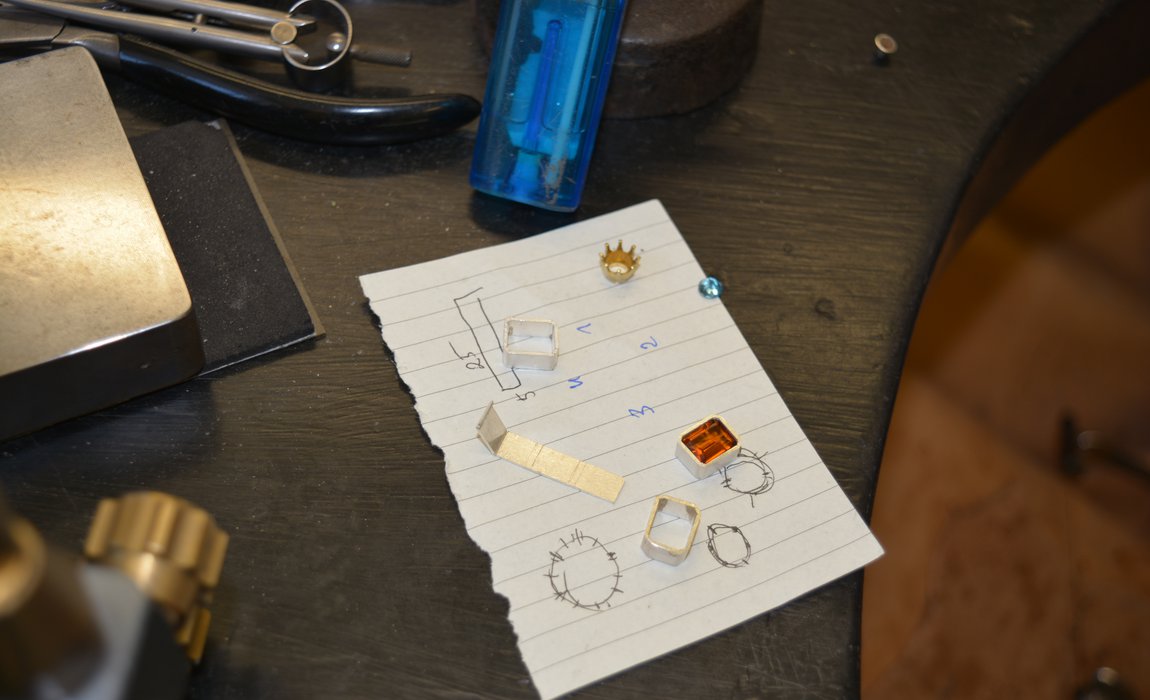 What are your plans for the future?
I am trying to set up a workshop at home because I am pregnant and will give birth in November. Before the baby arrives, I want to make sure the workshop is ready so that I can work around the baby. It is going to be a first year of trying to figure out how and what to do but my plan is, once the baby is a few months old, to go to some short intensive courses to improve my skills. I would like to make more affordable jewellery to expand my client base. Ideally, I would like to do a bit of both everyday jewellery and jewellery that inspires me and is something different. 
Interested in applying for the Precious Metal Grant? Applications now open. Find out more.