Your Impact Story: Turning a hobby into a creative career
Idris Tetlow is an apprentice at renowned luxury brand Thomas Lyte. His trajectory in just a few short years from novice to promising young silversmith, involved in creating a Processional Cross for the late Queen Elizabeth, perfectly illustrates the pivotal role that short courses can play in introducing a young person to their lifelong vocation, in addition to the value of the organisations devoted to providing access to creative skills training.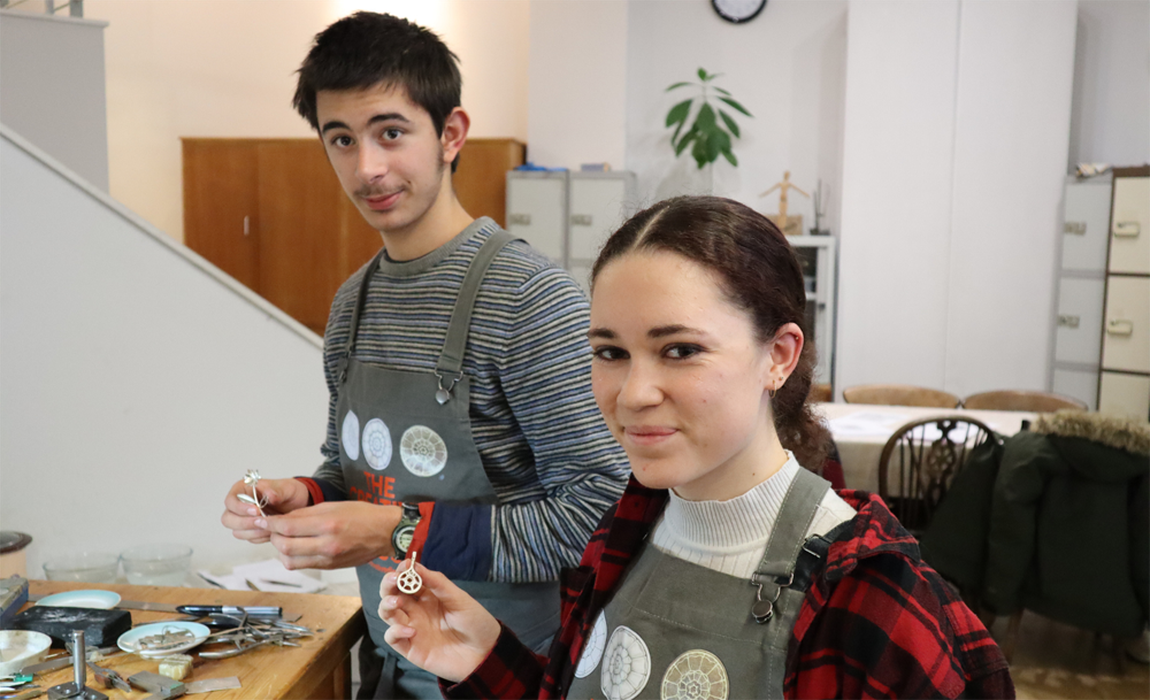 Here at the Goldsmiths' Centre, we have spoken to makers from a multitude of socio-economic backgrounds and creative disciplines about how they came to enter the industry, in order to apply our findings to forging new and effective pathways for other aspiring jewellers and silversmiths. One recurrent theme throughout these conversations has always been the importance of short courses and one-off workshops in introducing newcomers to the industry, particularly young people who would not typically get to experience metalwork or jewellery-making skills as part of a traditional school curriculum.
Indeed, Idris first dipped his toe into the industry at aged 14, through a jewellery workshop provided by The Creative Dimension Trust (TCDT), a charity that has offered free tuition, workshops and materials to young people aged 14 to 19 since 2016. We are proud to have partnered with TCDT in recent years, supported through funds from the Goldsmiths' Company Charity, and to have provided access to our state-of-the-art facilities at the Goldsmiths' Centre for the charity's regular jewellery-making and silversmithing workshops.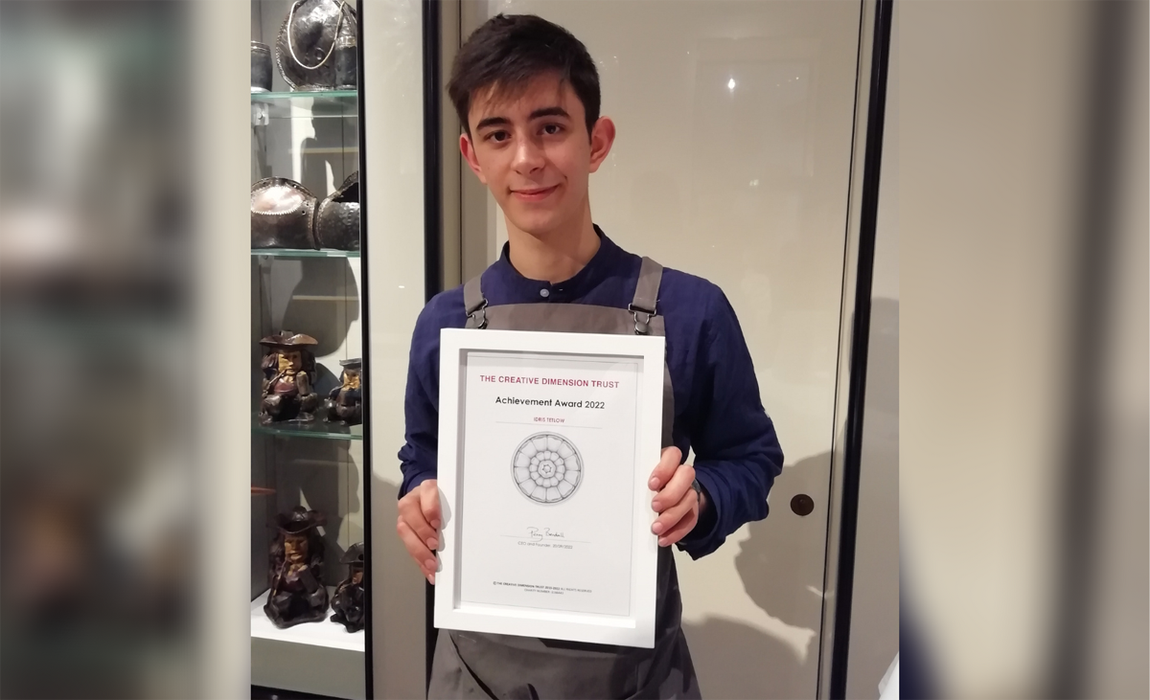 "Through The Creative Dimension Trust, I was very fortunate to be introduced to different trades and crafts at a young age, and to be around like-minded individuals who were very knowledgeable and experienced in their fields,' Idris explained in a recent interview. It was not until he tried his hand at jewellery-making, however, that something clicked for the young Essex maker; he knew instantly that he had found his craft.
"When I was 14, I didn't want to be a jeweller. I didn't know anything about it and wasn't sure if I'd enjoy it. As soon as I started, however, I realised what an incredible amount of skill is involved, and how passionate jewellers are about their craft."
"There's such an amazing community surrounding the industry. It's a small world where everyone knows each other. People who'd started out in the trade together when they were 14 would still be friends at 70. I'd never experienced anything like it before.
It also just felt very natural to me. The work didn't feel like a chore, like something I had to force myself through, I enjoyed it, and I was comfortable doing it right away, almost like a hobby."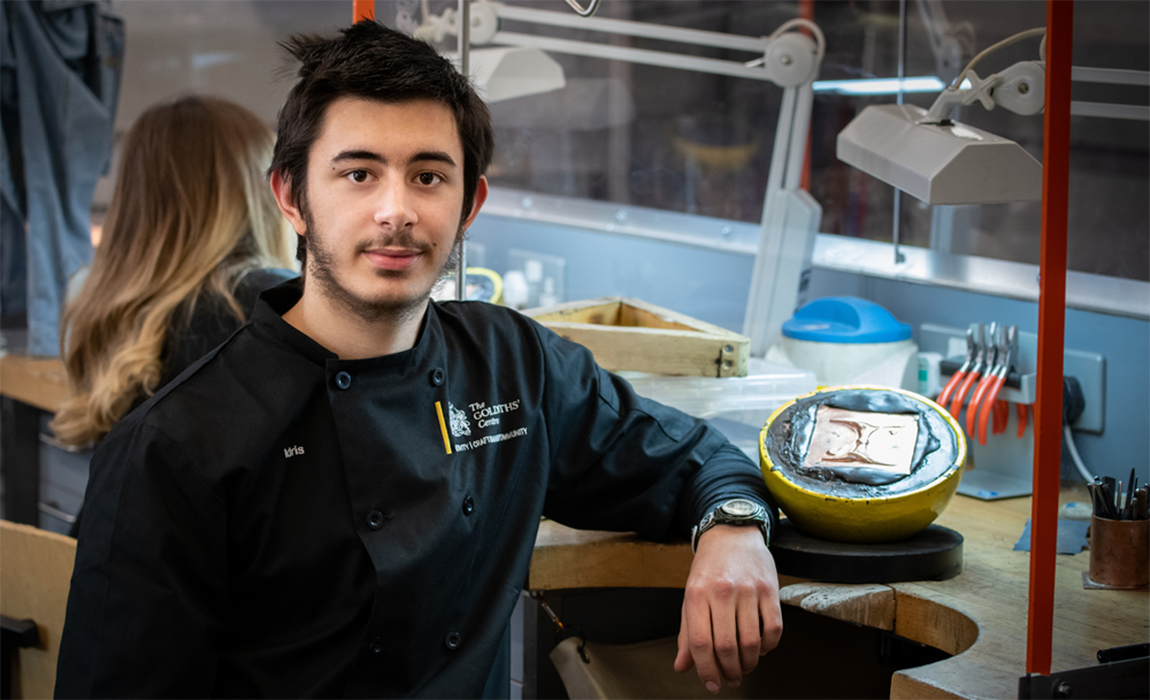 Idris' aptitude for working with precious metals led to TCDT recommending that he apply for the Goldsmiths' Centre's Foundation Programme, our one-year training programme which provides an introduction for school-leavers to every aspect of the industry, from engraving, hand-raising to jewellery design. It was during his time on the programme that Idris began to shift his focus from jewellery to silversmithing, having been inspired by our tutor Ray Walton:
"That first silversmithing class with Ray Walton was a turning point for me. We learned so much in a day about the trade and the craft, things that I had no understanding about before."
"Once I had attended that class, I think I decided on some level that silversmithing is what I wanted to do - it opened me up to so many skills. Now I can look at an object and break it all down. To have somebody that has so much experience teaching you is truly inspiring - you're just in awe."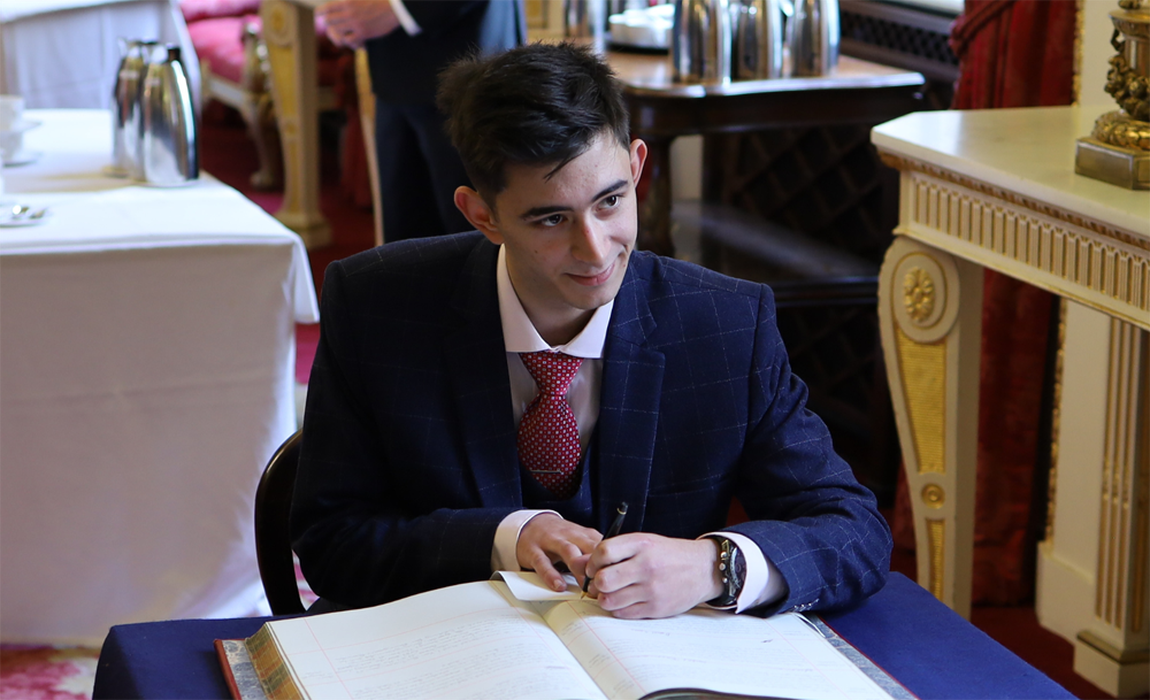 For many of our young trainees the Foundation Programme is also a pathway into the Goldsmiths' Company Apprenticeship Scheme, delivered by our team at the Goldsmiths' Centre. Upon his graduation, Idris joined the workshop of Thomas Lyte, a highly respected luxury brand. "It's a fast-paced workshop, so you have to be on the ball in terms of time management, your ability to work as part of a team and organise yourself. It was challenging at first, but the more my skill level progresses, the harder the projects I'm given."
Even at this early stage in his career, Idris has experienced several career highlights. At Thomas Lyte, he was given the opportunity to work on a silver-gilt Processional Cross that was presented to Queen Elizabeth in commemoration of her Platinum Jubilee. 
"We had a documentary crew following us whilst we worked on the cross. I attended the premiere and I was in the documentary - that was amazing!"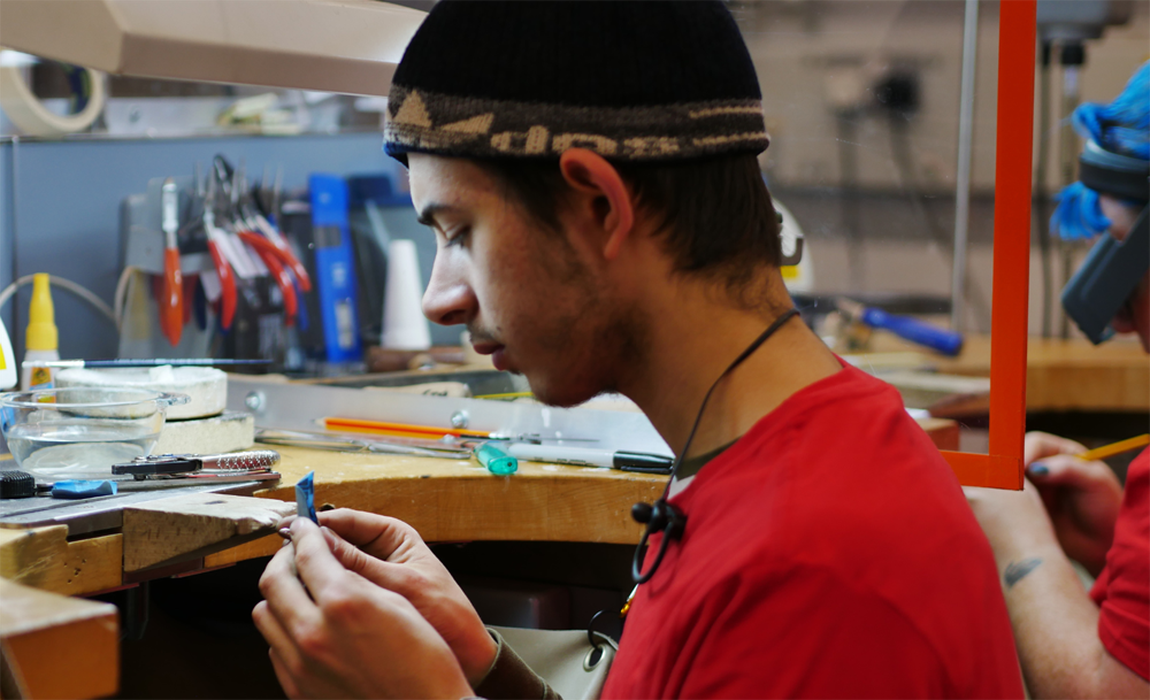 In 2022, Idris also represented the UK in the Fine Jewellery category at the World Skills National Finals, where craftspeople from over 80 countries compete in a 'Skills Olympics', ultimately earning a bronze award. "Competing in WorldSkills was a brilliant experience. I was able to compare my level of skill to that of others my age across the UK, which was really enlightening."
Idris' many creative and professional milestones can undoubtedly be attributed to his natural talent for jewellery and silversmithing, and a committed and hard-working attitude. "If you knuckle down, concentrate, and work hard, you will see results," he insists.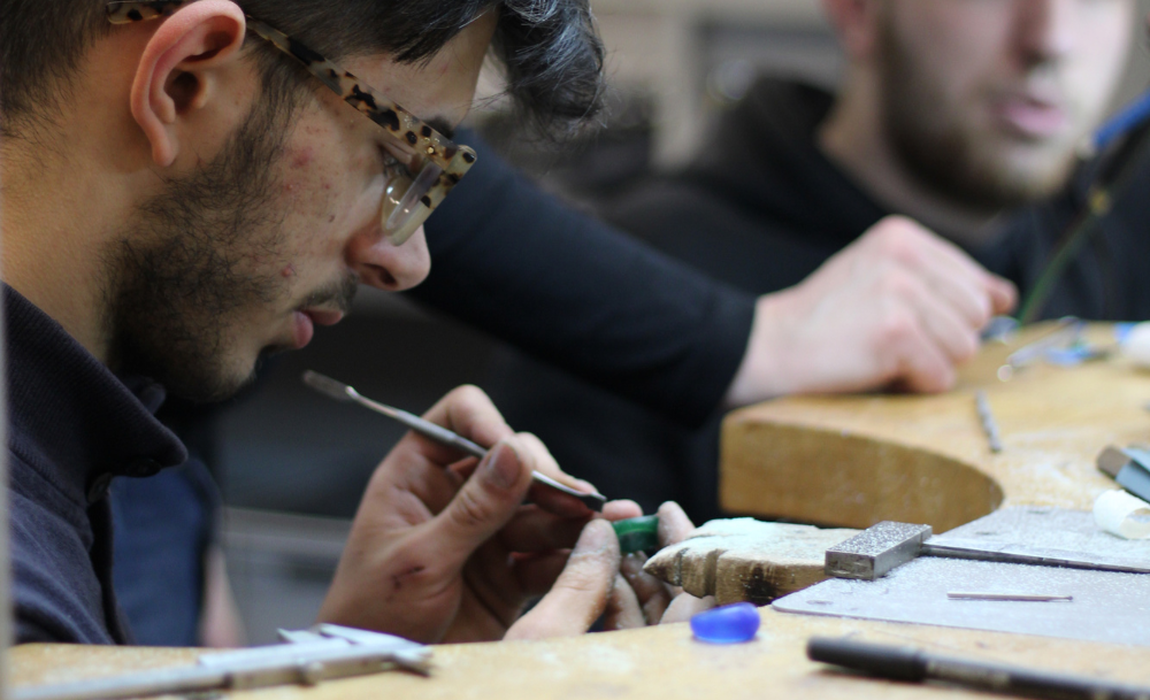 Nonetheless, it is possible that Idris' talent - and the talents of many other young makers like him - might have gone undiscovered, were it not for the TCDT short course that opened his eyes to the possibility of a career in the craft, and to his own potential. It was the first, essential step onto a path that ends in a promising career. The importance of simply allowing young people to try their hand at creative skills therefore cannot be overstated.