Meet Gold Member Deborah Cadby
Deborah Cadby is currently a Gold Member at the Goldsmiths' Centre. We caught up with the contemporary goldsmith and founder of Cadby & Co to find out how the membership scheme has helped her maintain connections in the industry and what plans she has for her business.
Can you describe how you got into the jewellery and silversmithing industry?
From a young age, I have had a love for the craftsmanship of antique jewellery. My parents had an antique jewellery shop in Piccadilly, so I was fortunate to hold and look at beautifully handmade pieces by Lalique, Belperron, Fabergé, Cartier and lots of others exquisite pieces. 
What fascinated me first was the complexity of how the pieces were made, with enamels, engraving small rivets and screw catches all made for a one-off piece, using skills near impossible even today.
After school, I followed my love of art and 3D design and studied a BTEC at Chelsea Art College. Then after a year of travelling in India, I studied a degree in Jewellery, Silversmithing and Allied Crafts at the John Cass department at London Guildhall University.
During university, I did a summer work placement with the artist Wendy Ramshaw OBE. Wendy offered me work when I had finished my degree, so I worked alongside her and other jewellers in her exciting workshop for 20 years. That is where I learnt most of my workbench skills, as well as gaining other vital skills in the jewellery industry; such as hallmarking notes, putting on exhibitions and even post and packing! This all set me up well on my road to creating my own collection.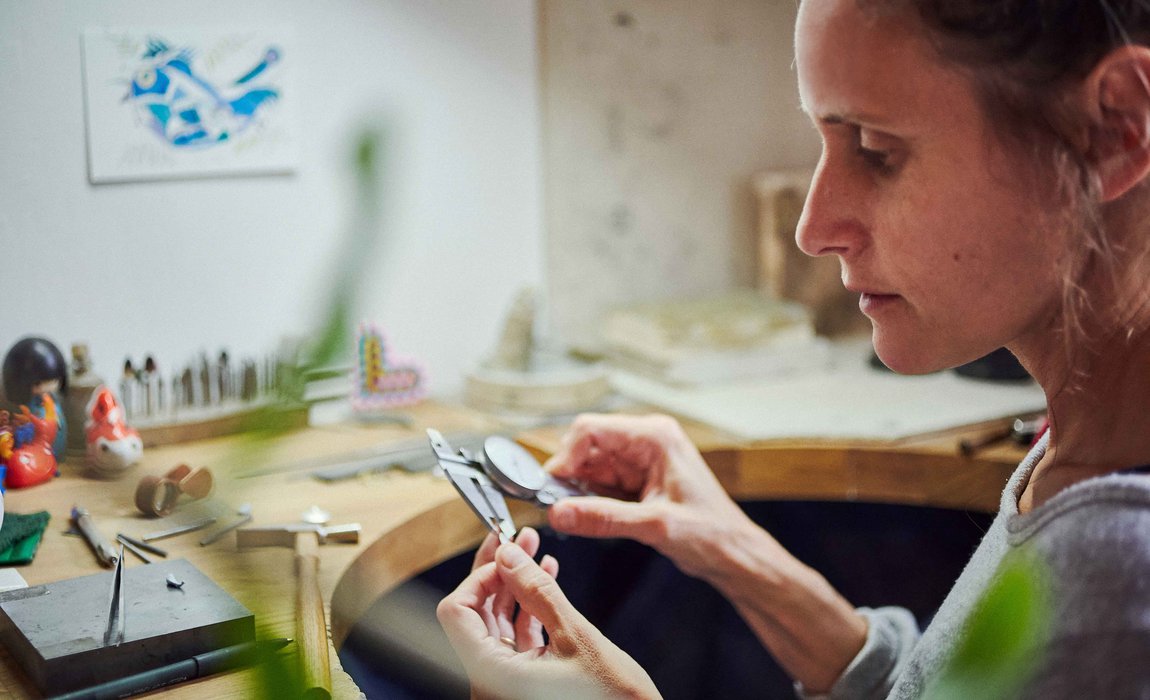 You are currently a Gold Member here at the Goldsmiths' Centre. What made you decide to apply for the membership scheme?
The Goldsmiths' Centre is an incredible building, purpose built with exhibition space, cafe and studios. I often visit the gold platers, engravers and other skilled workers here -  it is always a lovely experience to visit.
I worked around the corner in Craft Central in Clerkenwell Green for many years, firstly for Wendy, then taking on my own studio. In 2016, my family and I made a life changing decision to move out of London to Bude on the North coast of Cornwall, by the sea. I no longer needed a permanent base in London, but it was still necessary for me to be part of the jewellery community, also to have a workbench to use and a place to meet clients. The Gold Membership suited me perfectly.
How does being a Gold Member aid your business on a day-to-day basis?
I'm often asked where I'm based, so to be able to say I'm a part of the Goldsmiths' Centre is really an honour as it's known as a place for skilled workers and craftsmanship.
I know when I meet a client here it feels like a secure and friendly place to meet. They also get the pleasure of the exhibitions in the entrance hall.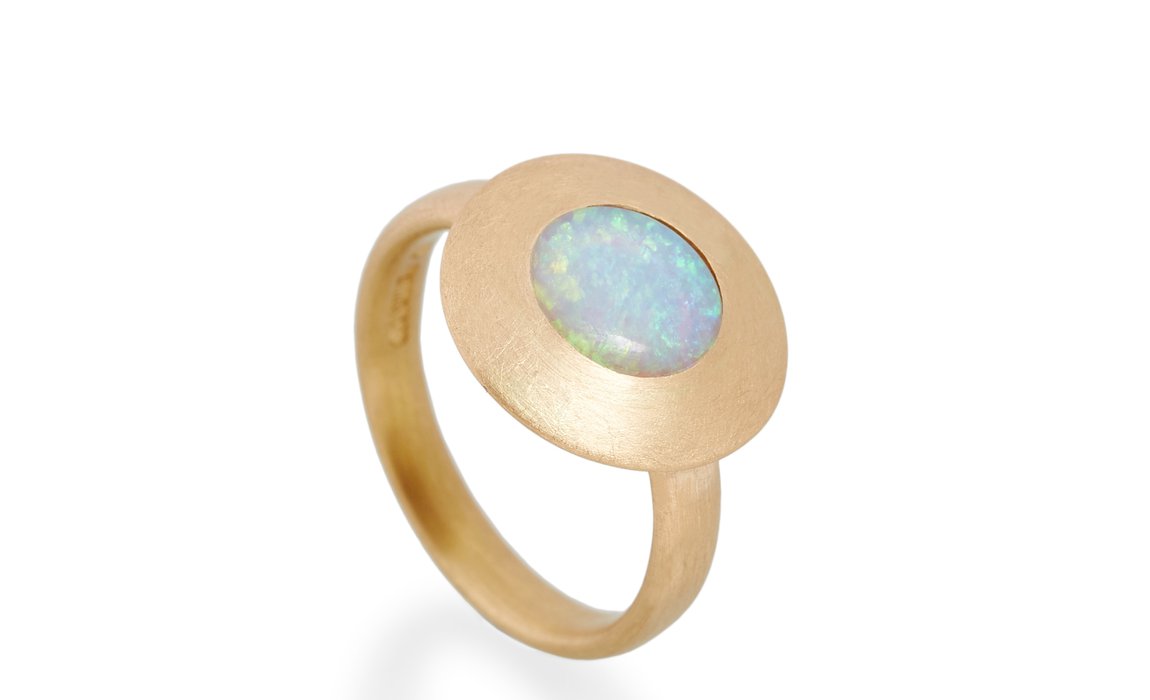 What are some of the benefits of being a part of the Goldsmiths' Centre community?
When I enter the building I always bump into people I've worked alongside, exhibited with, been taught by or know through the industry. Keeping in touch and having a chat and finding out about what is going on is vital for us all. A large part of being a goldsmith is not just working on the workbench, it has so many skills involved, and those skills need to be around us and close by, so we can access them and collaborate. The community at the Goldsmiths' Centre offers this.
What advice would you give to other aspiring makers?
Be true to what you want to design. You don't have to follow what is in fashion, be confident in your own style. Trust that if it is a piece you love and want to wear yourself, someone else might love it too! 
What are your business goals for the future?
I'm looking at opening a small workshop/gallery in North Cornwall within the next year. Somewhere people can visit for commissions and browse.
Also keeping my connections with London, always aspiring to exhibit at Goldsmiths' Fair where people come to appreciate handmade special pieces.
Want to become a Gold Member at the Goldsmiths' Centre? Find out how to apply.