An Interview with Setting Out Participant, Yasmin Belkhayat
Yasmin Belkhayat is a jeweller and enameller with a wealth of training and two Goldsmiths' Craft and Design Council awards under her belt. After a year spent on our business incubation course, Setting Out, she is also now a competent business owner, with big plans for her fine jewellery brand, Kenza Lomhara, which she told us about this week.
Can you tell us a bit about how you got started in the industry, and what made you want to start your own business?
I have always been interested in design and how things are made. Realising in my late teens that jewellery could be a career rather than a hobby, I started off by taking a short course in ring-making to gain experience in working with precious metal. This led me to enrol on the Holts Academy apprenticeship programme.
With a base grounding of skills, I started various valuable internship roles before going back into training at the DCCOI'S Jewellery and Goldsmithing Skills and Design Course in Ireland and then coming back into the trade.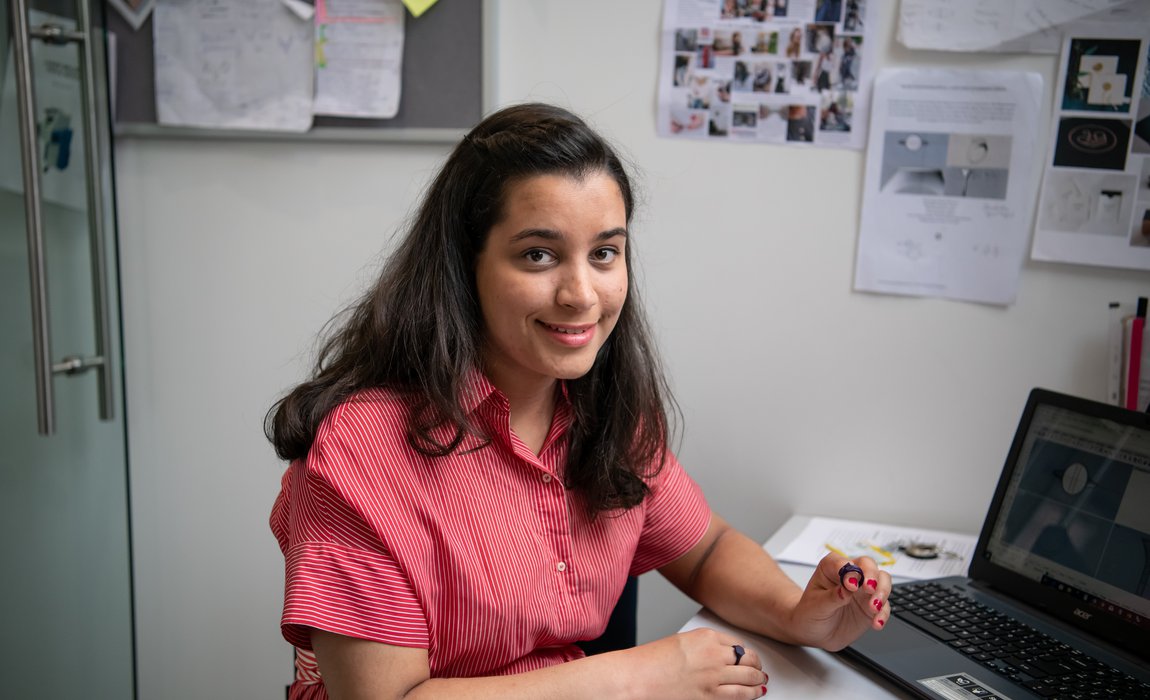 I wanted to start my own business to get back to creating the designs that I love and realising my ideas from concept to finished piece. I love being at the bench, but I also like the diversity that running a business offers. No day is the same and being able to connect directly with customers is exciting and rewarding. Jewellery is not just metal and stones, but an emotive token with a story behind it, unique and special to the wearer.
What were the biggest challenges involved in starting your own business - and how did the skills gained on the Setting Out programme help you to tackle them?
The biggest challenges in starting a business for me, is making sure that all the various ideas and components of the business are in sync with each other and harmonious. Learning to manage my time effectively and taking the time to analyse everything in depth has really helped with making sense of the bigger picture. Bringing all the elements and thoughts together to see what works and what doesn't, has been vital to making the whole concept more solid. The Setting Out programme has been really helpful; all the homework, tools and advice given helps to break tasks down into manageable chunks that bring clarity to the concept and business plan.
How confident were you in your business skills before Setting Out?
Not all that confident, despite having done one or two business short courses before, as they weren't related to the jewellery industry. I felt that I had a basic understanding of business, but really needed the opportunity to learn more, and apply this in a relevant context to the industry I am now in. I have gained a lot from being on the course and from being able to talk to people in a similar position to me, and in addition to taking on advice from the tutors, it has really expanded my knowledge, and allowed me to stand a better chance of success and sustaining the growth of my business.
What are some of the main themes of your work, and what inspires you?
My work, and the themes behind it, are inspired by the key design principles of the Vitruvian Man, Geometry and the Golden Ratio. I have always loved the beauty of simplicity in clever design, and how it makes the wearer feel and interact with a piece is really important. Design has a massive influence on our life and outlook, and should bring pleasure to the everyday. I am inspired by the work of Antoni Gaudi, whose personal lifestyle could be called minimalistic, all the items in his house are functional but beautiful and made to a high standard. There is nothing there that doesn't serve a purpose. His perception of nature really inspires me – that nature's forms and structures are the handbook to all good design. It's a really beautiful idea and evident across all of his architectural works.
What are your main aspirations over the next five years – particularly from a business perspective?
In the next five years, I want to see my business grow sustainably to become a London-based British Brand with an international following and an atelier in London. To provide my customers not only with great quality jewellery, but a strong sense of community, through an interactive support network that promotes positivity and well-being.
What advice would you give others thinking of starting their own jewellery business?
To be true to yourself, and understand from the start the key factors that matter to you. What is it that you want from the business and what is central to the concept you're trying to create? If you know and understand what is important to you, you will find fulfilment and joy in the work that you do. Have fun with it, and don't be afraid to try new ideas or designs. As long as you follow your gut instinct, and learn from your mistakes rather than let them set you back, your business can only grow stronger.
Click here for more information on the Setting Out programme.