Sparkling winners at record breaking awards presentation
Jacobs the Jewellers and the Bishopsland Educational Trust, together with sponsors the Goldsmiths' Centre and HS Walsh, announced the winners of the fifth edition of the annual Emerging Designer Competition.
The three-week long competition closed this week with the winners announced and a demonstration at Reading-based Jacobs the Jewellers; a record number of 300 + votes having been cast for the largest field of entries yet.  In-competition designers were joined by sponsors Chris Oliver, Head of Professional Training at the Goldsmiths' Centre and Andrew Wilgress of HS Walsh.  Penelope Makower, Principal and Oliver Makower, Vice-principal of Bishopsland also attended as well as curious and interested Jacobs customers enjoying the sight of talented designers showing their skills.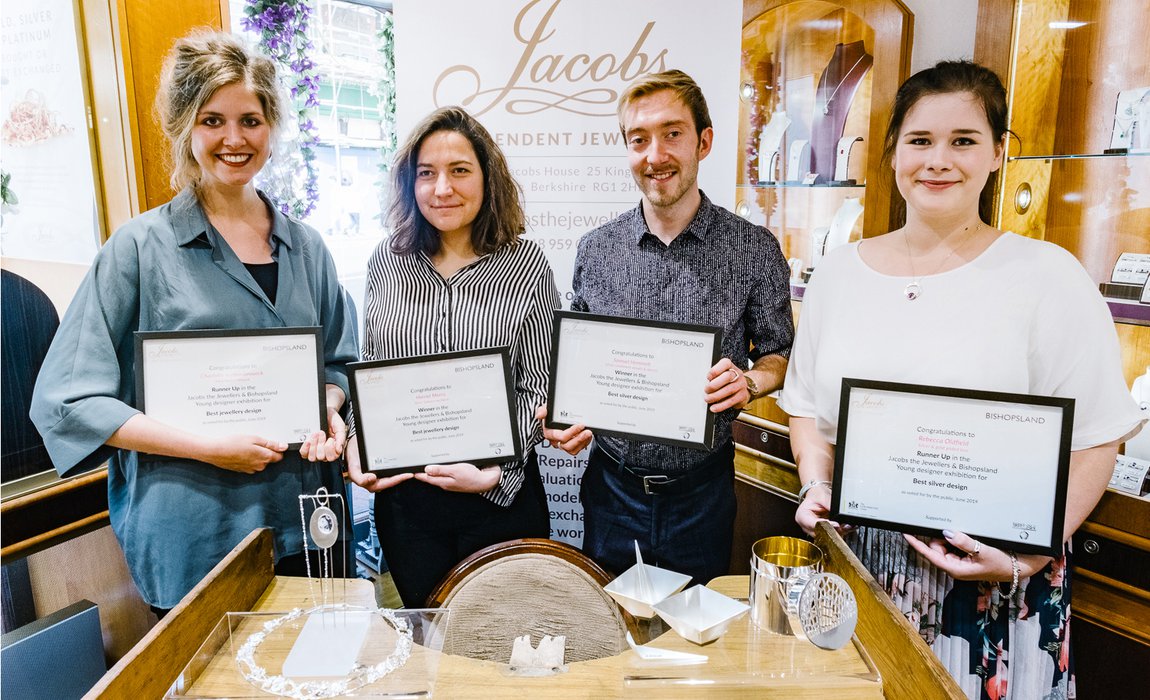 Sarah Shelton-Palmer, Sammy Hemmett and Marissa Ziesing demonstrated the hand skills of engraving, scoring and folding as well as chasing in front of the eager crowd. 
Fourteen Bishopsland designers took part in the exciting Competition held at Jacobs from 10th June to the 28th. Each participant showcased an item of silver as well as a piece of jewellery.  Over the three-week period, visitors to the store voted for their favourite jewellery design as well as their preferred silver object. Visitors were treated to 27 individual designs showcasing an inspiring depth of talent.  The competition attracted a record number of public votes – over 300 votes were cast, the results were as follows:
Jewellery
Winner:  Harriet Morris, Silver fantasy necklace
Runner up: Charlotte Vanhoubroueck, Silver locket brooch
Silver
Winner: Samuel Hemmett, Silver condiment vessels & spoons
Runner up: Rebecca Oldfield, Silver & gold gilded box 
The winners each received £350 (runners up £100) of HS Walsh vouchers to spend on tools or materials to help establish their careers in the jewellery and silver industry plus a framed presentation certificate.
The event also synchronised with local arts organisation Jelly's annual Open for Art cultural programme, a firmly established event in Reading. All the items are on display for a further week until 6th July as part of the Jelly Open for Art programme. 
"I'm amazed with this year's competition – the number of pieces and the quality is fantastic. With the vote count up from 250 to 300+ this year, there's clearly an appetite for great jewellery and silver in our community. Thank you to the Bishopsland team, our co-sponsors and customers for their continued interest and support."
– Adam Jacobs, owner of Jacobs the Jewellers
"This annual event gives talented emerging jewellers and silversmiths a wonderful opportunity to learn more about the retail sector thanks to Adam kindly hosting the competition. It is the first time the public have voted for their work, which is always inspiring for the winners."
– Penelope 'Pope' Makower, Principal, Bishopsland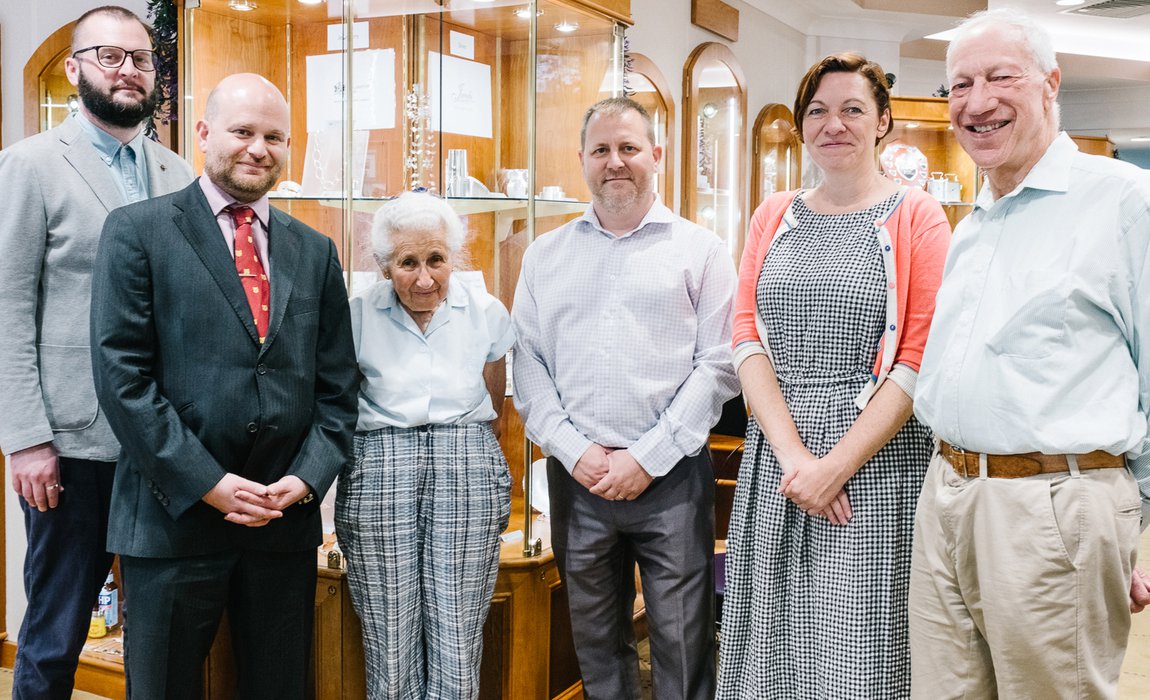 "Competitions like this provide emerging makers with a fantastic platform to showcase their skills and get feedback directly from potential consumers. We would like to congratulate all the winners and look forward to seeing where they progress to next."
– Peter Taylor, Director, The Goldsmiths Centre
"H. S. Walsh is pleased to be associated alongside the Goldsmiths Centre and Bishopsland Educational Trust in this well organised event run by Jacobs the Jewellers. Judging on the extremely high quality and standard of work, the future of the trade is looking very good."
– Andrew Willgress, representing HS Walsh