Shine 2019: An Interview with Akansha Sethi
Akansha Sethi is one of our ten makers chosen for Shine 2019, our annual showcase of new talent. We sat down with her to talk about her journey, her collection "Folio" and what she's most looking forward to about being a part of the showcase.
Can you tell us a bit about your journey into the industry?
My journey started at school where I did fine art, which led to a design degree that wasn't going towards jewellery as such.

During university, I was already starting to design pieces for myself or bespoke clients. I participated in some different internships with jewellery companies including a dinnerware manufacturer where I worked on a tea-ware design.

By the end of my final year university project, I realised that I was more interested in the story behind an object rather than the object itself. When I designed a piece, I wanted my main focus to be either the client's story or my own story and to combine that with the final object. I'm very inspired by when someone has purchased a piece, created their own connection to it and passed that story on. The new owner has their own story associated with the piece and passes that on in addition the piece's existing history, so it's kind of like that piece has had its own journey.

So, given my interest, I realised that jewellery was something that I did want to follow.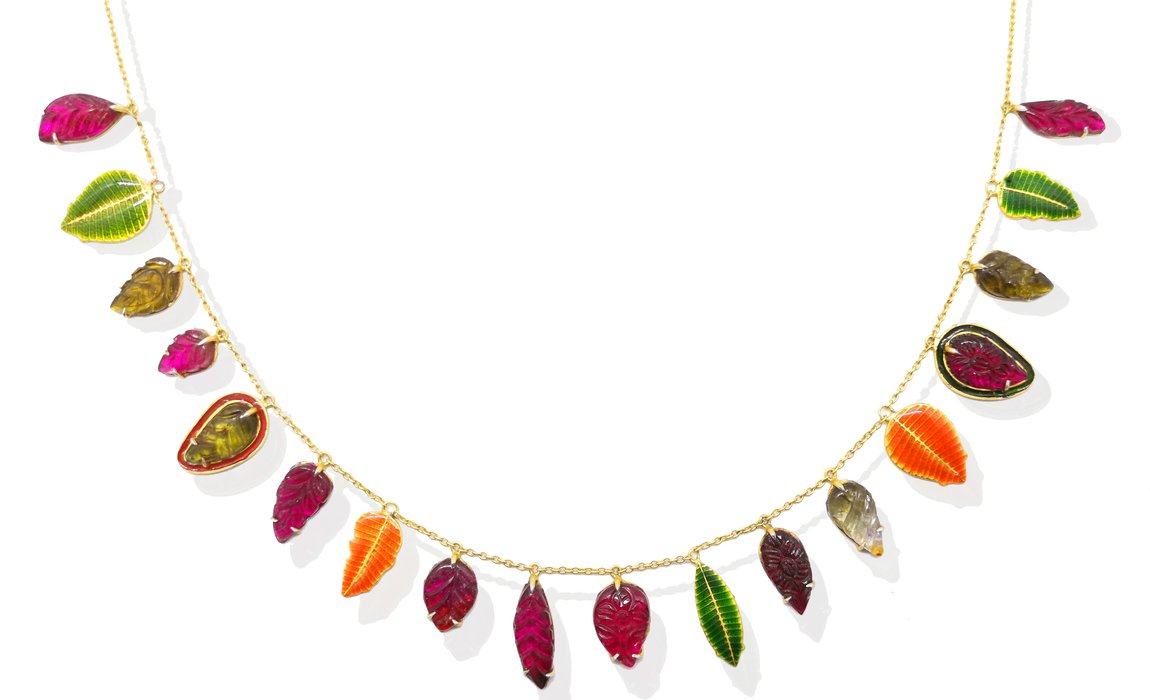 What does being chosen for Shine 2019 mean to you?
When I was a child, I used to go to antique and jewellery shows with my Mum and Dad and Goldsmiths' became a name that I came to know. So, when I started two years ago and was doing my first show with the British Fashion Council, I said that I would love to do something with the Centre. I found out that for something like Shine, you have to be invited. So I said "Okay, well hopefully maybe one day" and then that email popped up and I said "Oh, wow. Okay, that's exciting. That means I'm doing something right".
How would you describe your design style?
With the people that I've designed for and my own family, I often see stunning pieces that are kept locked away for a special occasion.

So, with my pieces I've designed them to make sure that they can be worn everyday. My earrings can be worn three or four different ways, my necklaces, can be teamed up with something quite delicate or can be worn on its own.

Jewellery in itself is so beautiful that I think the story behind it should be just as beautiful. That doesn't mean it has to be ornate, that could just be very abstract, it could be very simple, but it has to have that romantic feeling to it.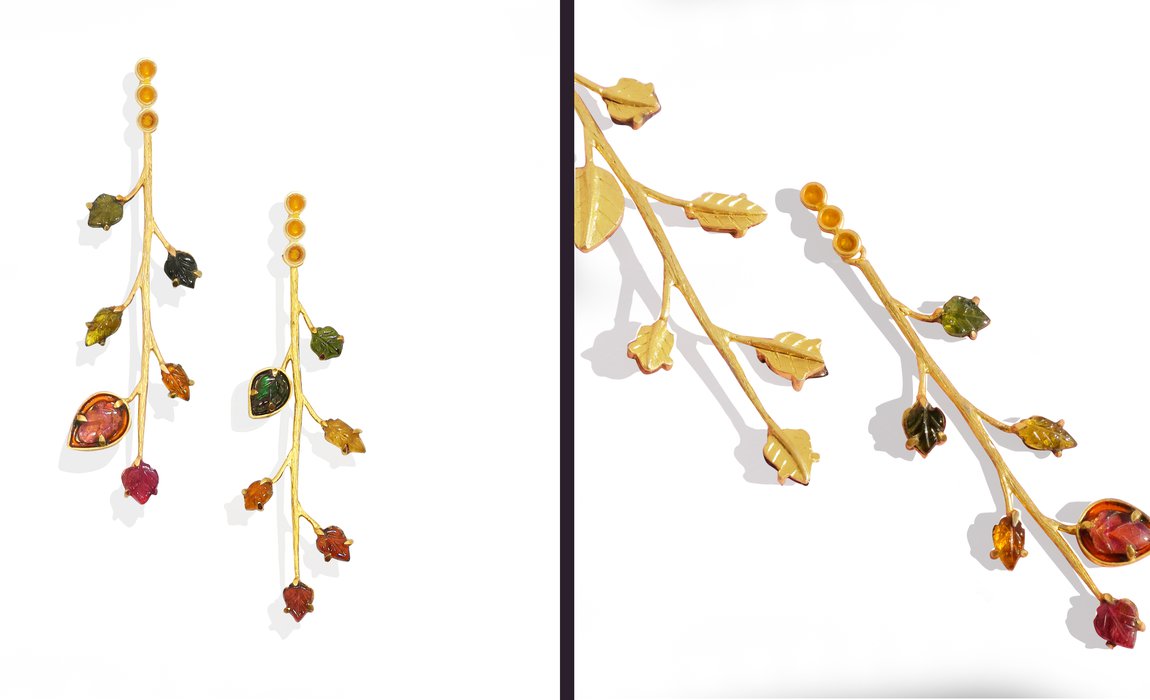 What can you tell us about the collection you'll be debuting?
Folio is inspired by how leaves change colour throughout the season.

So, with the statement necklace, which is on the Shine email and invite, that one looks at more autumnal/winter colours, going from the dark pinks to dark greens.

But there are some pieces in the collection, say for example the hoop earrings, which have been designed to show spring/summer to autumn/winter in one piece. That's why they've been graded in those colours. 

And then you've got some pieces that are reversible. So there'll be hand-carved tourmalines on one side which would be spring/summer colours and then you have the autumn/winter enamel on the reverse.
What is your favourite piece in the collection, and why?
That was the one question I was struggling with a bit. 

One thing that I've made sure of with anything that I've designed, whether that be for myself, for the collections or a bespoke client, is that the piece has to be something that I would wear as well. I have to love it before I can design it and pass it on to somebody else or put it in a showcase. I want to be proud of what I'm making. 

So, when it when it came to my favourite, it was a bit difficult to pick. I do particularly like the reversible pieces, just because you can mix them up with different outfits that you're wearing. 

Also the hoop earrings, which are really delicate and dainty with the hand-carved tourmalines on one side and the detailing on the back. When you wear them, they move a little so you can see the stones on one side, and then you've got the engraving on the back with the detailing like the veins on the leaves.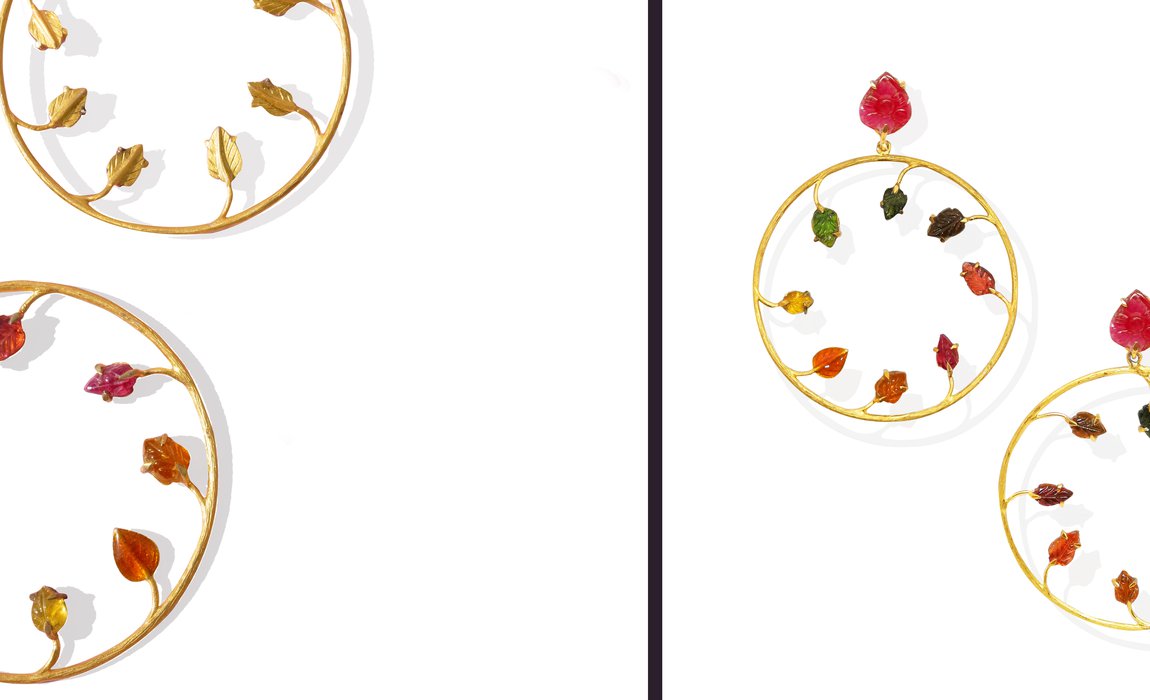 What kind of customer do you expect to be most drawn to your collection?
I think with Folio, there's something for everybody. I know that with a collection you should be targeting a specific person, but I don't want to leave anybody out.

With any of the collections that I've worked on there are pieces that are slightly bolder and more of a statement. But, there are also delicate pieces, which still have the same feel to them – they still have the same colours and the art and detailing to them, but on a smaller scale. 
Finally, what are you most looking forward to about participating in Shine?
Meeting new people. I have my understanding of my pieces, but it's really interesting to see what other people take away when they see them. 

There was a lady that stopped by and saw the Folio collection and she said, "Oh my god, they look like little pieces of candy. They look lovely. They look edible." And it was just really interesting to see that that is what another person could think when they see my work.

It's so important to get that feedback, because I'm fairly new myself. Listening to people helps you to remember that, "Okay, I'm designing for other people" and that you do need to take the customers into consideration when you're working on new pieces, and to understand the market.
Akansha's Folio collection is now available for purchase via our eShop - perfect for a bespoke Christmas present!