Suzanne Seed on making The Gin Beaker
Made for the Table is a Goldsmiths' Centre exhibition exploring the history of silverware. We were pleased to speak with another of the nineteen makers contributing a unique silver beaker to the event - Suzanne Seed. A Getting Started alumnus with a long list of exhibitions and fairs to her name, Seed has a distinctive, clean-cut style inspired by the principles of Modernism.
How would you describe your design style?
I'm quite modernist; my work is about clean lines and form, without adornment for the sake of adornment. I'm attracted to burnished edges and perfect symmetry on the main body of a design, and contrasts - for example one side being polished and shiny and the other being dark and matte. I really admire makers who create purely sculptural work, but I'm more drawn to items that have a functional element - I like my pieces to be as enjoyable to use as they are to hold and look at.
What are you looking forward to most about Made for the Table?
I'm interested to see how all of the other designers have translated the brief into their own designs. Having seen some glimpses of the other beakers on Instagram, everyone's work is so different even though we all had exactly the same starting point. I can't wait to see them all together.
Do you think that silverware should be used on a daily basis?
I do! I think it should be used not just for special occasions, but for all occasions. People are sometimes reluctant to use it every day because it's a precious metal, whereas in fact, it's because it's a precious metal that it can withstand so much use. So go ahead and get as much use and enjoyment out of it as you can!

There's a movement within making at the moment that says, 'buy once and buy right', and while silver is a bit more expensive, it will last not only your lifetime but the lifetime of the people you hand it down to, as well. That in my mind puts it ahead of other materials.
How do you think we can make silverware more appealing to younger generations?
Younger people seem to be spending more money on having better quality household items, so I think it's a matter of putting silverware on their radar.

I wasn't aware of the silversmithing world myself until I came to do my jewellery degree. I think outside of our community, there's not a huge level of awareness, and we need to work on changing that. In particular, young people don't know that you can go direct to a maker and commission a piece of unique silverware or jewellery, and for a similar price that you might pay for a mass-produced piece.
Do you agree that gin tastes better in silver?
Everything tastes better in silver! It's nicer to handle, nicer to drink from - it's just a more special experience.
What's your favourite thing about being a maker, and do you have a favourite piece that you've created for commission?
I love working with my hands, and I love being involved in the creation of a piece from start to finish. One minute you just have an idea for an object in your head and the next, you have it in your hands. That's amazing, there's something so satisfactory about following that whole process through.

And I love the moment that you hand a finished piece to a client and see their reaction, so I enjoy every commission. It pushes you out of your comfort zone to work out how to turn someone's ideas into a reality.

One great piece I worked on involved a man who came to me looking to commission a ring for his wife for their anniversary, and he had no idea what he wanted. I asked him if he knew of any places special to his wife, and he named a cathedral that they'd visited on their first holiday together. I used the outline of that building and created a ring that looked like an abstract flower. As soon as his wife looked at it, she knew it was based on the cathedral, so that was really special.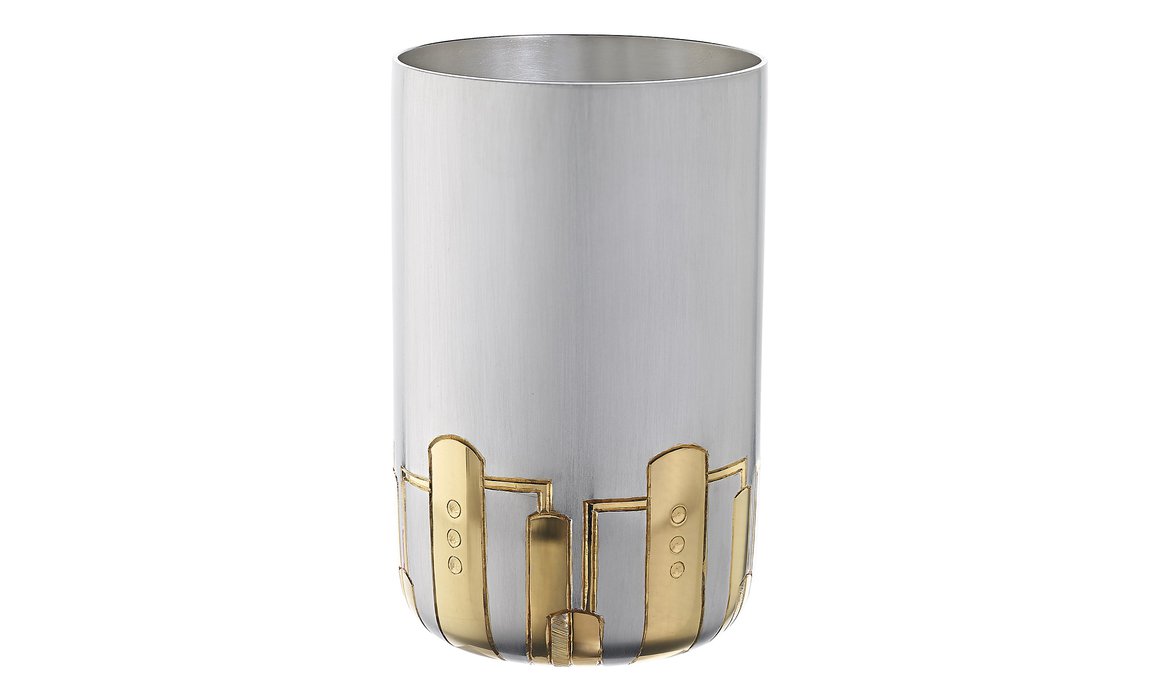 Do you have any advice for other aspiring makers?
Don't compare yourself to anybody else. It's very easy to look at contemporaries and feel that they're further ahead of you or that their designs are getting more exposure than yours, but everybody is different, at different stages and taking on different tasks. You've just got to focus on yourself and not beat yourself up; this is a slow industry so it can be easy to be disheartened, but you just have to keep going and you will get somewhere.