Shine 2017: Jeweller Rachel Butlin
Contemporary Jeweller Rachel Butlin will be exhibiting in our annual selling showcase Shine 2017 at the Goldsmiths' Centre. We spoke to Rachel about how Bento Boxes and architecture influenced her collection, and how her work challenges conceptions of traditional jewellery.
Hi Rachel, could you tell us a little bit about yourself?
I'm a contemporary jeweller who uses a mix of materials and techniques, some traditional, others more contemporary, bringing together a combination of surfaces and structures.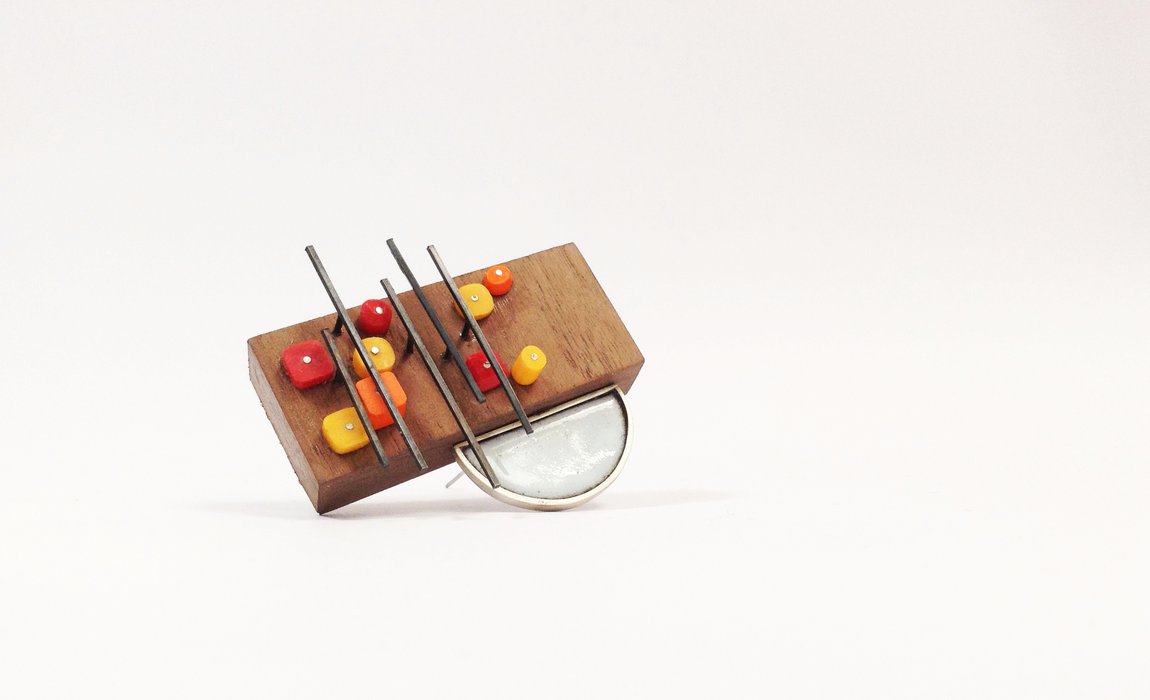 What made you decide to become a jeweller?
I have always been very creative and loved to make throughout my years at school and college. The ideas and concepts behind body adornment is where it all started. I wanted to push boundaries and try something different with materials and process, which has further led me to create the collections I do today. I completed an art foundation course at New College Nottingham that allowed me to explore different pathways and mediums, specialising in 3D design and I've always really enjoyed playing and experimenting with materials to see what's possible.
I decided against a specialist jewellery degree but opted for a mixed materials course with a jewellery and metalwork specialism, studying BA Hons Decorative Arts at Nottingham Trent University. I feel that this gave me the opportunity to explore lots of material and develop my knowledge and skills in lots of different areas that now allow me to create intricate structures and combine bespoke materials in harmony. 
In addition to Shine, you will be exhibiting in Sieraad 2017 held in the Netherlands. How will this help you develop your business?
I feel that the show will really push me as a maker within the international market. I've always felt that my work sits more within contemporary art jewellery and describe my work as sculptures chosen to be worn on the body. I feel this opportunity will further allow me to explore this and receive international feedback. This further drove me to apply for Shine 2017 and challenge ideas and conceptions of traditional jewellery with something bold and cutting edge.
Whilst preparing for Sieraad and Shine I have begun to consider different areas of my practice and audiences. Exhibiting in the Netherlands, will allow me to see how different audiences accept my work in comparison to UK markets. I think contemporary jewellery is becoming ever more popular within the UK, especially within high-end London galleries, with people really starting to appreciate something new and different, with the use of cutting edge materials and technology. Through market research I think that my work would be well received in places like Amsterdam, and I feel very proud that I am able to test how an overseas market receives pieces at such a fantastic show.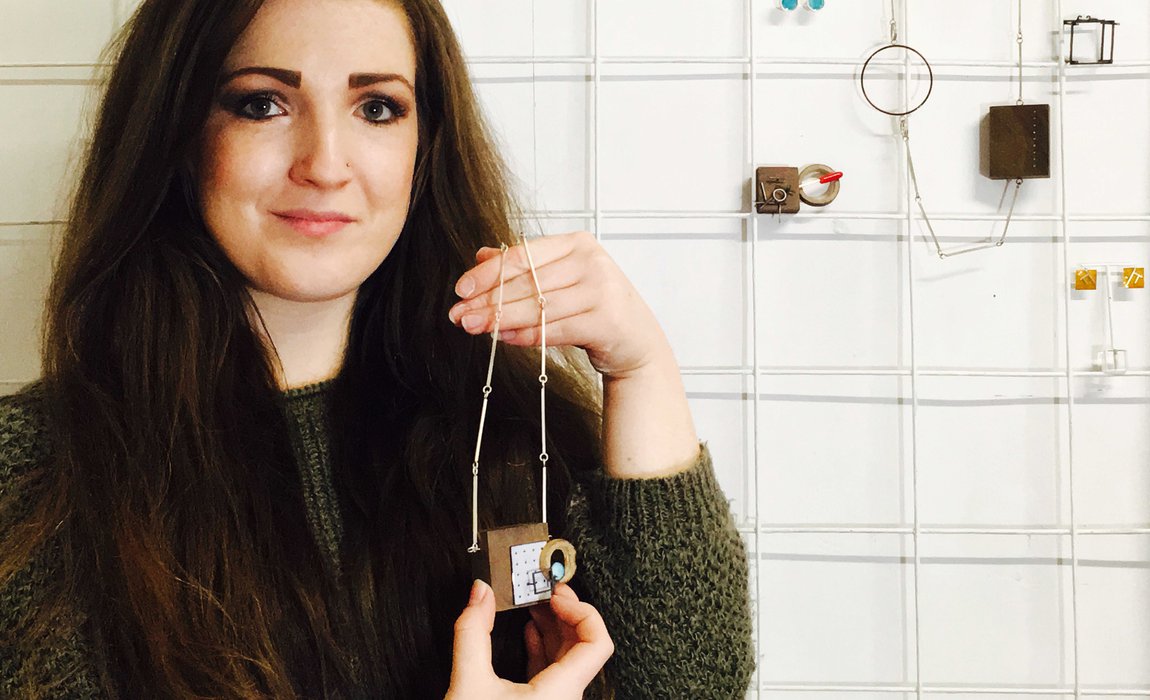 This year you participated in the Crafts Council's Hothouse programme. Can you tell us more about this and how it has helped you to develop your business?
I took part in this year's Hothouse Programme with the Crafts Council as part of the Midlands cohort. The programme felt like the next step within my developing practice. I knew where I wanted to be, with ideas about international shows and overseas trade/ stockists, but I didn't quite know how to get there. Hothouse gave me key industry links and more in-depth information, through contacts and how to brand myself. Mentoring with an industry professional also allowed me to reevaluate the things I had already achieved and think differently about how I combined the knowledge I already had with fresh new ideas. Being part of a network of fellow makers has also been an invaluable part of the process and will continue as support on into the future.
During the programme, pricing and time management became key areas I wanted to think about. As a maker, time is crucial. Through having a broad spectrum price range and targeted outlets I can create a sustainable business. After graduating I felt very lucky that I achieved a residency at Unit Twelve Gallery , and an Arts Council grant with studio space which I'm now still in. I've taken small steps at a time and Hothouse has been a pinnacle point to my success so far.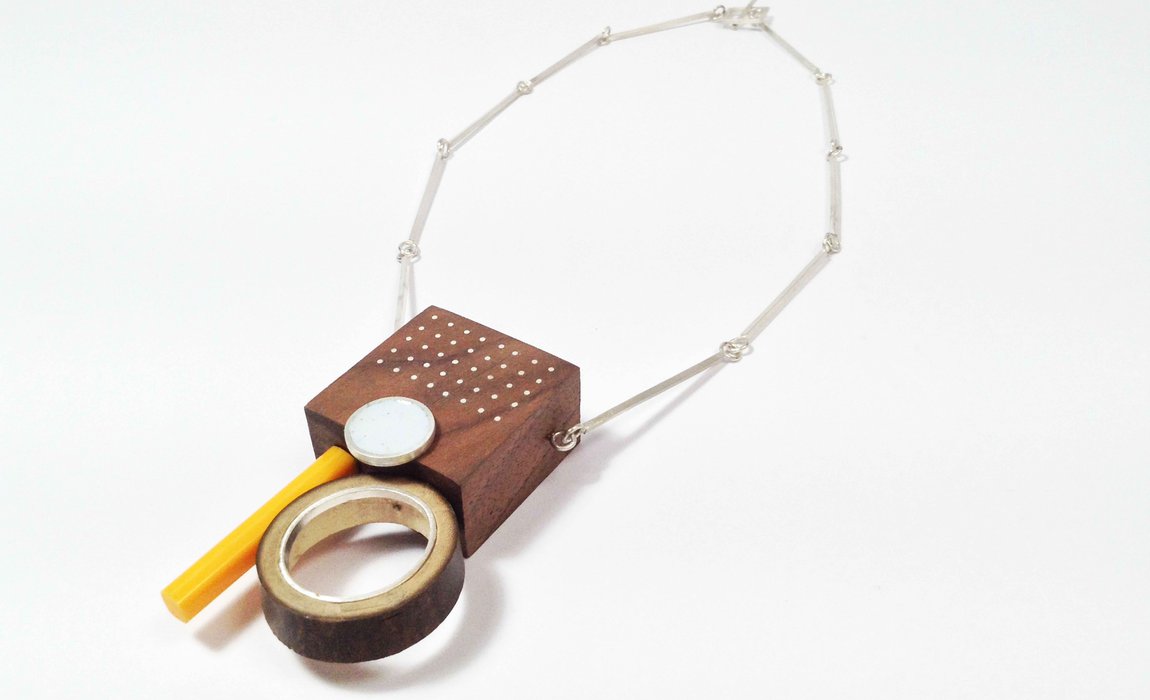 You will be exhibiting your Forma Collection at this year's Shine showcase, which is heavily influenced by Japanese culture. When did this fascination with Japan start? Where else do you get inspiration for your collection from and what techniques do you use?
The fascination with Japan started when I was at university. I became interested in materials and how textures, surfaces and colours contrast and play together.  I also started to look at meanings behind these objects, for example, Traditional Bento Boxes and how the food is separated, how they link and why they are put in certain orders. Also, the traditional art of flower arranging, known as Ikebana, the process of elements being put together, bringing together ideas of peace and harmony. From there, I started really exploring material experimentation and composition. 
My other big source of influence is architecture. I've become quite conscious of seeing things beyond what people normally see. Shapes within shapes and textures that contrast bold structures and lines. A quick snapshot of texture, surface and colour then develop and relate to some of the techniques I use in my pieces.
Enamelling is the main technique that allows me to bring colour into my work. I have been working on the process of enamelling since my third year of university, perfecting the process to understand technical knowledge, then turning this around to a playful and experimental process that binds my work together. I love to see how the shiny glass surface of enamel contrasts with the walnut and how those are then placed and joined together. Silver wire creates settings and framework structures, joining shapes and materials. Bringing materials together is the problem-solving part of the process. Its about the order of each individual process and how they combine, so I use lots of hot and cold connection techniques to join materials and surfaces together seamlessly.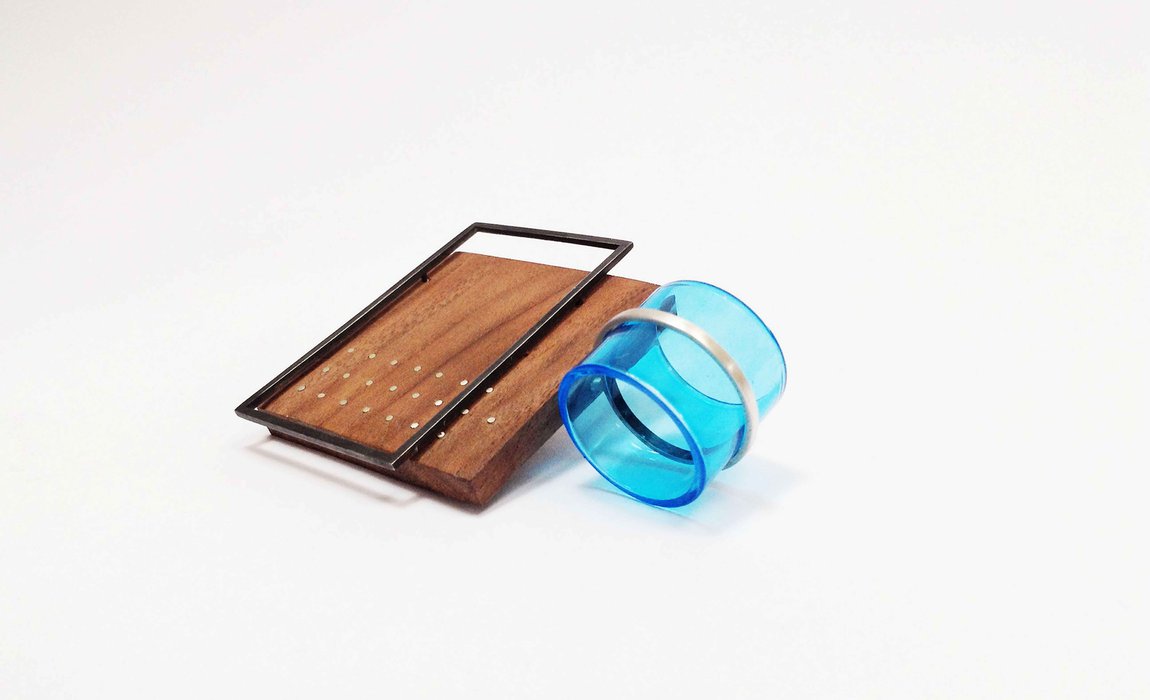 In your work, you combine the forms of jewellery and sculpture. How do you think these differ and influence each other?
I think sculpture is thought of as non-wearable, but I think that they both have a lot of connections. Everything is built on a structure and a framework. I think even if you take a traditional piece of jewellery it is still a structure in a sense. The sculptural element may be informed by what the final piece becomes and I think that's the strongest link. So, when I create a piece and arrange the materials, shapes and forms, I then think about how that form might lend itself to the body. If something is quite bold and big and made up of lots of structural forms, I make a conscious decision about where the two link and where they don't link, in order to make a piece fit for purpose.
Who do you think your pieces will appeal to?
 This collection of pieces utilises a broad range of materials and techniques. Bringing together Walnut alongside glass and silver pieces, and experimentation with bespoke materials such as chopsticks. I feel these pieces tend to appeal to a more bold and statement buyer, they seek out something new and different and love to have a piece of jewellery that creates a conversation. I love that this conversation then continues after discussing  with a customer, allowing the piece to constantly evolve through intrigue and curiosity. I currently have work in Gill Wing jewellery and other high-end jewellery galleries and have had great feedback about original uses of materials and challenging the viewers idea of a piece.
I also have broad range, with smaller  pieces appealing to customers that really admire the big, bold statement necklaces, but aren't brave enough to wear them. Therefore these pieces create a small snapshot allowing them to feel like they can still own a part of the collection and  understand the processes undertaken.
What's next for your business?
Sieraad!! I'll be exhibiting there in November, and I think that this will be the next steps to really pushing my work internationally. This will also be a great time to reflect on a very successful year and some very big highlights like Shine 2017.
Looking to the future I am aiming to do a lot more international shows and exhibitions and explore my work further within the art jewellery context. I am also creating a programme of workshops inspired by the similar practices and techniques that I use, allowing participants to play, explore and draw with materials. Further linking to this I will be part-time lecturing at universities and feel very rewarded by giving something back from all the wonderful experiences I've had so far.
For more information on the Shine 2017 exhibitors and to start commissioning your pieces, visit www.goldsmiths-centre.org/whats-on/exhibitions/shine-2017