From Foundation Programme to Premiere Classe: An Interview with Amy Gibson
After graduating from our Foundation Programme with a Goldsmiths' Craft & Design Council Award under her belt, Amy Gibson secured a Goldsmiths' Company apprenticeship at bespoke London Jewellery company, Alex Monroe.
As a member of the design team at the brand, she collaborated on its latest collection, AW2020, and was present for its exciting debut at Paris fashion-jewellery show, Premiere Classe. In a recent interview she spoke to the Goldmiths' Centre about her experiences there.
The last time the Goldsmiths' Centre interviewed you, you had just graduated from our Foundation Programme. What has changed in your career since then?
Back when we last spoke I had just graduated and I was looking for an apprenticeship, hoping to get one at a place where I could do design and jewellery making, which I am very lucky to have found with Alex Monroe. I am on the design team with Alex Monroe, where a practical approach is taken to the design process for new collections. Within the design team, I specialise in bespoke commissions, working with fine metals and gemstones and liaising with our clients.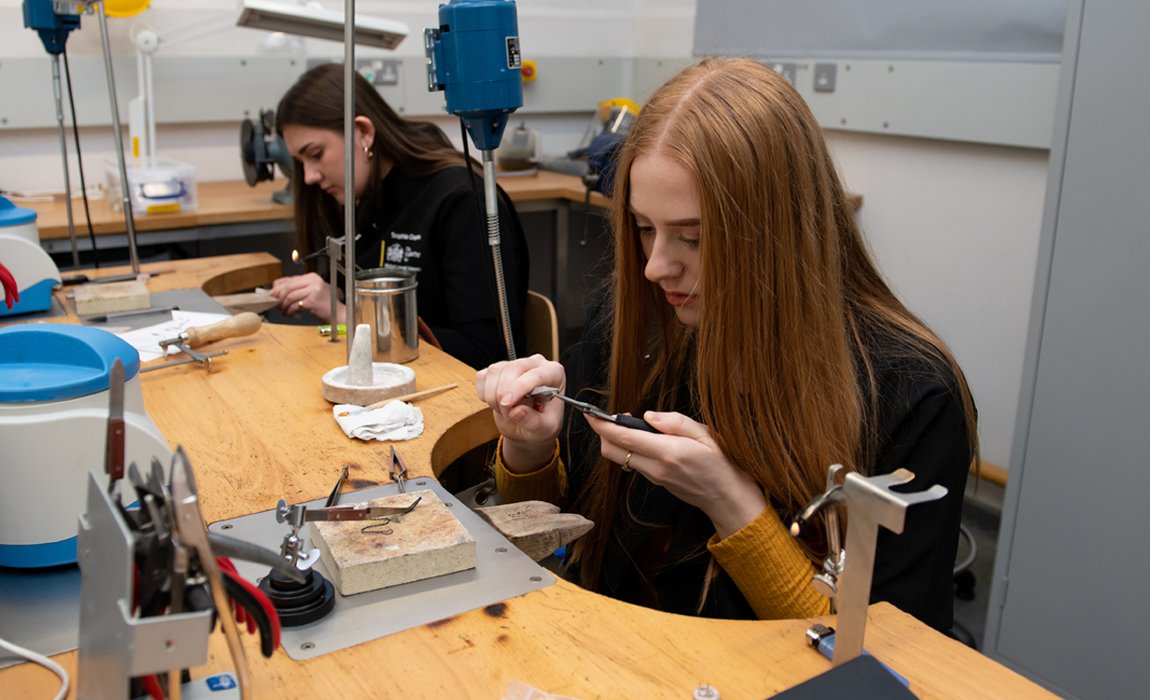 As part of the design team at Alex Monroe, you recently visited Premiere Classe, a fashion trade show in Paris. In what ways did you contribute to the collection that debuted there?
The AW2020 Collection that debuted at Premiere Classe was the first seasonal collection that I had worked on from the very beginning. For me, it was about learning the process and using the time to practice different skills. Everything is collaborative and we all work together on everything, from the initial research stages where we look through old storybooks, going into fictional worlds to be inspired and sketch those ideas, through to carving out animals and decorative elements, and making them all into gorgeous jewellery. We make far more than we need in order to be able to refine it and make a succinct collection - a process that was really interesting to see.
Can you highlight one memorable moment of your time at Premiere Classe?
The exhibition really makes you look at the wider picture with jewellery making. The styling and presentation is so important. There's no point in having really thoughtfully designed jewellery if it is presented wrong. Seeing the stand when we walked in was a memorable moment for that reason - it was so beautifully presented and really brought the whole vision for the collection together.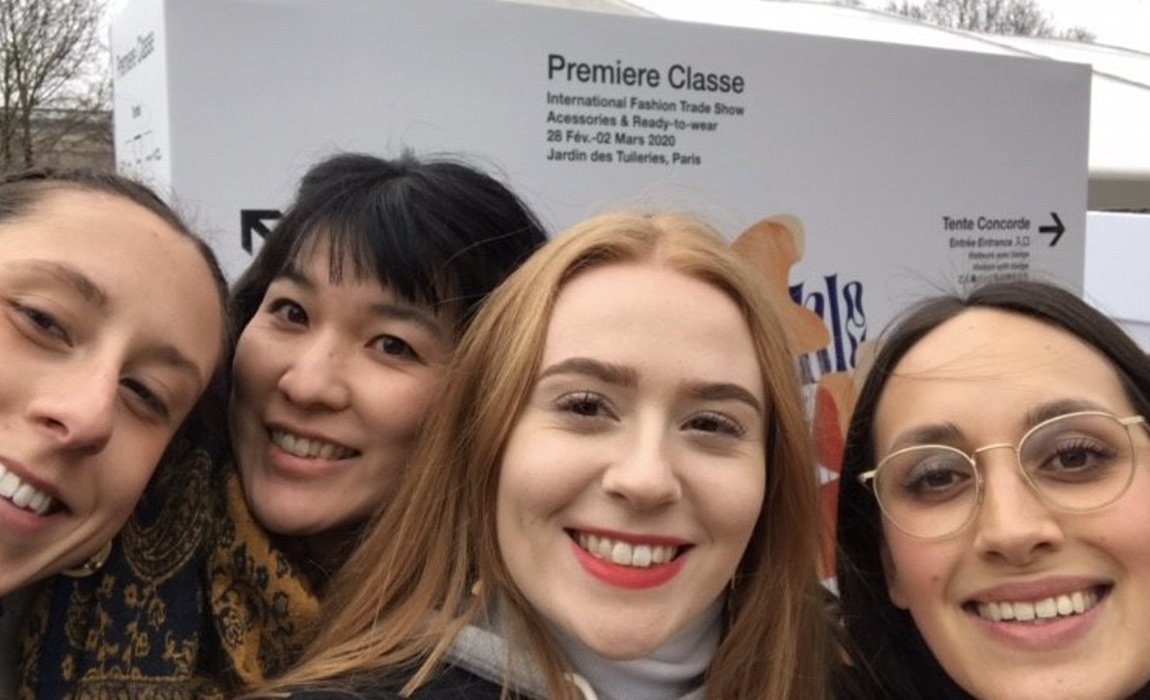 How do you think it has impacted you as a maker?
It really inspires you to make more. I think it made all of us on the team really excited for the year ahead. It's so important to stop and reflect on what you've made, especially because time seems to fly when the work schedule is full.
Is there one piece in the collection that you contributed to that you are particularly proud of?
I am proud of my work behind the scenes more than a single piece I think. All of the problem solving you go through and experimentation with the technical elements. Learning the skill of carving into silver in Alex's signature style has been difficult but really rewarding, and you can only get better with practice so it's amazing to get that opportunity.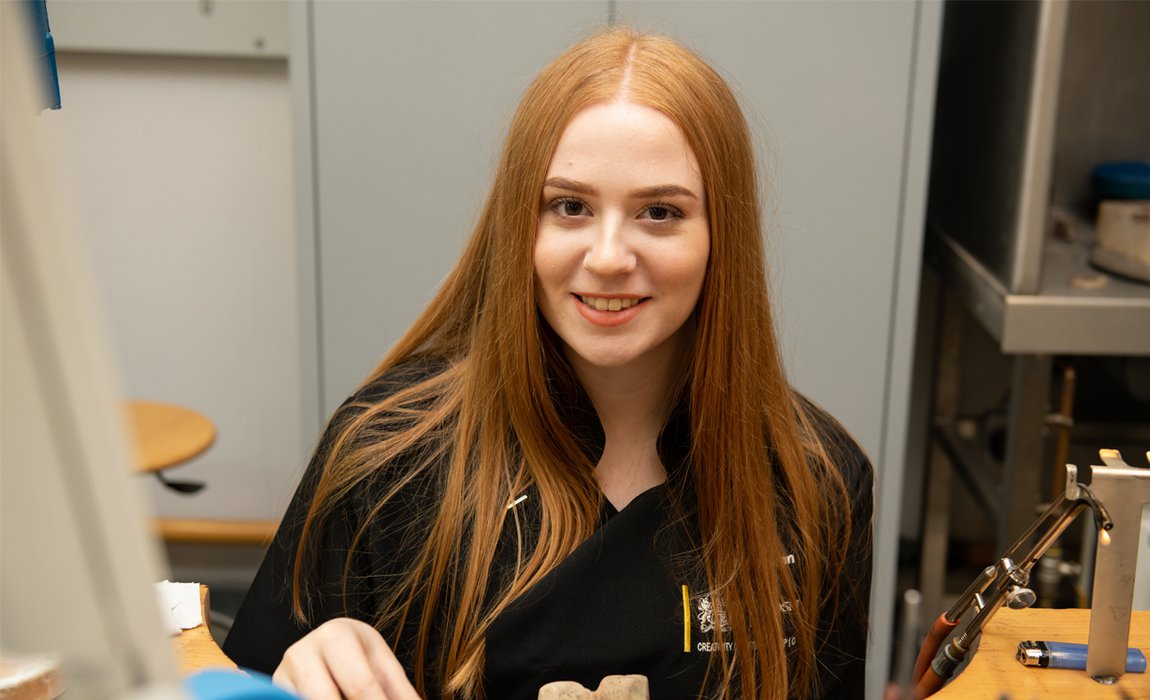 Has your time in the Foundation Programme prepared you for your apprenticeship at Alex Monroe, and if so, how?
Definitely. There is always more to learn with this trade but it has given me such a good grounding of skills and knowledge that I use every day. It's so useful to know a little bit about everything so that I never feel too lost when looking at a range of work.
What have been the benefits and challenges of working within a team?
It's a skill to work collaboratively on a collection and tune into what everyone else is making, but also being original enough to make beautiful pieces. It's great to have a team to problem solve with and bounce off creatively. Everyone in the team has a different background to the trade so it's great to get different perspectives.
What does an average day look like for you at Alex Monroe?
I have recently started setting practice every Monday with our in-house setter which will be so helpful for our bespoke work and for when we make collections involving stones. The average day otherwise is a balance of working through bespoke commissions at their various stages, working on the current project or collection or One of a Kind pieces. When I am not on the bench I am meeting with bespoke clients, answering enquiries, making client renders, etc.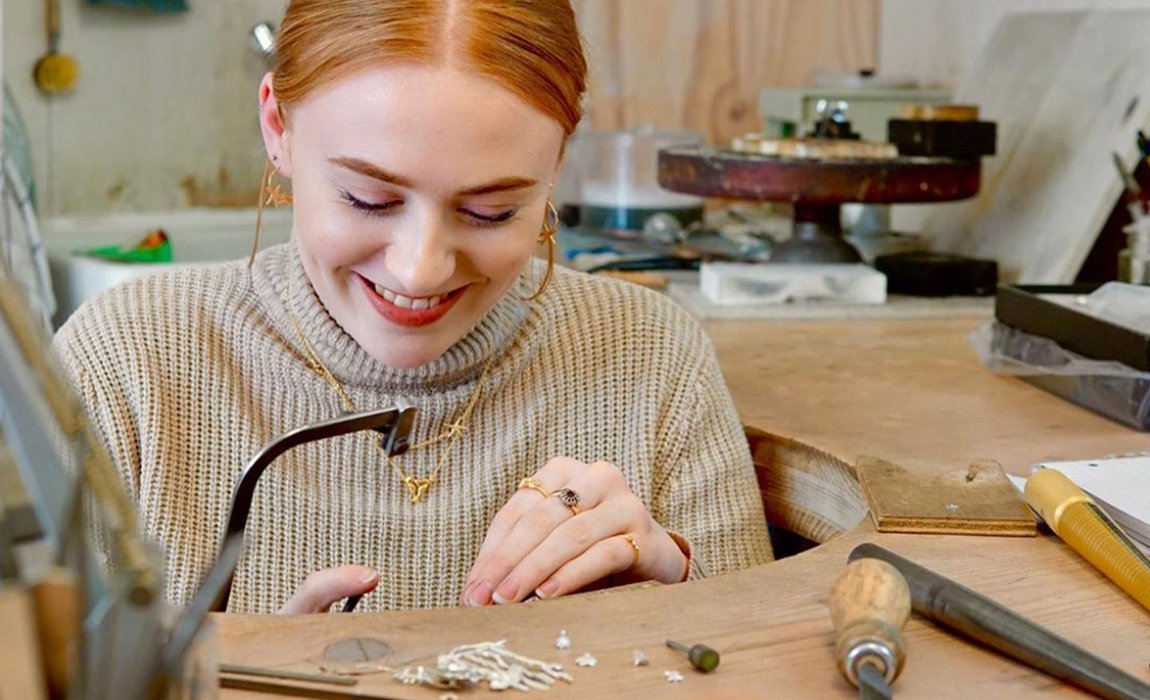 Does your apprenticeship differ from your expectations, and if so, how?
I knew from the start that it wasn't going to be a traditional apprenticeship but I have had more exciting opportunities than I was expecting. My trainer encourages me to have confidence in my abilities and push myself which I sometimes need. I am so glad that I get to do such a wide range of things in my job - client sketches/renders, sketch booking and designing, carving, engraving, construction, and setting. 

I also get the chance to learn some of the admin/technicalities on the business side, interact with customers and learn how to tailor an experience for a person. The bespoke service is 90% engagement rings and it's the best feeling when you go through the process from start to finish with a customer and make the experience as special as possible for them - it's always so nice to see the "they said yes!" email. 
What was your biggest takeaway from your experiences at Premiere Classe?
It was inspiring to see work that felt truly original and it's always insightful to know what you like and don't like because you can apply it to your own work and bring that to the team.