Interview with Setting Out Participant - Jewellery Designer Ana Thompson
Ana Thompson is a London based Colombian jewellery designer whose unique collections explore the intersection of design and science. In 2015 she first encountered the Goldsmiths' Centre when she successfully applied for the week-long free business taster course, Getting Started. In this blog post she speaks about her experiences since as part of our Setting Out business incubation programme and where she finds her inspiration.
Ana, thank you for taking the time to speak to us today. This year you've been learning how to kickstart your business on our incubation programme, Setting Out. But how did you find your way into jewellery design?
I have always had a passion for jewellery and design.  Since I was a child my grandmother worked in the jewellery trade, and when visiting her I was often surroundedby all kinds of beautiful pieces.  I also have fond memories from the Gold Museum in Bogota, in Colombia, and appreciate how jewellery can carry culturally important messagesthrough the centuries within a timeless material that does not blemish or corrode.
I studied and worked as an Industrial Designer which I found very rewarding and led me to appreciate jewellery as a medium that is not dictated by functionality, and would allow me to continue experimenting with different materials, methods and techniques. I therefore completeda Masters Degree in Jewellery Design at The Cass. This allowed me to work witha very cutting edge, technology-oriented approach in my development as a jewellery designer.
Where do you find inspiration for your jewellery designs? What makes your design style unique?
When I started my MA in Jewellery Design I took some time to define what meaning my jewellery would carry. I found a very strong connection between beauty, nature and scale, so I became captivated by the unseen wonders of the microscopic and macroscopic worlds of nature which contain the most fascinating structures, patterns and geometric rules that help us to understand the emergence of form and the valuable meaning of our hidden worlds. My design style is defined by the exploration of geometric forms in connection with our body.
Are there materials you prefer to use?
I mostly work in precious metals because they lend themselves well to the delicate cage latticestructures I create.  I also like to experiment with other materials and processes, frequently sourced from my native Colombia of which I will be incorporating into future collections.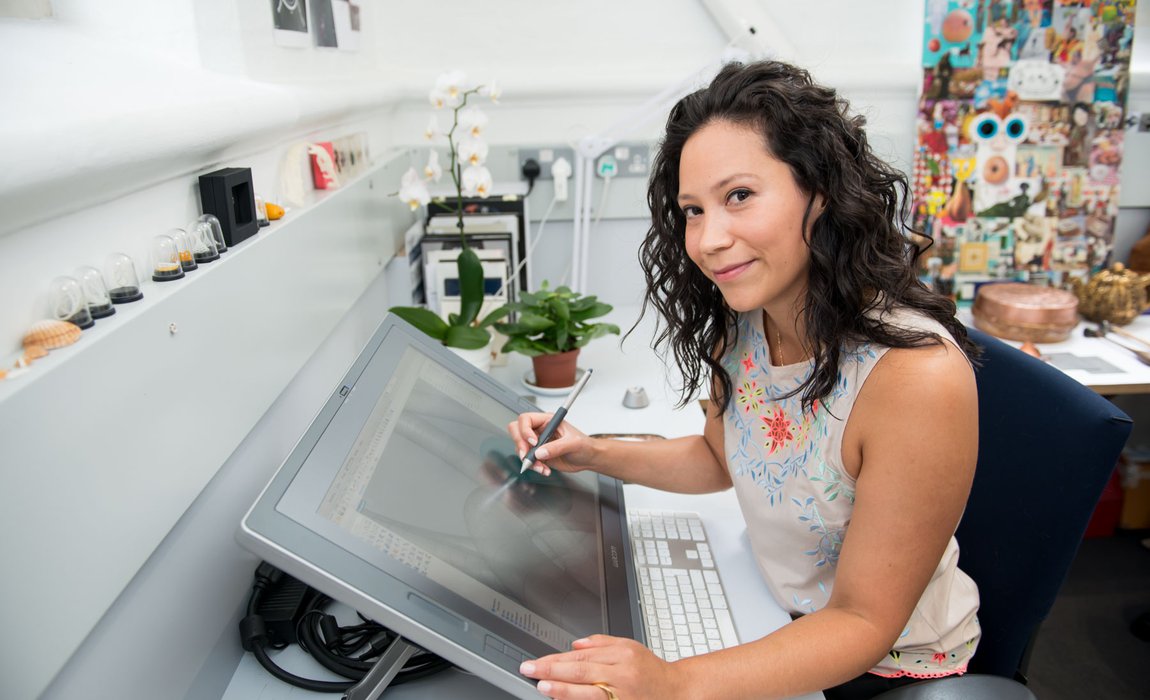 What would you like to make that you haven't so far?
I would like to design and make a collection in precious metals using the unique possibilities that DMLS (Direct laser sintering) technology can offer.
What are your aspirations for your business?
My aspiration for the business is for the brand to expand globally and for the collection to explore cutting-edge technology as well as materials. Within my work I aim to portray a universal language that will appeal to a worldwide audience, and interpret how beauty can be projected into a piece of jewellery.
How has the Setting Out programme helped to demystify planning and running your own business?
The mentoring sessions I receive are helping me to better understand the key elements needed for operating a jewellery business and how to best put them into practice. For example I have learnt about business planning, product development as well as accounts and finances. These have been invaluable in developing a clear business strategy.
Jewellery is an important part of our identity. Is there a piece of jewellery that you wear daily? What does it mean to you?
When I am designing I always keep in my mind the wearability of a piece and how I can create a tactile design. I also consider the functionality in regards to the purpose of a piece as an extension of the body. This rational may have stemmed from my background in product design. On occasion I do become attached to my pieces such as the Vortex Ring that I launched at Kick Start in 2015. What drew me to this design is the wearablity and although it is a volumous statement piece, it still feels very comfortable. Whilst I wore the Votex Ring it attracted a lot of attention and so I decided to expand the collection.
Is there anything you would have liked to have known before Setting Out?
Some prior understanding of business would be useful but not essential, as a designer we are not taught this side of the process in the academy! However on the Setting Out programme I am learning a lot about the jewellery business, enabling me to put these lessons into practice straight away.
What advice would you give to anyone who is thinking of applying for Setting Out?
I would say to define the specific aims you would like to achieve during the year on the Setting Out programme. Everyone on the programme is at different stages in their business and in my case, the product development support has been invaluable in helping me to refine my designs with a better focus on production, costing and design; it has been an amazing part of the creative process.
Click here for more information on the Setting Out programme.