Your Impact Story: Jewellery-making pivoting the lives of people experiencing homelessness
At the Goldsmiths' Centre on a brisk afternoon in April, six people are gathered around a furnace in the creative hub's jewellery workshop, a bright and airy room where fluorescent lamps illuminate benches notched by countless tools.
At the heart of this group is Goldsmiths' Centre tutor Vicky who is talking her rapt audience through the process of annealing as she directs a beam of blue flame at a silver ring. Previously, the class were shown a series of flash cards demonstrating how the metal would change colour under fire - from intense orange to a dull red, and finally to a pale yellow if overheated.
The purpose of the day's session is quite simple - to teach the class how to create a silver ring - but it is part of a 12-week programme with a far more meaningful mission; to support participants through their shared experience of homelessness, a phenomenon on the rise by 74% since 2010.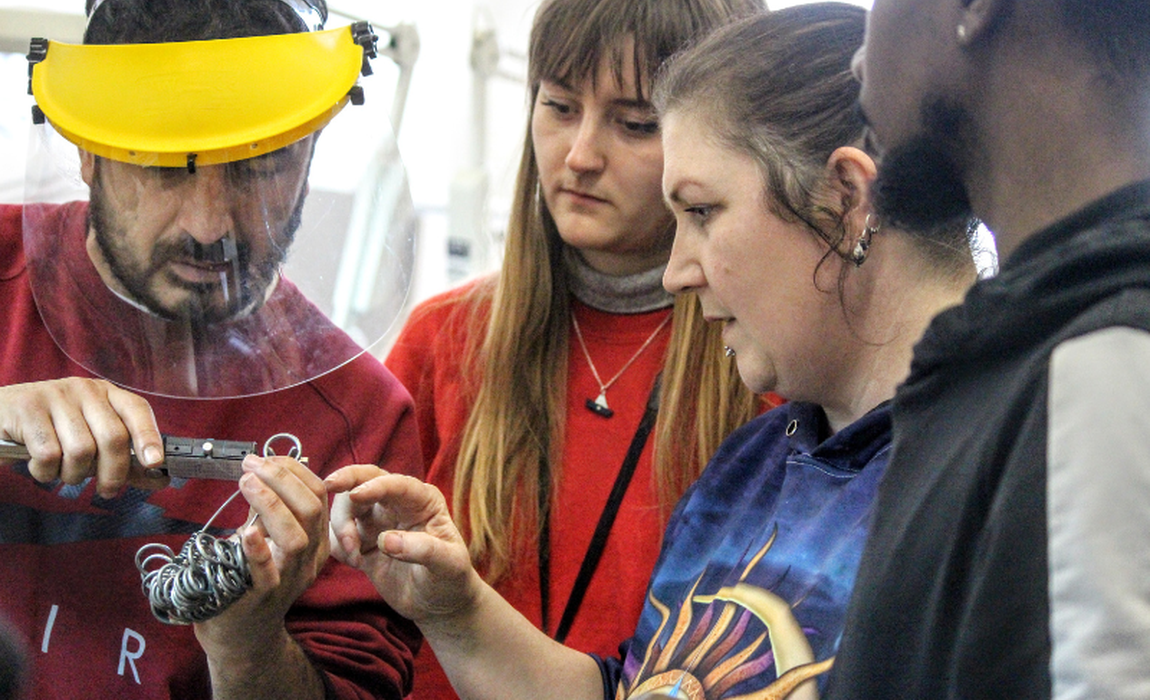 Pivot is a social enterprise that was founded in 2020 by Alice Moxley at the onset of the Covid-19 pandemic, an era of economic turmoil that brought an already overstretched and underfunded social housing system to its knees. It uses jewellery-making and life-coaching as a means to empower people living in temporary accommodation, equipping them not only with skills useful for future employment or education, but also providing them with a sense of community and personal agency at a time when feelings of isolation and powerlessness can seem insurmountable. Alice witnessed these struggles first-hand during her involvement with organisations such as Fat Macy's and Year Here, and having long enjoyed jewellery-making as a hobby, combined her passions for a unique approach to tackling homelessness; presenting craft as a tool for those failed by the system to 'Pivot' the narrative of their lives.
Since late 2022, the Goldsmiths' Centre has supported the enterprise in numerous ways; providing funding to secure its continued work through donations made by the members of the Goldsmiths' Company to its 1327 Fund, offering use of its state of the art facilities for one-off training sessions such as the ring-making workshop, and also hosting a pop-up selling event at the programme's conclusion in May.
Set in the Goldsmiths' Centre's Exhibition Room, this event provided Pivot participants the opportunity to network with both the public and industry insiders whilst showcasing and selling their pieces, which in 2023, were hand-crafted using responsible brass, with previous cycles of programme participants also working with recycled silver and upcycled acetate donated by Cubitts, the glasses manufacturer. In addition to a total of over £1,400 in jewellery sales, the event was a chance to make connections that may prove fruitful for future training or careers, and provide a vital exercise in building confidence and motivation.
"I've found the programme very therapeutic. It takes the edge off life to be honest. As soon as I step into the environment, the room, anxieties go away. It's seeing everybody - you're always seeing a smile at least."
said one of this year's five cohorts, whose time spent in temporary accommodation ranges from four months to three years.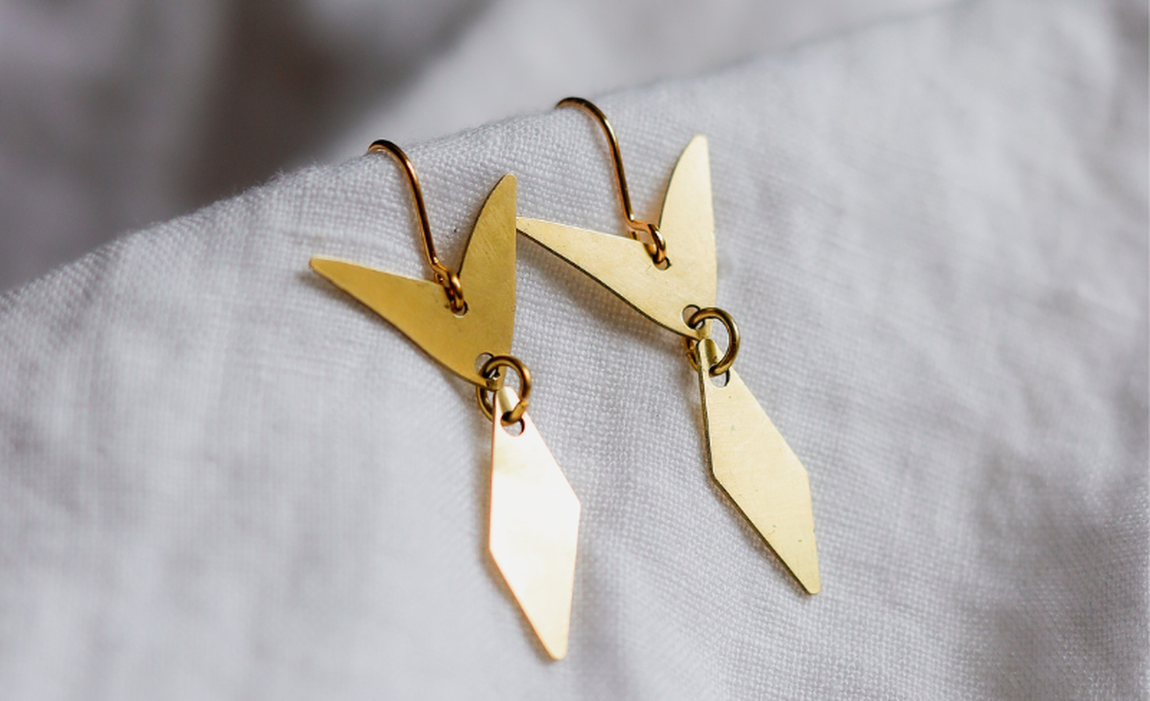 Pivot recognises that temporary accommodation, contrary to being a short-term solution and a mere stepping stone to a more permanent residence, has become an inescapable cycle for many people. The route out of homelessness is not simply a matter of finding employment, but overcoming a complex series of barriers that include gaps in the benefit system, mental health and learning difficulties, a lack of affordable housing and growing rent and living costs. Research by the UK charity Shelter indicates that 77% of those placed in hostels during the pandemic-era have still not transitioned into settled housing, and a government report on Statutory Homelessness in England declares 101,300 temporary accommodation households as of December 2022 - an increase of 5.2% from 31st December 2021.
"Being creative is to be human. Harnessing creativity is an important therapeutic tool for everyone to enjoy and to thrive with, and those living in unstable housing conditions are no exception. The creative process Pivot offers is jewellery-making."
"It teaches unique skills and gives an insight into an exciting and welcoming industry. With the incredible support of The Goldsmiths' Centre, the participants have thoroughly enjoyed exploring new skills and building on their own strengths through using their state-of-the-art facilities, helping to engender a strong sense of possibility and hope moving forward with their lives." says Sabella Ibanez, Pivot's Head of Programmes. She is a constant presence throughout the ring making session, offering words of advice and encouragement as the students pour over their workbenches, and has overseen the launch of Pivot selling pop ups at over 45 markets.
"Pivot exists to get people moving, to get people out of bed in the morning, and to embody a sense of empowerment that takes them from a place of doing very little, to engaging with us, then their caseworkers and ultimately moving out of temporary accommodation."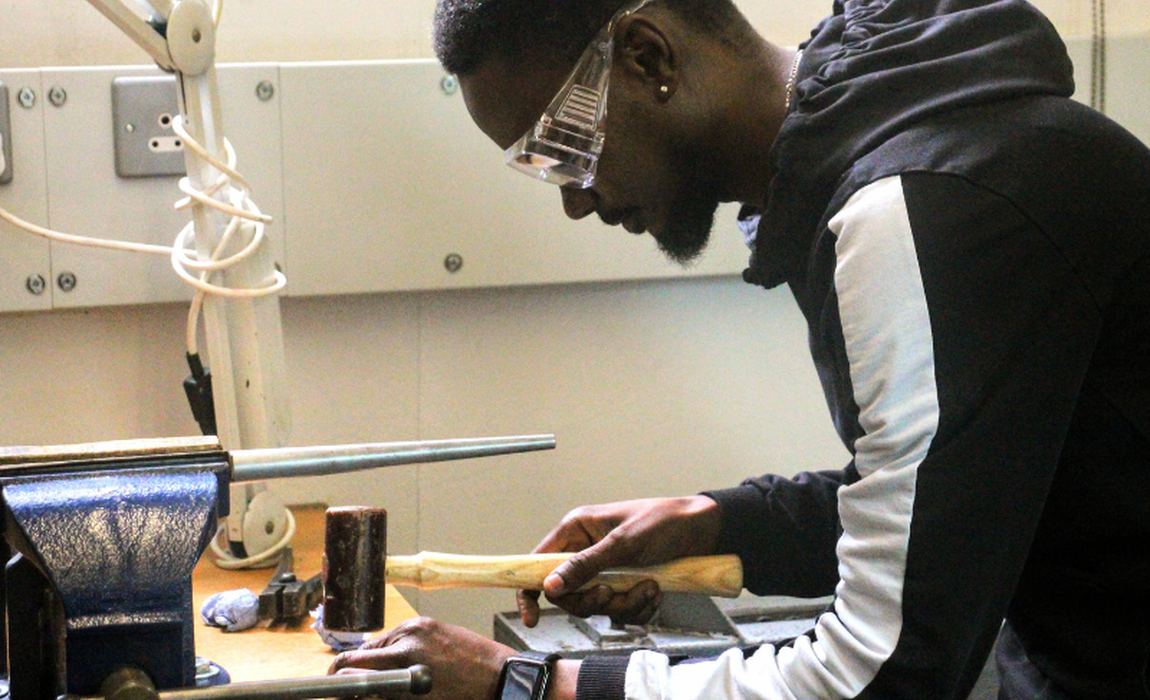 "On previous programmes, we've had participants who were stuck in the hostel cycle for ten years or more - for all of their twenties, basically. As a young person, they endeavour to leave within weeks or months of moving into a hostel, but we often find that with rising rents and less social housing available, the systemic barriers stack against them. Many become disincentivised and are unable to take the steps towards moving on without the right support."
"Through jewellery making, we can empower people to make incremental changes in their life by teaching them how to take a dirty piece of metal and turn it into beautiful jewellery that someone wants to buy."
Pivot is particularly unique in that it seeks to deliver training directly to participants, within the hostel environment itself. Although students can enjoy some access to fully-furnished workshops through its partnership with the Goldsmiths' Centre, the enterprise seeks to conceive of jewellery that can be made in any setting with simple and readily available tools. This approach is drawn from Alice's training in architecture, in particular the principles of Walter Segal, who spearheaded a minimalist approach to construction that would allow ordinary people to design and build their own homes. It has proven highly effective, with the 2023 programme securing an attendance rate of 91% across 75 sessions. In return for their participation, cohorts are financially supported, with the programme covering hostel service charges for those that consistently attend - almost simulating the relationship between employer and employee, and preparing its participants for a return to the working environment.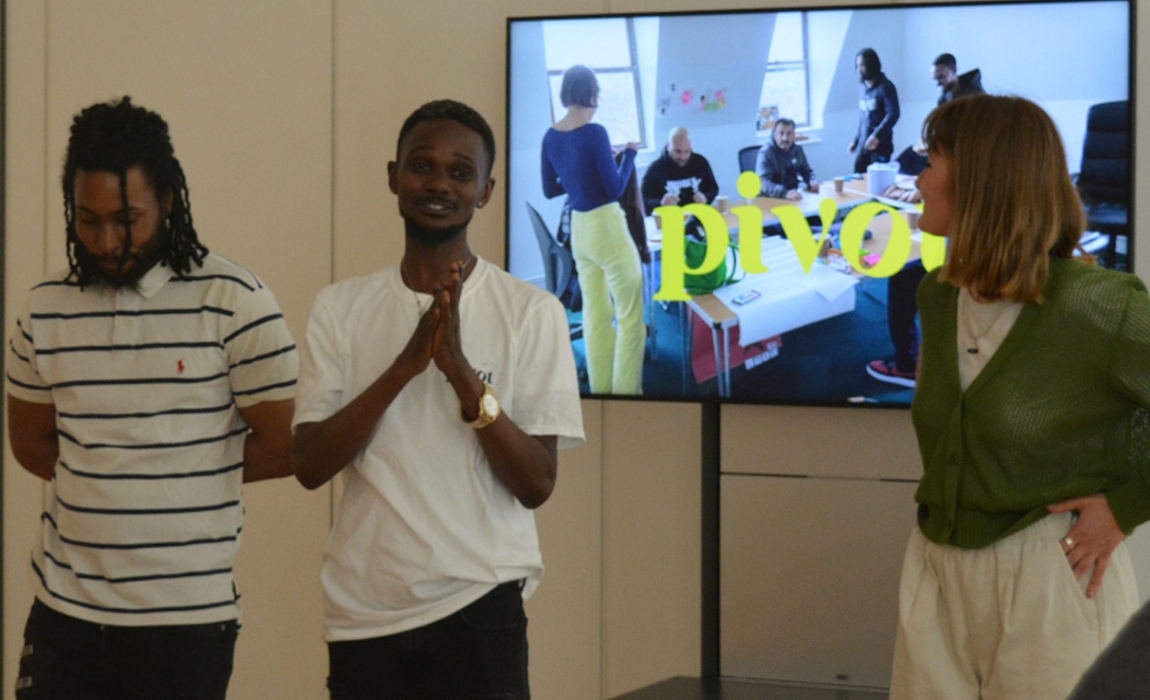 Sabella continues: "Creating training or employment opportunities outside of the hostel can often lead to barriers with finances, travel, childcare and access to hostel mealtimes. Bringing the programme directly into hostels provides more accessible opportunities. So over the past three years, we have developed a really strong relationship with a hostel in North London."
Sabella's ease and rapport with participants is mirrored by that of Jason Thompson, Pivot's Head of Workshops & Programme Facilitator, a living testament to the power of the organisation. A participant in the programme's first year, Jason demonstrated an enterprising spirit from the offset - furthering his jewellery-making skills by watching instructional YouTube videos. Now a skilled jewellery maker and teacher, his own experiences of hostel-life furnish him with an unique insight into the struggles of those he mentors. 
"Sabella and Jason have been very supportive, honestly. The programme shows us that there's still a future for some of us."
one participant said of the two programme leaders.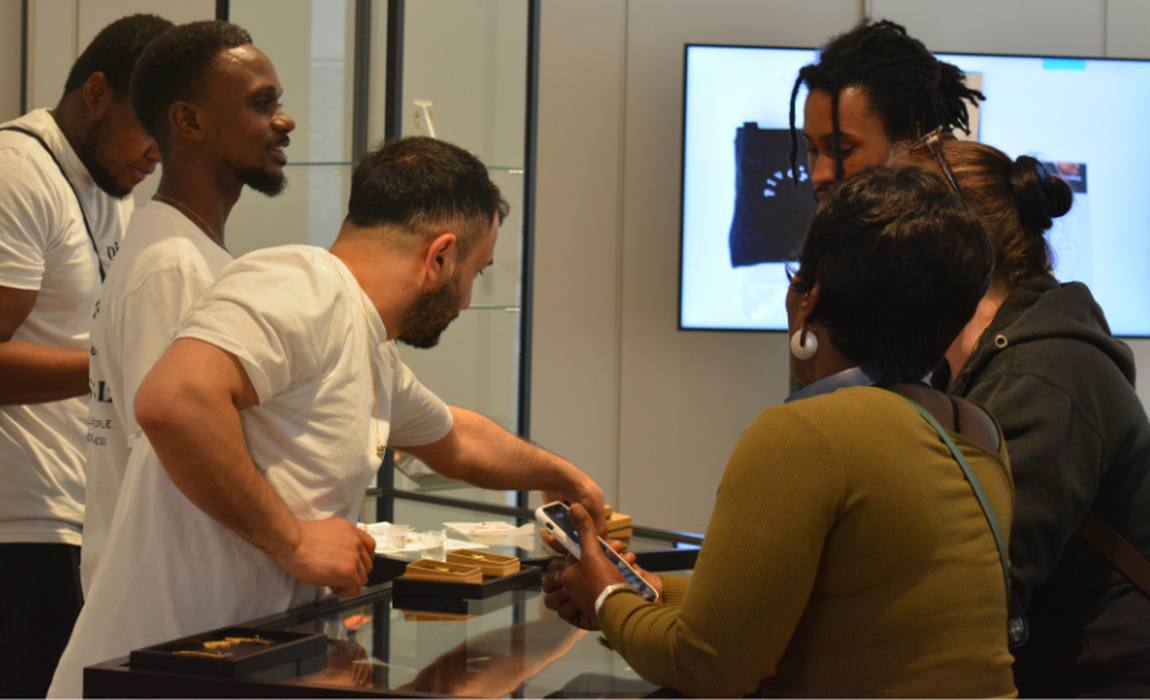 Other provisions made to ensure that the programme is as accessible as possible include; availability of healthy lunches that cater to specific dietary requirements; covering travel costs to and from the Goldsmiths' Centre; providing a safe space for one Muslim participant to pray during Eid; measures to accommodate for the challenges of a dyslexic participant such as sending voice notes rather than written messages and completing surveys and other written tasks with the support of a tutor. These small considerations are cumulative in supporting a diverse group of participants and Pivot is a social enterprise that is acutely aware of the barriers related to learning difficulties, race, religion and class. By understanding these barriers, Pivot can take steps to ensure that participants are not deterred from taking part.
In a country that has been wracked by austerity, a pandemic and a cost of living crisis, more people than ever are at risk of losing their homes, and being plunged into the quicksand of an inadequate temporary housing system. To find stability again requires not only opportunities for education and employment, but also opportunities for a renewed sense of hope, motivation, and self-worth. Programmes like those facilitated by Pivot are taking an innovative approach to providing all of the above, utilising a seemingly niche craft to make profound changes in the lives of its participants.