Your Impact Story: Helping to get new work off the ground
In December 2021, the Goldsmiths' Centre launched its Business Catalyst (Small) Grants in order to help mitigate socio-economic barriers that might prevent jewellers and silversmiths from starting and growing their businesses. Over 8 months after the first grants were awarded, we interviewed jeweller Kali Forbes and Agata Karwowska, who applied for £2,000 grants each in order to develop technical skills and work. We wanted to see where they were at - with their grant and their businesses.
Kali Forbes works out of a very spick and span studio in Camberwell. She applied for her Business Catalyst (Small) Grant to produce a sample range of engagement rings. It would be a well thought out addition to her range, planned around customer needs and (hopefully) wants.
"There's actually a lot of free advice out there nowadays, to support emerging businesses. But there's a distinct lack of funding opportunities for small crafts-based businesses. I was thinking about this when I put my application together."
'I can't think of anywhere else apart from QEST where you can get funding for a business or a practitioner like me. And the Queen Elizabeth Scholarship Trust scholarships are only for training and education, they're not there to support growing the business.'
The typically winding path of the maker was Kali's path too. 'I graduated from my MA at the Royal College of Art in 2014. And from that point, until March 2020, I worked mainly in freelance positions working for other people. I was doing a little bit of my own bespoke work every now and again. I was always wanting to start my own business but never able to pay bills and get that off the ground. And then in March 2020, not because of the pandemic but because I had kind of come to a dry point with my freelance work, I thought OK - now's the time to do this full time, if I'm ever going to do it. So, since March 2020 I've just been working on my own business.'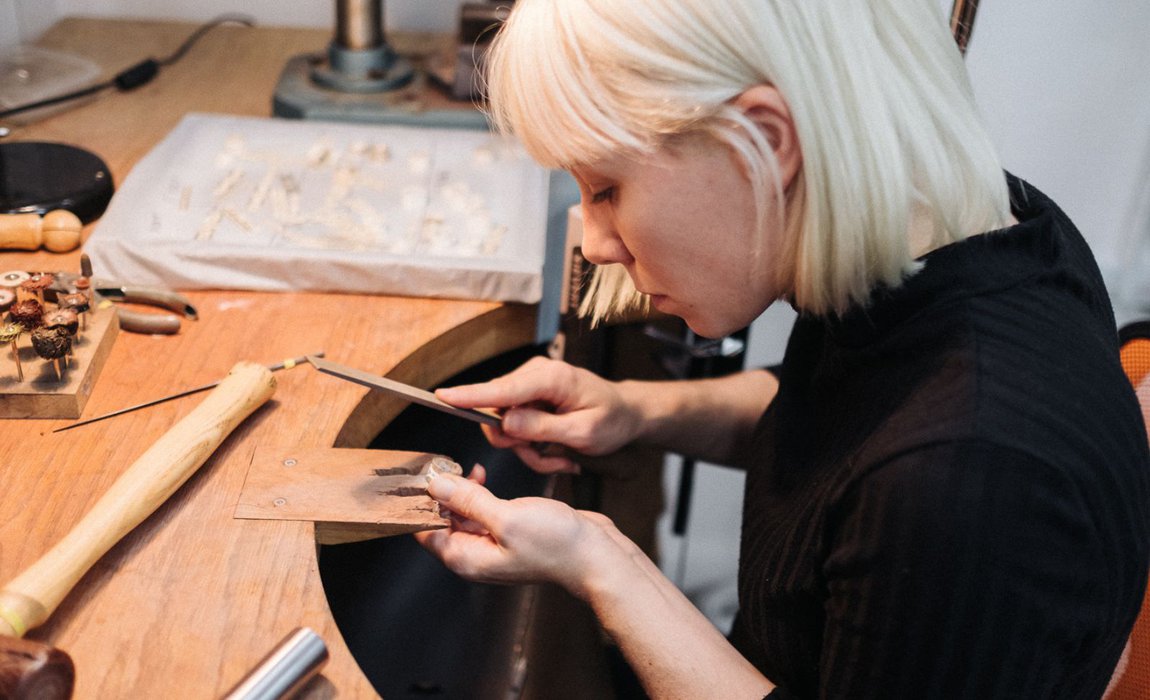 Like many makers, Kali also teaches - both to bring in extra income but also to keep her own practice sharp. She had been Design Subject Leader at the British Academy of Jewellery but she is now dipping in and out as a sessional tutor instead, which fits in around her business, rather than the other way around.
She initially applied for the grant wanting to create stock rings that she could sell. 'And that was the proposal that I went in with. But things changed slightly. I was watching the price of gold going up and up and thinking about the really tumultuous economic situation that we're in. I thought I will literally get more out of this grant if I make samples. Also because I'm aware that clients are much more financially conscious nowadays. Then when we had the interview (for the grant) I double checked with them (The Goldsmiths' Centre) and said is that going to be okay? And they said definitely - it shows that you are really thinking about how to best use the money.'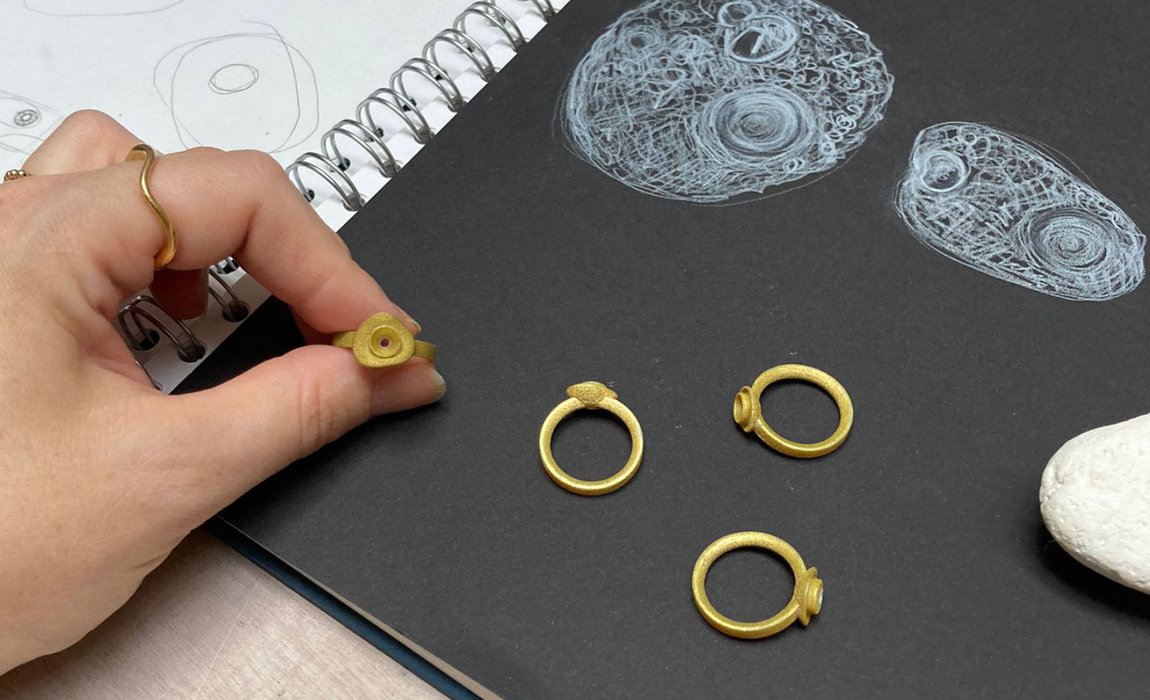 Having physical pieces that people can see when choosing an engagement ring will help to streamline the entire commissioning process. And it should also be a lot less effort, overall, for Kali. 'I get bespoke commissions for engagement rings and wedding rings. What happens is a client comes and the world is their oyster - they could choose anything.'
"It's really difficult and it takes a long time to make somebody happy when there are no boundaries. I knew that I wanted to have a core collection that people could customize slightly."
The buying of engagement rings is usually done, of course, without the wearer present. 'And when it's a surprise proposal they come and think they know the ring size. But it's never the right ring size.' Kali can sell the samples if they happen to be exactly what the customer wants; or she can do a bespoke piece as well. 'But it's good if people can get a sense of my kind of signature style through these samples.'
Kali thought the application process for the Business Catalyst (Small) Grant was quite straightforward, with standard questions, and the money came through quickly. At present she is continuing to develop her sample ring range.
"I've worked on the designs for the collection. And now I'm in the process of refining those designs."
She works up the ring prototype designs as models, digitally rendered on a computer and 3D printed. This gives her quite lovely resin samples to handle, to work from and develop, before the precious materials need to be unpacked and the tools chosen.
Agata applied for a strand of the Business Catalyst (Small) Grant to develop a new technique in her practice. Electrophoretic plating is the process of creating (with a voltage) a layer of colourful nano-ceramic on the surface of any conductive metal, a process similar to gold plating. The resulting plating creates a 100% hypoallergenic nano-ceramic surface and comes in all the colours of the rainbow. Agata had been hoping to introduce stable and robust colours into her jewellery range for a while and the grant seemed ideal for what she needed.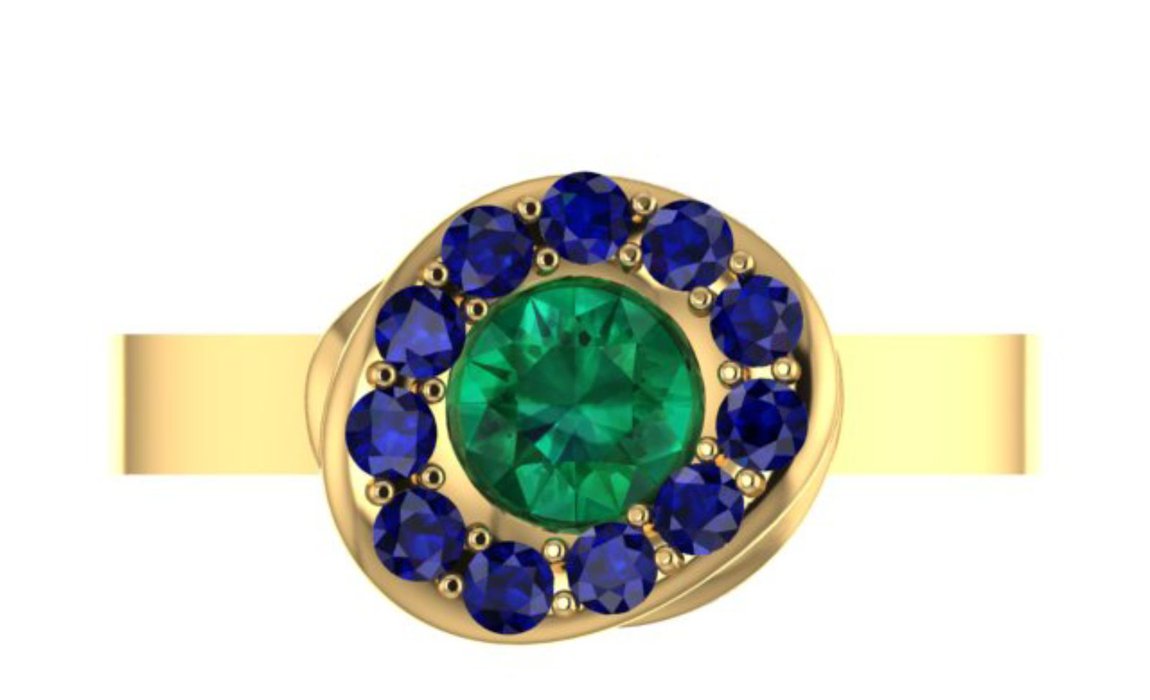 The getting of the specialist equipment for the plating has not been straightforward. Initially Agata thought it would be shipped over from America, then perhaps from Poland or Italy. And now it is being ordered through a company in Birmingham. So many months have passed whilst she tries to buy what she needs. When her equipment finally lands, Agata isn't daunted by having to teach herself a new plating technique. She came rather later to jewellery design, in 2014, and was self-taught until moving to London (from Poland) and taking the Level 3 Diploma in Jewellery Design and manufacture at the BAJ in 2019. She is still building her business, working part-time in retail to support both it, and forthcoming studies in the form of an MA in Jewellery at London Metropolitan University.
In anticipation of being hands-on with her new plating machinery, Agata is designing the new colourful pieces. These designs come as exquisite small paintings on black paper, showing how her dreams of colour might soon be realised. Agata first came across the electroplating technique after talking colours with workshop colleagues. 'I wasn't satisfied with the range of colours available and their durability. The only colours I could get on metal were yellow, rose gold and rhodium.'
She thinks colour will enhance her pieces: 'Colourful pieces of jewellery never go on unnoticed.'
I think introducing colour to my work will help it become more distinctive in the jewellery market. I need something that stands out more, that's more eye catching.
She might also, she hopes, be able to offer the colour plating service to other makers in the future.
Agata found the Business Catalyst (Small) Grant application process clear and fairly easy. In fact, the overall feedback from grantees was that the Goldsmiths' Centre had created a grant application process that is user-friendly. The scheme itself is intended to be as accessible as possible for recipients. This is good news for everyone applying, obviously. But it is particularly important when trying to recruit amongst under-represented makers, who may not have lots of experience making applications. Word count on the application form, which Kali noted was missing, will be included on the next round of grant forms. In this writer's experience, makers don't usually want to be writing words, when they could be off making something instead.