Make Your Future - Reinvigorating a Passion for Craft in Schools
Arts education in the UK is declining. Since 2007, the number of students taking craft at GSCEs fell by 23%; and Design and Technology by 41%1 Make Your Future, a new Crafts Council initiative, is striving to put craft back at the heart of school education and reinvigorating a passion amongst the next generation of makers.
In November 2018, the Goldsmiths' Centre, supported by a grant from the Goldsmiths' Company Charity, awarded the Crafts Council £20k to fund the Make Your Future project. The aim is to help draw the light on craft as a cross-curricular bridge which connects science, technology, and creative subjects – an approach called STEAM learning. In the projects' first three years, the Crafts Council will be engaging Birmingham schools with silversmithing and jewellery techniques by arranging for several talented makers in the region to collaborate with local teachers to deliver workshops in schools. A group of young people explored techniques ranging from saw piercing to electro-etching and pewter casting under the guidance of makers such as artist silversmith Theresa Nguyen.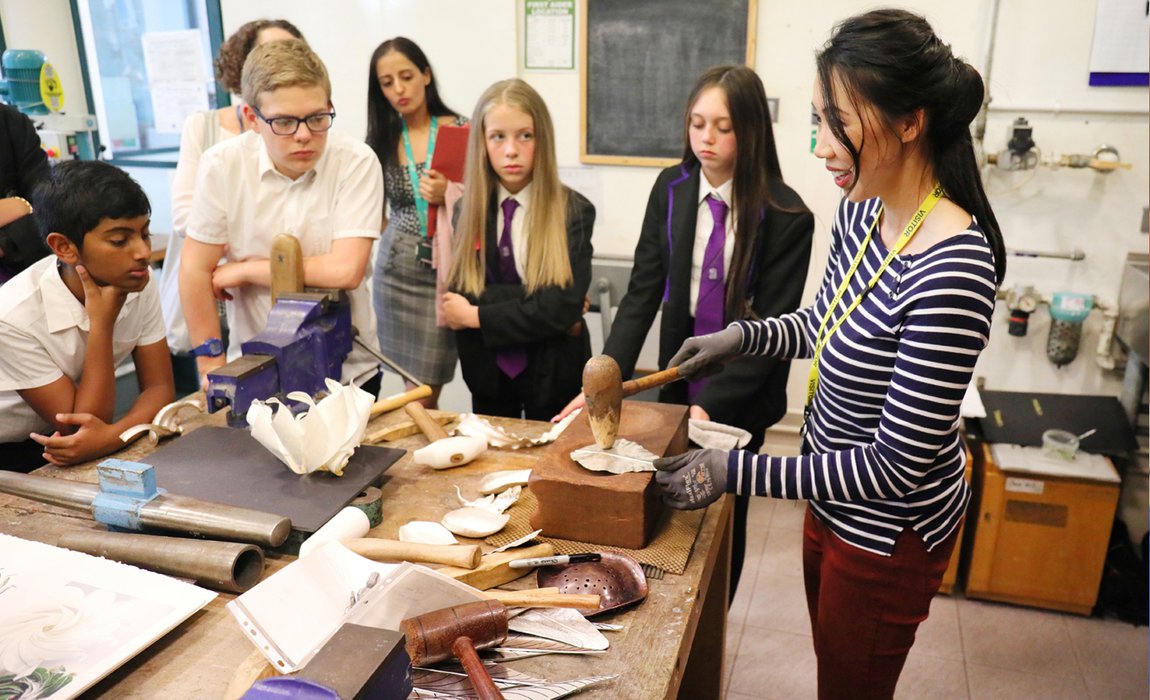 "I love working with young people and helping them to develop their creativity and skills. I particularly enjoyed working with the young people at BCU as they were so enthusiastic, inquisitive and open to learning about the techniques that I use in my work such as fold forming, applying surface texture and shaping sheet silver into organic forms using the bespoke tools that I have made especially for my current commission."
– Theresa Nguyen, Silversmith
"I have learnt a lot about metals, and it's helped to develop my knowledge in DT, which I am now choosing at GCSE."
– Kings Heath Boys School pupil
This pupil's work went on to be exhibited at the world-renowned Birmingham City University School of Jewellery, where school students experienced further craft training in the surroundings of the cutting-edge workshops at the university.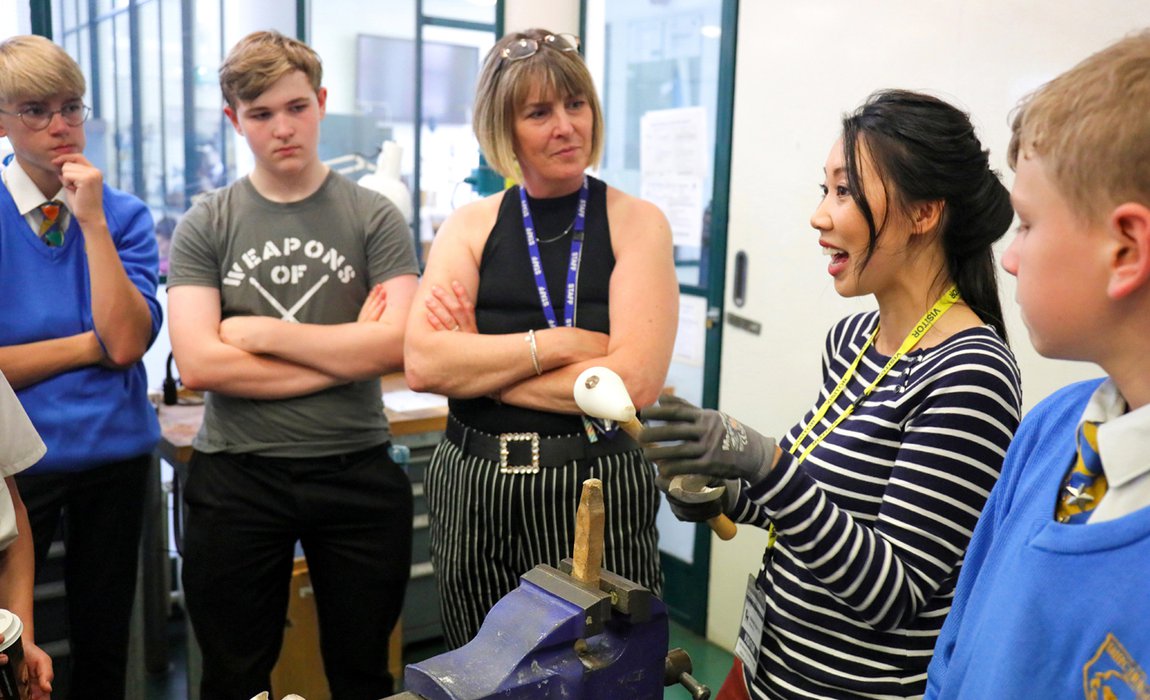 The programme has also provided CPD for Art and DT teachers, with sessions held at Birmingham City University covering topics such as surface decoration, CAD and tool making. As the Crafts Council explains:
"Art and DT teachers are at the heart of the project; they work with our expert partners to learn new craft skills, enriching their own creative practice and bringing new approaches into the classroom. Professional makers work alongside teachers to carry out audits of school equipment, put under-used resources to work and deliver cutting-edge workshops that offer students new experiences of making."
The Goldsmiths' Centre is encouraged to see the positive impact of Make Your Future and how it has successfully strengthened links between universities, makers and schools, offering tangible opportunities for networking and skill sharing between school teachers. The hope is that this unique initiative by the Crafts Council will not just have a major impact on young people's enthusiasm and understanding of craft, but also help to ignite an interest in possible future careers in the creative industries, which contribute more than 100 billion to the UK economy each year.2