The Goldsmiths' Centre's New Talent Scoop 25 Accolades at the "Jewellery Oscars"
The Goldsmiths' Centre in London scooped twenty-five accolades at this year's Goldsmiths' Craft & Design Council competition, known as the "Jewellery Oscars", seeing its new talented craftspeople and their tutors represented across award categories.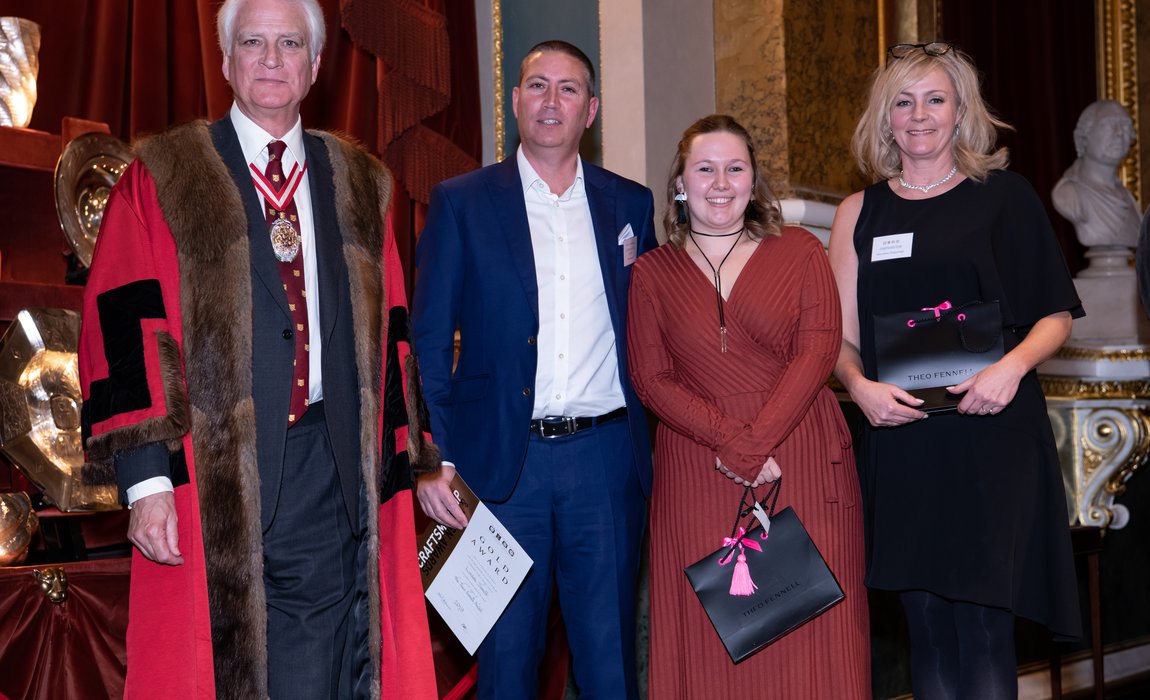 The prestigious award ceremony, which was held at Goldsmiths' Hall on Monday 25 February 2019, saw the Goldsmiths' Centre's current and former Foundation Programme trainees, Goldsmiths' Company apprentices, Setting Out course participants as well as their tutors win accolades across specialisms, from polishing, diamond mounting to silversmithing, reflecting the exceptional standard of talent, skill and the level of teaching in both the Junior and Senior Award categories.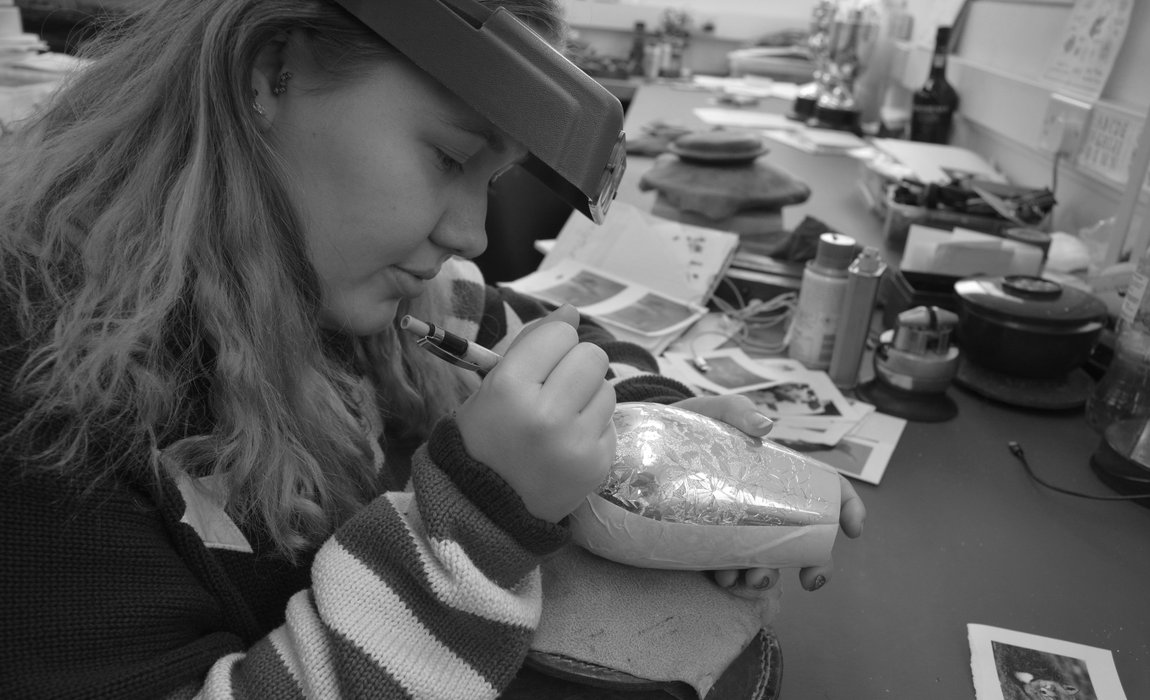 Chosen from over 600 competition entries, the Goldsmiths' Centre is celebrating the exceptional performance across the Junior categories. 19-year old Foundation Programme trainees, Amy Gibson and Sophie Chapman, made an impressive first mark on the awards by winning the Silversmiths - Silver Award in 2D Design category for Amy's trophy design "Silver Fragmented Bottle" and the Chasers Junior Bronze Award for Sophie's Chased 'S' Plaque with support from award-winning Foundation Programme tutors, Jennifer Bloy and Rod Smart. She was joined by former Goldsmiths' Company apprentice, Louise Sorrell, who won the major Junior Award for her breath-taking "Silver Engraved Vase" and the Theo Fennell Apprentice/Master Award under the tutelage of experienced Master engraver, Sam Marsden from Sam James Engraving. Louise will be demonstrating her skills alongside her Master as part of a series of events programmed in association with The Hand Engravers Association and The Lettering Arts Trust during London Craft Week (8 – 10 May) at the Goldsmiths' Centre.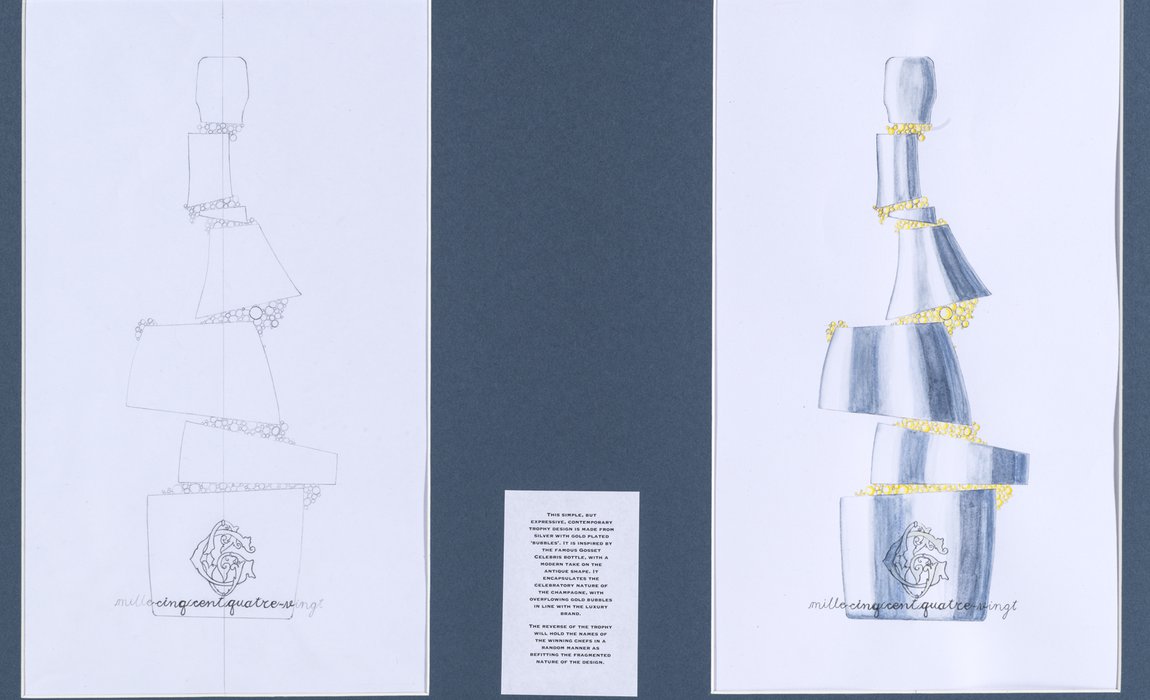 Louise was joined by another twenty current and former Goldsmiths' Company Apprentices and three participants on the Goldsmiths' Centre's business incubation course, Setting Out, demonstrating that new talent is making noticeable waves in the industry. In particular, Eleanor Woolacott, who completed her Goldsmiths' Company Apprenticeship at C.A. Treble London in 2018, as well 2017 WorldSkills finalist Alexander Wood, who is a current Goldsmiths' Company Apprentice at Ian Read Setting, demonstrated their diamond mounting skills both winning Gold Awards. Jessica Jue, who is currently completing the intensive year-long business incubation course, Setting Out, at the Goldsmiths' Centre also made a strong impression with her silver-chased Amesiella Dish, winning three Silver Awards in the 3D Finished Pieces Design category.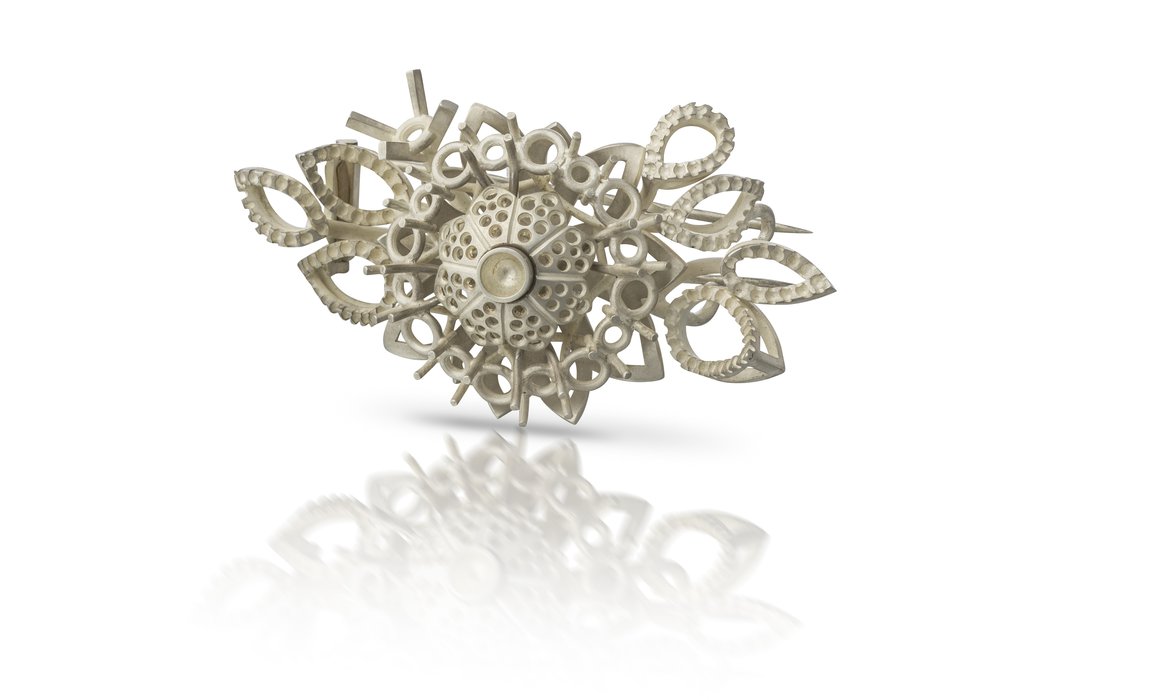 Peter Taylor, Director the Goldsmiths' Centre, comments: "The team here at the Goldsmiths' Centre are immensely proud and pleased for the winners of awards at this year's competition. It is incredible to see the quality of work that is being produced by our trainees many of them under the age of 25. Securing all of the major Junior Awards at the competition is an amazing achievement. Our thanks and congratulations also go to the amazing tutors who go above and beyond to ensure that our learners achieve their potential and Apprentice Masters who are willing to pass on their skills and knowledge to the next generation".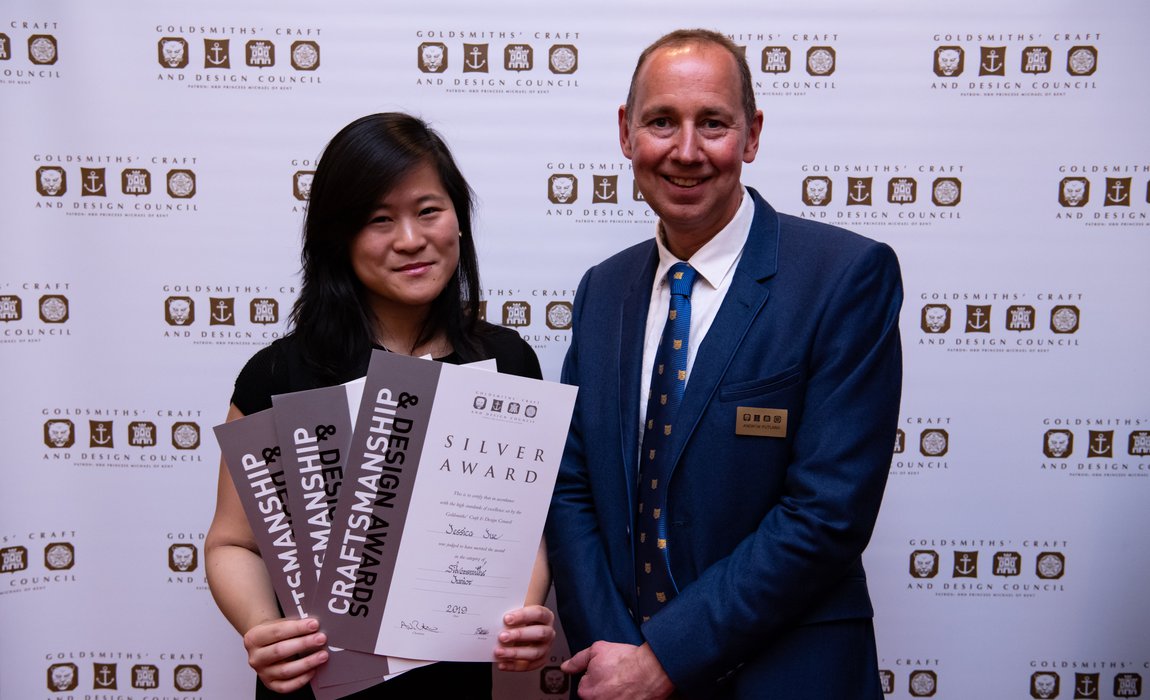 Download the full Press Release here

(372.4 KB)
See all of the winners
The Goldsmiths' Company Apprentices
Oscar Saurin, Polishers: Jewellers & Silversmiths: Bronze Award - Junior, Court Cup, Design Section 3D Finished Pieces
Varis Prieditis, Polishers: Jewellers & Silversmiths: Bronze Award - Junior, Craft Beer Mug, Design Section 3D Finished Pieces (Master, Stuart Ray at Stuart Ray Limited)
Eleanor Woolacott, Diamond Mounters: Gold Award - Junior, Siver Spiral Bracelet, Design Section 3D Finished Pieces
Alexander Wood,   Diamound Mounters: Gold Award - Junior, Floral Inspired Silver Brooch, Design Section 3D Finished Pieces (Master, Ian Reed at Ian Reed)
Louise Sorrell, Junior Award, Silver Engraved Vase, Major Awards (Master, Sam Marsden at Sam James)
Gabriela Kucharska, Medal Design - Bronze Award, Earth Our Home' Medal,  Design Section 2D (Master, Barry Moss at Cleave & Company Ltd)
James Kydd, Smallworkers - Silver Award, Jewel Box & Photo Frames, Design Section 3D Finished Pieces
Daniel Munn, Enamelling - Bronze Award,  Enamelled Shot Glass, Design Section 3D Finished Pieces
James Kydd, Silversmiths - Gold Award - Junior, Jewel Box & Photo Frames, Design Section 3D Finished Pieces
Oscar Saurin,  Silversmiths - Silver Award- Junior, Court Cup, Design Section 3D Finished Pieces
William Lander,  Polishers: Jewellers & Silversmiths: Gold Award - Junior, Primrose Inspired Necklace, Design Section 3D Finished Pieces
Barney Bowes, Polishers: Jewellers & Silversmiths: Silver Award - Junior, Silver Safe, Design Section 3D Finished Pieces
Oscar Saurin, Chasers: Bronze Award - Junior, Court Cup, Design Section 3D Finished Pieces
Hugo Johnson, Smallworkers & Modelmakers - Gold Award - Junior,  Sopwith Camel Airplane, Design Section 3D Finished Pieces
James Kydd, Smallworkers & Modelmalers - Silver Award - Junior, Jewel Box & Photo Frames, Design Section 3D Finished Pieces
Robert Dean, Diamond Mounters: Silver Award - Junior, Classic Tiara, Design Section 3D Finished Pieces, (Master, David Webster at House of Garrard)
Callum Cooke,  Diamond Mounters: Bronze Award - Junior, Tiara with detachable units, Design Section 3D Finished Pieces
Martina Grumitt, Diamond Mounters: Bronze Award - Junior,  Flower Brooch, Design Section 3D Finished Pieces, (Master, Mark Griffin at M.A. Griffin)
Daniel Munn, Enamellers & Enamel Painters: Silver Award - Junior,  Enamelled Shot Glass, Design Section 3D Finished Pieces (Master, Paul Munn at Paul Munn Enamelling)
Yasmin St Pierre, Lapidary & Carving: Bronze Award - Junior, Portuguese Cut Tourmaline, Design Section 3D Finished Pieces, (Master, Roger Dunkin at Holts Gems)
Louise Sorrell, Lapidary & Carving: Gold Award - Junior,  Silver Engraved Vase,  Design Section 3D Finished Pieces
Louise Sorrell & Sam Marsden, The Theo Fennell Apprentice/ Master Award, Silver Engraved Vase, Special Awards 
Masters
Anton Kata, Polishers: Jewellers & Silversmiths: Gold Award - Senior, Floral Pendant & Earrings, Design Section 3D Finished Pieces
Roger Dunkin, Lapidary & Carving - Gold Award (Robert Acker Holt Award), Mysterious Clock, Design Section 3D Finished Pieces
 
Foundation Programme 2018 - 2019
Amy Gibson, Silversmiths - Silver Award, Silver Fragmented Bottle, Design Section 2D
Sophie Chapman, Chasers: Bronze Award - Junior, Chased 'S' Plaque, Design Section 3D Finished Pieces
Getting Started 2019
Isla Gilham, The Gemmological Association of Great Britain (Gem-A), Bitten' Ring Collection, Special Awards 
Annabel Hood, Silversmiths - Bronze Award, Tactile Tumbler & Beakers, Design Section 3D Finished Pieces
Iona Hall, Smallworkers - Bronze Award, Silver & Gemstone Box, Design Section 3D Finished Pieces
Daisy Grice, Production Jewellery - Gold Award (Vipa Designs Awards), Complimentary Pendants, Design Section 3D Finished Pieces
Hon Chun, Precious Jewellery - Silver Award, Architecture Rings & Earrings, Design Section 3D Finished Pieces
Zeemou Zeng, Fine Jewellery (sponsored by Boodles), Melody Collection Earrings, Design & Craft 3D Finished Pieces & Special Awards 
Setting Out 2017 - 2018
Roxanna Moznabi, The Gemmological Association of Great Britain (Gem-A), Locket, Special Awards 
Malgorzata Mozolewska, Precious Jewellery - Bronze Award, Flip Earrings, Design Section 3D Finished Pieces
 
Setting Out 2018 - 2019
Jessica Jue, Silversmiths - Silver Award, Amesiella Dish, Design Section 3D Finished Pieces
Jessica Jue, Chasers: Silver Award - Junior, Amesiella Dish, Design Section 3D Finished Pieces
Jessica Jue, Silversmiths - Silver Award - Junior, Amesiella Dish, Design Section 3D Finished Pieces
The Goldsmiths' Centre
Andrew Birks, Smallworkers & Modelmakers - Bronze Award, Severed Head of Medusa, Design Section 3D Finished Pieces
Shine 2016
Coline Assade, Fashion Jewellery - Silver Award, Grafitti Chain, Design Section 2D
 
Student Internship Graduate Award (SIGA)
Manasi Depala, Silversmiths - Bronze Award, Chased Lotus Temple Box, Design Section 3D Finished Pieces
Manasi Depala, Silversmith - Bronze Award - Junior, Chased Lotus Temple Box, Design Section 3D Finished Pieces
Manasi Depala, Chasers: Gold Award - Junior, Chased Lotus Temple Box, Design Section 3D Finished Pieces
Manasi Depala, Smallworkers & Modelmalers - Silver Award - Junior, Chased Lotus Temple Box, Design Section 3D Finished Pieces
 
Undergratuate Summer School
Alice Fry, The Gemmological Association of Great Britain (Gem-A), Relection Inspired Ring, Special Awards 
Heather Coleman, Smallworkers - Bronze Award, Edgbaston Towers Condiments, Design Section 2D
Alice Fry, Diamond Ring Design - Silver Award, Reflection Inspired Ring, Design Section 2D
 
Technical Skills Short Course Tutor
Filipa Oliveira, Wire Innovation (sponsored by the Worshipful Company of Gold and Silver Wyre Drawers), Filigree Earrings, Design & Craft 3D Finished Pieces & Special Awards