Apprentices get skills training boost to put them on the path to success
Apprentices from Holts Academy and Higher Education students from the Birmingham School of Jewellery are set to receive an intensive week of technical skills training in Birmingham. From 12th to 16th September 2016, experienced silversmith Andrew MacGowan will be teaching ten young people how to transform a fixed design into a final piece at the Birmingham School of Jewellery, which has been made possible through financial support from the Goldsmiths' Company Members' Charitable Fund and coordination via the Goldsmiths' Centre in London.
Silversmithing, and the technical skills that underpin it, is a rapidly changing trade seeing a revolution in design and technical possibilities. This week of training is a unique chance for students and apprentices based in Birmingham to hone traditional skills and craft silver to produce a high quality outcome using these techniques. The Goldsmiths' Company Craft and Industry Committee, which administers funds on behalf of the Goldsmiths' Company Members' Charitable Fund in support of the trade, aims to invest into the future of the trade through this programme and widen skills training access for Apprentices into the Midlands, working in partnership with Holts Academy and the Birmingham School of Jewellery.         
Mr Thomas Fattorini, Director of Thomas Fattorini Ltd explains: "The Goldsmiths' Company Craft and Industry Committee are delighted to be supporting the future of the craft, trade and industry through the training of young people. This programme, which reaches into the Midlands for the first time, would not have been possible without the generous support from the Goldsmiths' Company Members' Charitable Fund and collaboration with the Goldsmiths' Centre."  
Tom Walsh, Holts Academy Birmingham jewellery manufacture tutor: "We are thrilled that our talented apprentices have been given this opportunity to develop their skills with the highly reputable Goldsmiths. It is important for them to stay in the now with the trade and constantly move forward. Good luck to all the students taking part, looking forward to seeing the results!"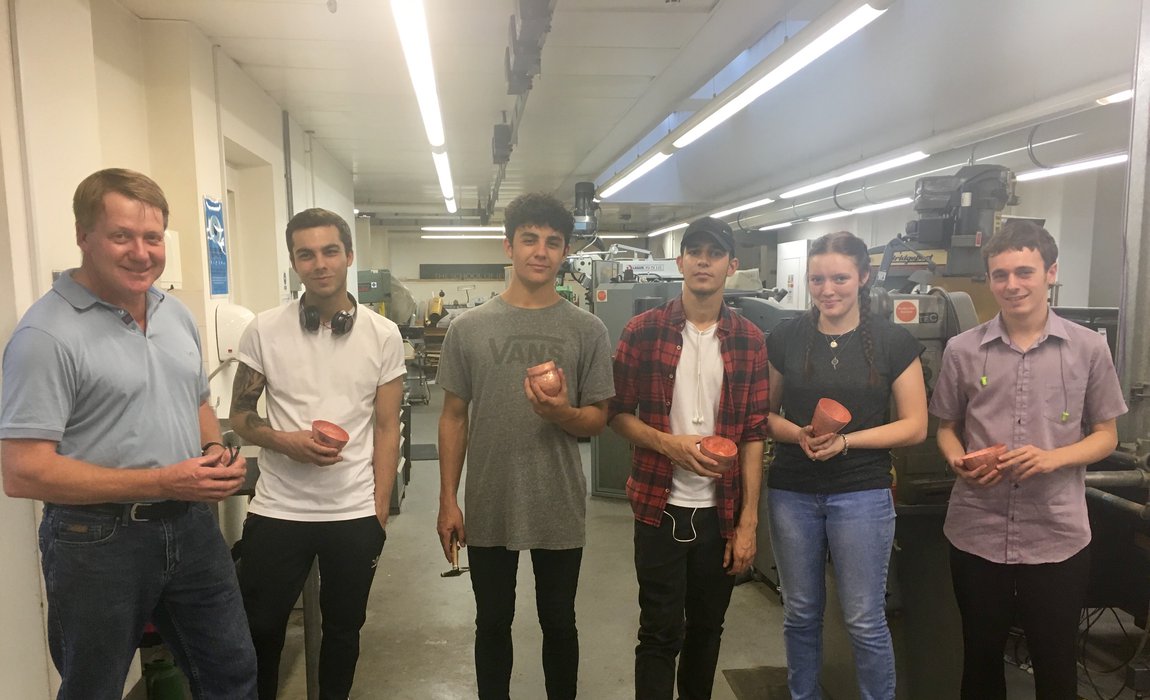 About The Goldsmiths' Company
One of the Twelve Great Livery Companies of the City of London, The Goldsmiths' Company received its first Royal Charter in 1327. The Company's London Assay Office has been responsible since 1300 for testing the quality of precious metals. The Company is the principal patron of modern jewellers and silversmiths in the UK, continuing to play an important role in support of the craft, funding apprenticeships and assisting with the technical training of aspiring designer-makers. The Company supports a wide range of other charitable causes and pursues a number of educational projects with schools. For more information, visit www.thegoldsmiths.co.uk
About Holts Academy
Holts Academy is an independent UK training provider for the Jewellery Industry. Since 1999 their ethos has been to create innovative, substantial training that ensures people coming through Holts programmes are equipped with the full professional skills, knowledge and acumen needed by the jewellery trade or to set up as a practising designer/maker. 
By providing Government approved accredited qualifications at all levels as well as Apprenticeships, the Academy team are at the forefront of creating the next generation of jewellers, designers, artisans and designer/makers and have to date trained over 10,000 individuals 74% of whom are now working in the jewellery sector. For further information, visit www.holtsacademy.com  
About The Goldsmiths' Centre
The Goldsmiths' Centre is the leading charity for the professional training of goldsmiths. Founded by The Goldsmiths' Company in 2007, it is a charitable enterprise with a specific purpose: "To advance, maintain and develop art, craft, design and artisan skills, including in particular but without limitation, those pertaining to goldsmithing". It does this by providing managed workspace, education and training; fostering and promoting public interest in art, craft, design and artisan skills; and offering a knowledge base and community for those interested in these skills. For further information, visit www.goldsmiths-centre.org