Goldsmith Sonia Cheadle on the art of jewellery making and mounting
Our latest interview is with Sonia Cheadle, a multi-award winning designer-maker and goldsmith whose career has spanned two decades.
Distinguished not only by her subtle and innovative jewellery, but also by her commitment to sharing her knowledge with other makers, Sonia is the author of Mounting and Setting Stones Design and Make, which is often considered a staple among jewellery guides.
Previously, Sonia oversaw a Clerkenwell-based jewellery school for fifteen years and is the current tutor of the Goldsmiths' Centre's extremely popular short course, Mount Making and Gypsy Setting.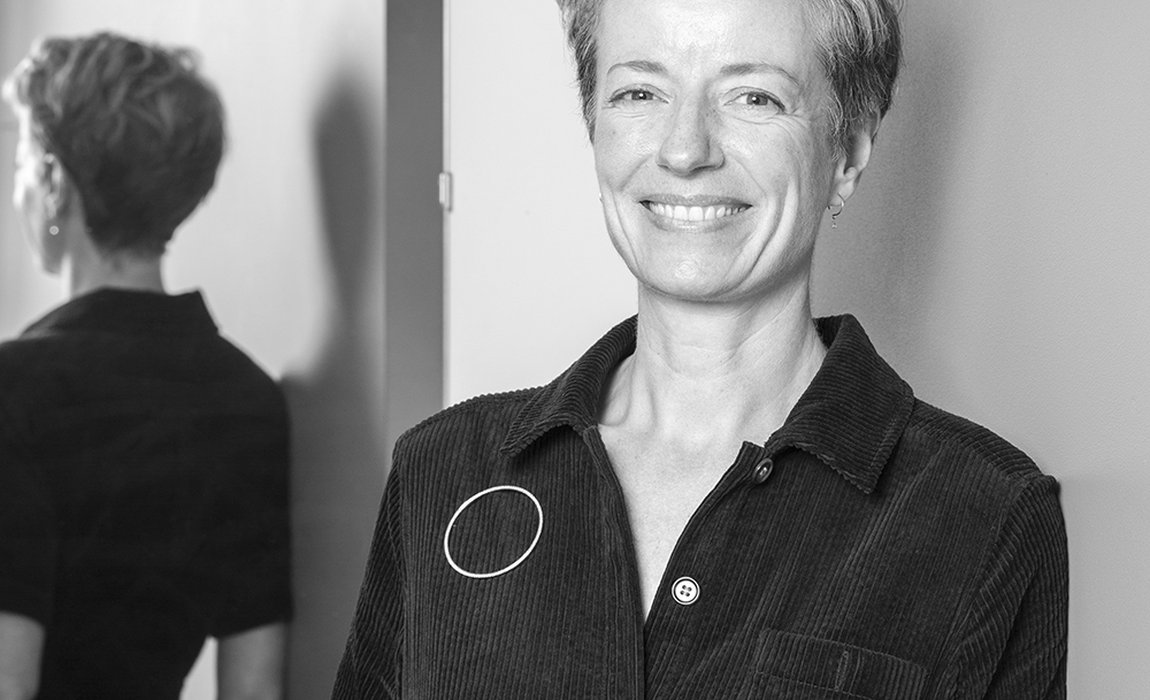 Setting stones is often described as an art form. You specialise in contemporary diamond jewellery. What drew you to jewellery making and in particular working with precious stones?
It goes back to childhood. I've always been a bit of a magpie, so anything that sparkles or is glittery is a huge draw for me. Not terribly academic, I left school at 16 and headed to general Art College to dedicate a couple of years to painting and drawing. With no real intentions or understanding of university it was pure fortune, or fate, that I agreed to accompany a good friend on a day trip to Loughborough University as she was considering submitting an application for their Ceramics degree… it was there, whilst wandering the corridors, I came across the jewellery studios. Drawn in by the funny shaped benches, the 'tap, tap, taps' of tiny hammers, the heat and flames from a filthy forge… I was completely smitten - it was an instantaneous light bulb moment. My inquiry into what they were doing was met with the response "we're making jewellery… and no, it's a separate degree". 
At that moment I realised jewellery was actually made and that it didn't just arrive in the world. That was a real turning point for me, and I returned home that night and excitedly proclaimed to my parents: "I know what I want to do… I want to be a jeweller!" And that's how I fell into the industry, by absolute chance. 
As for the use of stones within my work? After university, I got a job working with Lesley Craze Gallery. One morning, Lesley spotted a pair of earrings I'd made for a friend, in silver and cubic zirconia and insisted that I make her a pair, but in diamonds and gold. Her encouragement brought about my first commission; a single pair of diamond ear studs. Of course, she never wore them but put them on sale in her gallery. Once sold, I reinvested the profit and made two more pairs. So I have Lesley to thank, her belief, encouragement and initial investment, nudged me gently into the world of diamonds and gold.
Where do you take your inspiration from and how would you describe your design style?
I am a massive fan of Art Deco, which I feel can be clearly seen within my work. I would also say that early Cartier is a huge inspiration. In terms of more contemporary influences, I'm a dedicated fan of structural architecture, nightscapes, maps and topography. At any given opportunity when in a new city, I am always keen to get up high and at night, so to look down and observe the city, watching as it moves and sparkles below. The electric lights you see in office buildings at night, to me, resemble diamonds quietly twinkling away in geometric blocks. Maps, nightscapes and city lights are all influences, link that with an Art Deco style and you get the simple, clean, understated lines and forms echoed within my work.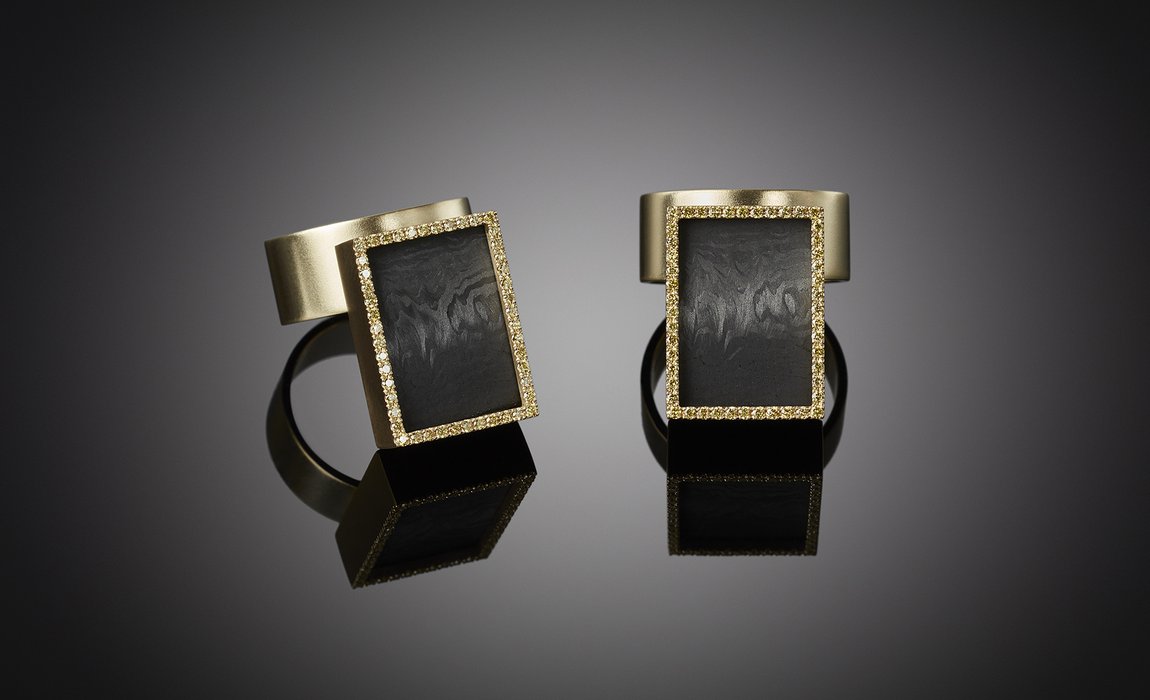 Your classic pieces combine modern materials such as carbon fibre, a material made of tightly woven fibres. What makes carbon fibre unique to work with and how do you use it in your collections?
Carbon fibre already exists within the trade and is used quite readily as basic jewellery items. I first came across it as a material a few years ago on a trip to the trade show Inhorgenta, Munich. I spotted a large ready-made bangle on one of the stands, so different in scale to my usual work. With intrigue and fascination I went over to investigate and take a closer look. Despite looking extremely heavy, upon picking it up I nearly launched it into the air. It was ridiculously light and weighed practically nothing. After a few wrong guesses, I was informed that it was carbon fibre, and I loved it.
With absolutely no idea how to work it, I invested in a couple of carbon fibre ring blanks so that I could experiment cutting, forming and shaping the material. It was tough stuff, very tough. Saw blades barely touched it. Files gilded straight over it and emery paper just smudged it. There was a lot of dust and little progress. I quickly figured out that it needed industrial strength gear – so I rolled out the diamond tipped burrs, drills and wheels. With a fair bit of experimenting under my belt, I returned to the scale of my original find and asked myself: "How could I make such a statement bangle look more elegant and delicate?" A couple of phone calls later, I had found Mr Andreas Hochstrasser, the creator of the original bangle.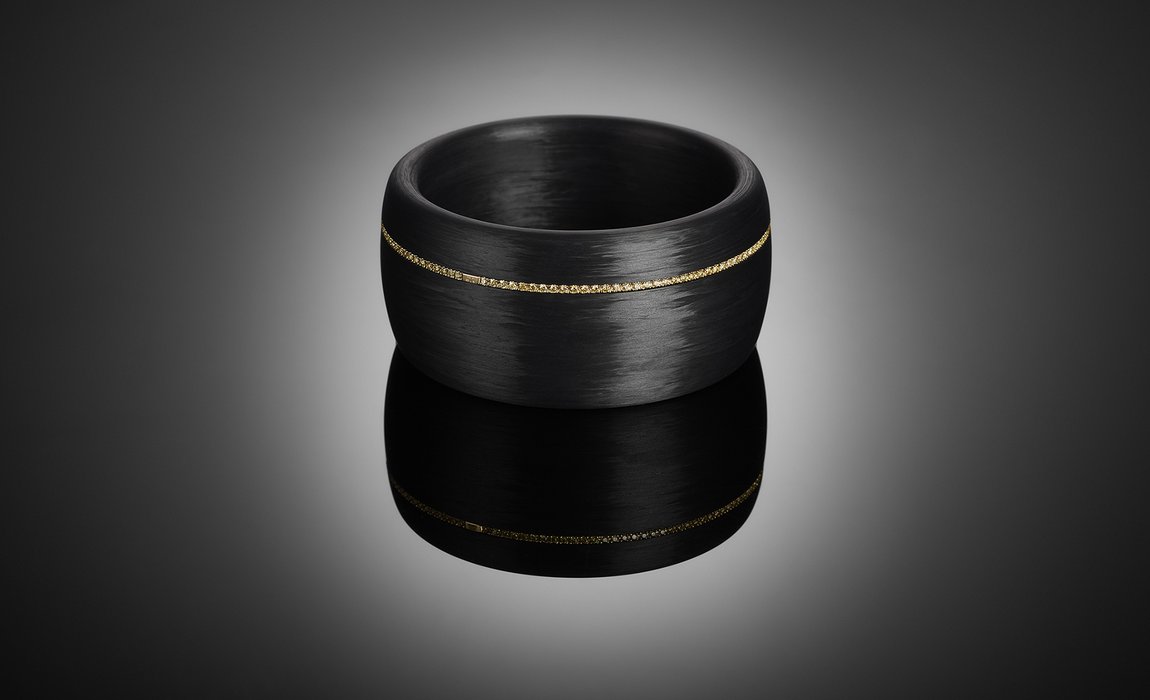 Andreas spoke little English and with my German being pretty basic, the only way forward was to go and visit him, so I booked a flight and made my way to Schaffhausen, a small town in Switzerland. His studio was of industrial proportions and machinery clanked and whirled in every corner. He spent a good few hours showing me the different stages and processes to creating carbon fibre and after a lot of tea drinking, drawing, sketching and very few words, I departed with the promise that 'something' would arrive in the post, soon. I waited, impatiently. It finally arrived, engineered to within an inch of its life; it was breathtaking… the man was a genius! I then set about transforming the cuff into my design and inlayed a band of gold, pavé set with fabulous yellow diamonds. I entered the finished Cuff into the Goldsmiths' Craft and Design Council Awards 2020, where it won Gold. 
Sometimes it's impossible to do everything yourself, and you have to call in the experts to realise a vision. That's where a strong design sense, an aptitude for collaboration and a good engineering brain comes in handy. In terms of developing the carbon collection further? At present I am back at the bench carving, with a pair of earrings in mind. For me, carbon fibre is a mystical, magical material that I have mastered grown to understand, using it to create a number of one-off pieces. Now? It's time to find something else to excite me and get my creativity flowing.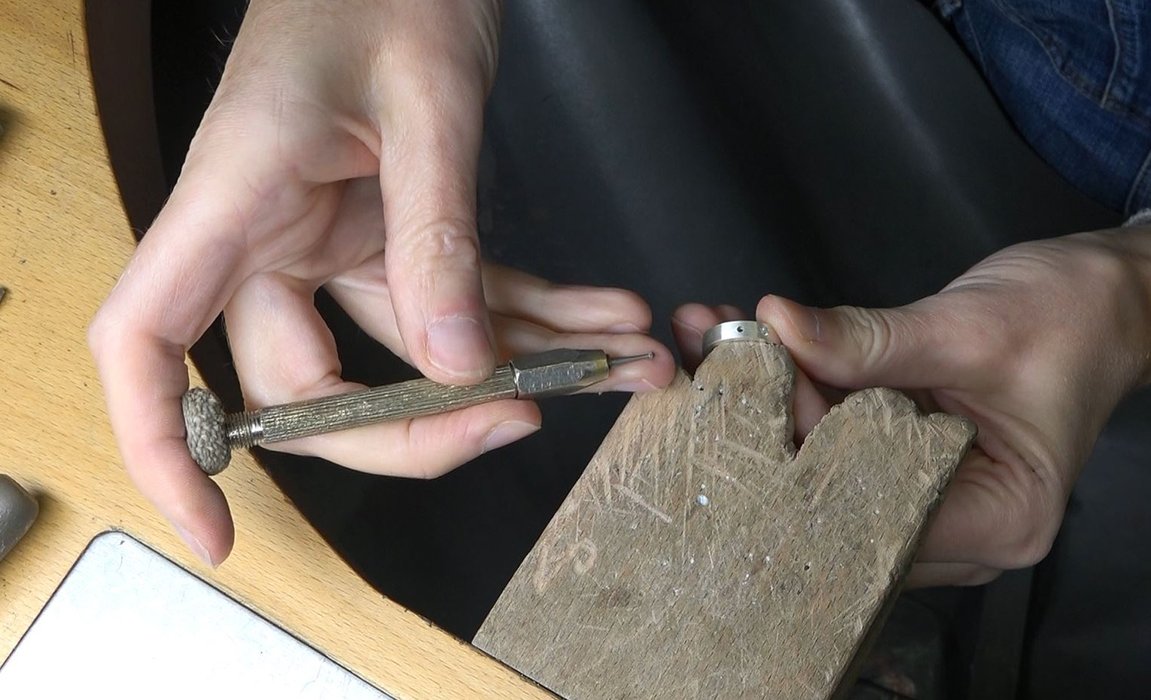 In 2011, you published your book "Mounting and Setting Stones", a practical guide to mount construction and the processes of stone setting. What motivated you to write this book?
I was approached by A&C Blacks and invited to write 'Mounting and Setting Stones', an idea already in the pipeline for their 'Design & Make' series of books. At that time I had a small jewellery school in Clerkenwell where I was teaching a short course on mount making and gypsy setting; I think the word had got out, if you needed to know about these topics, then apparently I was the one to ask. 
The publishers were questioning whether the book was even possible, as there were already endless guides on how to make jewellery mounts and a number of books written on different setting techniques, however, the two topics had yet to be combined - which is strange when you think about it, as one simply can't exist without the other. The idea was to keep things simple, a technical book aimed at makers with an interest in using stones maybe for the first time, or more within their work. The book is still widely regarded as a 'go-to' guide for the basics, if my written offerings help just one other maker resolve or master a setting based conundrum, then my work is done. The process has also freed up an awful lot of space in my overcrowded mind – I even reach for the book every now and again to double check a reference or a measuring tip. It's such a useful tool and is still available to buy online and from all good trade outlets.
Since 2016, you've taught aspiring jewellers at the Goldsmiths' Centre in mount making and gypsy setting. What are the most valuable skills that you cover in this course that every maker should know about?
It's really important as a maker to invest in good quality tools especially ones being used for accuracy, a pair of super fine dividers and a very well defined steel rule make the job so much easier. Then, I'm afraid it's a case of practise, practise and practise. It takes about 10,000 hours to master a new skill. That's a heck of a long time. There's a fabulous phrase that someone once imparted to me - practise makes permanent; a cheeky take on the traditional phrase, but the permanent bit is the real goal to aim for. 
Sit at your bench and repeat the same movements over and over, and every time you do, the shape will be better, the fit will be better and accuracy will become normal. Slow things down, way down, take your time and pay attention, making every action count. Clean up as you go along and your constructions will be tighter and the assembly a breeze.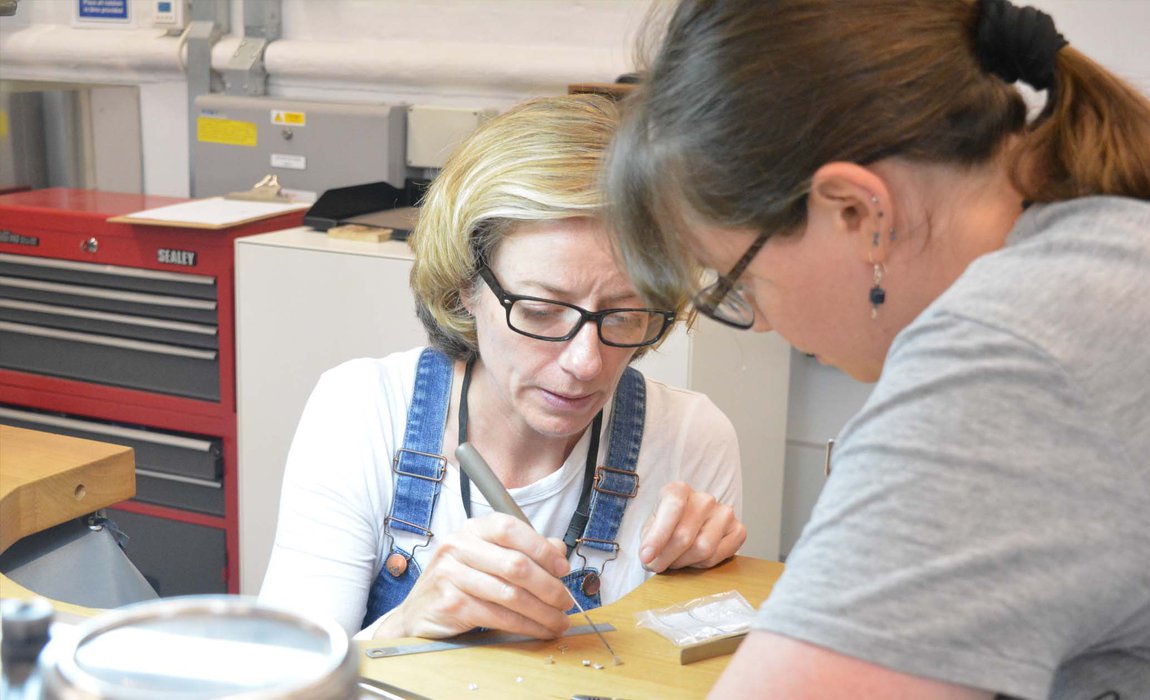 When did you start teaching and what experience do you bring to the classroom?
I've been teaching throughout my career, alongside my own professional practice. I also ran my own jewellery school in Clerkenwell for fifteen years. My classrooms are calm and the lessons entertaining, it's an inviting place to learn. 
The pace is steady and the course is bursting with content. You don't just get mounting and setting skills; I also throw in a number of invaluable bench tips and top trade secrets. The delivery method accommodates every type of learner from visual, audio and verbal, via a mix of demonstrations, discussions and practical exercises - all bases are covered. Then, there's the bit that I can not do for you: what is imparted in the classroom will need to practised and repeated back at your own benches, until it sticks.
Having supported many talented new makers over the years, what do you most enjoy about teaching?
It has to be those little light-bulb moments, when a student has been struggling with something for so long and then something just clicks. No matter how small the adjustment: it can be something as simple as holding a tool slightly different or adjusting a sitting position at the bench. There has been sudden 'oh my god' moments where everything falls into place. Throughout my career I remember those moments oh too well. They really stick with you and to be in a position to pass that on is absolutely priceless… and I also get to watch as (their) careers develop, hopefully with the added use of stones.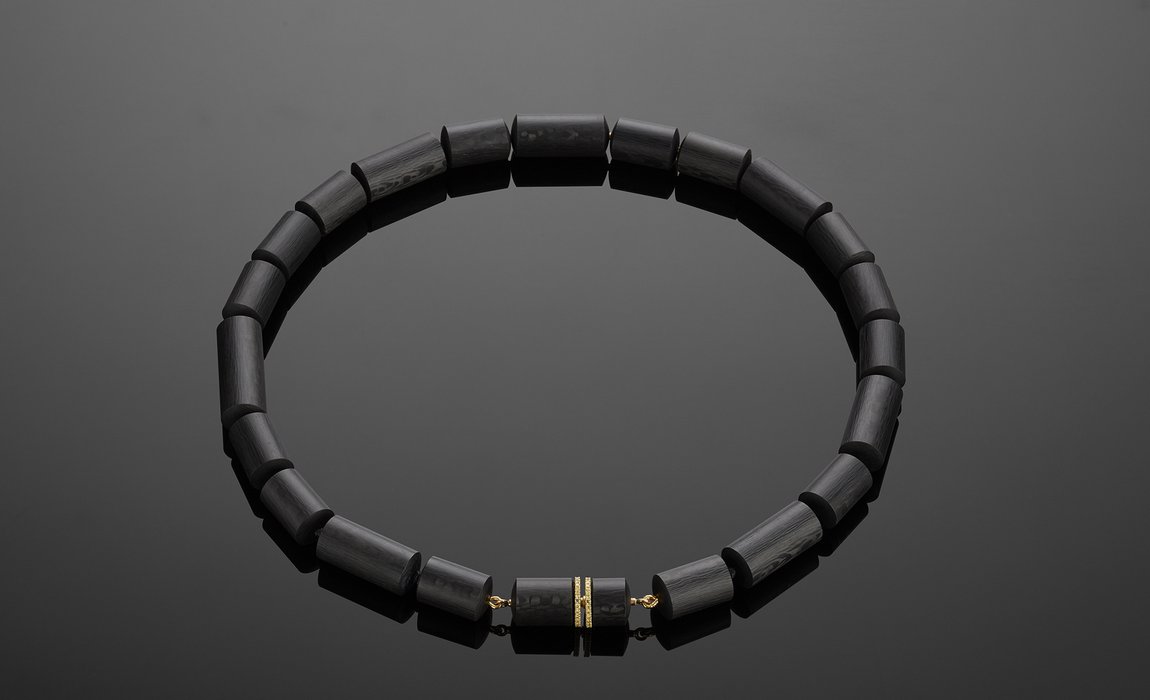 You've won a number of awards for your jewellery over the years. In 2020, you won the Goldsmiths' Craft and Design Council's Gold, Palladium and Platinum award in the Senior Precious Jewellery category, sponsored by IJL. What does winning such prestigious accolades mean to you?
It's a huge privilege and ridiculously exciting all in the same breath. Years ago, I never imagined that anything I made would be presented with such honour and acclaim. 
It can be quite a solitary profession at times and it often feels like there is nobody watching, then all your efforts are rewarded. To be matched amongst your direct contemporaries and peers with such an accolade is rather overwhelming, but it fuels my passion to keep exploring new materials, engineering on a miniature scale and designing creations that stand out from the crowd – getting to do that with the GC & DC stamp of approval is a real honour.