News: The Goldsmiths' Centre's Career Catalyst Grants 2022 support five metalworkers to develop and share skills and work
Today, Tuesday October 2022, the Goldsmiths' Centre in London has revealed jewellers Elsa Tierney, Jo Thorpe, Emily Bedford, Faye Hall and bladesmith Holly Loftus as the Career Catalyst Grant recipients for 2022. Supported by the Goldsmiths' Centre and Radcliffe Trust, each grant is worth up to £5,000 (incl. VAT) and helps mid-career craftspeople (with 5 plus years' experience) in the UK to develop and share new skills, work and ideas through ambitious learning experiences.
The five metalworkers were selected by an expert judging panel, consisting of industry experts and Goldsmiths' Centre Trustees for their problem-solving approach, ambition to further their practice, as well as their drive to gain new sharable knowledge and enrich the goldsmithing industry as a whole. With the grant scheme now in its third year, the recipients will be taking time out of their daily routines to carry out research, receive skills mentoring from UK and international craftspeople and develop ground-breaking new work.
"We're thrilled to be supporting these five talented makers to undertake a range of exciting development projects and see them progress their work this year, and look forward to sharing their journeys with our community as they do so."
– Julia Skilton, Grants and Engagement Manager for the Goldsmiths' Centre
This year's five Career Catalyst Grant winners will be starting on the following ambitious learning projects:
Elsa Tierney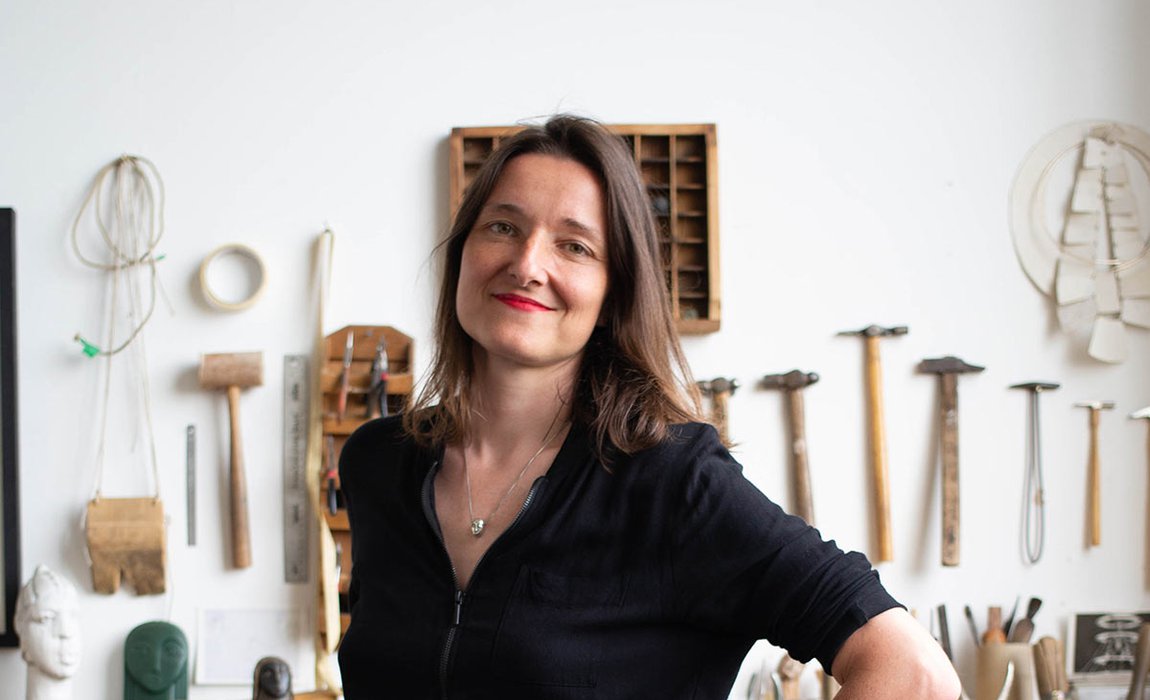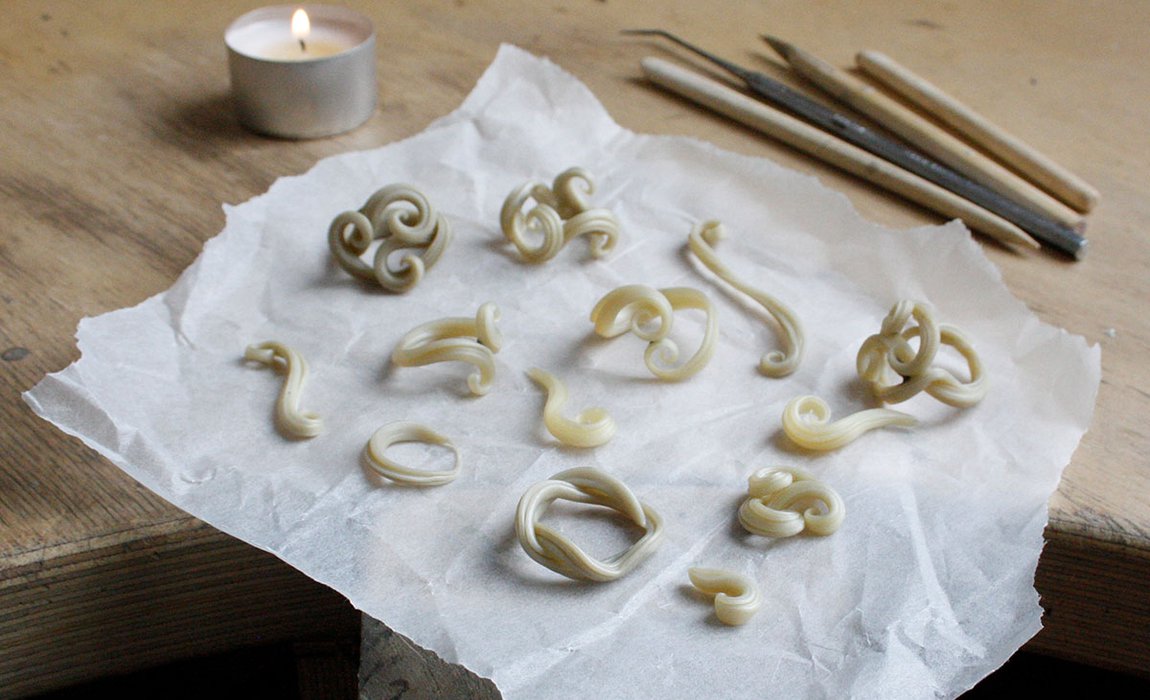 London-based jeweller Elsa Tierney is fascinated by the medium of wax in its any different forms and how it is used cross-disciplinary in different creative art practices from jewellery making to sculpture. Her research into this medium has led her to discover the ancient Japanese wax and modelling technique, Mitsuro Hikime, which translates as (Mitsu) honey, (ro) wax (hiki) drawing (me) texture. Beeswax and resin are combined with paraffin wax and through stretching and folding result in beautiful organic surface textures. Elsa's Career Catalyst Grant from the Goldsmiths' Centre will see her travel to Japan in 2023 and learn this technique in the country of its origin at The Tomoyasu Company, a small independent workshop, which teaches students this ancient skill using the original recipe. She hopes to capture her learnings and share these through creating a new jewellery collection, hosting talks, classes and eventually through the design of a book dedicated to this art practice.
Jo Thorpe
Jo Thorpe is a Birmingham School of Jewellery trained designer and goldsmith with over 18 years' experience in the jewellery industry and the founder of Leicestershire based design studio and shop, Thorpe & Brown. Having built up a successful business since 2012, Jo is looking forward to using her Career Catalyst Grant to flourish as a designer and maker. She is excited to invest in new making skills, such as wax carving, stone setting, laser welding and polishing, allowing her to future proof her business by reducing its reliance on outsourcing work and helping her to upskill her team. Her aspiration is to develop her own sample collection of wedding, engagement and eternity rings showcased in her shop and on her website, which can be adapted to suit customers' specific requirements.
Emily Bedford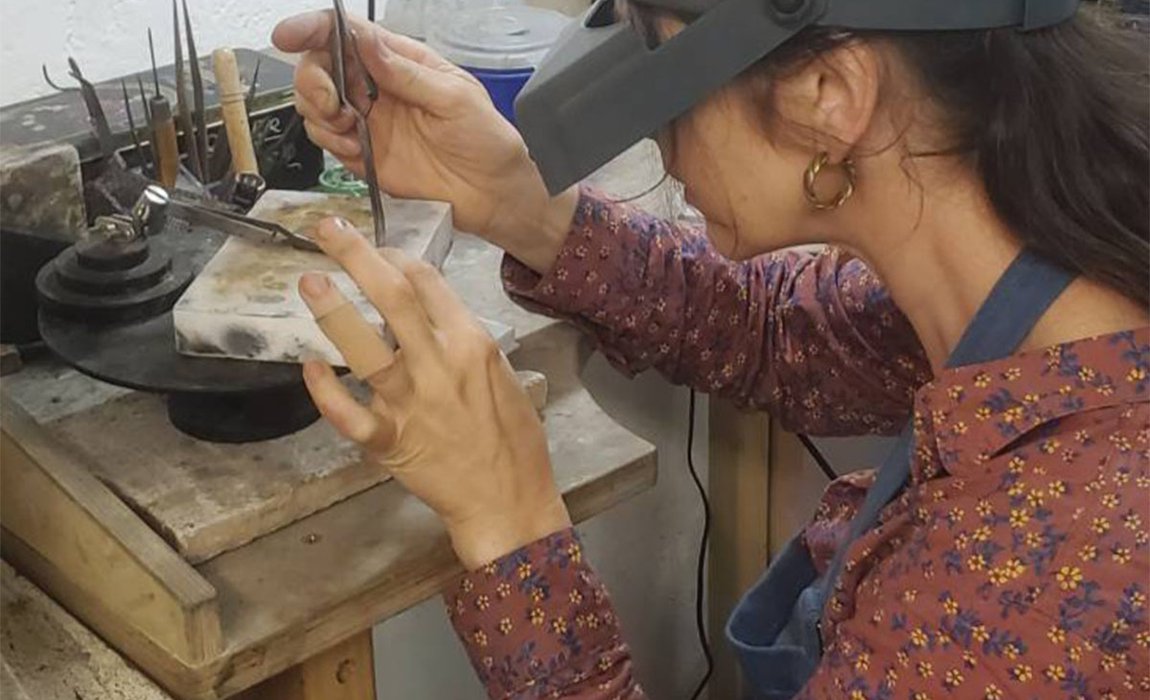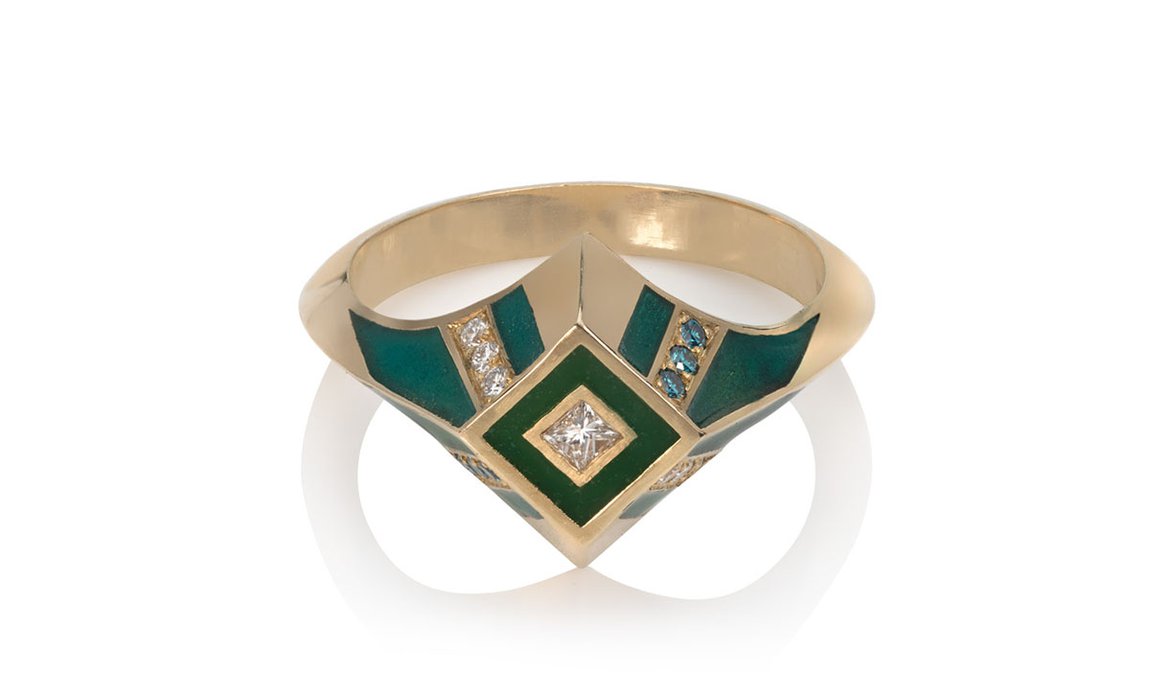 Jeweller Emily Bedford, based at Cockpit Arts in London, creates jewellery with a signature clean, crisp, contemporary style and a historic essence. With over 20 years of bench experience, Emily has also become well-regarded as a female-led production service, finishing and polishing pieces for industry leaders and nurturing emerging makers to finalise their first collections. Her ambition is to grow this side of her business, eventually employing others, giving her more space to focus on her own designs. She sees the Career Catalyst Grant as an exceptional opportunity for her to refine her jewellery practise by learning vitreous enamelling on precious metal, developing in particular her gender-neutral ring collection. Under the expert guidance of leading enameller Ruth Ball as well as further training at L'École School of Jewelry Arts in Paris and West Dean College, Emily cannot wait to take her enamelling skills to the next level and eventually pass on her skills to the next generation of makers.
Holly Loftus
Bladesmith Holly Loftus is also based at Cockpit Studios in London and is the only woman in the UK professionally hand-forging culinary knives. Influenced by the decorative arts, Holly investigates knives as heirlooms and crafts these entirely herself, from forging the steel blades to making and fitting the native hardwood handles. With support from the Goldsmiths' Centre, Holly is seeking to expand her knowledge of materials and processes working in collaboration with other jewellers and metalsmiths nationally and internationally. As a predominately self-taught maker, the grant will open doors to a once in a lifetime opportunity to develop her practice, giving her access to 6 weeks of intensive training with leading craftsperson Hiroko Yamada at Penland School of Crafts in the United States. Hiroko will introduce her to metalwork techniques in the Japanese tradition, such as mokume-gane, lost wax casting and chisel carving.
Faye Hall
Originally trained in textiles, Faye Hall is an award-wining designer who creates striking and wearable objects from her West Yorkshire based studio exploring the use of embroidery to unify areas of contrasting colour, materials, form, texture and placement. She is now embarking on a creative journey to integrate metalwork with digital and hand embroidery processes, which will allow her to create a new, fresh body of 3D sculptural works that encompass body adornment possibilities. Faye is thrilled to be able to challenge and push the scale of her work through the Goldsmiths' Centre's Career Catalyst Grant. Over 12 months, she will embark on a creative journey starting with CAD embroidery and metal forming skills training with contemporary embroidery artist Jacky Puzey and Sheffield based metalsmith Francisca Onumah.
Individual craftspeople or small groups of practitioners collaborating in their work, who are living in the UK and have over five plus years' creative practice outside of formal education can now subscribe to the Goldsmiths' Centre's e-newsletter to hear about future grant initiatives.