Shine 2019: An Interview with Aillie Anderson
Aillie Anderson is a young silversmith and one of ten makers chosen for Shine 2019 - our annual showcase of new talent. A Glasgow School of Art alumni and GCDC Award winner, her work is inspired by the modern architecture and industrial landscapes of the city. We spoke with Aillie about her life since graduating, the Centre's involvement in her journey so far and her favourite piece from her new collection.
Can you tell us a bit about your journey into the industry?
My journey began when I was studying Jewellery and Silversmithing at the Glasgow School of Art. I had come straight from school and over the course of my studies, I began to discover my design interests through my style and the type of work that I really enjoyed creating.
I graduated after four years with a First Class degree which I was extremely proud of. Since graduating I've been focused on working with retailers and galleries and promoting my work within contemporary jewellery industry and throughout the UK. I've really enjoyed my reception coming since graduating, my greatest highlight being my gold award from the Goldsmiths Craft and Design Awards last year; I just feel it really cemented the beginning of my career.
What does being chosen for Shine 2019 mean to you?
I am really delighted to have been chosen to exhibit. I've been really lucky to receive a lot of support from the Goldsmiths' Centre over the last few years, including being granted a Precious Metal Bursary, participating with 'Getting Started' last year and exhibiting on a few occasions. I think Shine will probably be my most focused showcase at the Centre to date - it really puts a spotlight on the makers involved and highlights their specific talents and unique style, so I'm delighted to be a part of it.
How would you describe your design style?
I would describe my style as a subtle statement. I enjoy using dynamic angular forms, I design my pieces with a muted colour palette inspired by built environment. I enjoy the industrial qualities that you find in the city; I reinterpret the impact of concrete and smooth stainless steel into more sophisticated materials like jesmonite and sterling silver. I love the contrast of these materials and try to use them in a way that highlights the difference in tactility and surface. I always come to a very minimal final aesthetic, where you can find the subtle details in the simplicity of form and crisp edges or accentuated rivets.
What can you tell us about the collection you'll be debuting?
My 'Granite Collection' was named after one of the materials commonly associated with my inspiration, and usually used within the architecture of the inner city, whilst also subtly hinting at its Scottish heritage. The 'Granite Collection' is a distinct focus of my work featuring some original one-off pieces that were created within my final year showcase as well as some of my more recent designs from my new Jewellery Collections. All the pieces are in keeping with the same original inspiration and feature the grey toned jesmonite to highlight the subdued atmosphere of the city alongside the use of my signature textured silver.
What's your favourite piece in the collection and why?
I think I'd go with my Hollow Textured Brooch. I think it really showcases my style at its most extreme.  It has a distinct hollow cut-out in the main form and was created using a double-casted mould, so there's an illusion element to its weight and imposing structure when in reality it's actually quite light and very wearable. Again, the use of the silver highlights its angular perspective features. It was designed in such a way that it becomes a sculptural piece in itself, when it's displayed off the body as well as when it's worn, which I love.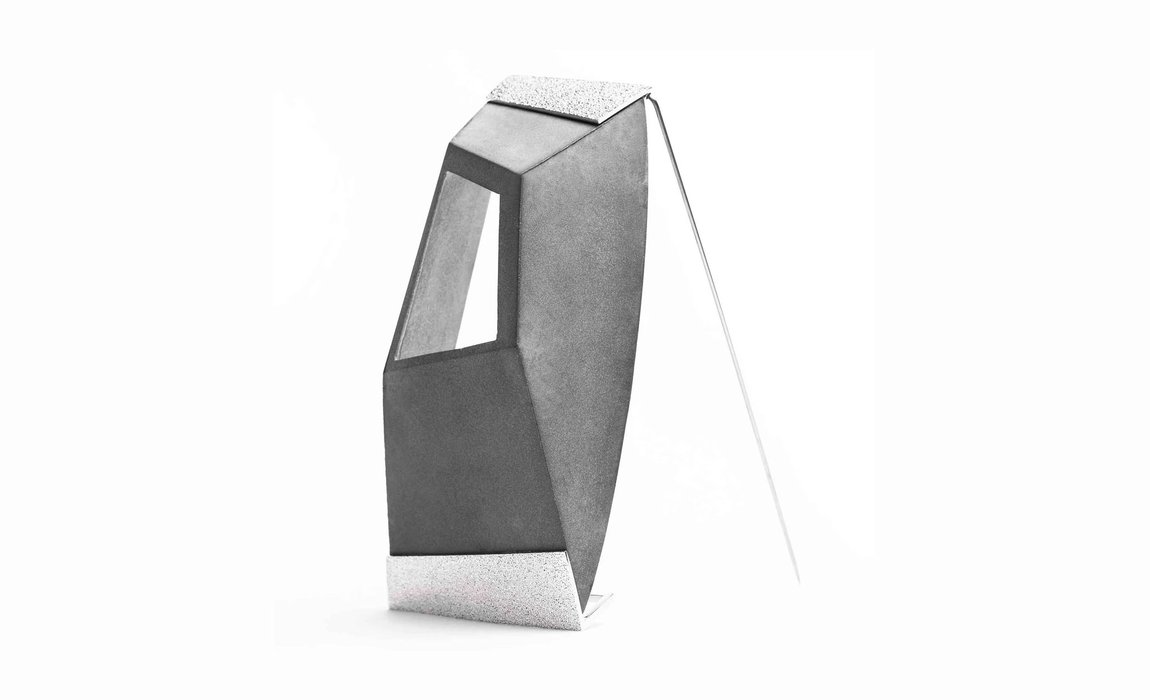 What kind of person do you expect to be most drawn to the pieces?
I think the people who will be most drawn to my work would be those who are attracted to a modern and minimal aesthetic. As my pieces are quite architectural and sculptural, I think this may be a point of interest for the customer who appreciates the conceptual themes and inspiration that my work embodies. With a few of the pieces being fairly large scale I think that my potential customer would possibly already have an interest in contemporary jewellery and would have to be confident in wearing some statement pieces!  Equally, I think the more delicate jewellery pieces would appeal to anyone who enjoys clean, classic design with a bit of an edge.
What are you you most looking forward to about participating in Shine?
I'm really looking forward to exhibiting my work in London once more, I always enjoy visiting the capital and showing my work within in the bustling urban environment always complements the concept of my collections. I think that even though my work is inspired by where I live it's a very transferable aesthetic that works well anywhere. I'm also glad to re-engage with the London audience again at the exhibition events, as this will be my first showcase there since this time last year. I think it will be great to meet and chat with the other makers that are exhibiting with me! I hope I'll be able to make some new and exciting connections and think it'll be a very enjoyable experience.
Aillie's Granite collection is now available for purchase via our eShop - perfect for a bespoke Christmas present!