Goldsmiths' Company Apprentices top medals table at the Skills Show 2015
On 7 September 2015 talented young goldsmiths started their journey at the Goldsmiths' Centre in Clerkenwell with the goal to represent the UK at the WorldSkills Abu Dhabi 2017 competition. Open to national entry, eight trainees aged between 17 and 20 were finally selected to compete in the skill of fine jewellery making at The Skills Show in Birmingham (19 – 21 November 2015) for a sought-after spot on the final UK Squad.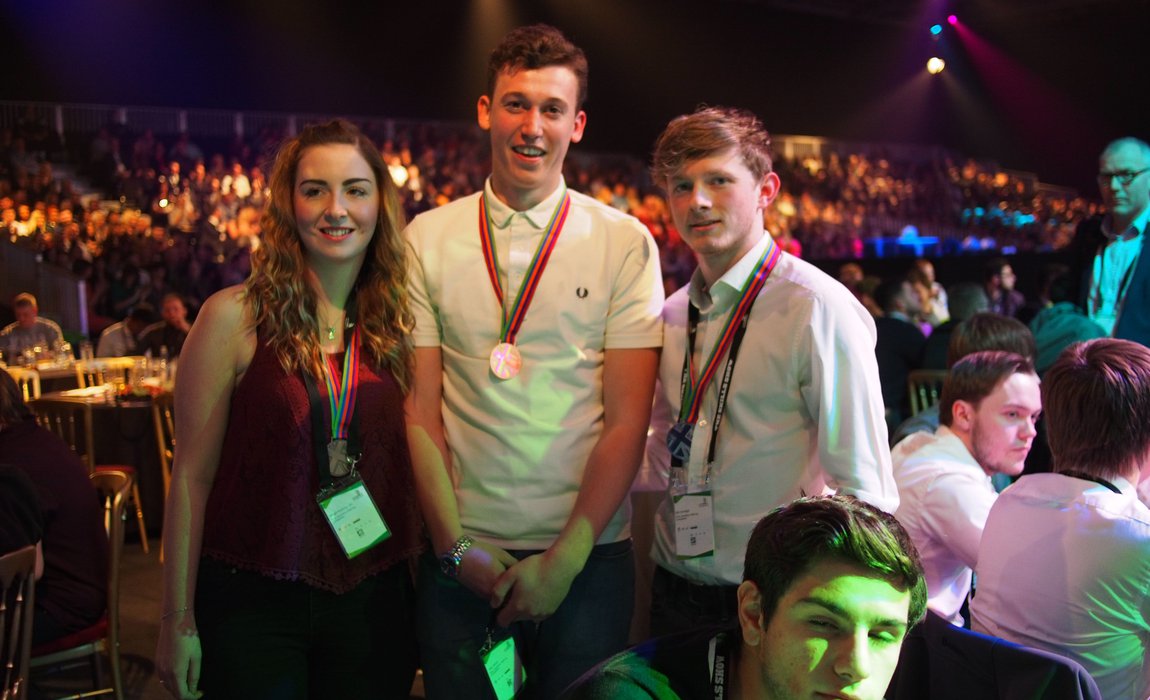 Now in its 44th year, the WorldSkills competition inspires vocational education and skills excellence, introducing young people to a variety of skilled careers, from plumbing to hairdressing. Competitors who are eligible will begin their journey to WorldSkills at The UK Skills Show held at The NEC in Birmingham. Upon successful selection, they enter a training programme aimed at preparing for international competition. The final selected entrants for the fine jewellery making category include: Abigail Buckingham (A R Buckingham), Sharon Alvarez (E C One), Ben Kerridge (Dominic Walmsey), Eleanor Woolacott (C A Treble), Alessandro Ferrara, Chloe Lightfoot (E Wolfe & Co), Alexander Wood (Ian Read) and Gabi Gucci (Birmingham School of Jewellery).    
International Training Manager Steve Jinks has been preparing the trainee goldsmiths for the pressure and skilled precision that will be required for the national Skills Show competition. During the competition all entrants are asked to make a piece of jewellery to given dimensions within a specified time period; and are judged on how accurately they construct a piece of jewellery to a drawing through traditional diamond mounting techniques and economic use of material. The given project aims to test core skills such as design interpretation, filing and saw technique, soldering and the ability to complete projects to industry standards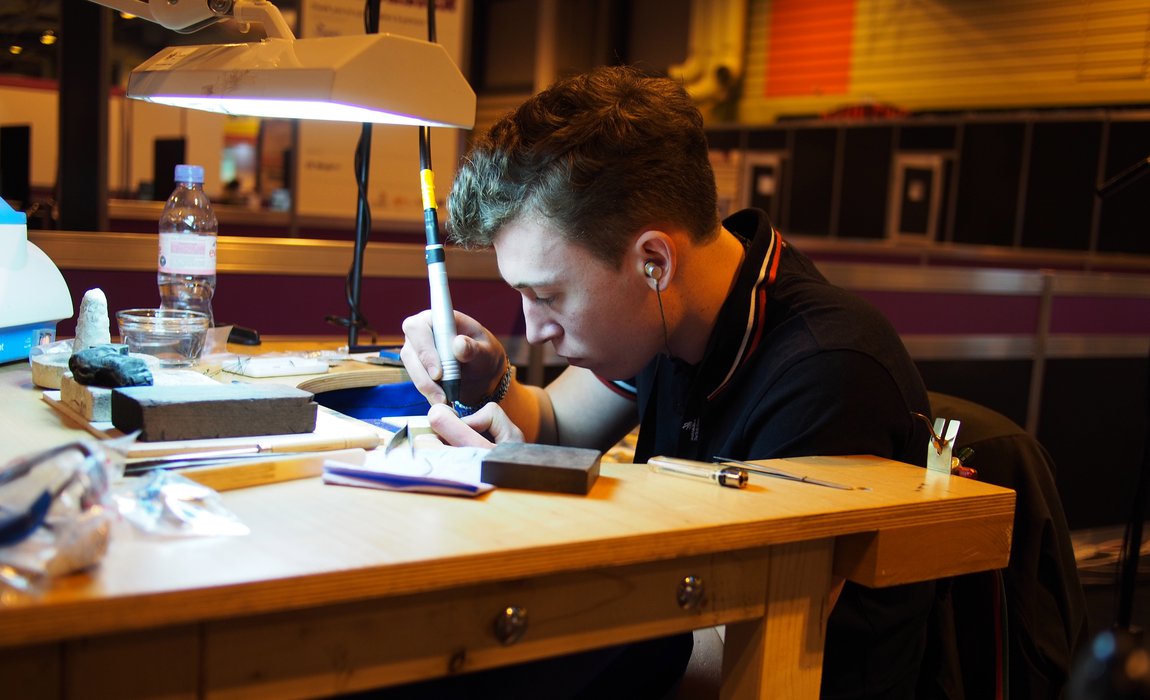 Steve Jinks quote: "WorldSkills is a tough competition. I will be helping the selected Apprentices to excel in their skill of Fine Jewellery Making under the scrutiny of thousands of spectators. The competition proves their maturity and technical skills developed also by careful mentoring from their dedicated Masters during their Apprenticeships and the support provided through their day release training at the Goldsmiths' Centre. Those selected, to be possible international competitors, will receive both additional technical skills training and guidance on how to approach the specific pressures of competition."
Many of the hopefuls are benefitting immensely from their past training received on the Foundation Programme course at the Goldsmiths' Centre and their current placements on the Goldsmiths' Company Apprenticeship Scheme. Under the tutelage of a skilled and dedicated Master craftsperson, the young people are receiving the support and on the job guidance required to become an exceptional goldsmith. Today the Goldsmiths' Company Apprentice Scheme, which dates back 400 years, is funded by the Goldsmiths' Company and is delivered by the Goldsmiths' Centre.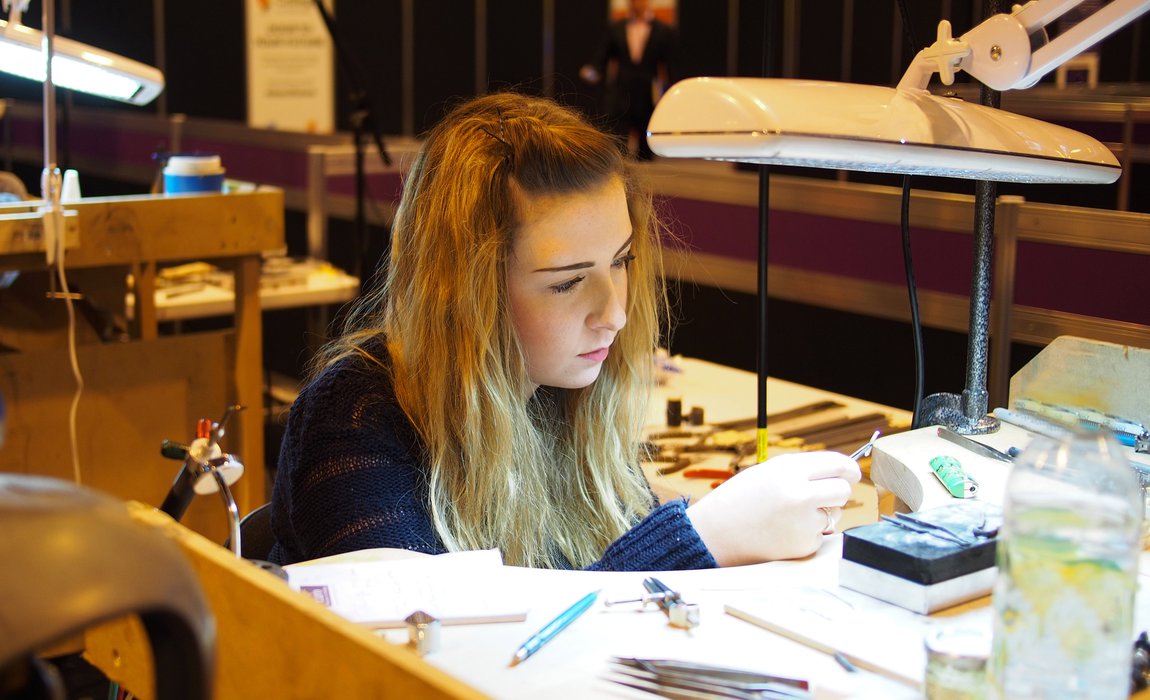 Richard Cornelius, E.Wolfe and Company explains: "We are immensely proud that Chloe Lightfoot will be competing at The Skills Show in Birmingham. Since Chloe started training in our workshop, we have seen her grow both in their skill and confidence. To provide the time and training to help her to work towards this unique competition is not only a reflection of her talent, but also the dedication of our team at E.Wolfe and Company and the support received via the Goldsmiths' Company Apprenticeship Scheme". 
Carole Stott, Chair, Find a Future, which manages the UK's entry into the WorldSkills Competition said: "Skills Competitions showcase the high levels of performance that can be achieved by individuals and organisations through high quality training. Through Skills Competitions and The Skills Show we want to provide every young person with the chance to unlock their potential and get excited about the world of work."
Notes to Editors
About Squad UK Selection at The Skills Show
For the first time, Squad UK for the international WorldSkills Competition will be selected at The Skills Show.  Those who have been named in Squad UK for WorldSkills Abu Dhabi 2017 will be announced during the Big Celebration on the evening of Saturday 21 November. For further information on the Skills Show and Find a Future, visit www.findafuture.org.uk
About the Goldsmiths' Centre
The Goldsmiths' Centre is the leading charity for the professional training of goldsmiths. Founded by the Goldsmiths' Company in 2007, it is a charitable enterprise with a specific purpose: "To advance, maintain and develop art, craft, design and artisan skills, including in particular but without limitation, those pertaining to goldsmithing". It does this by providing managed workspace, education and training; fostering and promoting public interest in art, craft, design and artisan skills; and offering a knowledge base and community for those interested in these skills. For further information, visit www.goldsmiths-centre.org
About the Goldsmiths' Company
One of the Twelve Great Livery Companies of the City of London, the Goldsmiths' Company received its first Royal Charter in 1327. The Company's London Assay Office has been responsible since 1300 for testing the quality of precious metals. The Company is the principal patron of modern jewellers and silversmiths in the UK, continuing to play an important role in support of the craft, funding apprenticeships and assisting with the technical training of aspiring designer-makers. The Company supports a wide range of other charitable causes and pursues a number of educational projects with schools. For more information, visit www.thegoldsmiths.co.uk