In Conversation with New Designers Goldsmiths' Company Silversmithing Award winner Rachel Hardie
Silversmith Rachel Hardie is an emerging maker whose work is inspired by the quirks of the Glaswegian architecture. We caught up with the silversmith to find out more about her inspirations and her experiences at New Designers in 2018 and at this year's intensive, week-long business course, Getting Started.
Can you start by telling us how you got started in the industry?
I was extremely fortunate to study Silversmithing and Jewellery at the Glasgow School of Art. It was there that the talented staff exposed me to a lot of amazing ideas and techniques. They really encourage students to be creative and push the boundaries whenever possible while giving great opportunities to break into the industry and attend professional events. For instance, the Precious Metal Grant which I won in my final year and being able to exhibit as a class down at New Designers was really a result of their support and encouragement. It's only now that I've graduated and look back I can see how extremely lucky I've been. 
What is the design process for you? How do you take an idea to a 3D shape?
I'll sketch loosely from my visual inspiration and then refine my designs into a technical drawing and after that a 3D model. My starting process is quite quick and simple so typically I'll have a range of  models in a short time frame. With a range of options in front of me usually some aspect will stand out or intrigue me further. I suppose it's kind of a process of elimination to give myself the freedom to be inspired and be passionate about a piece. Practically speaking I also find paper helps me visualise my scale more and keep my material waste to a minimum.
What inspires your work?
I'm a very visual person so often it's the little curiosities and oddities that I find around me. Different shapes and things that stand out or catch my eye. For example, my current work is inspired by quirks of architecture around Glasgow especially focusing on the skyline and its chimneys. Walking through the city and noticing things like that is one of my favourite things to do. However, I actually find that I'm most productive when I'm in the workshop surrounded by fellow makers. It's fair to say that I'm inspired by my surroundings and the people that I talk to and work with on a daily basis. When I see what my colleagues are making and level of skill that's involved, it makes me want to make even more and challenge what I do on my own bench.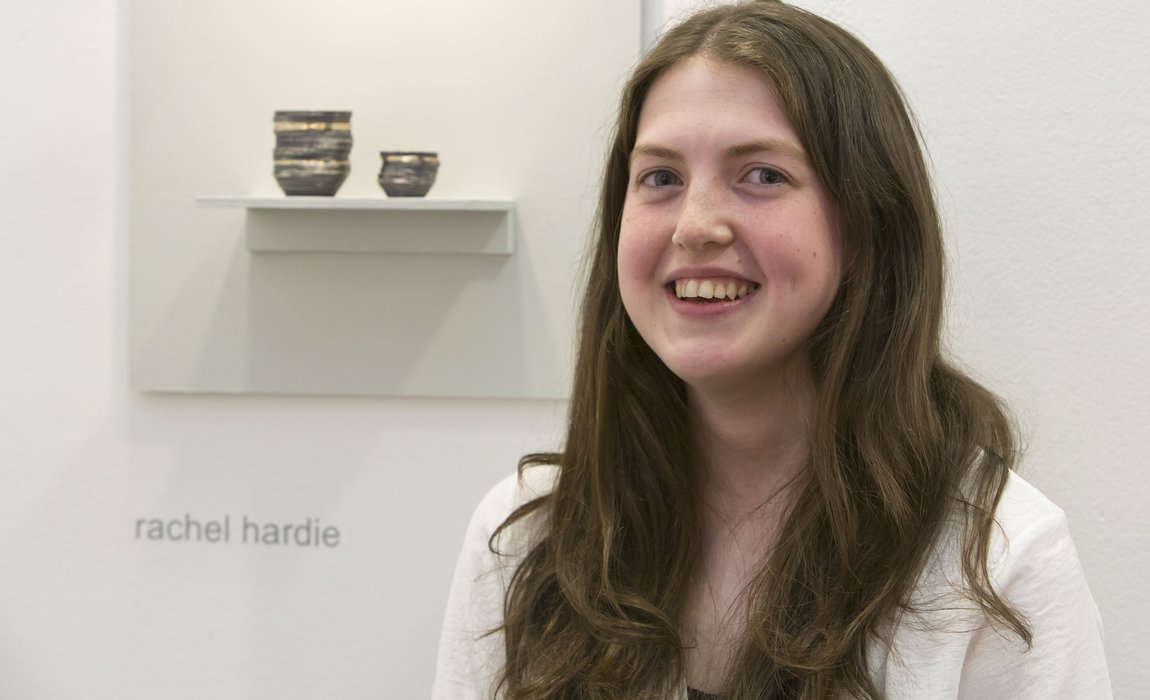 This year, you were also selected for the Goldsmiths' Precious Metal Grant. How has this process been for you as a maker? Has it been challenging to make the piece?
I was very grateful to have been selected for the Goldsmiths' grant in my final year. The process definitely boosted my confidence in both the designing and making of the piece. Also, having the support of the grant made me feel more comfortable with my work which I also think overall helped the development of my Degree Show collection. The main challenge in making each element of the piece was maintaining my focus while sweat soldering so many wires together. Each chimney pot has on average twenty wires arranged in a stack. However, I thoroughly enjoyed the process of making them and was pleased with my final result. With that being said my enjoyment really comes from improving as a maker and hopefully I can improve further in future.
In July, you were selected for the New Designers Goldsmiths' Company Silversmithing Award. How did it feel to receive this award? Why are events like New Designers important for emerging makers?
I can still remember the enormous hug and cheers from my classmates when my name was announced. Honestly it was such an incredible feeling! I couldn't believe that I had actually won. I think events like New Designers are important for emerging makers because it gives you a kick start into the real world away from your bench. Having a huge number of talented people under the one roof is amazing. As a silversmith the chance to meet and chat to so many lovely makers and also potential customers is really invaluable.
You recently undertook a week of work experience with resident craftsperson Clive Burr. What did you learn during this week? How will you use this training?
I learned so much from my week with Clive. He's definitely is a master of his craft and just makes everything look really easy and simple! We went back to the basics where I was able to straighten out some technical habits which I had acquired which made things which I had been doing so much easier. Clive has so much knowledge and technical skill and his advice really helped my confidence in the workshop. It was also great seeing him interact and work through an idea with his clients. I'd never seen that aspect of the workshop in practice before and so it was great to observe and I definitely got some fantastic tips which I can use in in future. Overall I found working with Clive to be an invaluable experience and I would hope to use his training and example as inspiration to further improve my craft.
What are your plans for the future?
Right now, I'm an Artist-in-Residence at the Glasgow School of Art. I've been working on multiple new pieces for exhibition here in Glasgow before going on tour to Australia later this year. 
My main goal for these pieces is to showcase a refinement in the techniques I used in the chimney pot series that won the Goldsmiths' Precious Metal Grant. As for long term goals I'd love to have my own workshop and to be an independent maker.
In January, you took part in our week-long intensive business course, Getting started. How did you benefit from this experience?
I recently took part on the Getting Started Course at the Goldsmiths' Centre. The course brought together thirty makers and designers from around the UK for a series of talks from leading industry professionals. Such an opportunity to absorb so much valuable information from so many talented makers and inspiring speakers was absolutely amazing. Plus, the chance to exhibit my own work to friends of the Goldsmiths' Centre was an absolute privilege. I'm sure it will help my own development in a massive way. I had such a welcoming and engaging experience on the course and I really hope to keep in touch with the centre and my fellow makers. Overall, I would recommend the course to anyone!