Talent spotted: Shona Marsh
We caught up with Silversmith Shona Marsh whilst she was here completing a week of work experience with resident craftsperson Clive Burr. In this interview Shona shares why it is important to step out of your comfort zone as a maker and her thoughts on the use of silver in today's market.
Hi Shona, thank you for joining us here at the Goldsmiths' Centre. Could you tell us a little bit about yourself?
I graduated from Birmingham School of Jewellery back in 2005/2006 on the HND and I have been a silversmith for about ten years now. I have taken on quite a few big commissions over the years and I also sell my own work on my website and at Goldsmiths' Fair. 
As I have had a relatively lengthy career, people presume that I know it all, but I am wary that I can get stuck in my comfort zone. I am guilty of working to my strengths and believe that my work could be even better if I regularly went and looked at diverse ways of making and new skills. I would apply these new findings onto my work to push my limits even further. 
 
You previously exhibited at Goldsmiths' Fair. What did you gain from this experience?
I've exhibited at Goldsmiths' Fair for about 8 years now. I had a graduate stand when I first started -  with a free space and a bursary - which was very helpful. I went back and exhibited for 6 years in a row and then took two years out to develop my work. 
The Fair is a good place to display your work and get valuable feedback from customers because people that attend generally have a good idea about silver and jewellery. Exhibiting there gives you the opportunity to see the kind of work you should be making as you are surrounded by the top makers in the UK; it really makes you look at ways you can elevate your work.
 
You have done some interesting commissions including the Papal Cross in 2010.How do you select what commissions you will apply for and what is the process of bringing these to fruition?
In the case of most of the large commissions I have had, people have approached me.  Particularly for the Papal Cross commission where I was approached because I had done work for the two parties that were involved and my name got thrown in from both sides. 
When you are starting out, I would suggest not turning down anything. Different commissions that I have taken on have really pushed my technical knowledge, my skill set and my time management - that's how you learn. Now I am much more particular, so if something really doesn't feel like it would work for me, then I probably wouldn't take it on, but I would certainly help the people who are commissioning it to find somebody more suitable. 
In terms of the process, some already have the finished article in their head and need me to tweak it. Or I could get some customers who say I just want you to make something for us and we are open to everything. In that case, I will try and coax out the thing that they want because when someone commissions you to make something, they generally have an idea of what they want. I always have lots of meetings and do lots of sketches and really try to get to the essence of what it will look like before I go anywhere near silver.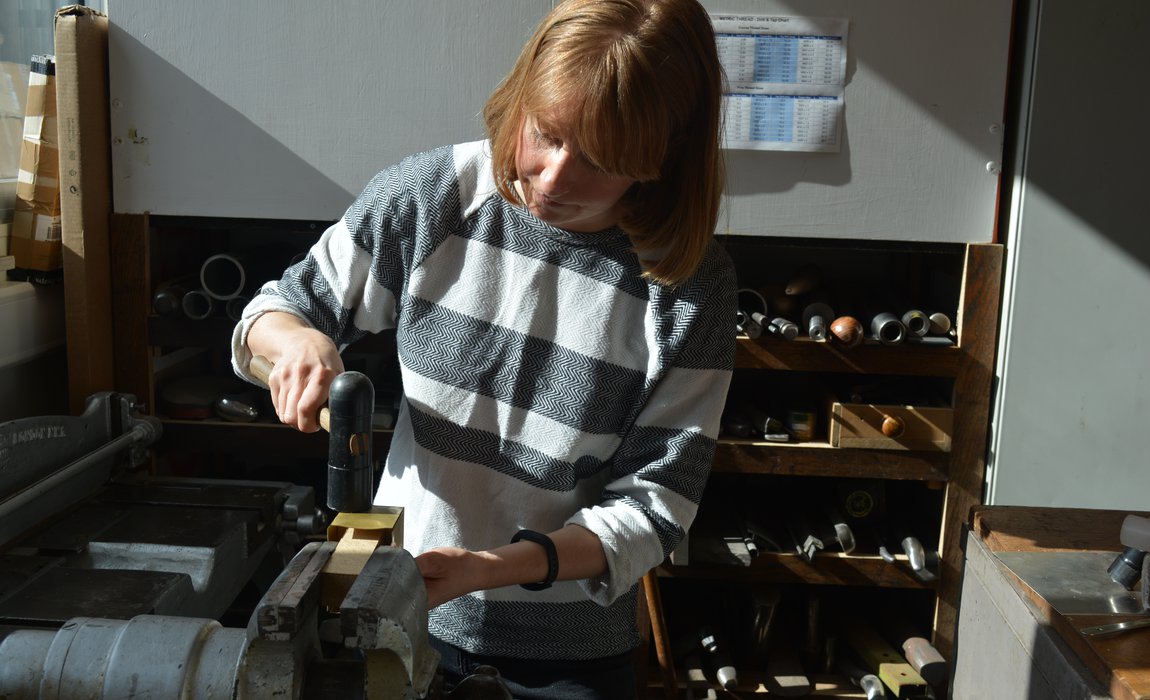 You create silver wood table pieces in interesting shapes, can you tell us the inspiration behind your work?
I make functional items and items that have a reason for being, so I wouldn't make a sculpture. I really like food, so most of the work that I produce to sell involve serving, eating and dining. Lots of people don't really know what to do with silver, especially younger people who feel it's not really something they can relate to, so I try to keep my designs very modern and simple. My work is influenced by geometric patterns, Scandinavian design and clean architecture. Generally, silver is not the actual highlight of the piece, it is often the material that I am choosing to work from. By not making silver the sole focus, I am able to make my work more accessible to a younger audience.
I appreciate silver as a material, but I also like the warmth of wood. I think the two just work nicely together. For that reason, I developed the inlay a bit by accident when I was just getting started. I don't like too many hammer marks or too much fuss going on highly polished silver because it's such a beautiful surface, so in order to add some texture and pattern I did some inlay work on the wood. It was still very clean and fuss-free, but it just introduced another element, that was then reflected into the polished surface of the metal. I always look at other materials that can complement the silver - whether it is glass or crystal or wood – I think it is good to have a mix of materials.  
How do you think silverware and table pieces fit into the contemporary market?
I think you just need to be able to use what you are buying. I'm not very good with ornaments; there are lots of people who make beautiful, art-based silverware but I am very driven by function and order and objects having a reason to exist. What's more, I have a real aversion to silverware being used for special occasions. I made a honey drizzle and one of my customers fed back to me that it sits on the side and every morning they use it before work and it makes them smile. It is good because it brings that sense of luxury into a really every day activity.
I want to reach people who are into fine dining and like entertaining and good food. The kind of people who will go and buy good cheese and nice eggs from local suppliers and really care about what they are eating.  I believe that right now there is a backlash against consumerism and throwing products away and not using them that much. When you consider the price per use it makes more sense to invest in a piece of silverware that will last longer, I think that feeds into the products that we use on our table as well. 
We're interested in how silverware is used in modern households. Do you think your customers would use your pieces on a day-to-day basis?
I would say I still sell as much as I did early on. I find most people are more knowledgeable, they understand what you are doing and why you are doing it. They might not necessarily be able to afford it, but they have that understanding and that is something I have seen move forward in the last few years.
There has been a craft resurgence and focus on sustainability and products being made to last and more of an appreciation for the products. We have quite a way to go to educate people on merits of it and I think people still get frightened by the idea of using silver. I think the only way you can do that is by reinforcing that silver is a usable and friendly. I was speaking to someone the other day and they are asking, 'is it safe to put food on?' I was like it is antibacterial, it is the safest thing you can put your food on! We need to put these ideas out there to shift the perception. An exhibition like Made for the Table will be brilliant because people are going to see it in the context of use in everyday use.  
 
What techniques do you use to create your pieces?
I do a lot of spinning and construction and assembly, folding and scoring. I use flat sheets and bend it up into the shape I want, the inlay work is all done via CNC. I use quite a lot of modern technology such as CAD. I also do some casting with CAD, but the majority of pieces I make by hand if I can. For me, spinning works well because I know that I am going to get something that is beautifully round and smooth. I like bending metal sheets because it just gives me the finish that I prefer.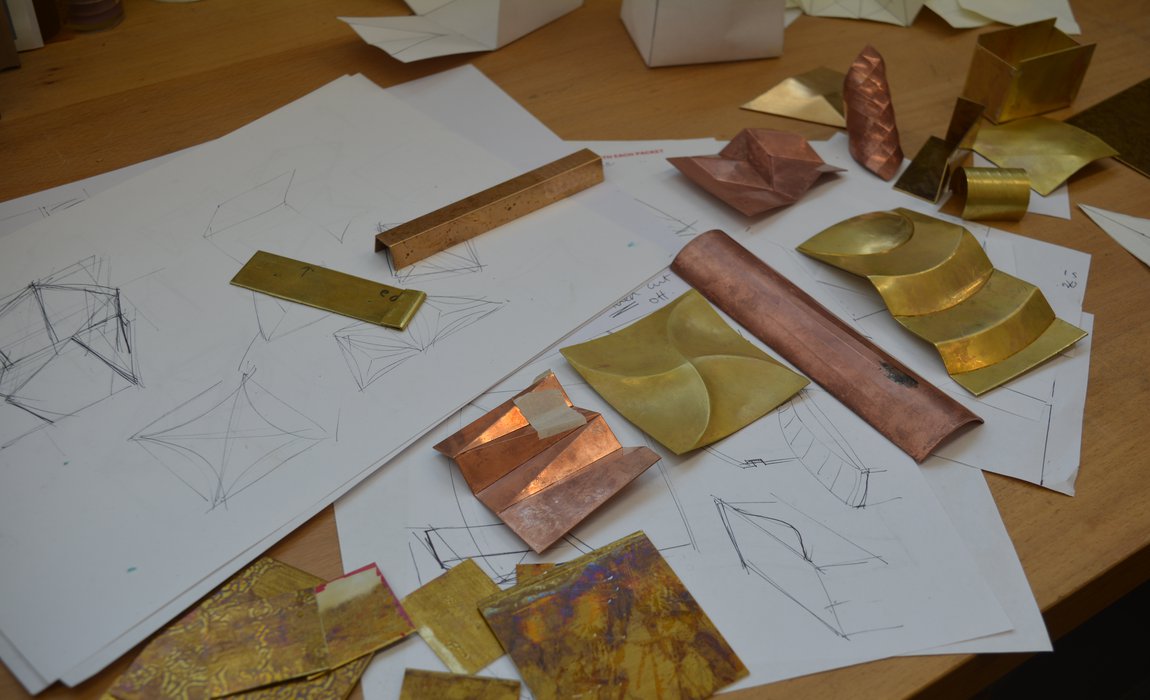 You are currently completing an internship with resident craftsperson Clive Burr as part of Platinum Commission. What have you been doing and how will you use this experience in the future?
I've been looking at scoring by hand in my own workshop and Clive's been showing me how to use the different equipment that he has got, particularly the engine turners, to explore the scoring and folding process. It has pushed what I can do with the scoring and neatening it up to make it. Using an engine turning machine allows me to be more accurate and precise which is why I really like working in those areas and is something I want to improve. I have also been doing a bit of box making as an exercise in precision because it has a lot angles and straight sides. It has been a merging of the two and playing with how I can use the scoring tool to manipulate the surface of the boxes.
I'm learning different hacks and tricks and things that you learn from being a silversmith for 30 plus years. This experience has been enforced play, if I did that in my own workshop I would be a bit concerned. But here it feels like a learning curve and a way to learn other skills. I am not looking to make anything finished by the end of the week and that is a real luxury because it has allowed me to play with fresh designs without worrying about the consequences.