Rising stars in jewellery and precious metals Shine at the Goldsmiths' Centre
Leaders from the jewellery industry and cutting edge design will come together at the Goldsmiths' Centre on the evening of Wednesday 18 September to salute a wealth of burgeoning young talent from the Class of 2013.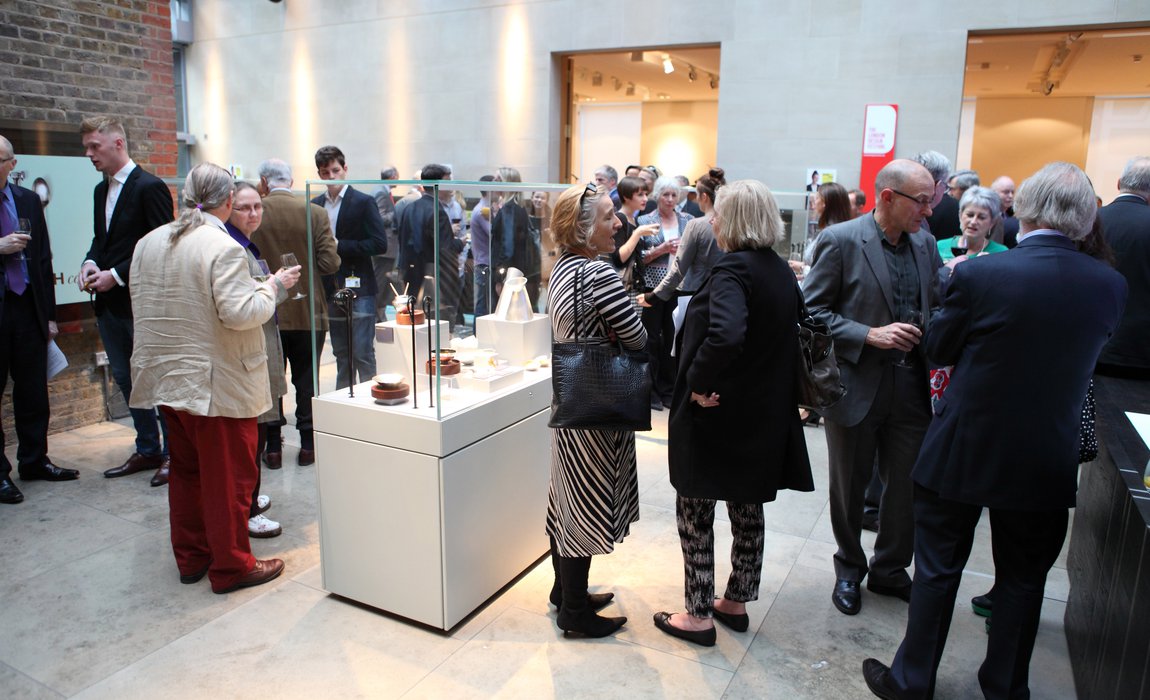 Graduates recently awarded Goldsmiths' Company accolades at New Designers will unite with the rising stars from the Goldsmiths' Centre's Foundation, Getting Started and Setting Out Programmes and its Business Start-Up Studios in an exhibition of work setting the pace for the next generation of industry elite, which runs from 16 September – 30 November 2013.
Next week's showcase from the leading charity for the professional training of goldsmiths will feature a new award donated by Adam Munthe. The Benvenuto Cellini Prize of £3,000 will enable an outstanding Goldsmiths' Centre Foundation Programme trainee to enter a piece in the Goldsmiths' Craft and Design Council competition.
"Cellini is one of the most inspirational goldsmiths of the 16th Century," says Munthe "He moved to Rome at nineteen, the age that many people start their apprenticeships today, where his work won the approval of Pope Clement VII, among others I hope that this award will inspire young craftspeople of the 21st Century to design and make work to rival his."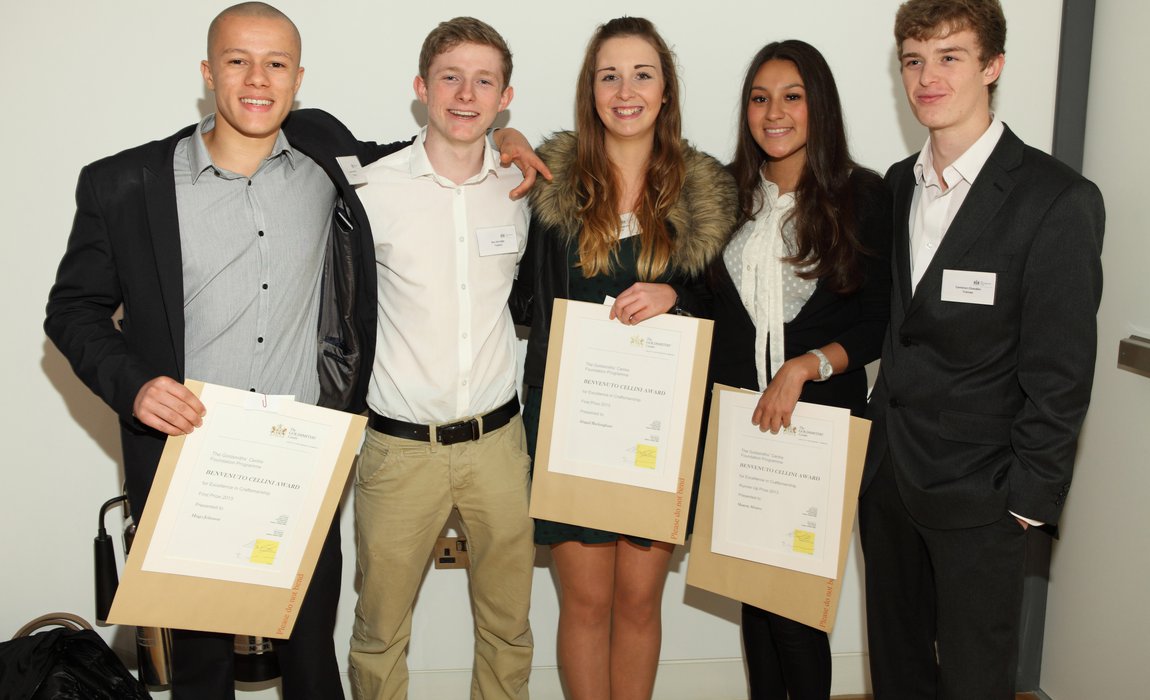 Jewellery and silversmithing stars, Theo Fennell, Stephen Webster, Joanna Hardy and Grant MacDonald have met to judge the Goldsmiths' Centre awards and a number of them will be there to present them to the winners as part of this celebration of the Class of 2013.
Theo Fennell's phenomenal designs, including trophies for the Italian Formula I Grand Prix have been making news since he started his world-renowned company in the Fulham Road, in 1982. Educated at Eton and the Byam Shaw school of art he went on to learn his trade as an apprentice, and was grateful for the training he received whilst indentured to Edward Barnard, one of London's oldest jewellery workshops. He has been an inspiration to many young designers including some of those taking part in Shine 2013: "We're still nurturing a huge range of talent in the UK" Fennell comments "but we should nurture it more. The Goldsmiths' Centre Foundation Programme provides a fantastic opportunity for young designers and makers to get their hands on the tools and techniques that will turn them into master craftspeople and get them into a rewarding career. We need more of these kinds of opportunities if we're going to continue to lead in jewellery design."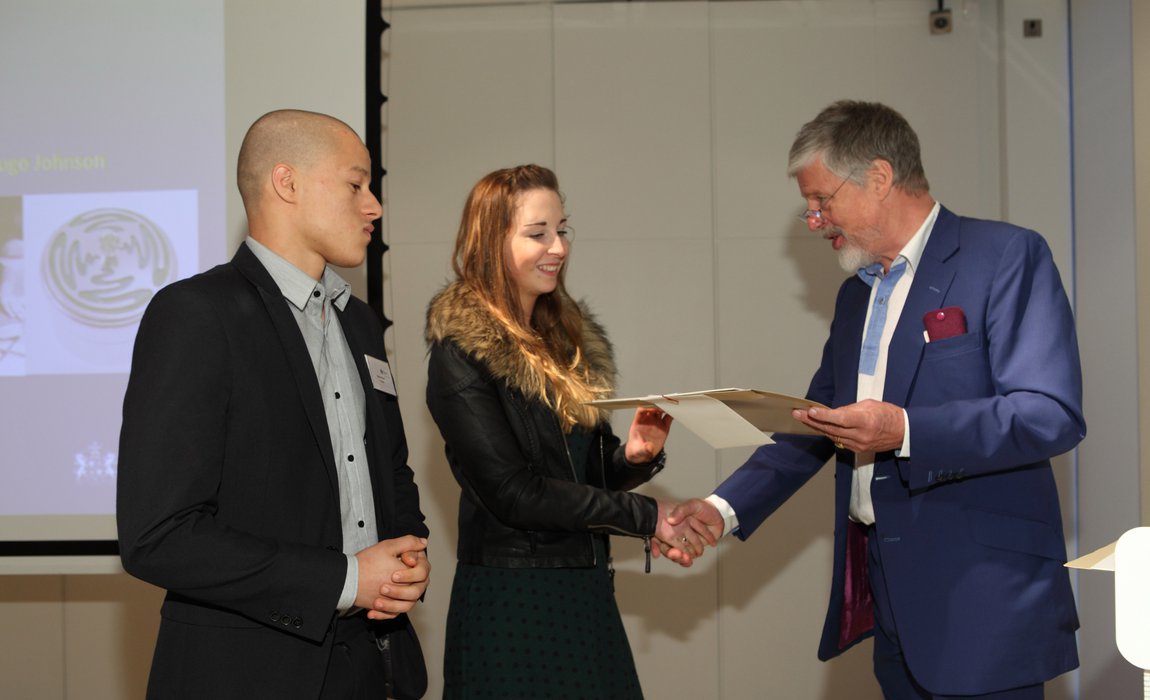 Goldsmiths' Centre Setting Out programme alumnus and winner of the British Jeweller's Association's competition to design the Queen's Diamond Jubilee brooch, Ivonna Poplanska, agrees: "Doing a degree gave me the knowledge and approach to produce amazing jewellery but it was the Goldsmiths' Centre programme that honed my business and design skills and gave me the time and space to put them to use. Now my design business is really taking off and I've got the confidence to take it as far as it can go. The young people who've started to learn their trade at the Centre have got a really firm foundation to move on from and are set to do apprenticeships with some of the very best; they couldn't have done that without the support of the Centre, it's a fantastic place to kick start your future."
Ben Ryan and Rupert Todd, Setting Out rogramme alumni have taken a Starter Studio in the Centre to set up their own Business Start-up - living proof of how seamless the Goldsmiths' Centre makes the transition from aspiring goldsmith to skilled practitioner.
"The Centre is the only place I know where you can learn the basics, return to hone your skills and translate the whole lot into a successful business – all in the same supportive community." Ryan explains "With so many young people worrying whether they'll end up in employment, after school or university, places like The Goldsmiths' Centre offer a pragmatic solution" adds Todd "I think it's a real game-changer for the future of the goldsmiths' craft in the UK."
Notes to Editors
About the Goldsmiths' Centre
The Goldsmiths' Centre is the leading charity for the professional training of goldsmiths. Founded by the Goldsmiths' Company in 2007 it is a charitable enterprise with a specific purpose: "To advance, maintain and develop art, craft, design and artisan skills, including in particular but without limitation, those pertaining to goldsmithing". It does this by:
Providing managed workspace, education and training for public benefit
Fostering promoting and extending public interest in art, craft, design and artisan skills
Providing a knowledge base and community for those engaged or interested in these skills.
About Shine 2013
Shine 2013 is a free exhibition, running at the Goldsmiths' Centre from 16 September – 30 November 2013. Monday – Friday, 09:00 – 17:00 apart from Saturday 30 November when it will be open for 'Made In Clerkenwell'.
It will showcase the work of New Designers and Goldsmiths' Company award winners as follows:-
Kelly Munro - The Goldsmiths' Company Award forJewellery 
Kelly graduated from Edinburgh College of Art with a first class honours degree in jewellery and Silversmithing. Her inspiration is drawn from her heritage and homeland. Born in a small town in the far north coast of Scotland, well known for its historical fishing industry she was surrounded by small abandoned ports around the coast, and has had a particular interest in fishing equipment used in the past and present.
Florence Carter - The Goldsmiths' Company Award for Silversmithing 
A Sheffield Hallam University graduate, Florence's work stemmed from the development of relationships on a linear plane; resulting in a repetition of circles throughout her silversmithing. A determination to see her concept through in spite of the difficult technical processes kept her going and was noticed by the judges who cited "that she has huge potential and a promising career ahead of her."
New Designers Runners Up
Juliette Bigley
Monique Daniels
Ian Inglis
Ambika Nagpal
Rebecca Sellors

Precious Metal Bursary Winners
Stephanie Cheong
Hamish Dobbie
Steffnie Percival
Pranav Sarin

Work from the successful alumni of the Goldsmiths' Centre's Foundation Programme will be showcased as follows:
Foundation Programme:
Abigail Buckingham
Barney Bowes
Hugo Johnson
Cameron Chandler
Harry Seeger
Sharon Alvarez
Ben Kerridge
Setting Out Programme Alumni:
Ivonna Poplanska
Ben Ryan
Rupert Todd
Liisa Tallgren
Helen Smith
Mahtab Hanna
The Judging Panel for the Benvenuto Cellini Prize, awarded by Adam Munthe, and Goldsmiths' Centre awards comprises:
Theo Fennell
Theo Fennell is generally acknowledged as Britain's foremost designer of jewellery and silverware. His pieces have been captivating the world for over 25 years.
Stephen Webster MBE
Stephen Webster, Founder and Creative Director of Stephen Webster Ltd, and a Creative Director of the world's oldest jewellery house, Garrard, since 2008 is one of the leading British jewellery designers. Webster's keen eye for detail, expert craftsmanship and glam-rock attitude has given rise to dramatic creations with an eternally chic aesthetic, evolving into a powerful luxury jewellery concept which has taken the world by storm.
 
Joanna Hardy
A regular contributor to the BBC's Antiques Roadshow Joanna Hardy amassed over 30 years' experience as a goldsmith before entering the diamond world as a trader. She is currently head of contemporary jewellery at Sotheby's.
Grant Macdonald
Grant Macdonald is the owner of one of the largest silversmithing workshops in the UK, employing the top craftsmen in the country. Traditional silversmithing techniques are combined with the latest technology to ensure that every piece is crafted with precision and elegance making Grant Macdonald silver sought after world-wide.