In conversation with Setting Out participant Leonid Dementiev
Leonid Dementiev is currently completing Setting Out, our year-long business incubation course. We caught up with Leonid to find out about how his family heritage influenced his brand, how he is preparing for Goldsmiths' Fair and some of the biggest lessons he has learnt about running a creative business.
Hi Leonid, would you mind telling us a little bit about your professional background?
I did a BA in Jewellery Design at Central Saint Martin's where I had the pleasure of being taught by Caroline Broadhead, Naomi Filmer and many other talented and creative individuals. It really helped me to develop my artistic process and push my creativity to the limits at that point of life. After graduating, I was fortunate to be able to work on many very exciting projects and tried many sides of the industry. Over the years, I have experienced being an art jeweller and been represented by an art gallery in Amsterdam. I have collaborated with stylists and prominent fashion designers such as Thomas Tait and worked for a luxury brand, working on their fine jewellery line right before coming to the Setting Out programme.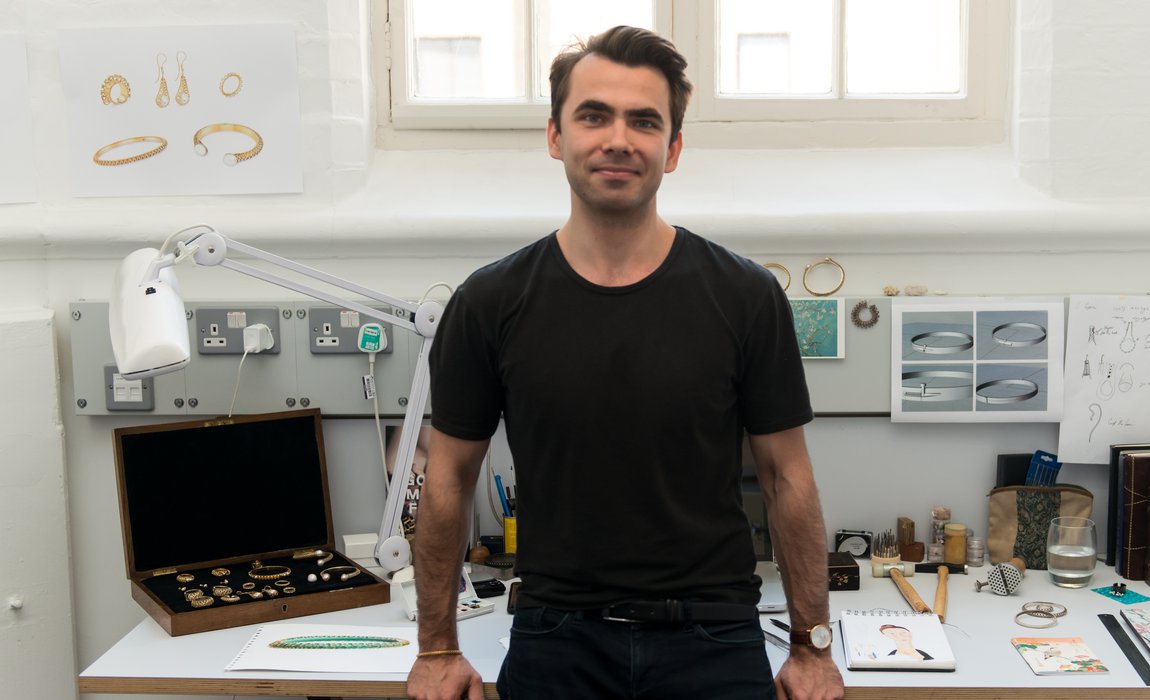 How would you describe your design style?
I worked for several years on developing my own unique style and like my great grandfather, studying old techniques and precious metals. I translated them into works of Gold, Pearls and Gemstones. My jewellery is handcrafted to honour tradition and interpret the soul of the modern world.  A strong concept and meaningful story behind every design is very important to me. My designs have something hidden, something that after wearing it for some time the person can learn about.  I strive to create personal jewellery that you would treasure and hold dear for years to come. That is why every piece is handcrafted and unique, many with deliberately hidden details that are made specifically for the wearer and can be revealed or remain unseen by others based on the choice of the wearer. 

For example, the bracelet I wear is very simple on the outside with its intricacy, but there is a hidden gemstone on the inside of the bracelet.  The idea for this design came from my mother after she was at a very special occasion. She found a pearl in an oyster and she wanted to remember the occasion so she asked me what I could make with the pearl. I know that she loves chunky, big bracelets so I put the pearl on the inside of the bracelet, so it is now close to her, worn daily by her, and for that reason it is very precious to her, it is meaningful. 
You have mentioned the Leonid Dementiev brand is inspired by your family heritage. How does this influence your practice?
My everyday inspiration has always been my great grandfather. Stories of whom I have heard a lot of from my mother.  The most treasured values, that I believe in is what I gathered from those stories. He was a self-taught master artisan, he was very famous for the quality of his work, the highest level of craftsmanship in silver and iron. It takes a heart of great passion to learn the true essence of a material and to become a self-taught blacksmith. He had to practically reinvent some techniques of the craft and experiment with materials. He had to learn about shape and patterns to achieve the quality that he was striving for and I ultimately feel like we share the same passions.    
  
I have created my brand in his honour. There was nobody after him who was in the industry of making. My family are either doctors, engineers or opera singers - so I am the only one since my great grandfather to pursue this career.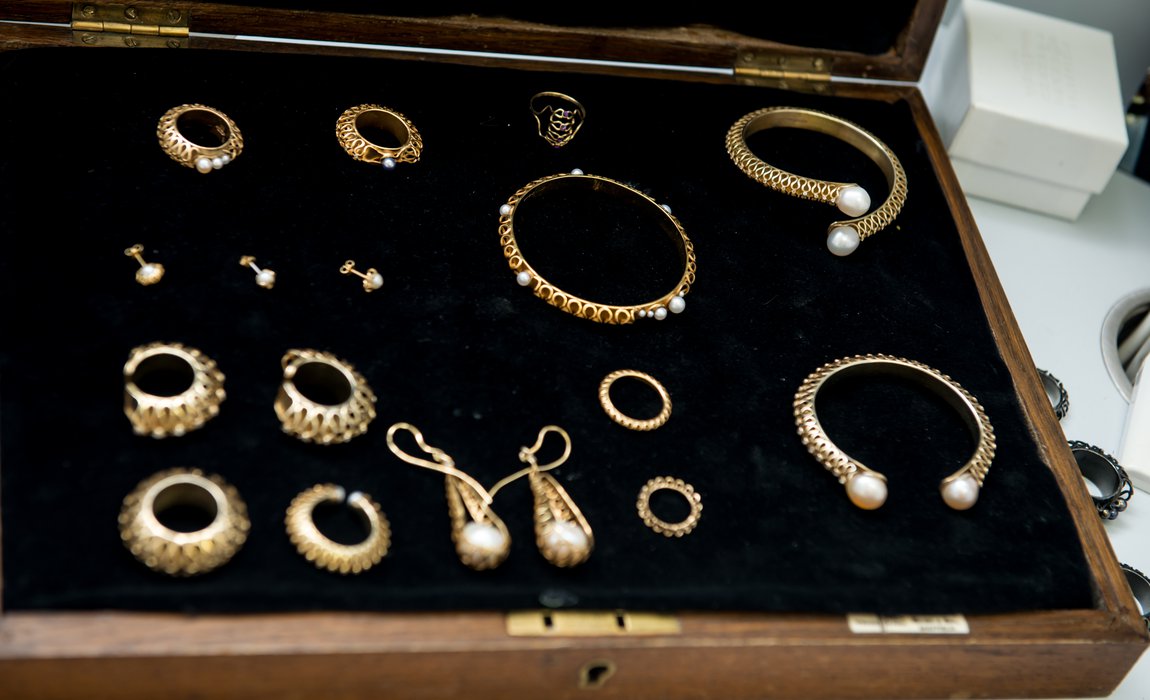 You are currently completing a year of Setting Out, what have been some of the biggest lessons you have learnt?
One of the most important things I learnt here was how important it was to be a part of the community. Starting on your own is very challenging in all kinds of ways and having a supportive community of people around you has made this place feel like a second home. I spend most of my time here and I feel like this is exactly why I am achieving a lot more than before.

What's more, starting and running a creative business has always been very challenging because the person doing that must be both creative and have a mindset of a business person to be successful. The Setting Out programme has been tremendous in preparing for the real world of jewellery business and makes me feel that I am now confident and prepared to start my own brand. It is not a business course and it is not a creative course, it is a mix of both which is really rare. In my opinion, from talking to many Master degree students in both the artistic industry and business industry, I think it is one of a kind because it helps creative people to understand the business side of the world they are trying to enter. 
What are you planning to do once you complete the course?
I am applying for Gold Membership here at the Goldsmiths' Centre which would allow me to use the workshop, and have meeting with clients in a professional environment. The Gold Membership will help me in preparation for Goldsmiths' Fair where I will be exhibiting my fine jewellery collection and showing many designs for the first time. It is very exciting and I am very honoured to be part of the Fair. It is a little bit scary and I am anxious but I feel like I am going to be fine because of the support I have both on the course, and from the people who were there before.

We have been very lucky with this year's Setting Out programme, the 8 people that we are with on the programme, we are all good friends, we are very close and we would like to continue working together in one way or another. As a start we decided to try and do a selling event here at the Centre later this year. It is going to be a mix of everything, we will be able to sell our pieces, we will do some PR and we will invite some press. It will be great to see our works all together because we are so different.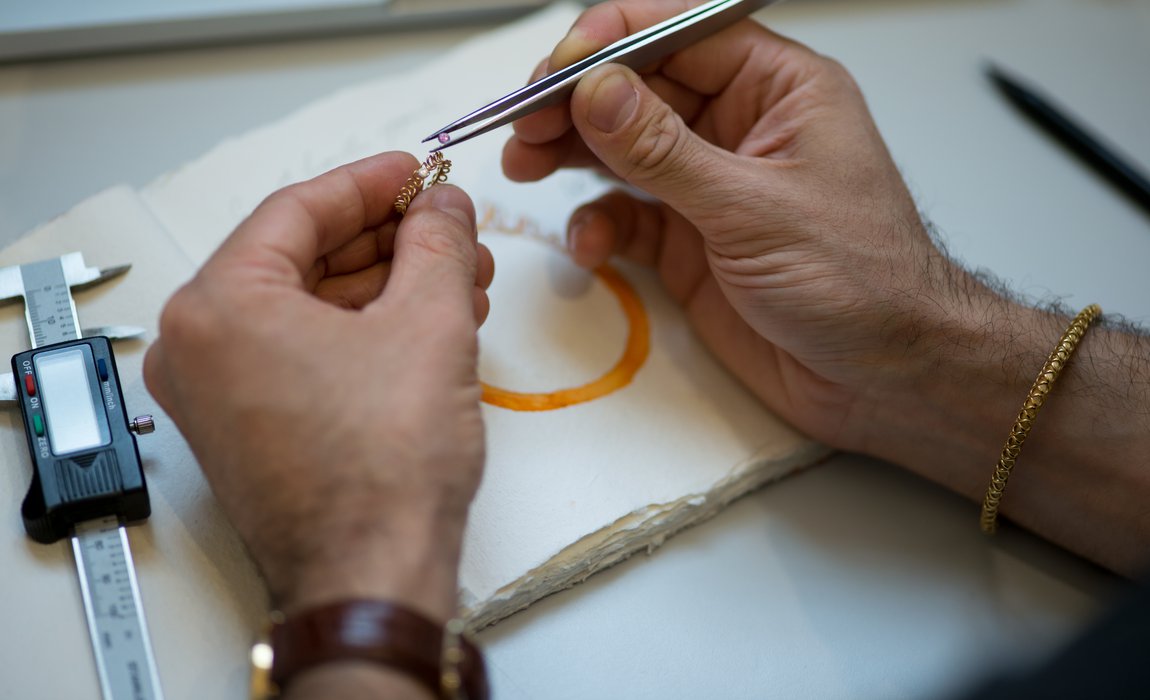 You were recently selected for a Graduate Stand at Goldsmiths' Fair. How have you been preparing for your Fair debut?
I had applied two times before but I am happy that I got in this year because before I wasn't really prepared. It is a good process for you to apply and see what the people are looking for and in way it made me more prepared this year.  You should always as soon as possible because times is going fast. You don't know what is going to happen next year so if you can, try and do that. If you get in, put all your time and effort in to that. 

There is a group of people who are helping us prepare for the Fair. They are helping us to understand what to expect because it is different to a lot of other tradeshows or exhibitions or Fairs that I have experienced. Goldsmiths' Fair is very prestigious, so there a lot more expectations and a lot more preparation to be done. The team are organising our timelines and helping us manage our time which is extremely important is it guarantees that we stick to the deadlines that we have. We are going to have our helpers on the Fair as well and they will also help us with inviting VIP clients to the fair which is extremely important because you need to build up this community of clients. It has been very lovely and supportive, I feel I can always go and ask questions and get answers.
What advice would you give to someone who is thinking about applying for Setting Out?
My best advice would be to say that being on Setting Out means becoming a part of the community and being supportive of each other. Everyone on the programme will be at various stages of developing their ideas and their brand and it will be important to be supportive of each other and have a clear mindset of what you want to achieve in that time. 
Have an open mind and always remember to see the bigger picture of where you want to be because it is very easy to focus on a certain issue that you have and forget about everything else - you must manage a lot of different aspects for your company. Here at the Goldsmiths' Centre, you have people around you who can help and you need to be reminded that they can help you and you need to remind yourself what you need to be and what you need to do, that is the most important thing. 
Interested in applying for Setting Out? Find out more