In conversation with New Designers Winner 2017 Andrew Fleming
In July 2017, Andrew Fleming was awarded the New Designers Goldsmiths' Company Silversmithing Award. In this interview, we caught up with him after she spent a week here at the Goldsmiths' Centre completing work experience with resident silversmith, Clive Burr.
Hello Andrew, thanks for joining us. How has winning the Goldsmiths' Silversmith Award at New Designers impacted your career so far?
It's been great! It was lovely to be recognised in that way, especially when people from various art schools were there to present their work. It hasn't been a huge amount of time since I won the award and I have taken a little bit of time off since, but it's been a great start to this next stage.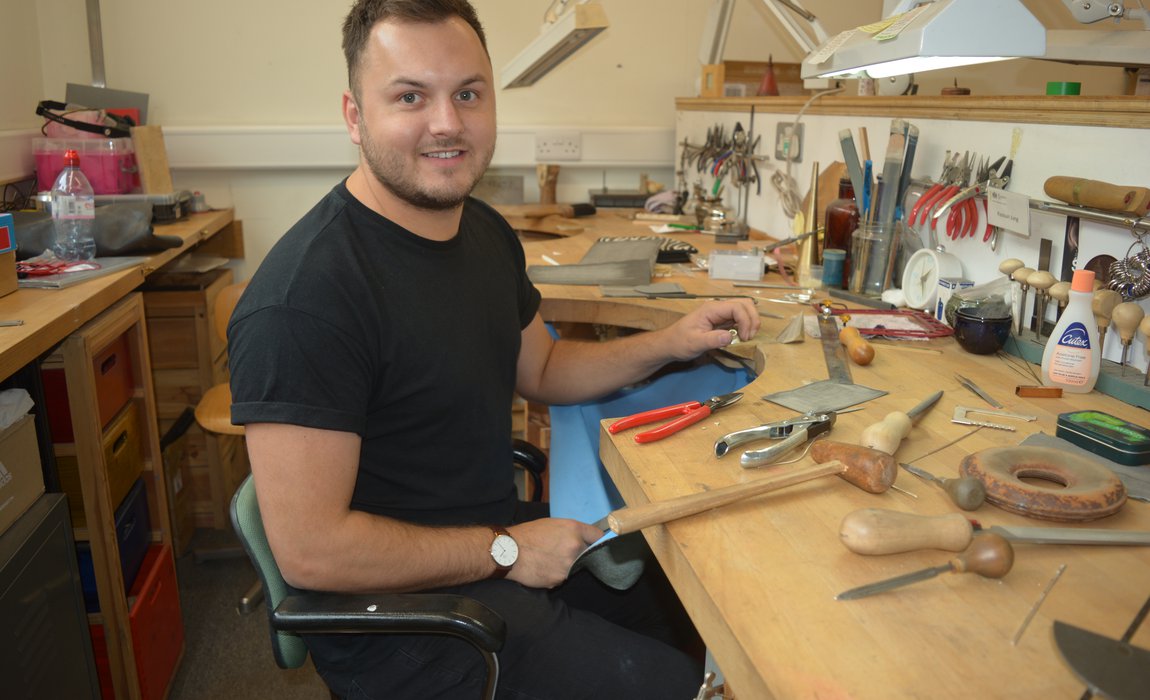 Before becoming a silversmith, you studied architecture, how has this influenced your work? And how did you start out becoming a craftsperson?
I studied architecture for three years in Glasgow, and really enjoyed it. The first couple of years focused on model making and that was the bit that I liked the most. When it came to third year, it was more theory and I did some work experience in a practice and realised that it wasn't the career for me.
After that I got onto a jewellery course, which was a real change in direction. In my fourth year, I really got to focus on silversmithing which I found came most natural to me. I prefer bigger scale pieces, I can't make things with my hands that are too small.
The funny thing is that when I came into silversmithing and jewellery I told myself that I did not want to look at architecture, that's the past. I wanted to do something completely new but more and more, I found that architectural influences were creeping in to my designs. By my 4th year, I got all my sketch books together and it was so obvious where my influences were coming from. I thought it was silly to fight something so innate. I still am interested in architecture and the built environment, so why not use all that knowledge that I had gained in those three years and take that forward? I've embraced that now. I'm going to continue to look at architecture because I think it encapsulates many things.
Your collection focuses on tableware and vessels. Do you think this will make it easier to make silver more appealing to the contemporary consumer?
That was another thing I wanted to focus on.  A lot of silverware is still used with very traditional techniques and has a certain look that I don't necessary think appeals to a younger market. The reality is that it is mostly older people buying silver because they can afford it. So, I wanted to make a conscious effort to not design for anyone else - I mean I was almost designing for myself. I love interior design and I wanted the pieces to be functional and work well, but also look good.
I really thought about the ways in which people might use silver today. Which is why I split it into two, I had my more functional pieces, my jug and ladles; and then I had my more sculptural pieces which were just wire-work little vessels.
What's more, I like making neat sketch books. Part of my design process is drawing a design in my sketchbook and taking notes alongside them. I've got a sketch book that's just all notes and that kind of messy stuff, and then a sketch book which is my research, my ideas and designs, it is much more considered, almost as something that is nice to look at as well. I would hope to sell these alongside my pieces.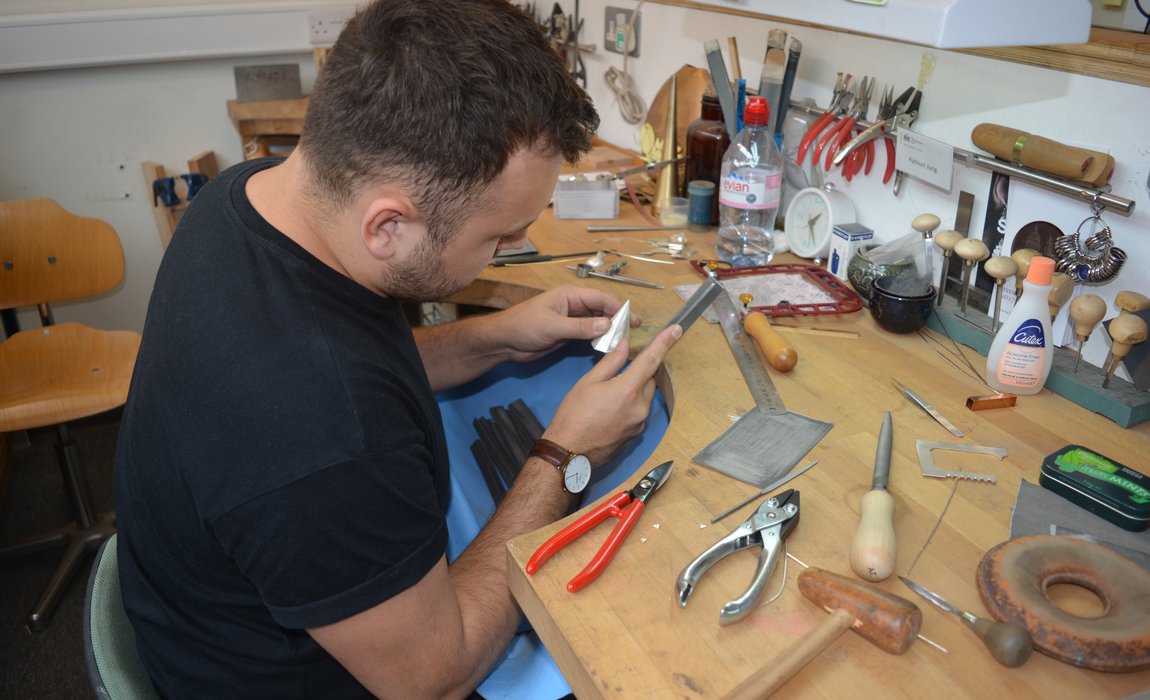 What kind of techniques do you use to make your pieces? Can you describe how you went about creating the water jug piece?
I mainly used the scoring and folding technique, especially for the ladles and handles and the water jug. I took a single sheet and scored and then folded it up. I then soldered it together. Funnily enough, people at New Designers thought it was all 3D printed, the handle elements, but I always wanted to use hand skills to do that. Scoring and folding the bases of the ladles and the jug is spun.
You are here completing a week of work experience with Clive Burr as part of your Goldsmiths' New Designers Silversmithing Award. What have you been doing while you have been in the workshop?
At the beginning of the week we did a few different processes, we have a machine upstairs that can-do scoring and folding but it's kind of controlled. The technique I was doing was called Precision Scoring and Folding, and I worked with a few kinds of examples. I then soldered it all up but I wasn't sure what that was going to be. I thought about what could be a function for the two pieces and I thought I had two of them, so why not make a salt and pepper shaker. I've done some work on the lathe and just a little bit of everything.
When you're working with someone like Clive, every ounce of knowledge that he has is just amazing. You learn so much even doing things that you usually do. Clive's got so many tips and you suddenly realise that you've been doing everything all wrong. But it's been good, he's been so helpful, he is so knowledgeable, it's been cool to be in a different working environment, a different studio.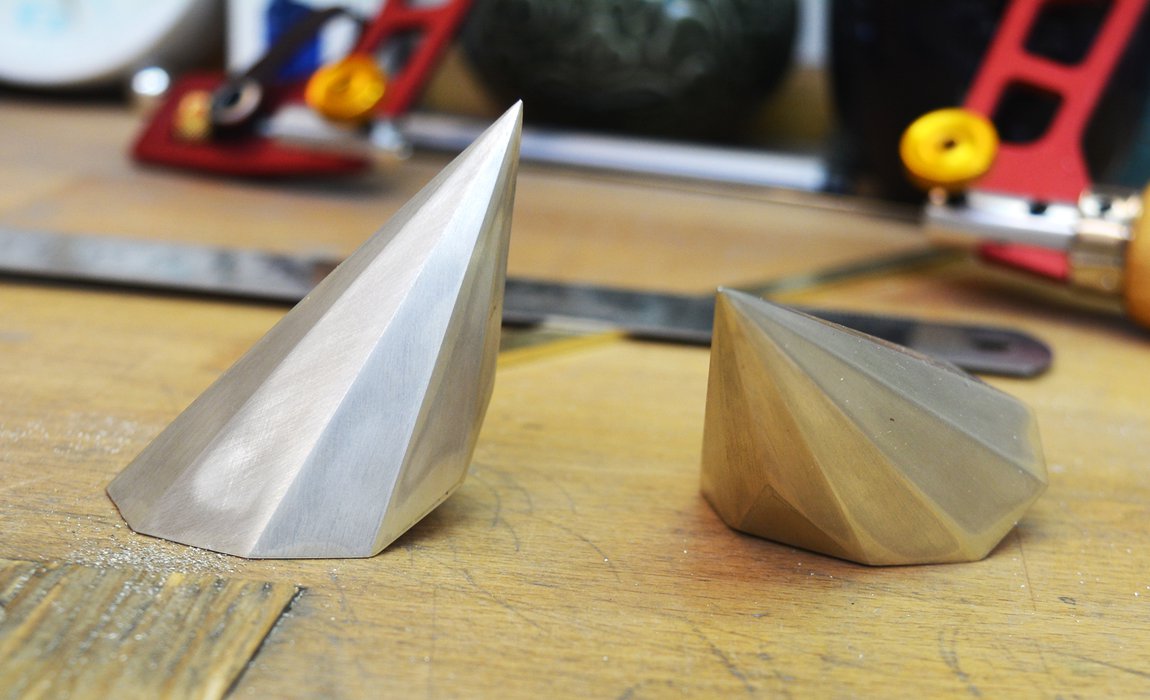 How has your time with Clive influenced your practice and what are your plans for the future?
I think it has made me very aware. There's tonnes of little things that I've done and Clive has said oh no, do it in this particular way, which is a much more difficult way but actually is the proper way to do it.  I think there's so many processes and doing different steps of making and if you take the time to do the difficult steps you get a better outcome at the very end. I've seen first-hand the work they produce and now I think about things much more meticulously and plan.
I'm quite impatient and that is something that you can't be when you're a silversmith so I've learnt that you must be thinking two steps ahead. Just seeing how people that are professionals, their process, I think has rubbed off a little bit. Now I am prepared to really think about how I'm making and to just bite the bullet and do it the more difficult way. It has a much better outcome, you know the easy way isn't usually the best way to do it.
I'm doing my resident's post this year and then I just want to apply for shows and just see where I fit. I've not done any shows before so I'm going to be a part of Elements in Edinburgh with the school and then as long as I keep working hard I'm going to apply to the Goldsmiths' Fair and their kind of graduate bursary scheme which would be the big goal. And then hopefully, from there, meet people, you know talk to people and hopefully get some work and keep making.