Foundation Programme: An Interview with Adriana Klimentjevaite
Adriana Klimentjevaite found her vocation as a diamond-mounter whilst on The Goldsmiths' Centre's Foundation Programme. She is now based at the Centre as an apprentice with KATA Jewellery, so paid us a quick visit to chat about her experiences on the course.
Can you tell us a bit about how you got into the industry?
I did a bit of Art and 3D Design in College, and I've always been a creative person. I like working with my hands, and I like creating things. After college I had to make a decision about what I wanted to do for my career, and one of my teachers suggested the Foundation Programme. I gained experience with jewellery during the course, and that lead to my apprenticeship as a diamond mounter.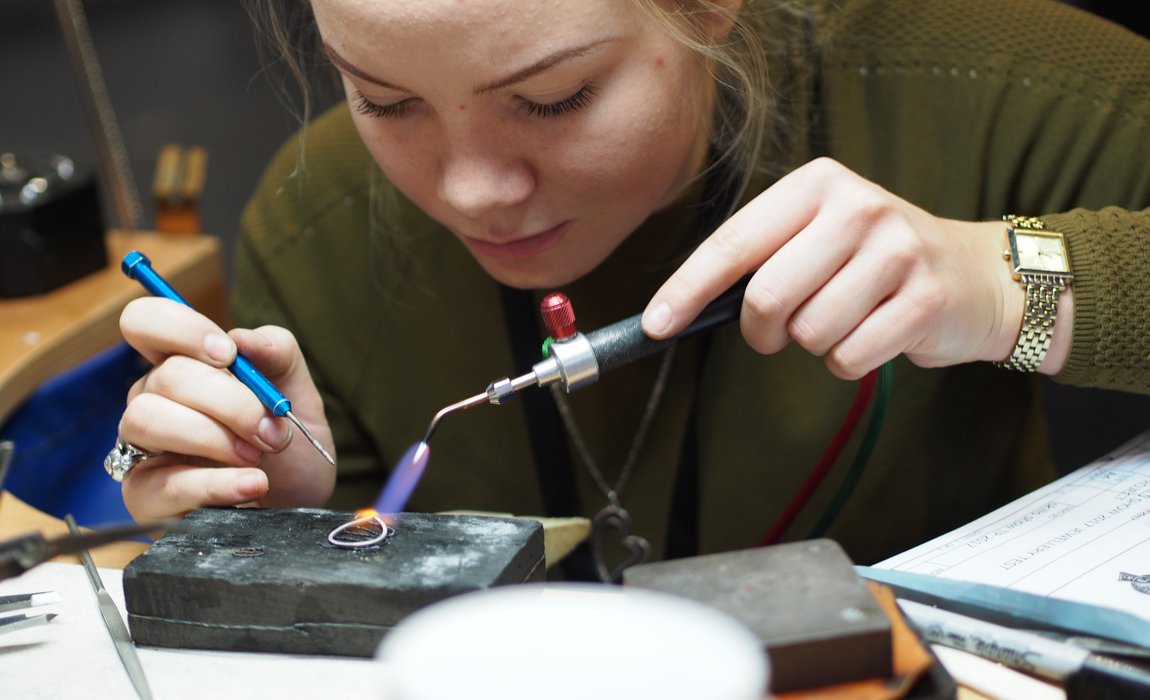 What does an average day look like for you at KATA Jewellery?
The first year was quite stressful, learning all the basic skills, what the metals do and how they react and heat up. And then basically lots of practicing, then starting to do repairs, and then working with clients. Now I take client's orders and make jewellery fully – that involves some collaboration, understanding what the client is telling you and then figuring out how to make it. For example, if they choose a certain stone, you suggest the setting that fits that stone best.
Do you create a lot of your own work – and if so, have you developed a particular design style?
I do sometimes design and make my own jewellery, though usually it's for my parents or a gift for someone. Like Christmas presents – all my friends are getting pendants! Everyone expects hand-made jewellery for gifts now, which is nice; it saves me money! I enjoy a bit of design work, so if I find the time I will enter competitions here and there. I really enjoy briefs that ask for designs incorporating nature, so if I see a competition that has that theme, I will definitely go for it.
What's unique about working at KATA Jewellery?
I'm very happy at KATA. We do a lot of hand-made and bespoke work, which is nice, and work with lots of beautiful stones and precious metals.
Why did you choose to specialise in diamond mounting?
With diamond mounting, you pay attention to lots of really, really small details, like soldering tiny little things. You get to work with your hands, and gem stones are beautiful, so why wouldn't you want to work with them! It's interesting work, and I really like jewellery, I like wearing it, so I think that's what attracted me to making it.
Can you highlight one memorable moment from your time on the Foundation Programme?
I really enjoyed enamelling. As a diamond mounter, you often send jewellery off to be enamelled, like cufflinks or a pair of earrings. In the course I got to do that myself – cutting down metal, laying the enamel, putting it in the kiln. It was really interesting, especially learning about all the different kinds of enamelling.
Has the Goldsmiths' Centre and the Foundation Programme had a big impact on your life?
It really has - the programme basically launched to my career and lead to me becoming an apprentice. And all the staff and tutors at the centre are really nice – they always told me that if I needed any help, they'd be there for me. They're professionals and know the industry inside-out.
What's next for you?
I just want to continue being a diamond mounter! Maybe working on a little bit more of my own stuff, because when you work 9-5, by the end of the day you don't want to look at jewellery any more, you just want to go home! Though I definitely love where I am.
What advice would you give to another young person considering entering this industry?
You should definitely try to do the Foundation Programme or a course like it, because you get to try out all the different skills and experience all different areas of this industry. If you end up liking one, then the Centre helps you to find an apprenticeship. You get to do everything and then choose what's right for you.
Interested in applying for our Foundation Programme course? Find out more information here.