Multi-award winning jewellery designer Jennifer Bloy FRSA FIPG introduces her new short course
We speak to multi-award winning designer of jewellery and objet d'art, Jennifer Bloy FRSA FIPG, who teaches the 'Presentation Painting and Design for the Jewellery Industry' short course at the Goldsmiths' Centre.
Hi Jennifer, could you please tell us a little about yourself and give us an insight into your professional background?
Art was my strongest subject at school but I was allowed an afternoon off to do jewellery at South Hill Park in Bracknell. From that moment making jewellery became my passion. I was advised to apply for a course at The Sir John Cass (now London Met.) where eventually I completed a 4-year diploma course in jewellery and silversmithing. I won a Royal Society of Arts Award and Goddards Silver Awards.
After leaving University I had a brief bout of self-employment but was then offered a design job at Eton Jewellery in Hatton Garden. It was while working there that I won my first Goldsmiths' Craft and Design Award.  After 2 years I moved on to a company designing objet d'art. Instead of a pay rise I was allowed to take a day off to teach and so began my teaching career. After another 2 years I became self-employed and the rest is history. 
I have won numbers of Goldsmiths' Awards and as well as being a finalist in the De Beers Diamond International Awards several times and eventually designed a wining piece. 
I am now on the Goldsmiths' Craft and Design Awards Council and am an Executive Member of the Institute of Professional Goldsmiths.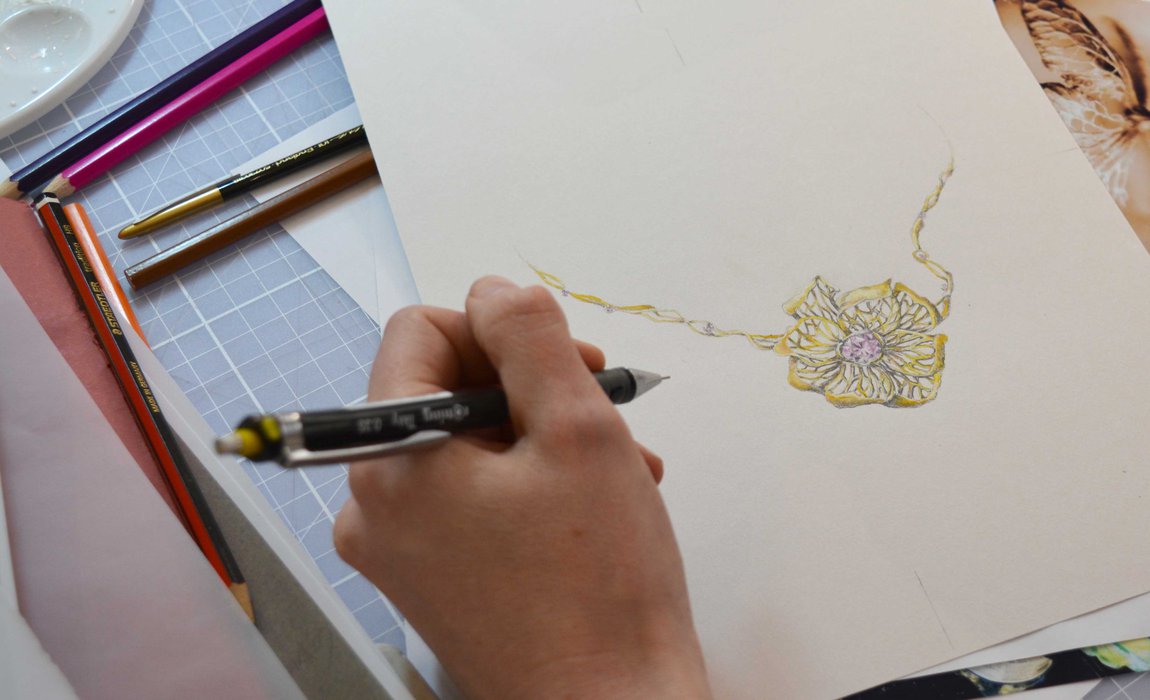 What are the key objectives of the 'Presentation Painting and Design for the Jewellery Industry' course that you teach at the Goldsmiths' Centre and what specific drawing skills will students have gained by the end of the course?
In this short course I hope to give participants the confidence to find their own style. Design is very personal and being able to express ones individual dreams is key.
What attributes do you think are needed to make exceptional design?
In my opinion an exceptional design should comprise timeless beauty and originality.
Why are hand drawing skills still so essential at a time when designers are increasingly using CAD?
A computer or a pencil? These are both just tools. For a photographic effect go for CAD. For initial transferring of ideas and creating an individual style and a more spontaneous effect, then hand skills do it for me. 
The next 'Presentation Painting and Design for the Jewellery Industry' course is running from 22nd-24th June 2016 and has sold out already! However, if you would like to put your name down on our waiting list for the following course, please email us at boxoffice@goldsmiths-centre.org and we will contact you when the dates are confirmed and released. In the meantime, for your information, details of the June session can be found here.