Hamish Dobbie on making the Quarried Beaker
Hamish Dobbie is a Glasgow-based Silversmith. He is also one of nineteen makers selected to create a beaker for this summer's Made for the Table exhibition at the Goldsmiths' Centre. We met with Hamish to discuss his journey into the industry, his inspirations and the beaker commission.
What inspired you to become a silversmith?
I went to art school to study silversmithing and jewellery because I knew I had to do something with my hands. 
My dad was a jeweller before I was born and a photographer for De Beers when I was growing up, so I was always around luxury and crafted items'. It was a choice between jewellery and sculpture and I thought: 'no, jewellery has got to be the one to go for!' 
I became a silversmith when I won the competition to make the Incorporation of Goldsmiths of Edinburgh's goblet. It was my first real experience of working in silver, using a design that I'd come up with, rather than just creating a normal raised copper bowl or forging a spoon. There was something satisfying about making a more physical, interactive object.
 
Have you found that the brief for Made for the Table offers you a lot of creative freedom?
It's a great brief because you know you're creating a Gin beaker or drinking vessel, but you've pretty much got free reign to do whatever you wish really. With my beaker, I've adjusted the shape of the spun beaker quite heavily to make it more in line with the other pieces that I've made. What's more, I've asked for a different thickness and grade of silver that had the properties needed for doing the process that I was using, which is great.
Have you ever drunk gin from silver?
I have yes - in fact I drunk the better part of a whole bottle of gin out of one of my own whisky tumblers the other day, and it tasted, well, like gin!
What are you most looking forward to about participating in the exhibition?
Being put forward as a maker and being a part of making contemporary silver more relevant to current generations. Silver is often displayed in the same way, in a glass cabinet, with white lights on it, and with a plain white background, and that is totally irrelevant to the object, because silversmiths tend to make these objects with a degree of practicality to them.
A vase for example, it holds liquid, enough to put flowers in, and therefore it's practical in the sense that it's been designed with that use in mind - and yet it's rarely exhibited like that. 
Most makers design with a practicality and physical use in mind and until you interact with the object, you don't really notice design aspects such as its texture and weight. And that's something that I'm really excited about in regard to the Gin tasting sessions at the exhibition. 
How do you balance aesthetics and functionality - which is your priority when making a piece?
Well, you can't really have a beaker with a hole in the bottom of it, so from that point of view, you must value practicality for this piece. But at the same time I have seen some vessels that are borderline practical - they're practical in that they hold fluid, but that's really the only functional element. You need to be able to lift a vessel up, to get some fluid in it and to get your lips to the rim of it, but outside of that it can be as wild as you want.
I like the idea of making sculptural, purely sculptural silversmithing objects, but I'd rather make something that somebody's going to get use out of. I think it's a nicer idea that somebody is going to use an object and it's going to become their favourite vessel to drink out of. 
Are there any other makers whose work you admire?
Silversmith, Micheal Lloyd's work, who I spent eleven weeks with during an internship last year - one of the programmes that the Goldsmiths' Centre runs.
I love his work. It's not my style because I'm attracted to more rugged, kind of hewn looking things which are also a bit more geometric, but I love the sensitivity of it and can appreciate a beautiful piece of art work, even if the style isn't exactly to my taste. 
Everybody who's a maker of some description, I can appreciate what they do to some degree because I understand all that goes into making.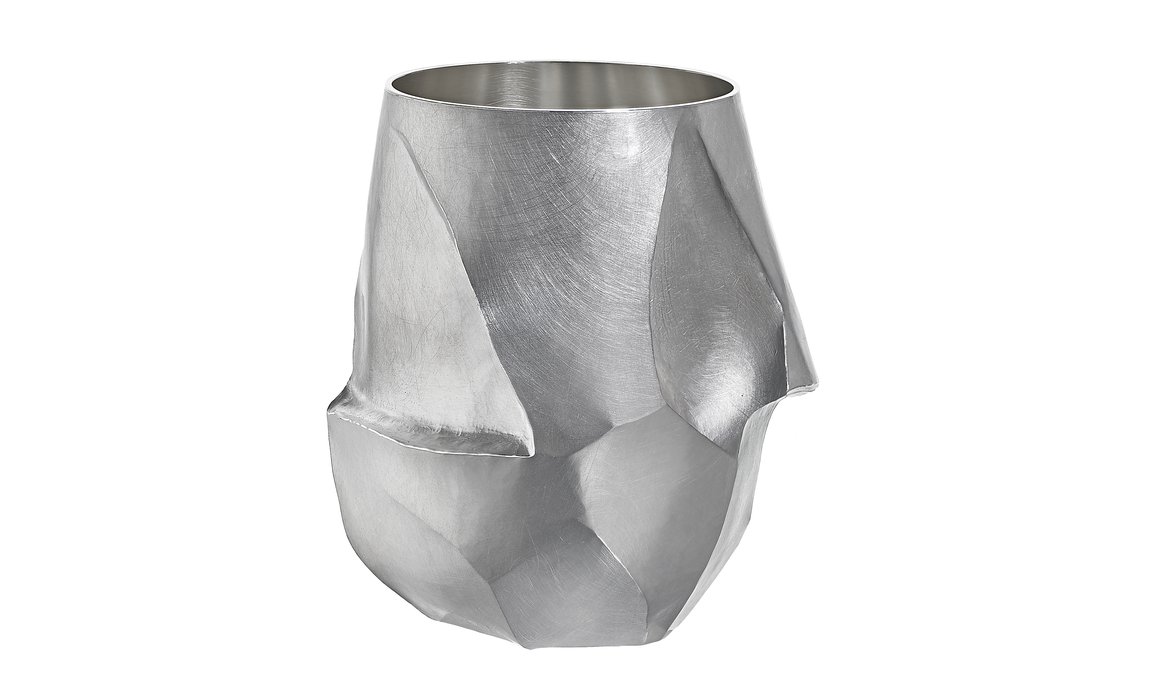 So, do you find that you're often inspired by other maker's work? Or do you find inspiration in other places? For example, I've read that you're heavily influenced by the Scottish landscape.

I try to avoid being directly inspired by other makers because I want to avoid being derivative, but you may for example, see somebody using a technique in a way that you'd not necessarily thought of before, that would be really interesting to use in that way on a piece of your own.
I grew up in Fulham, I moved to Scotland when I was 9 with my mum, and from coming down to London for industry events and the Goldsmiths' Fair and things like that, I've realised how much happier I am that I don't live in the city. The pace of life much calmer up here, and I've responded to the landscape in Scotland in kind of an emotional as well as a visual way.
Despite the fact that Scotland is pretty, I mean it is beautiful, it's also pretty barren. The population is condensed into small areas, the big cities, but outside of those there's not huge populations of people, and I find that relaxing. Though it's quite a harsh landscape, I think it's absolutely beautiful, and have always loved the mountain ranges and profiles created from that, and the contrast of the sharp and soft. From a distance, a mountain might look really rough and really hewn, but when you're on it, it feels soft and rounded. It's this idea of distance and depth at play, it's been quite interesting and inspiring to me as a maker.
Find out how to purchase the 'Quarried Beaker' here.