5 tips to help you start your jewellery business p2
We asked some of the Getting Started speakers, who are also among the leading experts in the industry, to tell us what they think is the most important tip for young jewellers, goldsmiths and silversmiths looking to start their own business. If you need help setting up your jewellery business, approaching galleries, retailers and exhibiting at shows, here are 5 tips to help you start and grow your business.
Jon East
What is the most important thing to understand about promoting your business, brand or products online?
Who your target customers are, and what they want to buy. If you understand that, then everything else slots in to place. In my session I'll be demonstrating some tools and techniques to help businesses understand their target customers, and get the right products in front of them.
Jon East has been Director of small businesses for the past 21 years. Having co-founded an award-winning Internet company in 1994, Jon then established a Consultancy business in 1998 and evolved its offer to cover a range of project and business consultancy and training services for the Creative Industries - from market research, business planning to online marketing. Jon has worked within the jewellery industry for a number of years, including as a tutor on the Goldsmiths' Centre Setting Out Programme where he helps new jewellery businesses start, develop and grow.
Jos Skeates
What is the most common mistake people make when trying to approach retailers and how can they avoid it?
The most important thing is to do your homework about the retailers you want to stock. Is it the right place to sell your work, who is the buyer, who do you need to get past to speak to them, do they display the work well, do they pay on time, do they know how to sell jewellery. If possible visit the store, get a feel for the company and find out as much as you can before approaching them as a stockist.  
Jos Skeates is the co-founder of EC One, one of the leading independent jewellery shops in the industry. Since 1997 when the organisation was established Jos and his wife and co-founder Alison focused on sourcing fashion-led jewellery pieces from around the world and discovering new designers at the bi-annual London, Paris and New York jewellery shows. EC One makes a point of encouraging and nurturing developing jewellery design talent.
Joan Mackarell
What is the most important step for jewellers, goldsmiths and silversmiths before they contact a gallery?
The most important things are to have a strong personal identity; have well made pieces; and to check out the gallery by visiting or by visiting the website to ensure that your work fits with their ethos.
Joan Mackarell is an artist who combines glass and metal to create a range of jewellery, boxes and wall installations and her work is focused on the material itself. She finds inspiration from her childhood experiences spent on the Atlantic shore of Donegal and she incorporates themes of memory and place. Joan is also one of the original founders of the British Society of Enamellers; and is currently a director of Studio Fusion Gallery which is located at the Oxo Tower and is the first applied art gallery in the UK specialising in a contemporary approach to enamel.
Isobel Dennis
What is the most important thing that people should do to stand out from the competition at shows?
Pre-plan your space before you get there, keep your display simple and stylish and always invest in lighting your work and stand well.  Invite people ahead of time, tell them your stand number and where to find you, always follow up any correspondence the moment you have finished the show and deliver on time.
Isobel Dennis is a Director and part owner of Upper Street Events, an organisation that runs consumer-facing events across the UK.  With over 20 years' experience in the exhibition industry including managing her own business and exhibiting at shows,  Isobel has extensive experience in sales, marketing and budget management and oversees a portfolio of events at Upper Street Events including New Designers.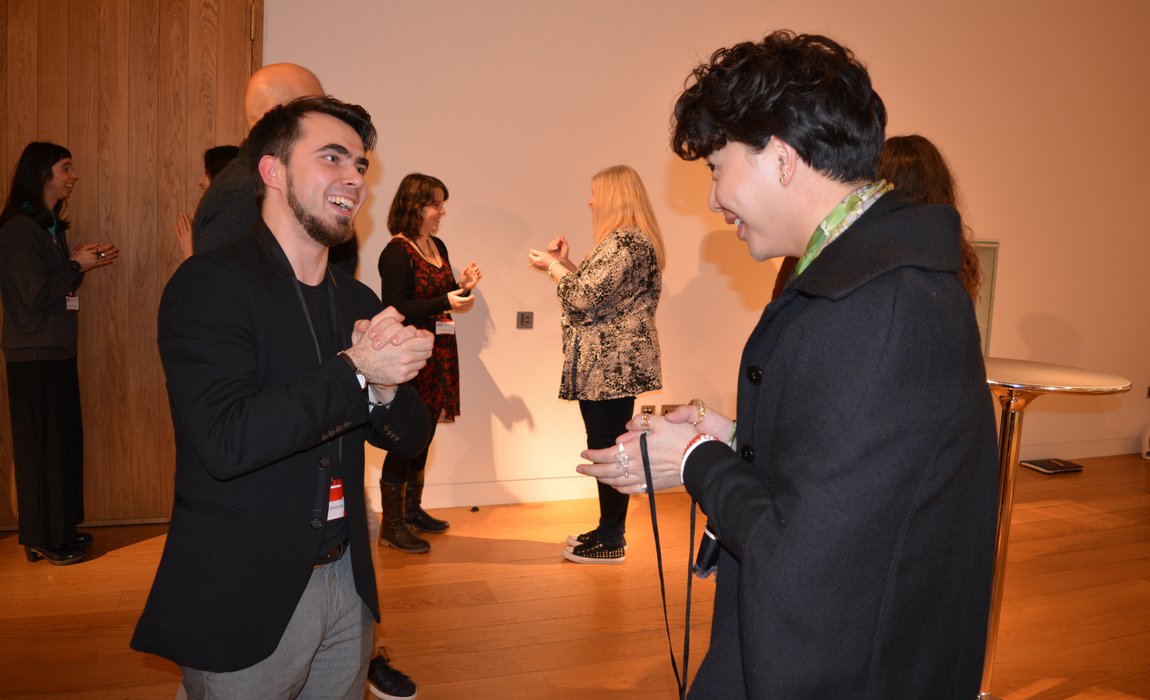 Dramatic Resources
What is the one rule that people should keep in mind to be successful and establish relationships at networking events?
Everything you need to have a great networking conversation is right there in front of you. When we take the focus off our own fear and turn our attention fully to the person in front of us, we see that there are so many gifts being offered. You don't have to have anything prepared, just be present, listen attentively, and be curious. The hardest part is often making the initial approach, and the longer we wait the more nervous we get. Make the approach quickly, be curious, and allow yourself to be fully focussed on the other person.
Aaron Neil has been an actor for over 15 years, working regularly in theatre, television and film. Most recently he was in Great Britain at the National Theatre and in the West End, and in the film Exodus: Gods and Kings directed by Ridley Scott. He also works regularly around the world as a trainer, facilitator and business coach in many diverse sectors working with individuals from trainee to partner level. In addition, Aaron has been an acting teacher and workshop leader for many years. He has an interest in the financial sector and has traded the financial markets for many years privately, at one stage running his own small fund. He is a keen cook, with a particular love for traditional French patisserie techniques.
Dramatic Resources provides communication skills training that applies techniques from theatre and performance to encourage greater clarity and flair in business interactions. DR works with organisations and top flight business schools in the UK and worldwide.  The work is highly practical, deeply memorable and good fun.
If you'd like to learn more about Getting Started or our other short courses, please click here