Daphne Krinos: Playing with Gold | The Brooch Unpinned
One of Daphne Krinos' earliest memories is visiting a museum near Mycenae in Greece with her grandparents. They were always taking her to museums, which she found dark and boring.
She remembers catching sight of something glinting at the far end of a gallery and racing past cases of red and black or black and red pottery to find an ancient gold bracelet set with a carnelian stone. She describes how the gold glowed, and how strongly she was drawn to that glowing quality. It is something which is unique to gold, and it has been drawing her to the metal ever since.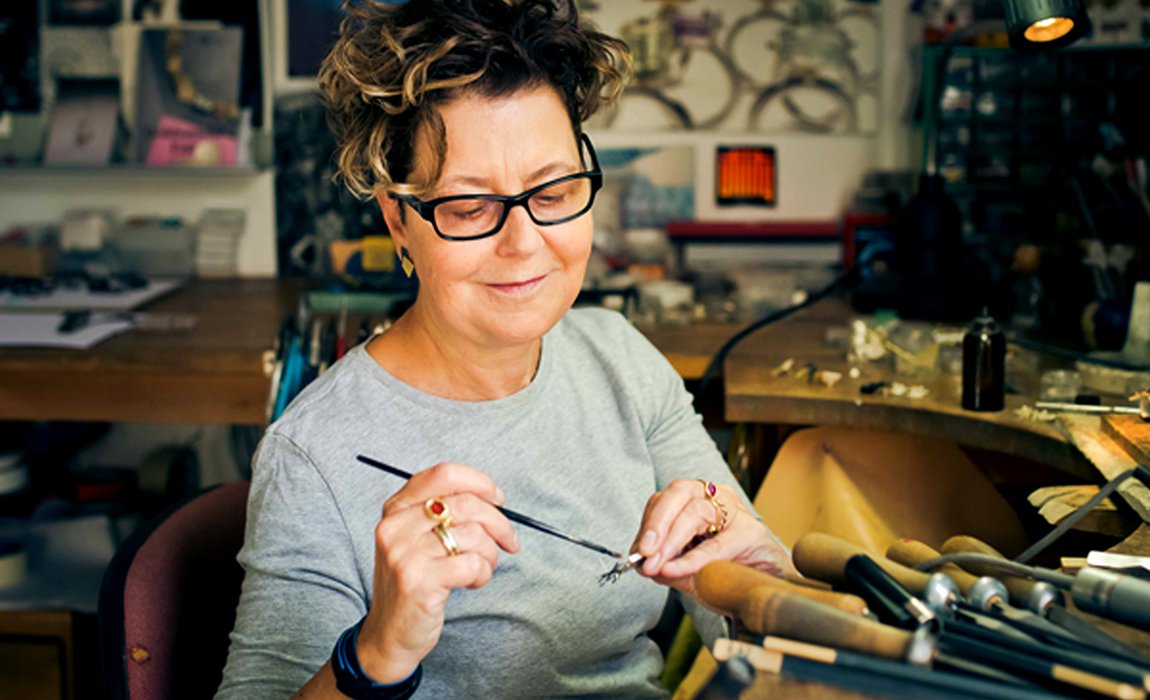 Daphne was born and grew up in Greece. An only child, she spent a lot of time at her grandparents' house. Her grandparents collected Roman glass and pottery, and she remembers the mantelpiece in their house being full of it. Her grandfather was the famous lyrical Greek poet George Seferis, who won the Nobel Prize for literature in 1963. Despite his reputation within literary circles for being serious and sombre, Seferis had a great rapport with children and he and Daphne spent many hours together when she was a small child, writing plays and making things in his writing room. A fan of Edward Lear, Seferis wrote a book of limericks (which he dedicated to Daphne) and together they would make figurines of the characters from some of his poems and works they created together. Daphne's father was similarly artistic; she describes him as a 'frustrated artist', always drawing on bits of paper. She herself knew from a very young age that she wanted to be an artist but was unsure which direction to take.
Opportunities in Greece were limited to the study of Fine Art and Byzantine icon painting. It seemed a good time to leave the country, which had suffered censorship and dictatorship under the recent repressive, nationalist Greek junta or Regime of the Colonels. Her half-French grandmother encouraged her to study in Paris, but it was another artist, met through her grandparents, who gave her an invaluable and life-changing piece of advice; to undertake a Foundation course in London.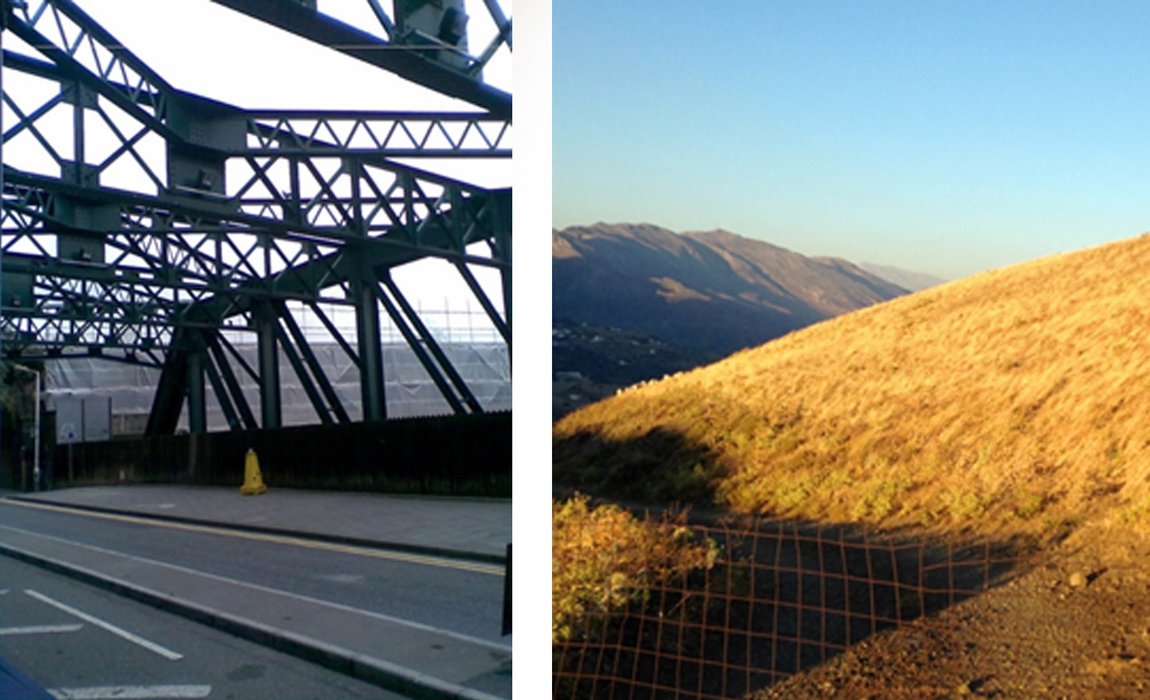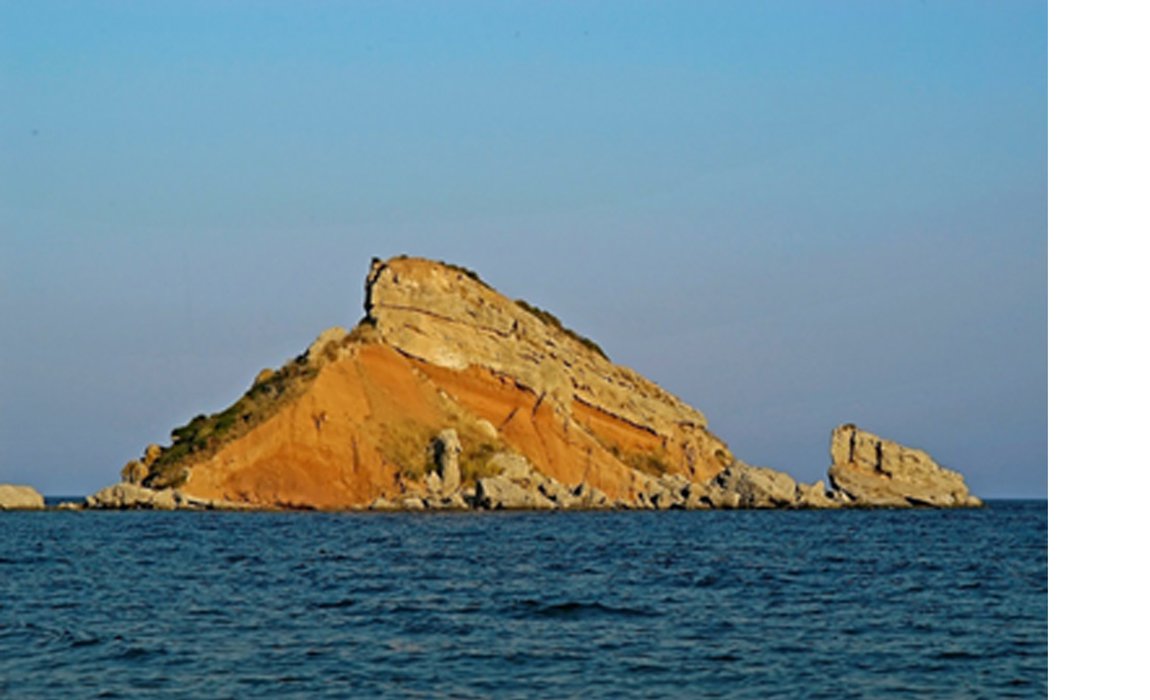 Daphne had first visited London at the age of two. Her grandfather was a diplomat as well as a poet and Daphne, who fears she may have been a bit of a handful as a small girl, was sent to stay with her grandparents in London during her grandfather's final diplomatic posting, as Greek Ambassador to the UK. Always sensitive to light, even as a two-year old child she had been struck by the bright green colour of the grass in the city.

When she returned to London years later to study for a Foundation degree at Middlesex University, she understood that what had struck her previously was the amount of light in the green of the grass in contrast to the grey cloudy sky. Like the gold in the museum, she has always noticed how light strikes different surfaces. The Foundation course gave her the opportunity to play with a whole range of different materials and techniques, and to work with metal for the first time. Working on a project to make a box, she was fascinated by the use of heat to join metal and decided to sign up for the four-year jewellery-making course. Daphne remains full of admiration and gratitude for the training she received at Middlesex. Despite a strong emphasis on design, she was actively discouraged from looking at other jewellery for inspiration and design ideas. When she did begin to think about designing her own jewellery, therefore, she found it was the ancient gold jewels she had encountered as a child which returned to her, rather than anything more contemporary. She started to draw and study shapes, natural forms and buildings, positive and negative shapes, and this led her eventually to the design of her own distinctive, graphic pieces.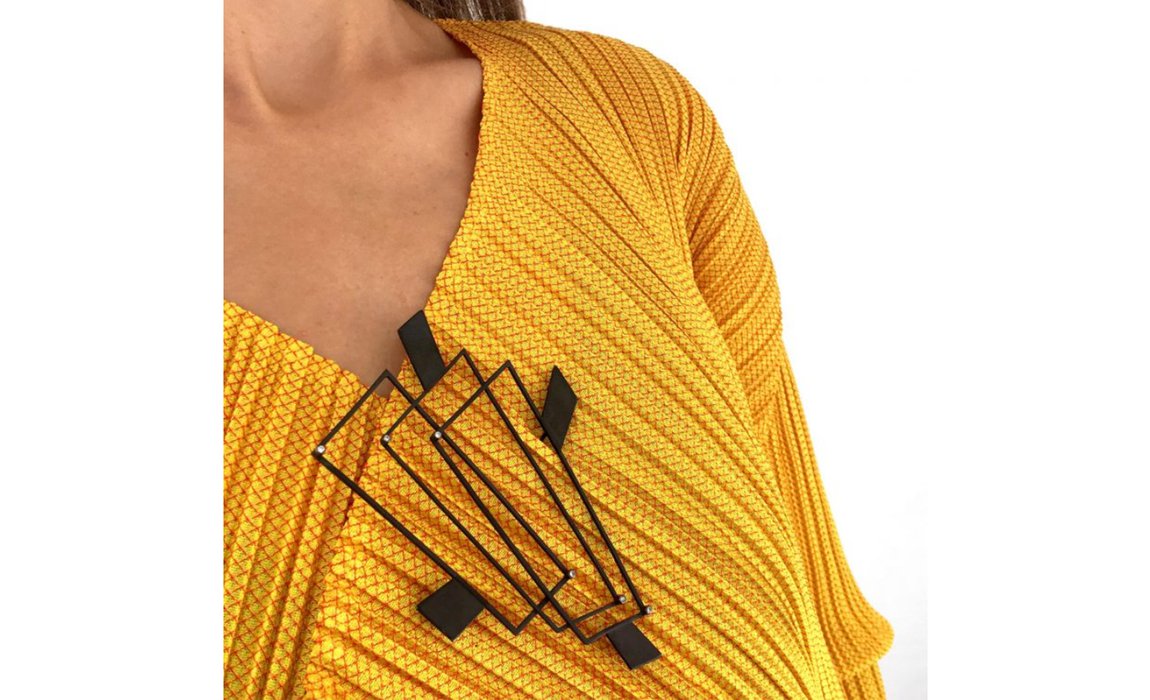 The series of openwork brooches Daphne made between 2005 and 2008 developed out of an imprecise trapezium shape. This is a shape she feels has been with her in her work for a long time. They began from a series of superimposed flat geometric shapes, which looked good on cloth. Daphne then came across several pieces of flat, sliced precious stone, cut in Germany, which were the perfect shape; mirror cut: Flat at the top with bevelled edges, tapering to a point underneath, designed to reflect the sharp geometric angles. She produced three geometric gold brooches set with these mirror-cut stones; one she has kept for herself, one a client bought, and the final, her favourite, set with an aquamarine, is in the collection of the Goldsmiths' Company. She devised the setting for the aquamarine with two open sides to show the stone at its best; the setting, combined with the gold colour, gives the stone the appearance of more facets.
For Daphne, this brooch is the exact colours of summer in Greece, the colours she misses in the UK. 'Gold is so much to me about sunlight' she remarks. It reminds her of fields scorched in the heat, everything burnt in the sun. She remembers fields of hay in the Greek sunlight looking like 'slithers of gold'. The Goldsmiths' Company gold and aquamarine brooch is accompanied by a second openwork brooch, made in oxidised silver and set with a flat tourmaline slice. Krinos chose the tourmaline as it is just the colour of one of her grandmother's Roman drinking glasses, which had a beautiful patina and iridescent colour from being buried in the ground. Like a magpie, Daphne is conscious of collecting this colour whenever she sees it.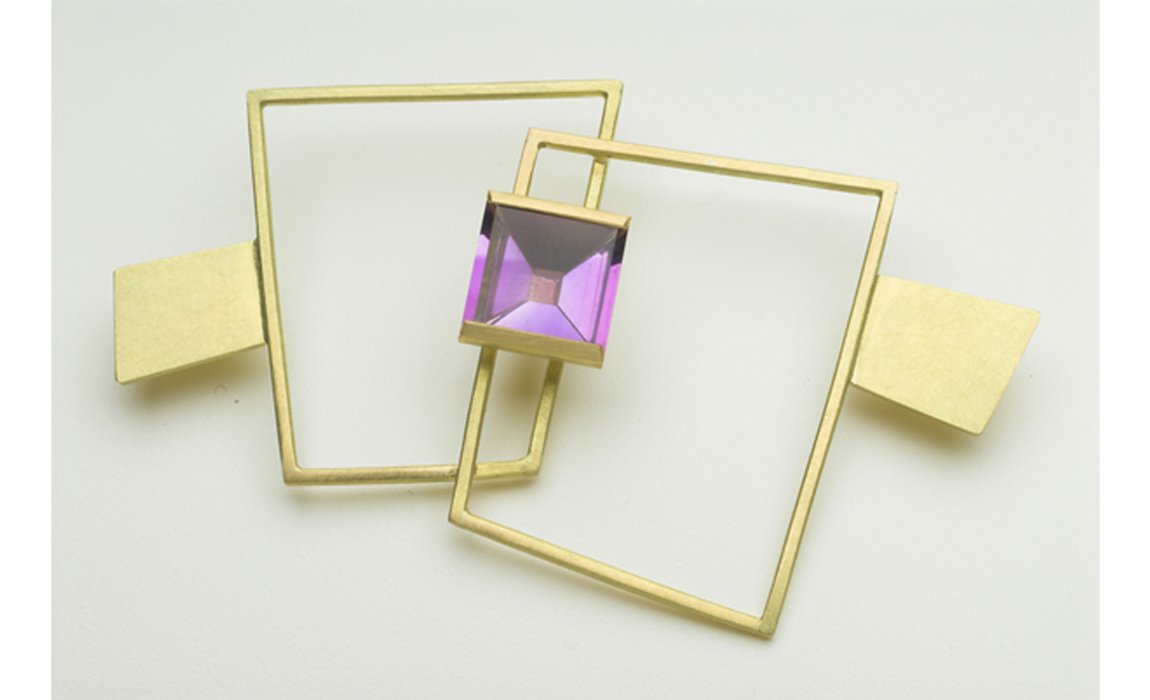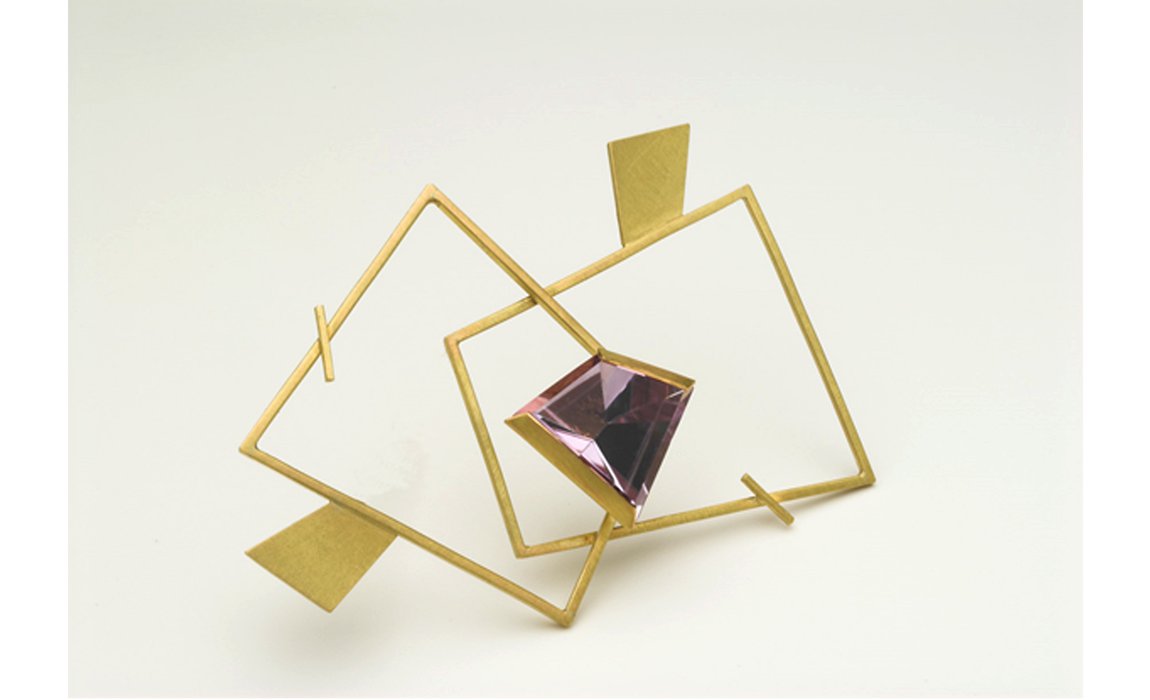 It means a lot to Daphne that these two very personal and particularly representational pieces are in the Goldsmiths' collection, one inspired by her life in Greece and the other her life in the UK. Daphne no longer feels Greek, having lived so long in London, but she does feel lucky to have come from these two places, and it makes her happy that she is able to show what she appreciates about both such contrasting landscapes through her work.
Most of Krinos' customers do not want to know too much of the story behind her work, however, simply appreciating the result for what it is; beautiful, strong, graphic jewellery which is easy and rewarding to wear. Daphne herself has a desire to separate her work from the emotion behind its production, to have each piece stand apart from her and her story as a valued object in its own right, without the need of emotional embellishment. For her, the greatest compliment a client can give is that a piece is recognisably hers. When a jeweller is as distinctive and accomplished as she, this is an easy compliment to give.
With very many thanks to Daphne Krinos.