News: 10 years of the Goldsmiths' Centre: Young craftspeople design pin in celebration
For ten years, the Goldsmiths' Centre has been a wellspring of support, resources, and professional training for jewellers, silversmiths and goldsmiths, and the focal point of a thriving artistic community.
In January 2022 the Goldsmiths' Centre commissioned young people participating in one of its flagship educational initiatives, the Foundation Programme, to commemorate this decade of charitable service through the design of a tenth anniversary themed pin, which would then be worn by Centre staff. Students' designs were made a reality using CAD technology, in collaboration with 3D printing specialists Simply Rhino and FormLabs, before being judged by a panel of industry experts.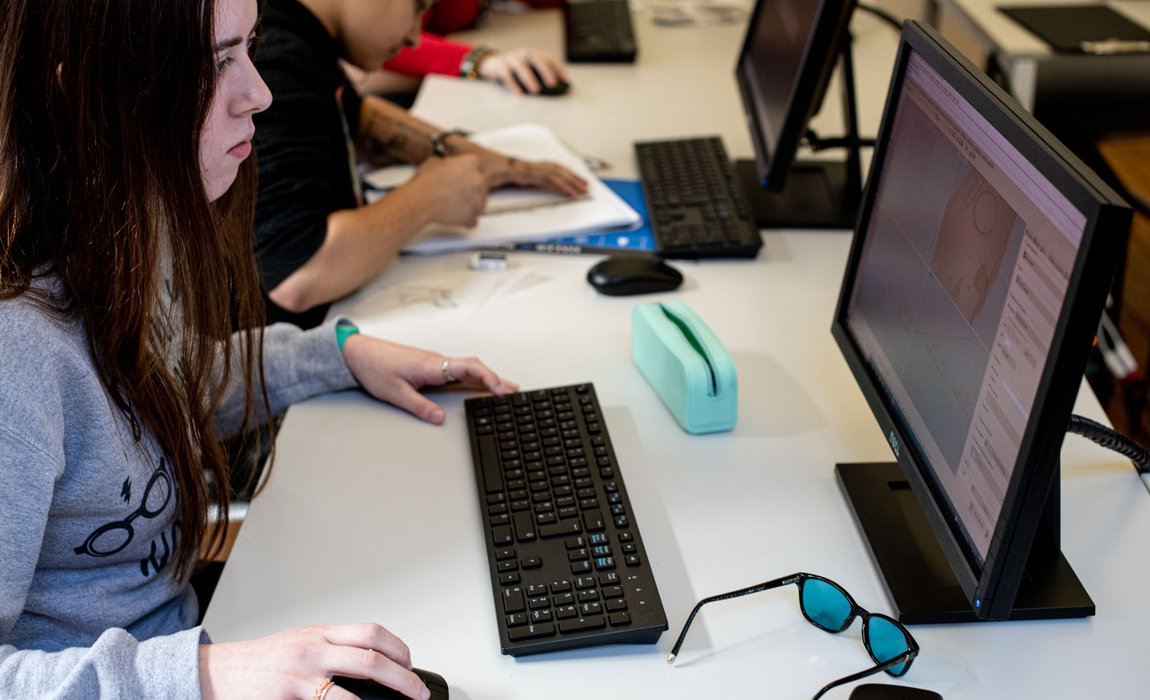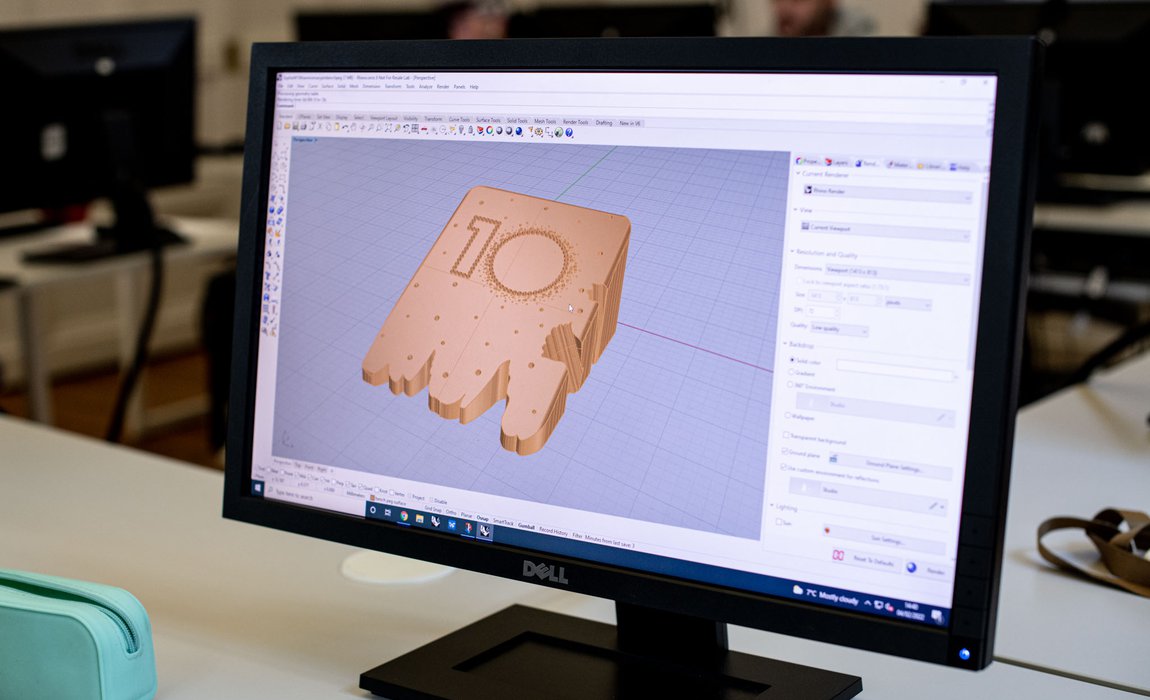 A full-time, year-long course aimed at 16 to 19 year old school leavers, the Foundation Programme offers students an overview of the industry by introducing them to a broad range of specialisms, from design and CAD/CAM to hand-raising, engraving and enamelling. It also acts as a pivotal career stepping stone; of the eighty young people who have graduated from the Foundation Programme since its conception, 57 went on to enter apprenticeships, whilst another 23 advanced to higher or further education. That the Programme has such a lasting, potentially life-changing impact on its alumni makes it the perfect context in which to honour ten years of the Goldsmiths' Centre.
The idea of commissioning the 2022 Foundation Programme cohort to create a commemorative pin was spearheaded by Vocational Training Programme Manager Lili Capelle, who felt that it would provide students with the opportunity to respond to a brief within a tight timeframe, replicating the process of working on commission for a client.
"It is so important to recognise the value in exposing students to real life projects. Project-based learning is a powerful teaching and learning method that has extensive benefits for students, ranging from critical thinking to project management to self-confidence. So when our Marketing and Communications Manager mentioned about creating a 10-year anniversary logo in the summer of 2021, I suggested that perhaps the Foundation Programme trainees in 2022 should be involved. I got really excited, and wanted to push this idea further, and this is when the Pin Project blossomed in my head."
The Project, spanning three weeks in total, was introduced to students five months into their time on the Programme, and was overseen by veteran jeweller and design tutor Jasmin Karger. First, the aspiring jewellers and silversmiths were given a brief for a pin design, followed by a presentation led by an experienced graphic designer. In the next week, they gathered ideas and inspiration, creating mood boards which under Jasmin's guidance, would soon become preliminary sketches.
"We had to remember that our students have only been with us for a little over five months. Getting guidance and extra support for a design that will be produced and worn by the Goldsmiths' Centre staff for many years to come was important. Learning to design from a client brief is one of the best ways to learn self-confidence, critical thinking, perseverance, project management and curiosity and what better way to empower our students than having them take ownership over this project, while celebrating both their own and the Goldsmiths' Centre's accomplishments."
The Goldsmiths' Centre then collaborated with long-term partners, Simply Rhino and FormLabs, to transform drawings into physical pieces. Lili Capelle explains;
"It was a combination of circumstances lining up. We have been working with Simply Rhino for a long time now - they previously donated one of their 3D printers for use in our educational programmes. Simply Rhino is the UKFormLabs seller and our design tutor Jasmin Karger is also a consultant for FormLabs, so they loaned us their latest 3D printing machine to create the students' 3D designs for casting."
The final pieces were judged by a panel consisting of the Goldsmiths' Centre's Director Peter Taylor, Head of Professional Training Chris Oliver, FormLabs Marketing Manager Nell Campbell, and Head of SimplyRhino's Sales and Training Stephanie Bose. In addition to the honour of having their pin worn by Centre staff, and seeing it featured in the Goldsmiths' Centre 10th anniversary promotions and imagery, the winning student would also be invited for an afternoon of refining and improving the design with a senior SimplyRhino Instructor.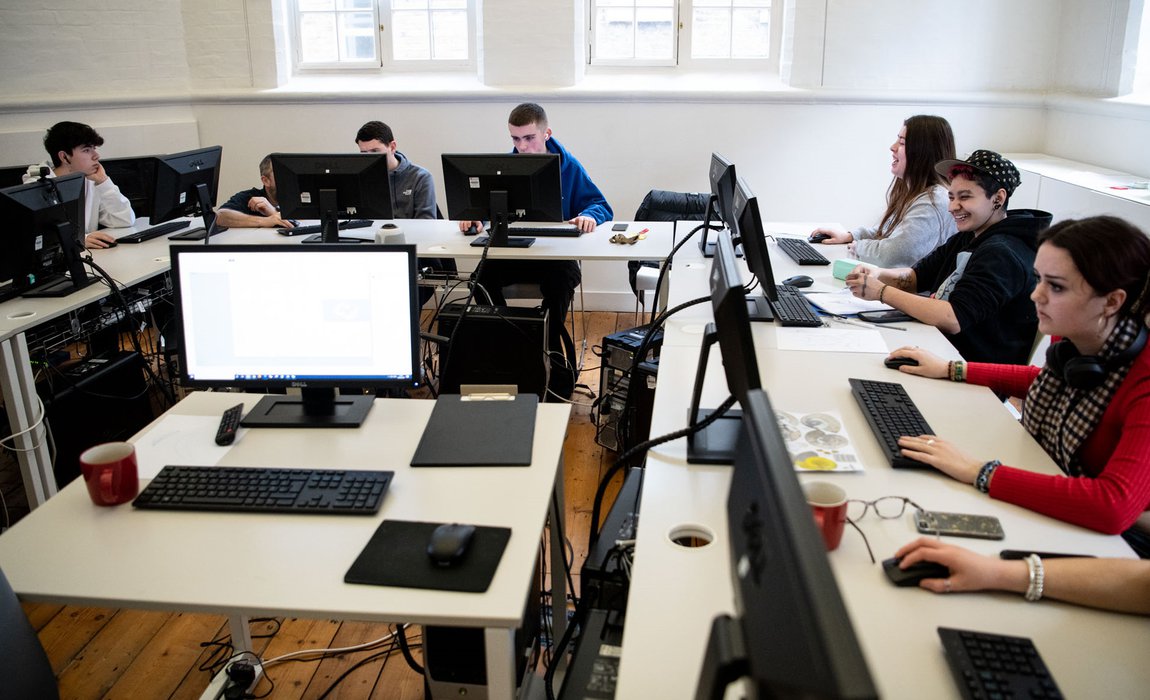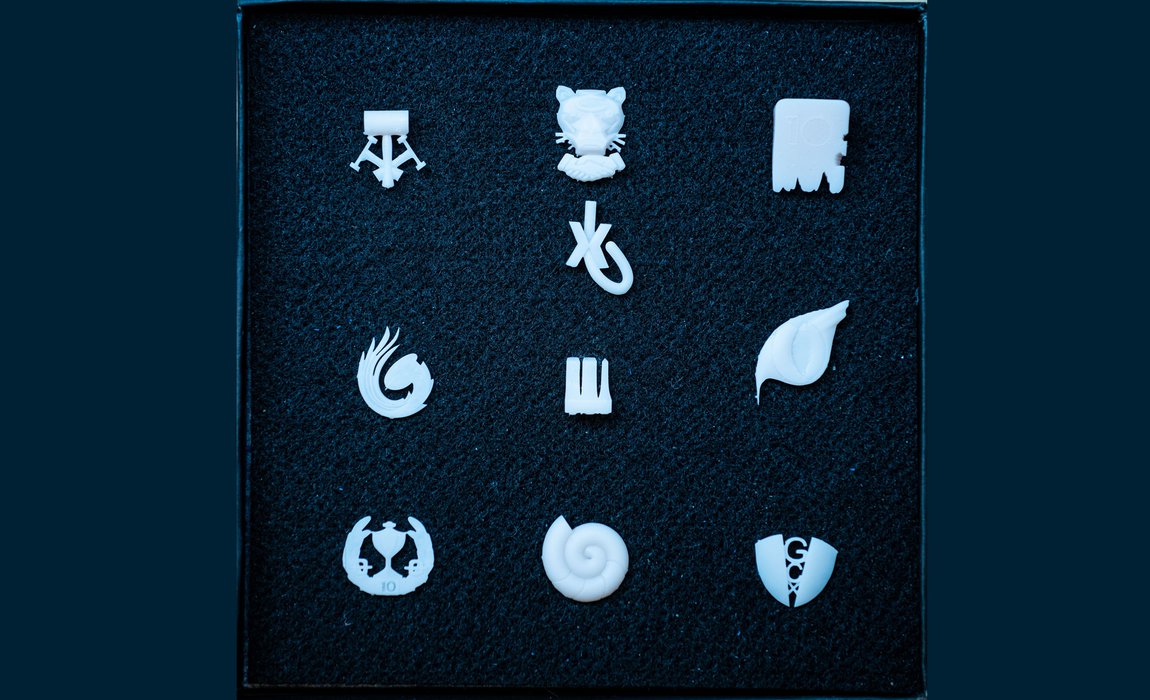 Students responded to the brief in a myriad of unique and creative ways, impressing judges with the skill and innovation shown at such an early stage in their development. Ultimately however, it was 18-year old Sophie Welch's design based upon a benchpeg that earned the winning title, cleverly incorporating the number ten whilst also utilising a shape that is instantly recognisable to makers and industry insiders.
Sophie describes the experience of creating her design, and of being chosen by the judges;
"The brief was to create a pin that represented the Goldsmiths' Centre and its creativity and community; the businesses and workshops on one side of the building, and the training and education on the other side. The idea of using a benchpeg came to me because the café at the Centre is called Bench, and a bencheg is something that lots of makers use; setters use it, jewellers use it, and most goldsmiths and silversmiths use it or at least recognise it. A lot of trial and error was involved in making the shape distinguishable as a benchpeg, as in some of my early sketches it resembles a tooth, but I took inspiration from the benchpegs that I use in the jewellery workshop and silversmithing workshop on the Foundation Programme to refine it. Then there was the challenge of representing the ten years. I was influenced by the Goldsmiths' Centre's celebratory 10 year design which uses little dots or circles to make up the number ten, and added drill holes going into the pin, to contrast with the raised number 10. I had to bear in mind that detail can be lost during the casting, printing and polishing process. I did a drawing, then drew over that outline in CAD. I created a wedge and then trimmed it down, adding the notches at the edges where you would place the tweezers on a benchpeg, for a more 3D and realistic effect."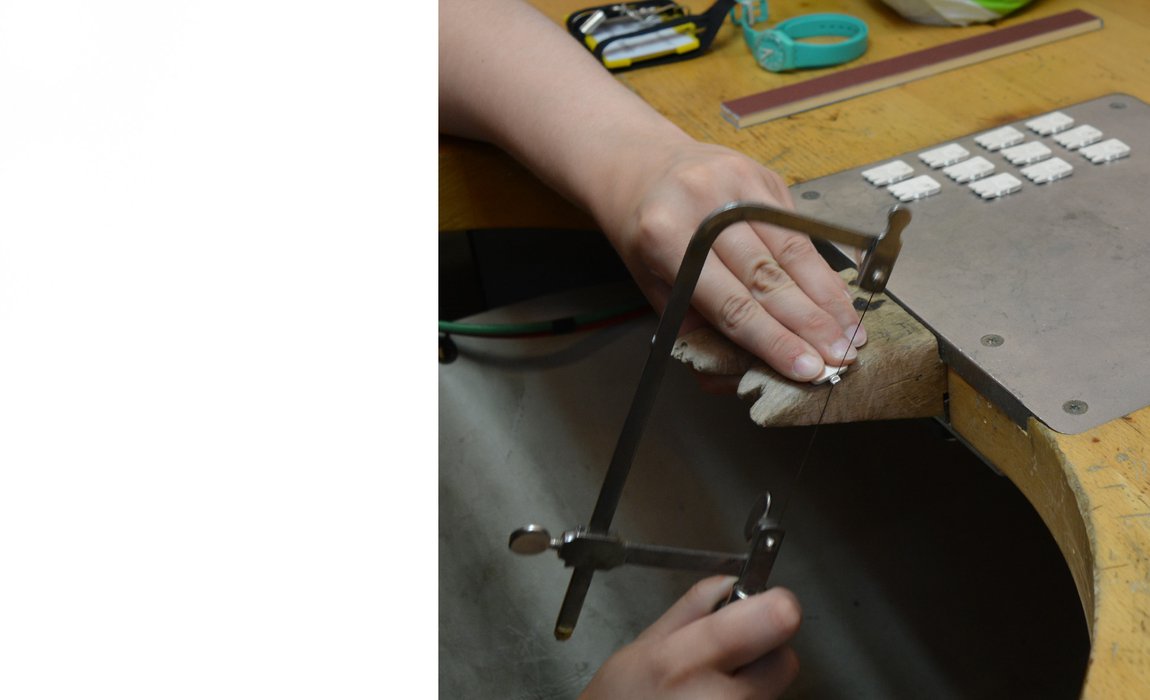 "I learned a lot from the experience, like how to adapt the design based on the client's needs, so that it is still my design but it also factors in what the client wants, which is a good experience for the real world. I learned how a design evolves in response to logistics and practicalities throughout the making process, and to consider weight and wearability. To be chosen as the winner is a really big compliment, Although the process can be difficult and involve a lot of trial and error, to have the final product is very satisfying."