Goldsmiths' Craft & Design Council Awards 2020: The Winners
Fondly known as the 'Oscars' of the jewellery and silversmithing industry, the Goldsmiths' Craft and Design Council (GC&DC) celebrated the highest standards in craftsmanship and design this week at Goldsmiths' Hall.
Over 130 prestigious awards were presented by Rachael Taylor from The Jewellery Cut and the Goldsmiths' Company's Prime Warden, across 32 categories, recognising the exceptional talent of emerging and established designers and craftspeople across the UK.
This year the Goldsmiths' Centre team was proud to see young people from its creative community receive top awards across specialisms, from enamelling, jewellery design, silversmithing to diamond mounting. Their success is not only a reflection of these young peoples' outstanding talent and dedication to the craft, but also the hours of skills training and mentoring received from their tutors at the Goldsmiths' Centre and their Masters as part of the Goldsmiths' Company Apprenticeship Scheme.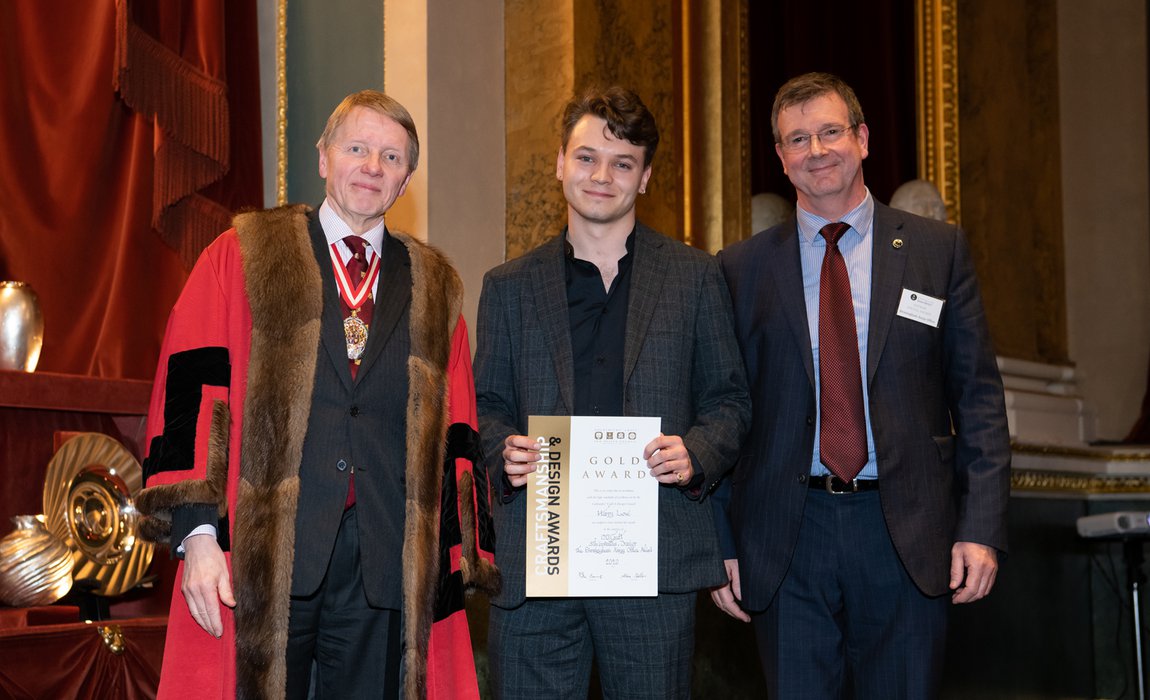 Former Foundation Programme trainee and Goldsmiths' Company Apprentice Alexander Wood, scooped up no less than three major awards for his Butterfly Inspired Knuckle Ring – an exceptional example of diamond mounting. An equally brilliant achievement was seeing three of the Goldsmiths' Centre's current Foundation Programme trainees, Esther Lusted, Katherine Furse and James-Michel Naufal-Power, receive their first competition awards in the Chasing, Fairtrade and Fashion Jewellery categories.
With over 640 competition entries, ranging from jewellery to tableware and objet d'art, the Goldsmiths' Centre would like to thank the Goldsmiths' Craft and Design Council's more than 100 judges and congratulate this year's award-winners who are a part of the Goldsmiths' Centre's and the Goldsmiths' Company's creative community.
We are proud to say that many of this year's award winners have a connection to the Goldsmiths' Centre. The list of alumni awards winners is as follows:
| | | |
| --- | --- | --- |
| NAME: | AWARD: | CONNECTION TO CENTRE: |
| Andrew Birks | Modellers - Senior: Bronze | Goldsmiths' Centre Team |
| Abigail Brown | Enamelling - Senior: Silver | SIGA 2017-2018 |
| Sophie Chapman | Enamellers and Enamel Painters - Junior: Silver | Foundation Programme 2018-2019 Cohort |
| Sonia Cheadle | Precious Jewellery - Gold, Palladium and Platinum - Senior (Sponsored by IJL): Gold | Short course tutor |
| Robert Dean | Diamond Mounters - Junior: Silver | Foundation Programme 2015-2016 Cohort / Coldsmiths' Company Diamond Mounter Apprentice at Garrard |
| Leonid Dementiev | Wire Innovation - Senior (Sponsored by thw Worhsipful Company of Gold and Silver Wyre Drawers): bronze | Getting Started 2016 Cohort / Setting Out 2017-2018 Cohort / Gold Member |
| Manasi Depala | Silversmiths - Junior (Sponsored by Birmingham Assay Office): Bronze | SIGA 2017-2018 |
| Dong Ding | Smallworkers - Junior: Silver | Talent Spotted at New Designers 2019 |
| Roger Dunkin | Lapidary and Carving - Senior: Gold | Master to Goldsmiths' Company Lapidary Apprentice Yasmin St Pierre |
| Ella Fearon-Low | Fashion Jewellery - Junior: Bronze | Getting Started 2018 Cohort / Shine 2019 Maker |
| Katharine Furse | Fairtrade Jewellery (Sponsored by Ingle & Rhode): Bronze | Foundation Programme 2019-2020 Cohort |
| Richard Gamester | Silversmiths (Sponsored by Champagne Gosset): Bronze | Goldsmiths' Centre Team |
| Amy Gibson | Enamellers and Enamel Painters - Junior: Bronze | Foundation Programme 2018-2019 / Goldsmiths' Company Diamond Mounting Apprentice at Alex Monroe |
| Matthew Gough | Diamond Mounters - Junior: Gold | Foundation Programme 2014-2015 / Former Goldsmiths' Company Diamond Mounting Apprentice at Graff Diamonds |
| Martina Grumitt | Diamond Mounters - Junior: Silver | Foundation Programme 2017-2018 / Goldsmiths' Company Diamond Mounter Apprentice at MA Griffin |
| Celeste Heathcote | Engravers, Side Sinkers and Seal Engravers - Junior: Silver | Foundation Programme 2018 - 2019 / Goldsmiths' Company Engraver Apprentice at Sam James Engraving Ltd |
| Annabel Hood | Smallworkers: Bronze | Getting Started 2019 Cohort |
| Sam Hunter | Precious Jewellery: Silver / Precious Jewellery - Senior (Sponsored by IJL): Gold | Former Goldsmiths' Company Diamond Mounter Apprentice at SVS Designs |
| Chris Hurley | Chasers - Senior: Silver | Trainer to Goldsmiths' Company Chasing Apprentice Charlie Lewis at Stuart Ray Ltd |
| Harry Lowe | Silversmiths - Junior (Sponsored by Birmigham Assay Office): Gold | Foundation Programme 2015-2016 Cohort / Goldsmiths' Company Silversmith Apprentice at Asprey |
| Esther Lusted | Chasers - Junior: Bronze | Foundation Programme 2019-2020 Cohort |
| Samuel McMahon | Diamond Mounters - Junior: Silver | Foundation Programme 2014-2015 Cohort / Former Goldsmiths' Company Diamond Mounting Apprentice at Graff Diamonds |
| Charlotte Mitchell | Enamellers and Enamel Painters - Junior: Bronze | Foundation Programme 2018-2019 Cohort |
| Daniel Munn | Enamellers and Enamel Painters - Junior: Silver | Goldsmiths' Company Enamelling Apprentice at Munn Enamelling |
| James Naufal-Power | Fashion Jewellery (Sponsored by QVC): Bronze | Foundation Programme 2019-2020 Cohort |
| Joel Quilley | Diamond Mounters - Junior: Gold | Goldsmiths' Company Diamond Mounting Apprentice at SVS Designs |
| Maisie Sale | Fairtrade Jewellery (Sponsored by NAJ): Silver | Foundation Programme 2015-2016 Cohort / Goldsmiths' Company Diamond Mounting Apprentice at Harriet Kelsall Jewellery Design |
| | | |
| --- | --- | --- |
| Qingyang Shen | Smallworkers and Modelmakers - Junior: Silver | Talent Spotted at New Designers 2019 |
| Ray Walton, FIPG | Chasers - Senior: Gold | Foundation Programme tutor |
| Francesca Wilcox | Enamellers and Enamel Painters - Junior: Bronze | Foundation Programme 2018-2019 Cohort |
| Alexander Wood | Diamond Mounters - Junior: Gold | Foundation Programme 2014-2015 Cohort / Former Goldsmiths' Company Diamond Mounting Apprentice at Ian Read Setting |
| Daniel Woodford | Polishers - Jewellers and Silversmiths - Senior (Sponsored by WALSH): Silver | Setting Out 2015-2016 Cohort / Former Resident Craftsperson |
| Zeemou Zeng | Production Jewellery - Junior (Sponsored by VIPA Designs Ltd.): Gold | Getting Started 2019 Cohort |