An Interview with Goldsmiths' Company Apprentice, Nicholas Franklin
Our latest interview is with Nicholas Franklin, a Foundation Programme alumnus and current apprentice at the Goldsmiths' Company Assay Office in London. Nicholas has Asperger's Syndrome, making his experiences in the industry unique, and his success a potentially important marker for others on the spectrum considering following the same path.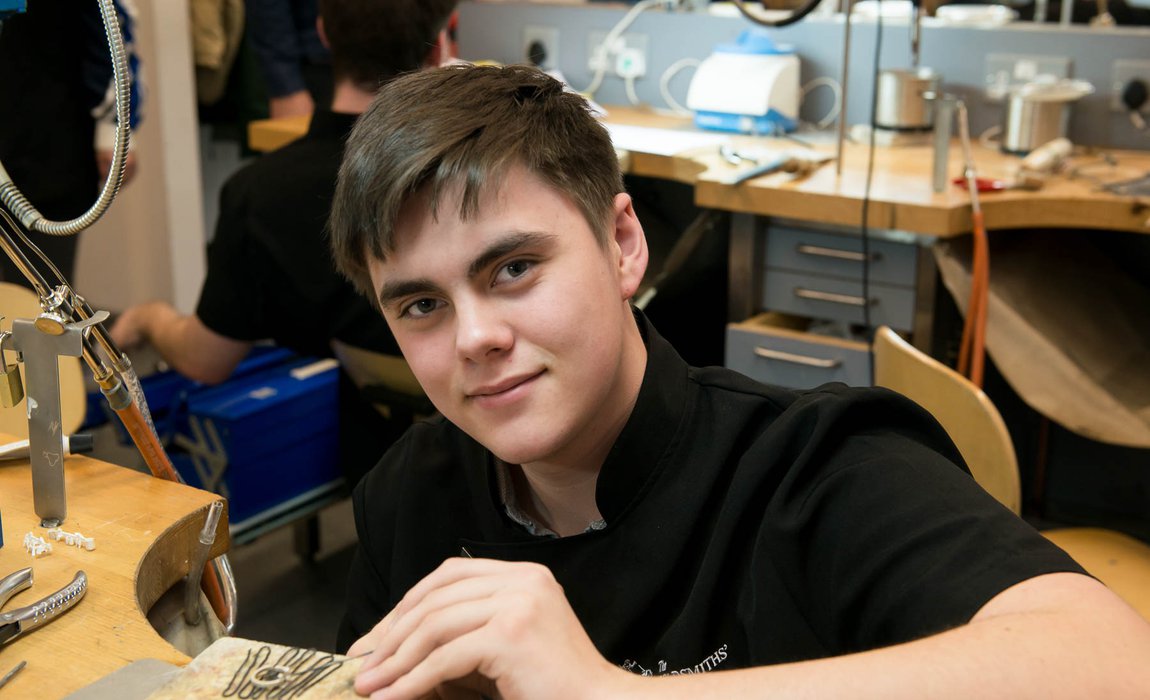 Can you tell us a bit about your journey into the industry?
Both of my grandfathers were skilled at working with their hands, and so I may have inherited some of their traits. One was a carpenter. My other grandfather is a bespoke metalwork engineer, and I spent many hours watching him in his workshop and aged 6, he let me weld my very first piece of metal. 
So you could say that from an early age, I have always felt totally at home in a workshop enviorment! I was also fascinated by semi-precious stones, fossils and crystals. I loved the way they looked and the variety of colours and shapes, and the different ways they captured and reflected the light. The most important turning point in my life came during secondary school, when I designed and created a large clock from scrap pieces of copper which I welded together for a Design Technology project.
My school put it on display, and it was noticed by a teacher called Mr Robert Birch who is a professional award-winning silversmith who studied at the Royal College of Art in London.
Mr Birch then invited me to join his after-school Jewellery making class where I learnt many silversmithing techniques and became his longest attending pupil. He felt that I had the potential and neccesary qualities to apply for the Foundation Programme at The Goldsmiths' Centre in London. After attending an open day at the Goldsmiths' Centre, I knew it was definitely what I wanted to do! I worked in my spare time at home to produce jewellery and a portfolio, and then applied for the course.
I was shortlisted and invited to attend a two-day interview. I was overwhelmed and extremely excited when I was finally offered a place. I left school and started the Foundation Programme in September 2017, just after my 16th birthday. I have never looked back - it was one of the best things I have ever done in my life! The tutors were the finest in the industry. The course itself was incredible, and was everything I could have hoped for - and more. After completing the Foundation Programme, I applied for a position as an apprentice Technican for the Goldsmiths' Company Assay Office in London and was so excited when offered the job.
What does an average day look like for you at the Goldsmiths' Company Assay Office?
I am now in my second year of my apprenticeship, and so my days always vary. In the morning I could be doing touchstone, or sampling and testing the quality of different articles, or I might be hallmarking with the laser, or helping to support a colleague with a large item on the punching tools.
In the afternoons I will generally be doing tasks I am starting to hallmark using a punch and hammer, and I recently helped with the Assay Office demonstrations during the annual Goldsmiths' Fair at Goldsmiths' Hall.
What is unique about being an apprentice at the Assay Office?
I am extremely privileged to be working as an Apprentice at the Worshipful Company of Goldsmiths. It is one of the Great Livery Companies in the City of London, which dates right back to the 14th Century located near St Paul's Cathedral. I have a unique opportunity to see and handle many antique and contemporary items made from Gold, Silver or Platinum which have been produced by some extremely talented craftsmen and women.
I have also been lucky enough to have met some of the best international and multiple award-winning designers such as Tom Rucker, Elizabeth Gage, and Brett Payne.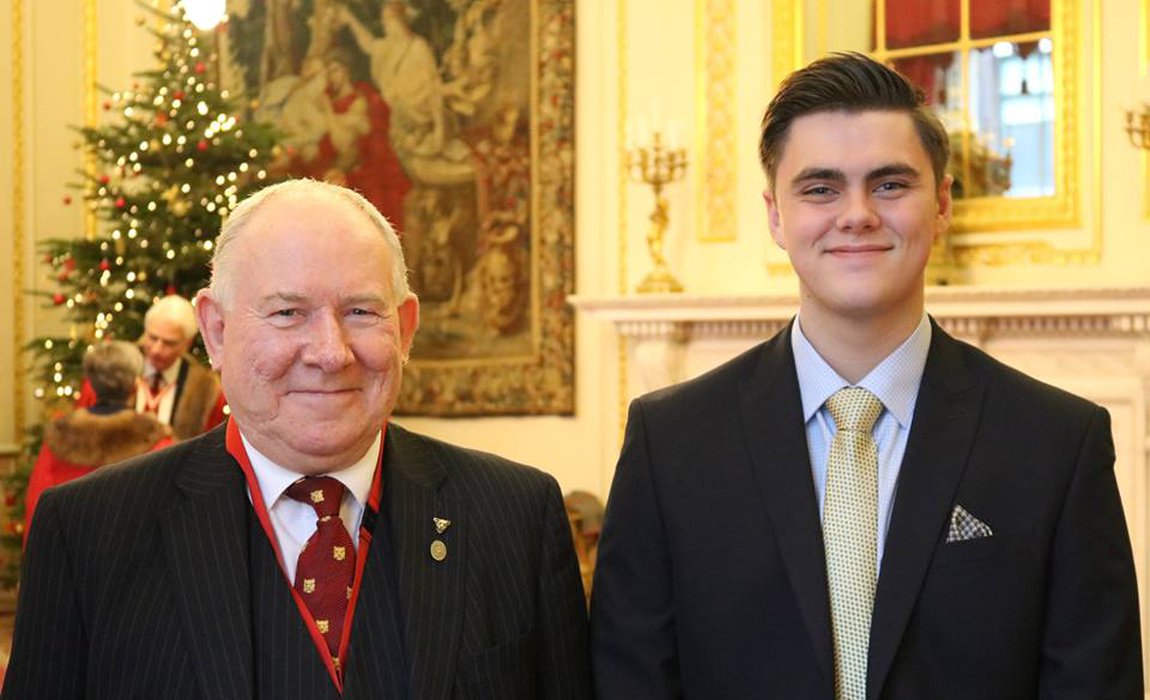 What is the most important part of your working day?
Due to the nature and requirements of my job, practically all of the tasks I do throughout my day are important. For example, if I am sampling an item or hallmarking it, it is crucial that I don't make a mistake which could potentially ruin someone's valuable piece. Working at the Goldsmiths' Company Assay Office is extremely important in every aspect.
Does the reality differ from your expectations, and if so, how?
No - my expectations do not differ at all, because I was told exactly what I would be doing in my initial job interview, and I am doing precisely that. 
As someone on the autistic spectrum, what challenges have you experienced during your apprenticeship that are unique to you?
Everyone is different, as we all have our own strengths and weaknesses. Having Asperger's Syndrome (AS) in my case means that I struggle with spelling, and so writing can sometimes be frustrating and a bit of a challenge. People who have AS however, often compensate for their issues, as what they lack in one area of skill, they can often excel or be very talented in other ways known as a "savant". People with AS can sometimes become extremely gifted mathematicians, designers, artists, computer programmers, scientists, engineers or have exceptional memories etc. (Albert Einstein, Hans Christian Anderson, Charles Darwin, Mozart, Michelangelo and Sir Isaac Newton were all reputed to have AS to name but a few.)
Whilst for me having AS might mean that I struggle in some areas such as spelling, it was definitely also given me some important skills which are an advantage in this industry. 
How have you managed to overcome challenges - or how have you managed them?
In some situations, I still find myself getting a bit frustrated. My spelling is the hardest thing, but I try to look up words on my phone or ask other people.
Do you feel that being on the spectrum gives you any strengths that have benefited you during your apprenticeship?
Yes, I definitely feel that having AS has helped me, because I have always been told that I am skilled with my hands. I was also professionally tested and was found to have above average "visual spatial awarness" which exceeds someone who is more than double my actual age. This means that I can picture, rotate and transform complex 3D or abstract images in my mind, and this has allowed me to progress in the way that I have.
Do you feel that there is enough support for autistic people within the industry - or those hoping to break into it?
I would certainly encourage anyone like myself into the industry. I was supported by all of my tutors on The Foundation Programme. They always did their utmost to ensure that I was encouraged to learn new skills, helped me to succeed in whatever area I wanted to specialise in. I am extremely happy working for the London Assay Office. It is such a varied and interesting job, and I feel very privileged to be abloe to work for such a wonderful company who have guided and helped me to develop and grow in confidence as an individual.