Alex O'Connor on Making The Elliptic Beaker
The works of Alex O'Connor, an emerging talent in the world of silversmithing, are drawn from the ancient natural landscapes surrounding her home in West Cornwall. This includes her latest work, the Elliptic Beaker created for Made for the Table, a Goldsmiths' Centre's exhibition here this summer.
What inspired you to become a silversmith?
At first, nothing did! I started off as a sculpture technician, and had worked in making furniture. Then I planned to go back to college to study jewellery,  but went down the silversmithing route instead. Though it wasn't planned, it felt like a completely natural next step from working sculpturally, more so than jewellery making, since I've always struggled to make small things. I work large, so I just naturally had an affinity with silversmithing.
What does your creative process usually look like?
To most people, the way I work might appear chaotic, but it's actually very focused. I start with lots of ideas, I do a lot of drawings and create many models. Then I might make photocopies of drawings and even chop my models up and stick them back together again. I think through making - I work through ideas outside of my head rather than in it, editing as I go. I strip away until I'm left with something that is quite essential, with only the base elements left.
Does the beaker you're creating for Made for the Table differ from your usual work?
The design is very much in-keeping with my love of sculptural form and ideas of balance and composition, but since it's a drinking beaker, that added a precise functional element that took me off in new directions. It had to sit comfortably in the hand and not spill or tip over easily, and I enjoyed having those parameters, especially since it gave me an opportunity to use hydraulic press forming in a piece. This will definitely feed into me creating some more overtly functional, utilitarian pieces for the table, so watch this space!
How will the theme of Old and New be represented in your beaker?
My beaker is a response to a place that I'm very fond of, Porth Nanven Cove in Cornwall, where I live. It's a unique, precious area. Geologically, it's about as old as a place can get, and because it's not a sandy beach, it's not well known to anyone aside from the locals, who call it Cot Valley. There are hundreds and hundreds of ancient boulders piled on top of each other there, and an old tin mine, and now it's used by locals for socialising, particularly in the summer, for barbecues and parties. So it's this idea of how history gets layered that inspired me - it just encapsulates old and new.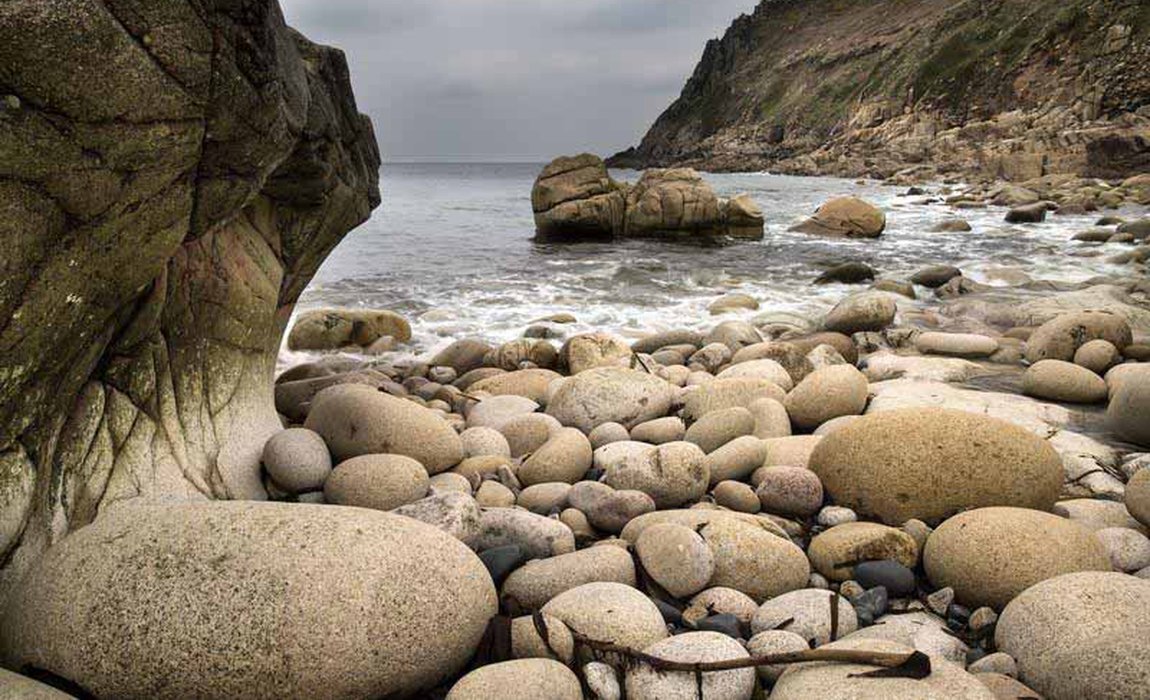 What are you most looking forward to about participating in the exhibition?
Just being a part of this exhibition is exciting and slightly humbling. Some of the makers taking part I count among my silversmithing heroes, and I think there's something really special about us all being relatively new, emerging makers. I also can't wait to see all the beakers - it's going to be fascinating to see one object translated twenty different ways.
What in your mind sets silver apart from other tableware?
Silver is such an expressive material and one that I'm becoming more fluent in. There are makers out there who use their hammers almost like paint brushes, that's how fluid and adaptable silver can be, but at the same time, it's a practical material, it's tough. When you work with sterling silver it almost fights back, it has this resistance. And of course, it's anti-bacterial, and has an incredible history.
I think there's something very special about having a precious metal object that's in fairly constant use, that slots into a buyer's life and over time, accumulates marks and dents - you build up the history of an object by using it.
How have your experiences with the Goldsmiths' Centre impacted your career so far?
This will be my first year at the Goldsmiths' Fair, I did the Getting Started course and I have a place on the Summer School coming up through Contemporary British Silversmiths, which I'm really looking forward to - being in those amazing workshops. I love the Centre, it has a real buzz around it. Even just getting a coffee at the Bench café and doing a bit of work on my laptop, I've found it to have such a friendly atmosphere.
Do you have any advice for other aspiring makers?
I'm a fairly new maker myself, and when I decided to become a silversmith part of me thought I was mad, and part of me still does, but I think you just have to go for it. If this is what you want to do, go for it! And always remember to be open to learning - this is such a technically challenging industry, so you need to always be developing your skills, that's how you give your best as a maker.